If you are wondering where to eat in Austin Texas, especially around the 6th Street area, I've got you covered. This is the continuation of the series on my Austin Texas road trip.
Disclosure: I was invited to experience Austin as part of my stay at the Westin Austin Downtown. Accommodations, food, and drinks at the hotel were provided at no cost to me. The following restuarants were NOT part of that and we were not compensated in any way for reviewing them. All opinions are my own.
We were guests of the Westin Austin Downtown for two days but only our evening meal at Stella San Jac the first night was complimentary. We decided to explore the immediate area and see what we could find. Let's face it, knowing where to eat in Austin was going to be my primary goal.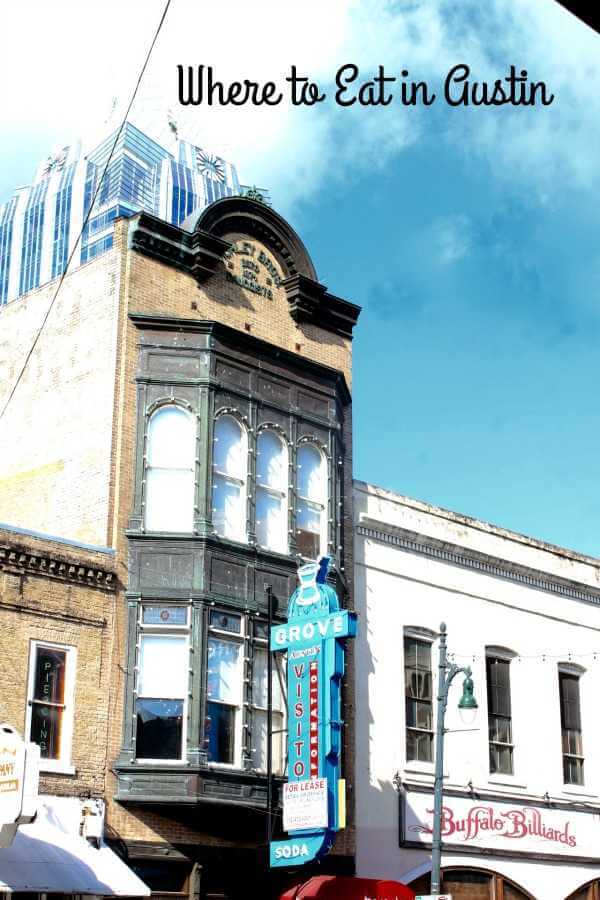 The Westin Austin Downtown is, as I mentioned in the first post, situated in the midst of the entertainment district. There are pubs, clubs, bars, and eateries of all kinds. They all look amazing, too. It was hard to choose! The first morning we didn't eat breakfast because (duh vacation) we got a late start. We headed out to get an early lunch.
Old School Bar and Grill
401 East Sixth Street
Austin, TX
Around the corner from the hotel is a little spot named Old School Bar and Grill. The building, built in 1874, was originally the Austin Cotton Exchange where cotton bales were kept on the main floor with the offices for the brokers and buyers were on the second floor. The interior reflects the history with the old wood -- just beautiful.
There was no one there except staff when we poked our heads in to see if it was open. No problem getting a table! The menu made it tough to decide -- everything looked SO good. I sent a picture to my son in Korea of an item called the Big Tex Challenge because I am pretty sure he is up to the challenge. What is it? Well it's a 4 pound burger topped with 1 pound bacon, ½ pound cheddar cheese topped with two eggs, jalapenos and Sriracha sauce. Served with fries. It's free if you finish within 25 minutes. The server said he thought that two people had managed it in the past couple of years.
The Food
That huge burger was not what I ordered. Keep it in mind though. It's one of those things you might want to try to eat in Austin just to see if you can.
I ordered the BLTA, a sandwich made with Texas toast and stacked high with applewood smoked bacon, crispy lettuce, really rip tomatoes, avocado, and homemade chipotle mayo. It was perfect. It didn't fall apart due to the use of Texas toast. Everyone should make them this way.
I also had the prickly pear sangria because I rarely turn down a chance to try a cocktail or specialty drink in a new restaurant. Sangria because a full out cocktail might have caused some raised eyebrows. It was good - not spectacular but very good.
All in all the menu is pretty basic fare, pretty much what you'd expect at a bar and grill. It's good food, good service, but not over the top. It's a comfortable menu. I would definitely go back but it wouldn't be the first place I went.
The Moonshine Patio Bar and Grill
303 Red River Street
Austin, Texas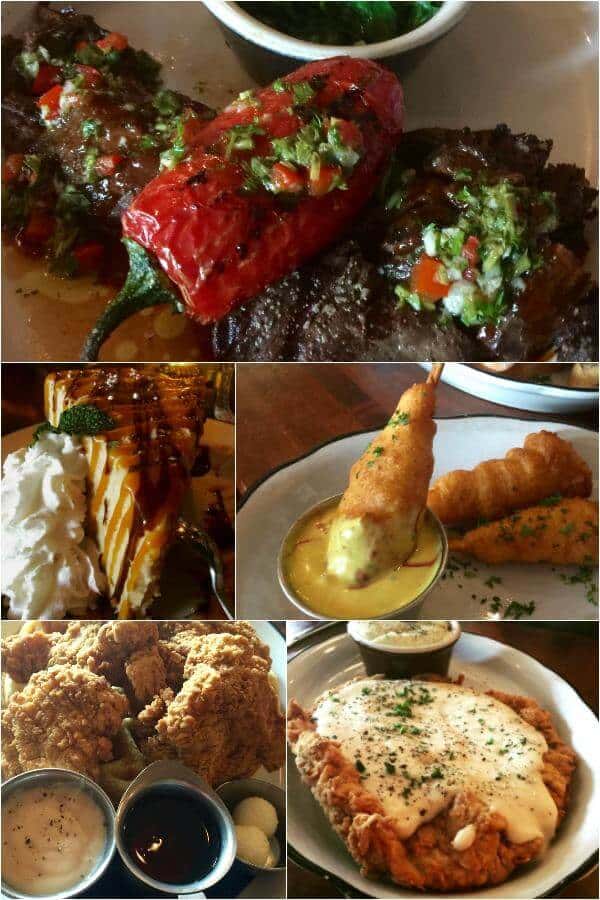 I have a close friend that lives in Austin and we planned to get together for dinner. I closed my eyes and scrolled through Yelp, landing on The Moonshine Patio Bar and Grill. Pretty sure there was some divine direction involved.
Thank you God!
I promise you I will go here at least once every time I am in Austin. EVERY. SINGLE. TIME.
First of all the staff is very friendly and they don't mind if you sit and talk their ears off, ask about their personal life, and get pictures for instagram with them. At least OUR server didn't - we loved her. Added kudos to the staff -- they knew the menu inside and out and were able to help us decide on what we wanted. Not a decision that could be made lightly. Definitely NOT a decision that was easy.
The building was first a mercantile established in 1852 by a Mr. Hofheintz, known as the Waterloo Compound. Subsequent owners added a saloon and domino parlor.
It was an easy walk for us from the hotel... and back after more than a few drinks.
The Food
There were the three of us and I'd already decided I was having a taste of EVERYTHING that hit the table. I was willing to toss down the "but I'm a food writer and I need to experience this" argument if I had to. Luckily I didn't have to.
We started with the Corn Dog Shrimp® with honey mustard and blueberry swirl. OMG. It's a fact that here in Texas we'll fry just about anything. I've had fried shrimp before but this was a totally new experience. Giant shrimp on a stick in a corn dog batter? It was worth burning my tongue for that first crispy, rich, tangy, sweet, salty, amazing bite. If you're wondering what delicacy to eat in Austin I'd suggest putting this on your A list.
We also had the warm kale and bacon dip with caramelized onions, gruyere, bacon jam, and toasted sourdough. You'd think we wouldn't have room for dinner.
Never underestimate the power of wonderful aromas and tantalizing plates going to the other tables.
The Food Again
I chose the chicken and waffles, my husband chose the chicken fried steak, and my friend chose the jalapeno hangar steak. I don't even have time to wax poetic on the flavors involved but I will tell you that I've never seen a chicken fried steak the size of that one. It could've fed four people. In fact, each dish was Texas sized - I might have eaten about a third of the chicken and waffles.
If this is how people eat in Austin I'm surprised they can still walk. DANG! Good food and lots of it.
The chicken and waffles were amazing. crispy, boneless fried chicken breast served on a Belgian style cornmeal waffle (I swear the indents in the waffle were an inch deep) and served with maple syrup, butter, and chipotle cream gravy. The rest of the dishes were equally yummy.
We split the peanut butter pie. It's a towering wedge of peanut butter mousse on a chocolate cookie crust. Between the three of us we finished half.
Maybe.
The cocktails were as delicious as the food. I started with a Blind Mule and a Hard Lemonade. YUM. I have no idea what all we drank, just that there was plenty of it and it was super yummy. Close your eyes and point.
After dinner we walked back to the hotel with my friend and had more cocktails at the Stella San Jac bar. Then we walked her back to her car by the Moonshine Patio Bar and Grill. Then we walked back to the hotel. I was hoping that a portion of the bazillion calories I had ingested would be consumed in the energy I was exerting with all of the walking. It also proved to me that I can drink a disgusting amount of alcohol without getting smashed. If I ever get depressed and go on a bender it's gonna cost a crapload of money.
Voodoo Doughnuts
212 E Sixth St
Austin, Texas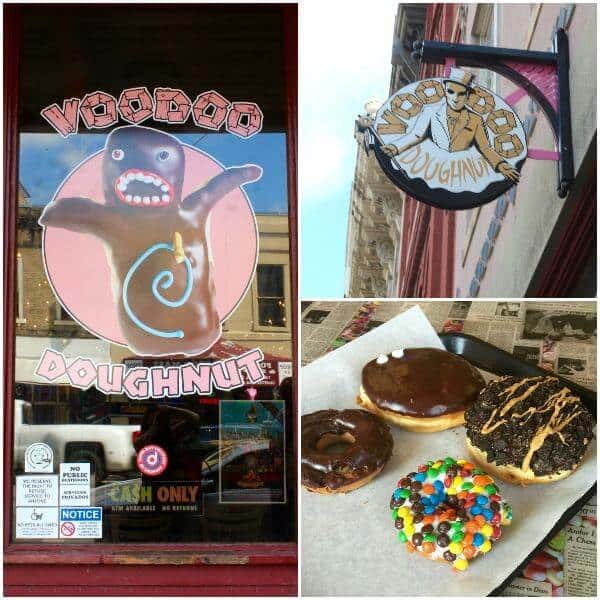 When we woke up the next morning we packed up our stuff so we'd have time to look around a little before checkout. Apparently the husband knew exactly where he was taking me because he didn't ask and he didn't waver. The man is brilliant.
There are apparently four Voodoo Doughnut shops in the ENTIRE KNOWN UNIVERSE and one is in Austin. First of all take cash. There is an ATM but they do not take credit cards, thank you very much. This is actually kind of self limiting, at least it was for us because we had $10.01 in cash between us. My husband had the $10 and I had the $0.01.
OMG so hard to decide.
I had the M&Ms Donut and the Peanut Butter and Chocolate Donut. Actually... the peanut butter one was called the Old Dirty Bastard Doughnut which, being a good Texas girl, I was too polite to say in public. It's yummy though, a raised yeast doughnut with chocolate frosting, Oreo's™ and peanut butter. I just pointed to it and said, "That one".
Austin (and presumably Portland) are much different from Dallas in spirit. It's a younger, trendier vibe and the 6th street area reflects that. As does Voodoo Doughnuts. Dallas is more traditional, proper, and maybe even a little bit stodgy in the nicest way. Keep in mind then that it was impossible to record the following list without giggling like a 12 year old.
Voodoo Doughnuts Partial Menu
Triple Chocolate Penetration
Gay Bar (a bar donut with Fruit Loops down the center. Cream filled)
Maple Blazer Blunt ( Raised yeast doughnut rolled into a blunt and dusted with cinnamon sugar. Tip is dipped in maple frosting and red sprinkles for embers.)
Tex-Ass Challenge (Giant doughnut equal to 6 doughnuts. If you eat it in 80 seconds or less you get your money back. We have a lot of food challenges in Texas.)
Cock-n-Balls (Yes. And triple filled with Bavarian Cream, topped with chocolate frosting.)
I liked the doughnuts (not so much all the names). The flavors were imaginative, they were fresh, and they tasted good. Maybe it was all of the hype I've read but it was a good doughnut not an oh my God I need a cigarette donut.
Still definitely a place to eat in Austin at least once.
Where to Eat in Austin? Final Thoughts
There are a ton of places to eat in Austin around the 6th Street area. I'll likely go to different ones the next time I am there but I'll for sure visit Stella San Jac and Moonshine Patio Bar and Grill.
Why? Because those two places made me welcome. The staff talked to me, laughed with me, and helped me decide what to choose. They seemed happy I was there. They treated me like a real person not just a customer. I'd go back to Old School Bar and Grill but it didn't have the same warmth. Maybe it was because we were the first customers. Maybe the server was an introvert. He was efficient, helpful, and I knew no more about him or the establishment when I left than when I walked in.
Then there was Voodoo. Yes, I'd go back. The donuts were yummy. The girl behind the counter might as well have been popping gum and rolling her eyes. My indecision was irritating to her as she shifted her weight from one foot to another waiting for me to decide. I just felt like she wanted me to hurry up and leave. Go for the doughnuts but no promises on the Texas friendliness we are known for.
What are your favorite places to eat? Where are they? And Why? Let me know in the comments.