This homemade fall dessert is creamy and spicy! It's a delicious alternative to traditional pumpkin pie.
Next time try this classic southern pecan pie recipe.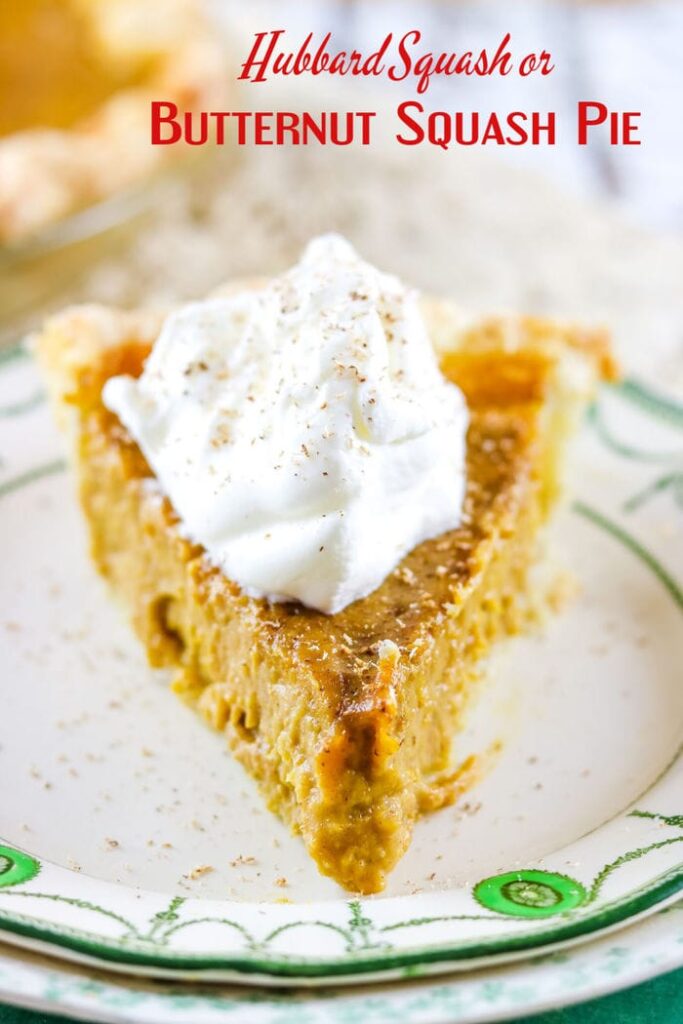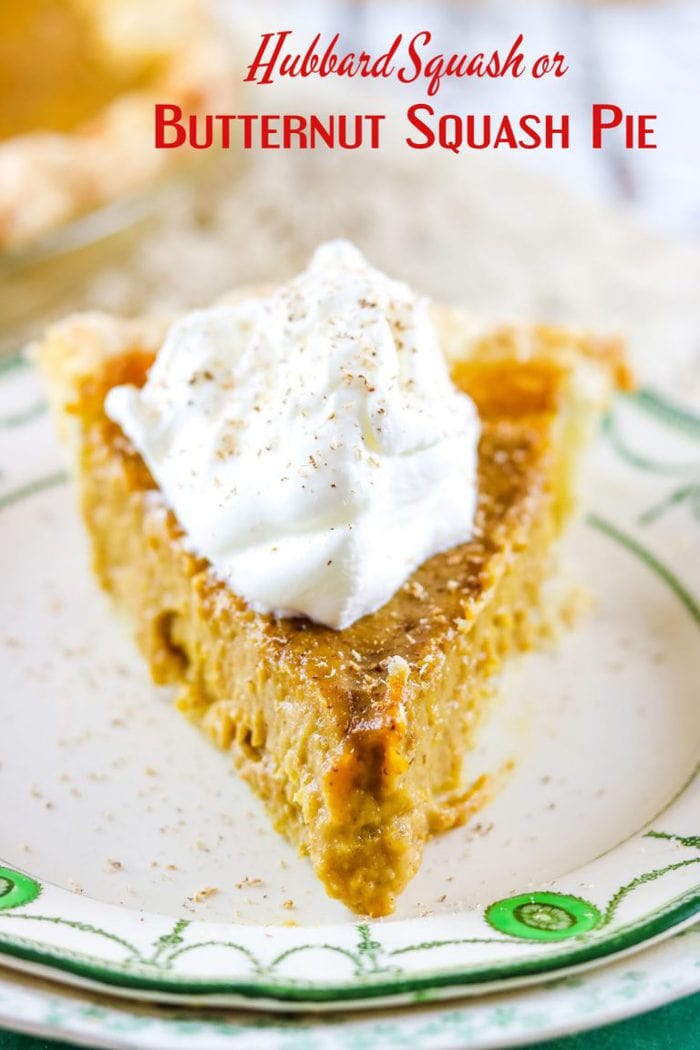 Jump to:
❤️ Why you'll love this recipe
spicy, rich, and creamy
uniquely different from pumpkin pie
you can use any kind of winter squash
Homemade Butternut Squash Pie is sweet and spicy with a delicate nutty flavor and silky texture that's the perfect Thanksgiving dessert.
It's so versatile that you can make this recipe with acorn, Hubbard, pumpkin, or almost any other winter squash that you choose! Be sure to use my flaky butter pie crust recipe!
🧾 Ingredients
Unbaked pie crust holds the filling. I always use my favorite butter crust recipe that's linked in the recipe.
Fresh butternut, acorn, Hubbard, or other winter squash.
Heavy cream is part of what makes the texture of this so amazing.
Light brown sugar is used because the dark brown would overpower the flavors in this unique pie.
Maple syrup adds sweetness and a light maple flavor. Make sure you get the real thing.
Cinnamon of course. If you use different types of cinnamon for different recipes you'll want the Ceylon cinnamon.
Salt always brings out the other flavors and balances sweetness. I use kosher salt.
Ginger adds that holiday "pop" to the flavor. Make sure it's fresh - if you've had it in the cupboard a year go ahead and get new.
Cloves are one of my favorite spices, dark and warm. Like ginger, you'll want to make sure this is fresh.
Whole nutmeg keeps it's flavor for eons which is why I prefer it. It's so easy to grate.
Chipotle powder is totally optional. I find that just a pinch adds a warm tingle that I like.
Eggs used here are large, organic, and have rich, yellow yolks.
Butter for the optional topping.
Pecans for the optional topping.
Bye Bye Pumpkin Pie
Pumpkin pie is one of my favorites.
Creamy, rich, and spicy, the flavor has always announced the holidays for me. I've always made a variation of the classic Libby's pumpkin pie from the back of the can of pumpkin.
My mom always made it -- you know -- tradition. Starting in September my mom would start stocking up on cans Libby's pumpkin.
We had pumpkin pie twice a year -- once on Thanksgiving and once on Christmas. In fact, I counted special days by the kinds of pies we had since we rarely had pie on a "non-special" day.
Besides pumpkin on Thanksgiving and Christmas she'd make blueberry on my dad's birthday, coconut cream on Easter, and apple on 4th of July. That was the sum total of her pie making. She admitted she was always the kid who preferred to work out in the barn with her dad rather than in the house. I have always been thankful that she learned to make those pies somehow.
What Does Butternut Squash Pie Taste Like?
The flavor of this yummy Thanksgiving pie (or Christmas!) is reminiscent of pumpkin pie but lighter and more delicate. The texture is also not as dense.
It's spicy, buttery, and sweet but also just a little flowery. I really liked it. I'd go with some lightly sweetened whipped cream dusted with a little freshly grated nutmeg. I think ice cream would be too much here.
👩🏻‍🍳 Frequently asked questions
Here are the questions I am most frequently asked about this recipe.
Can you substitute butternut squash for pumpkin in pie?
Absolutely! Just use and equal amount of pumpkin for the squash in this recipe.
Can you freeze butternut squash pie?
Yes you can. Let it cool to room temperature and then cover tightly and freeze for up to 3 months.
Can I use frozen squash instead of fresh?
Yes - you'll just need 2 cups of puree. That's about 2 pound of frozen squash - and no need to bake it.
How can I tell when butternut squash is ripe?
Winter squash will feel heavy and firm. Look for squash where the stem is intact because it will keep it fresher longer. If you tap it it will sound hollow.
Butternut Squash Pie Step by Step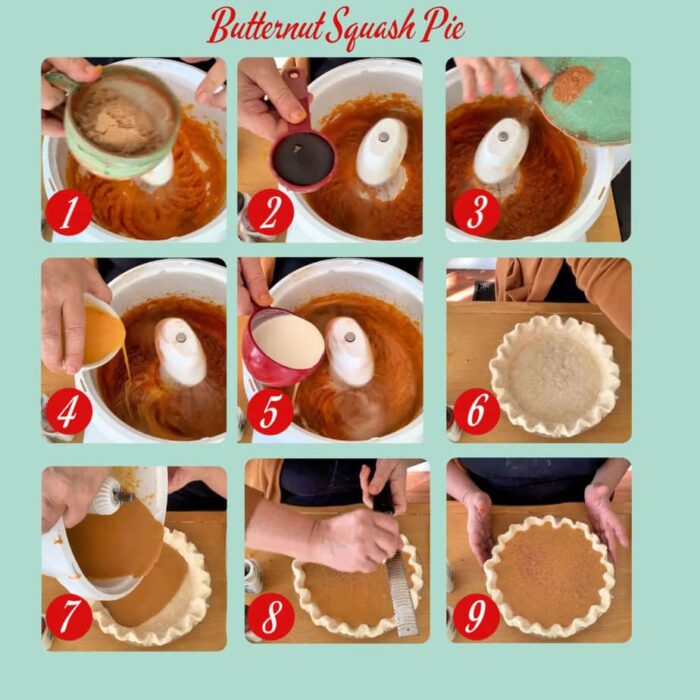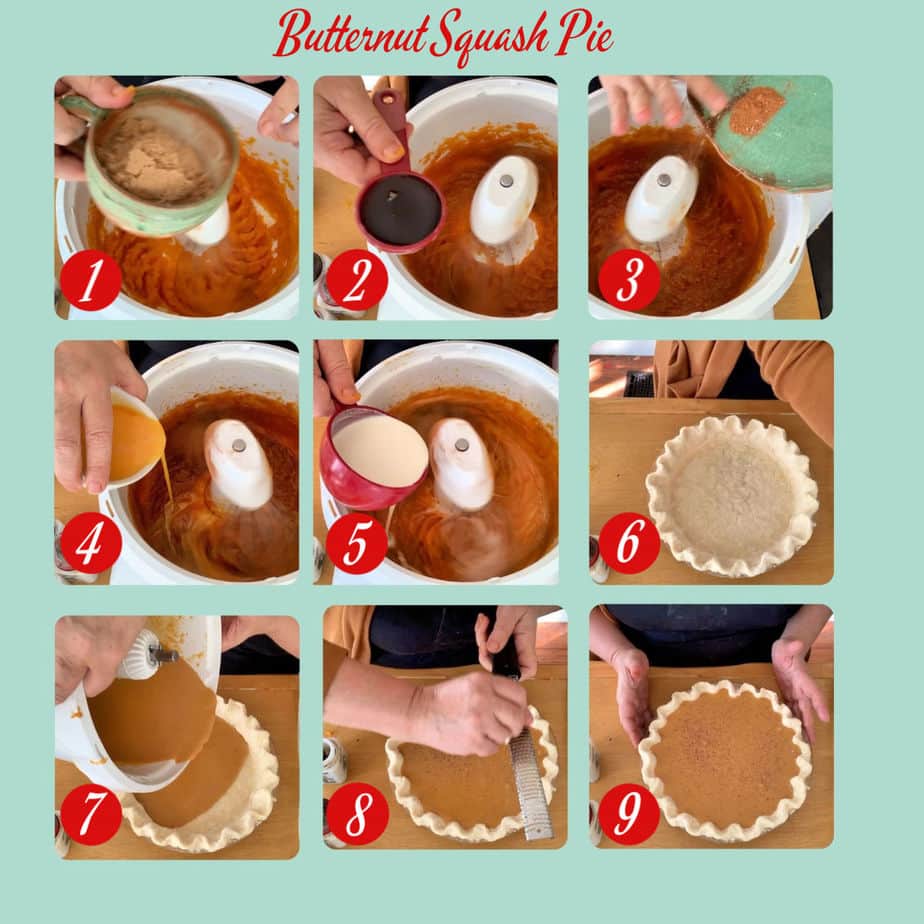 Mix the brown sugar in with the squash.
Add maple syrup.
Stir in the spices.
Add the beaten egg.
Pour in the cream.
Have your unbaked crust ready.
Pour the butternut squash pie filling into the pie crust.
Grate nutmeg over the top.
Bake according to recipe.
How to Prepare the Fresh Squash
I like to roast the squash in the oven because I think it gives it a better flavor.
Cut the squash in half.
Take out seeds.
Brush cut sides with butter and place cut side down on a buttered baking sheet.
Bake until very soft and tender - about 30 minutes.
Let cool and use as directed.
More Great Thanksgiving Pie Recipes
I do love a good pie! Here are more of my favorites for Thanksgiving.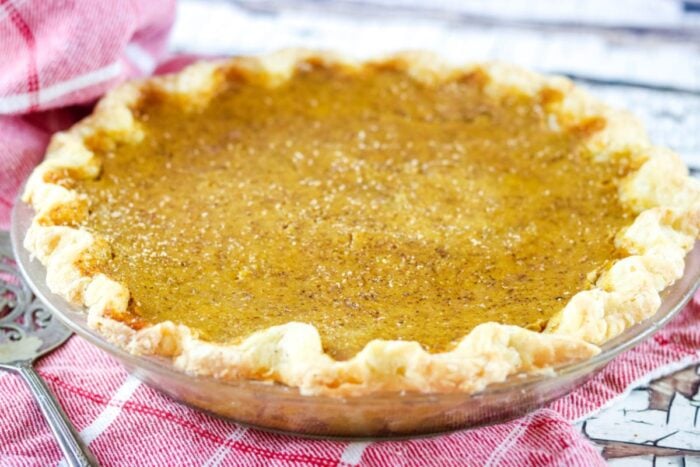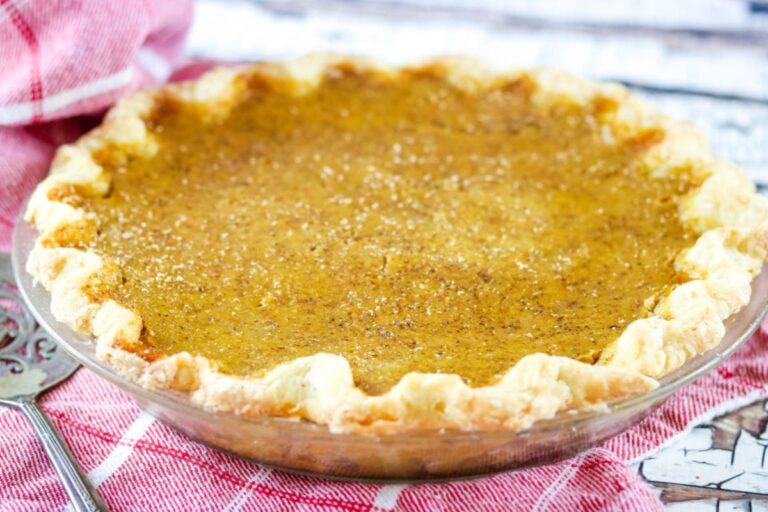 You May Need...
What's new? Check out my Restless Chipotle & Co. Store on Amazon where you'll find all kinds of nostalgic goodness! Thanks so much for being a part of Restless Chipotle!
One thing that will make a huge difference in your baking, especially with something like this butternut squash pie, is using whole nutmeg rather than ground. I know it sounds silly but it's true.
Just give it a try! The flavor is intense and you don't need much. You'll need a grater similar to this one to grate the nutmeg -- and no need to watch your fingers with this one! Cole and Mason Professional Nutmeg Spice Grinder
You need a good food processor or blender to get a smooth texture in the squash. I have the Bosch Kitchen Machine which handles my bread dough, my blending, and my food processing chores. I just love it! Bosch Universal Plus Kitchen Machine
Homemade Butternut Squash Pie Recipe
Smooth and creamy butternut squash pie is maybe even better than pumpin! Perfect combination of autumn spice for your Thanksgiving celebration.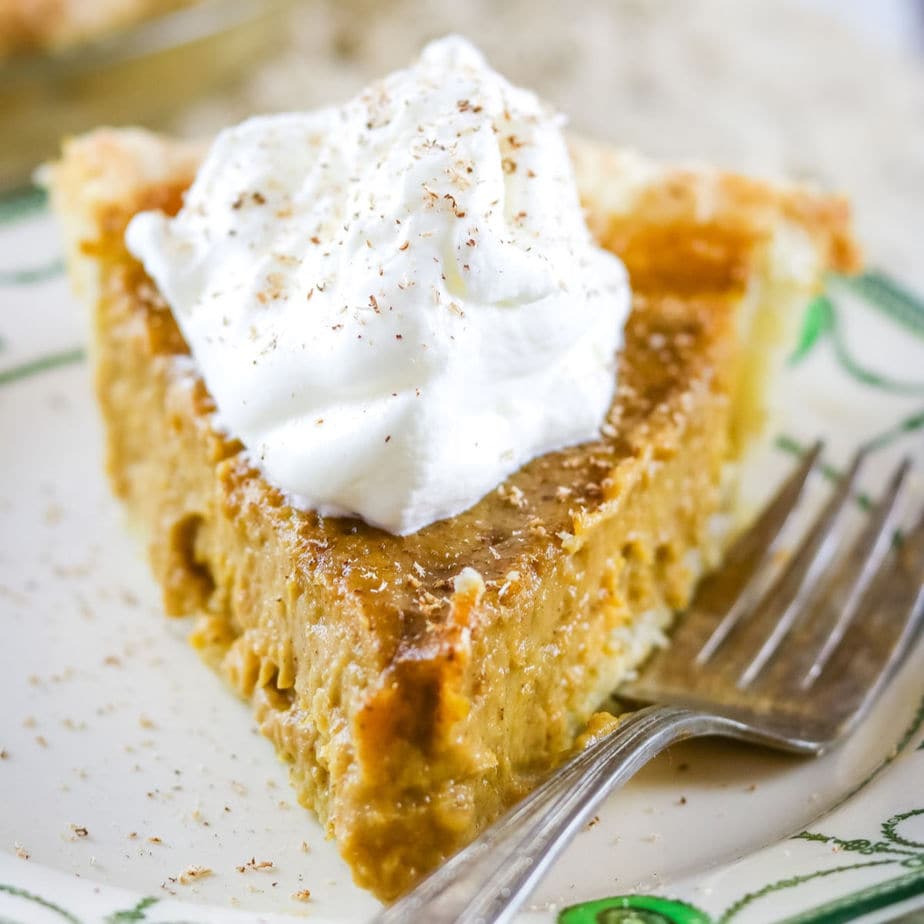 Butternut Squash Pie
Print
Save
Go to Collections
Nutty and buttery, this delicate butternut squash pie is a unique change from the classic pumpkin pie on your holiday table. You can substitute pumpkin, acorn or Hubbard squash in this easy recipe.
As an Amazon Associate I earn from qualifying purchases.
Ingredients
1

pie crust,

unbaked, 10-inch or deep dish 9-inch
Filling
2

pounds

Butternut Squash

,

may use acorn, Hubbard, pumpkin, etc

1

cup

heavy whipping cream

¾

cup

light brown sugar

,

packed

¼

cup

maple syrup

1

teaspoon

cinnamon

,

Ceylon works well in this

½

teaspoon

salt,

kosher

¼

teaspoon

ginger

¼

teaspoon

cloves

¼

teaspoon

nutmeg

,

whole nutmeg freshly grated

⅛

teaspoon

ground chipotle powder

2

eggs

,

lightly beaten
Topping (optional)
½

cup

butter

¼

cup

light brown sugar

¼

cup

pecans

,

chopped
I earn a commission from Instacart from qualifying purchases.
Instructions
Place piecrust in a 9-inch deep-dish pie pan.

Trim and flute the edges.
Filling
Cut squash in half, remove seeds.

Bake, cut side down, on a buttered baking dish until tender - about 30 minutes.

Place cooked squash pulp in a food processor or mixer and blend until it is smooth.

Measure out two cups into a large bowl. Save any remaining squash for something else.

Add the squash pulp and the remaining ingredients to a bowl and blend with a whisk until smooth.

Pour into the prepared piecrust.

Bake for 40 to 50 minutes at 350°, or until a knife inserted just off center comes out clean.

Cool.
Optional Topping
Melt the butter in a small saucepan.

Whisk in the brown sugar until smooth and no longer gritty.

Pour over the top of the pie and sprinkle with pecans.
Notes
Pie is done when it registers 175F on an instaread thermometer poked in the center.
Pie is best if it is chilled overnight.
Refrigerate leftovers promptly.
Cool, wrap in plastic wrap and freeze for up to 3 months.
May substitute any winter squash for butternut.
Calorie count includes the pecan topping.
Nutrition Facts
Calories:
511
kcal
|
Carbohydrates:
59
g
|
Protein:
4
g
|
Fat:
30
g
|
Saturated Fat:
16
g
|
Cholesterol:
71
mg
|
Sodium:
371
mg
|
Potassium:
526
mg
|
Fiber:
3
g
|
Sugar:
35
g
|
Vitamin A:
12846
IU
|
Vitamin C:
24
mg
|
Calcium:
120
mg
|
Iron:
2
mg
Sign up for the emails and never miss another recipe!!
We'll never share your email or send you spam. Pinkie swear.