This easy creamy potatoes au gratin recipe will quickly become a family favorite. Gooey cheese, tender potatoes, and a crunchy, crumbly Panko topping makes these potatoes au gratin the best you've ever tasted!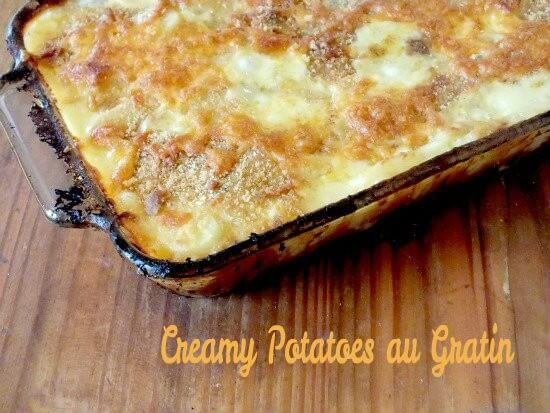 I love scalloped potatoes and potatoes au gratin. Who am I kidding? I love potatoes done any way you care to cook them. I would sneak the leftover boiled potatoes out of the fridge when I was little and furtively take them to my playroom to snack on. Potatoes are full of potassium, cheap, and a great filler when your kids hit that eat-everything-in-site phase. I don't eat them often now because my body likes to store carbs in a big way. A big, BIG way.
This dish may be a little different than how you usually make it. I layer the sliced potatoes, making three layers of potatoes with layers of onion and cheese in between. Meanwhile you make a cream sauce on the stove, add sharp cheddar cheese and stir until smooth. That sauce goes over the potatoes and then the whole thing is covered with aluminum foil. This allows the potatoes to bake and steam, ensuring that they aren't raw when you serve them. Just before you take them out of the oven you uncover them and sprinkle on more shredded cheese and Panko bread crumbs.
It's amazing I tell ya.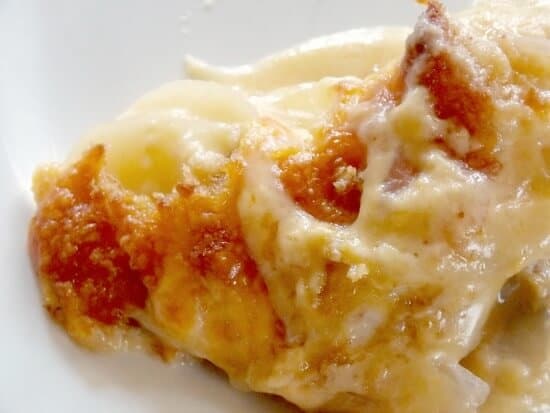 Now, be sure to use sharp or extra sharp cheddar in these creamy potatoes au gratin . Sometimes I like to use part smoked cheddar as well and that is really good. You want the cheddar to be sharp and highly flavored so that it doesn't get lost in the cream sauce. [pullquote]When making a cream sauce always cook the flour for at least a minute or two to get the raw, starchy taste out.[/pullquote]That's important. It's also imperative that you taste the cream sauce - cheese mixture before you add it to the potatoes. If it seems bland add salt a little at a time and stirring it well. Taste after every addition so you don't over salt it.
Put a baking sheet under your casserole because these will spill over a little — they're 'sposed to. It's part of the charm. Those crusty, blackened bits add flavor or something. I don't know but they are just bland if it doesn't spill over. Trust me.
Serve these the next time you have ham or roast chicken. I promise your family will worship you. Well, maybe worship is a bit too extreme. Let's just say they will like them... a lot.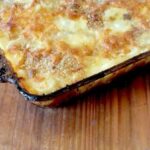 Creamy Potatoes au Gratin
Print
Save
Go to Collections
Creamy, tender au gratin potatoes with plenty of gooey cheese and a crunchy bread crumb topping
As an Amazon Associate I earn from qualifying purchases.
Ingredients
8 - 10

potatoes

,

, peeled and sliced ⅛ inch thick (eyeball it - enough to fit your casserole dish)

1

cup

chopped onion

⅓

cup

unsalted butter

⅓

cup

flour

1

teaspoon

of salt

Pepper to taste

2

cans evaporated milk or 3 cups of milk

,

, brought to a simmer

1

pound

of sharp cheddar

,

, shredded - reserve ⅓ cup

1

cup

Panko bread crumbs
Instructions
Preheat your oven to 400F

Grease a 13 x 9 inch casserole dish or other casserole dish with the same volume

With ⅓ of the potatoes make a layer on the bottom of the dish

sprinkle on pepper

Sprinkle on ½ of the onions

Cover that with a little of the cheese

Make another layer of potatoes and repeat, ending with a third layer of potatoes

Melt the butter in a heavy saucepan over medium heat

Mix in the flour and salt and stir constantly for about a minute and a half

Pour in the hot milk slowly, whisking to keep it smooth

Cook until the mixture thickens

Add all the remaining cheese except the ⅓ cup you held back

Stir until smooth

Carefully pour the cheese sauce over the potatoes letting it soak down to all layers

Cover the dish with aluminum foil and bake for 1-½ hours

During the last 10 minutes of cooking uncover the dish and sprinkle the top with the ⅓ cup reserved cheese and the Panko bread crumbs
Sign up for the emails and never miss another recipe!!
We'll never share your email or send you spam. Pinkie swear.