Comfort food season is quickly approaching, so that means I'm preparing for one debate my family can never settle: scalloped potatoes vs potatoes au gratin.
What's the main difference? Which is better? Let's dive into all the gooey, cheesy details and find out how you can make the best potato side dish ever—no matter which of the classic recipes is your favorite!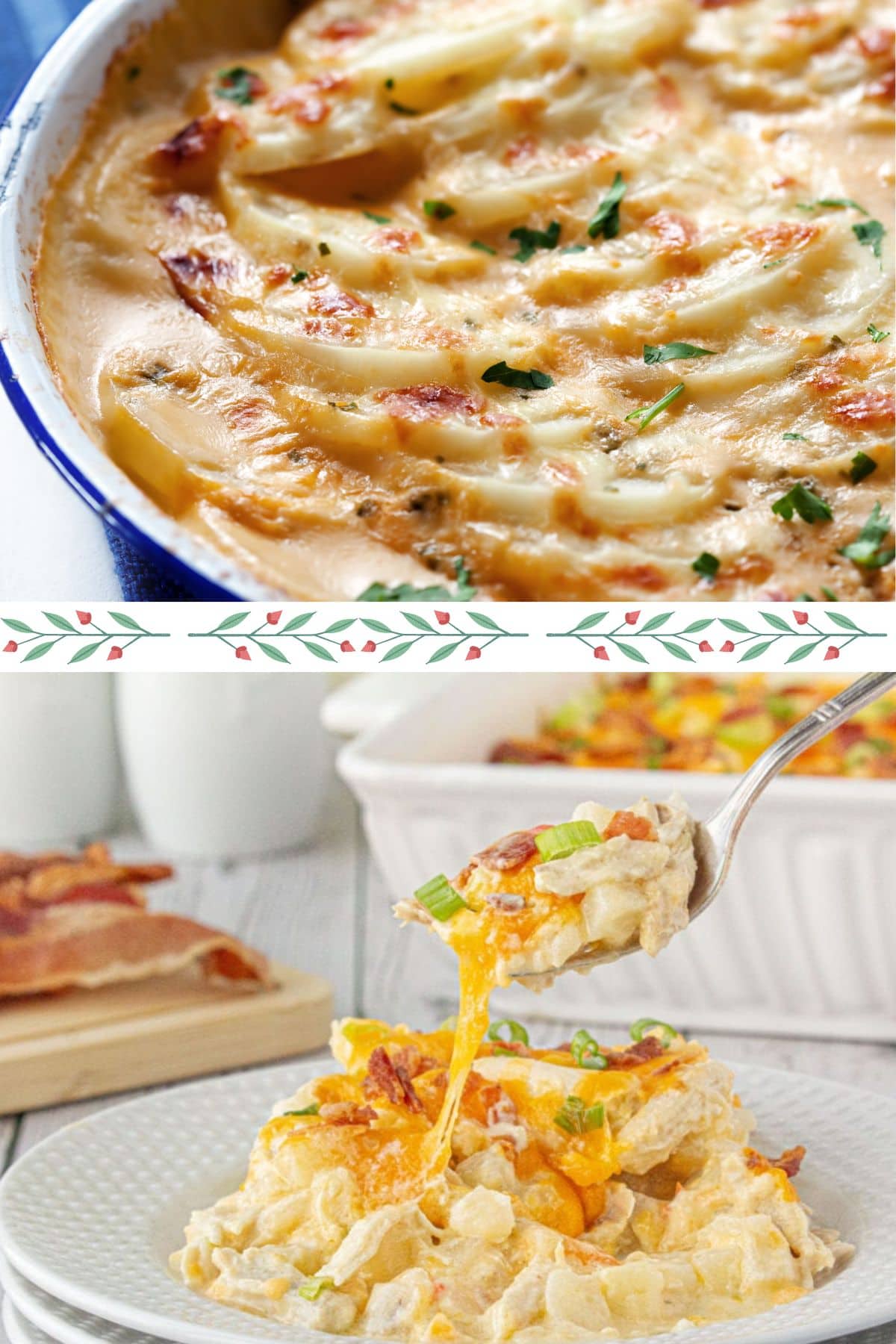 Table of Contents
🗝️ Key takeaways
The main difference between scalloped potatoes and au gratin comes down to the ingredients—cheese and breadcrumbs!
However, the lines have blurred, and home cooks often mistakenly refer to one dish as the other and vice versa.
Both classic potato dishes are great additions to your dinner table. Serve 'em with casual weeknight meals and for special occasions.
When it comes to the scalloped potatoes vs potatoes au gratin debate, it's difficult to choose a favorite! Though different dishes, they're both equally comforting and satisfying.
What are Scalloped Potatoes?
The classic dish called "scalloped potatoes" refers to thinly cut layers of potatoes and onions in a creamy sauce. It's generally baked in a casserole dish until bubbling and hot.
Most recipes include other seasonings, too, like black pepper, garlic, or fresh herbs. This adds a little extra flavor to the tender potato slices and white sauce base.
Traditionally, cooks would use a milk sauce to achieve a creamy texture without any cheese.
Nowadays, though, cheese is a common addition—who doesn't love cheese? That, however, is where the confusion between scalloped and au gratin potatoes starts.
What are Potatoes au Gratin?
"Gratin" is a French word that describes food with a crisp, golden brown topping. So, if you order an "au gratin" dish from a restaurant, you'll find yourself enjoying something with toasted breadcrumbs or cheese.
(If you're like me, you'll be hoping for both. Fingers crossed!)
Most au gratin potato recipes also feature a creamy mixture of sauce and more cheese. Though potatoes cooked au gratin are often cut into thin slices—like scalloped potatoes—they can also be small chunks or shreds.
The creamy cheese sauce for potatoes au gratin, or gratin dauphinoise if you're fancy, is often made with heavy cream. Then, it's sprinkled with salty cheese, like parmesan or gruyere cheese, and breadcrumbs.
Finally, it's toasted, broiled, or torched until crisp and delicious—the perfect accompaniment to any main dish.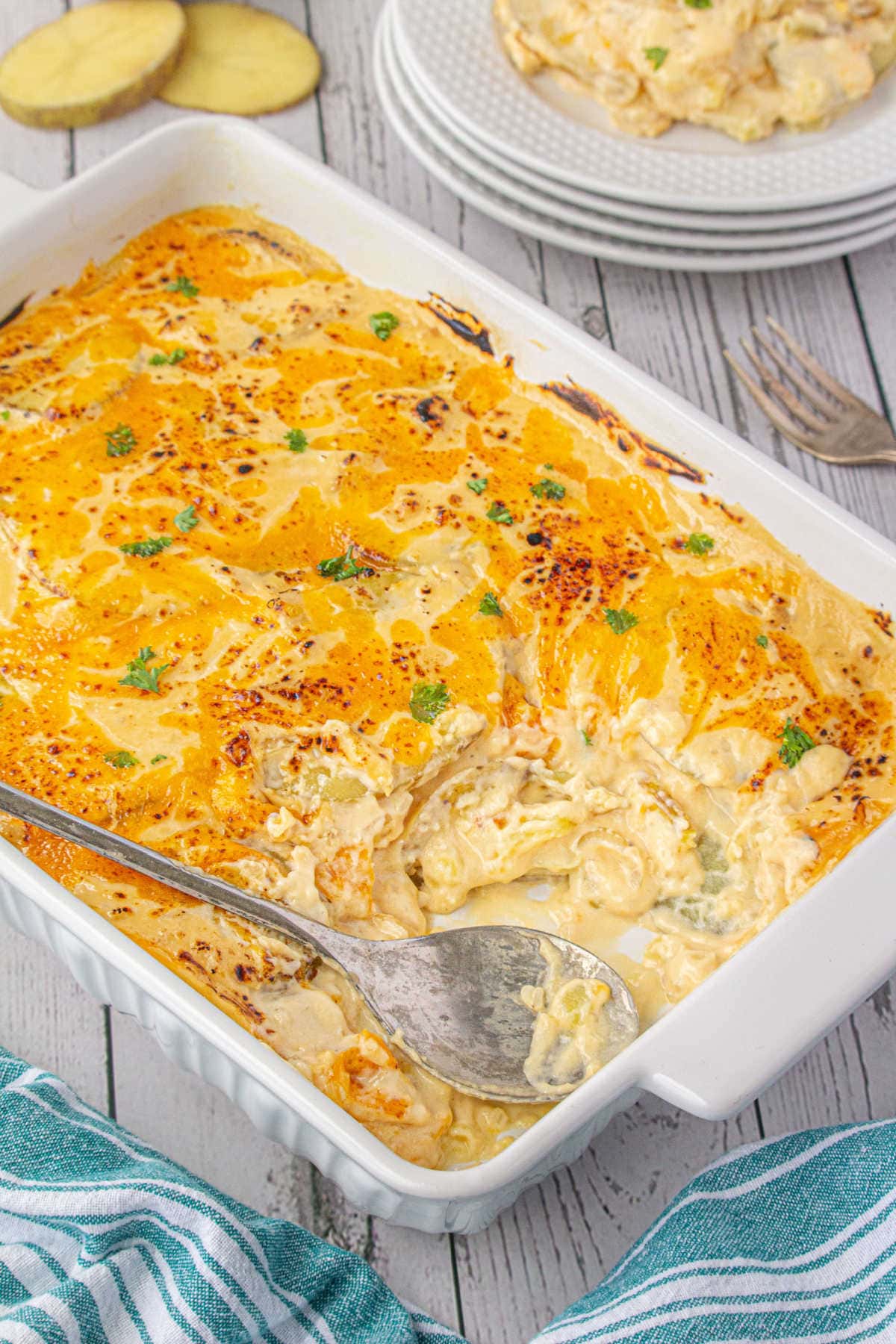 👩‍🍳 FAQs
What is the main difference between scalloped potatoes vs au gratin potatoes?
Scalloped potato recipes originally did not include cheese, just a milk-based sauce. Creamy au gratin potatoes are traditionally baked with a crisp cheese or breadcrumb topping.
Which potatoes are best for au gratin?
If your recipe doesn't specify, choose waxy potatoes like Yukon golds. Red potatoes and Russet potatoes are popular choices, too.
Which potatoes are best for scalloped potatoes?
Same answer! Red and Yukon gold potatoes hold their shape well in potato recipes, but Russets work and are cheap and easy to find.
Do you have to peel potatoes for scalloped or au gratin potatoes?
This one is up to you. When I'm making creamy potatoes, I don't want the rough skin of a Russet potato getting in my way. Softer-skinned potatoes (like Yukons) do better unpeeled, but you may still opt to remove the skin for best results.
Should I wash potatoes before cooking them?
Yes, it's always a good idea to rinse produce and scrub off any visible dirt with a brush. You can use a food-safe produce rinse if you're worried about bacteria or germs.
Potato Side Dish Tips
Carefully use a mandoline or a very sharp knife to cut the potatoes into similar-sized pieces. This way, they'll cook more evenly.
For most scalloped and au gratin recipes, don't soak the potato slices. Soaking gets rid of starches that you need to thicken the cream sauce.
Don't use sour cream instead of heavy cream or milk—unless your recipe says so. The acidity can prevent potatoes from fully softening.
Use aluminum foil to cover your baking dish and keep the potatoes warm. However, this traps steam, which can make breadcrumbs soggy.
While potato casseroles are great prep-ahead dishes, they keep best in the fridge. Freezing/thawing can make creamy sauce taste weird.
📚 Related recipes
🫶 Restless Chipotle recommends
As an Amazon Associate I earn from qualifying purchases.
Can you ever have too many casserole dishes? I don't think so. This glass casserole dish is for big families (it's 3 quart!) and it has its own glass lid.
And, if you happen to be taking it to a potluck? You'll love these pretty casserole carriers! They keep your casserole warm and your car clean! No more worries about spillage when you have to stop fast.
📞 The last word