This tall cherry almond cake is easier than it looks. Pretty enough for special occasions, it is made of two layers of almond cake with a layer of Maraschino cherry cake in the middle. The whipped white chocolate buttercream is light and airy -- the perfect finish for this elegant layer cake.
For this recipe you'll need: cake, flour, baking soda, baking powder, salt, unsalted butter, sugar, vanilla, vanilla bean, almond extract, buttermilk, eggs, Maraschino cherries, confectioner's sugar, heavy cream, white chocolate chips. 3 8-inch round cake pans, waxed paper.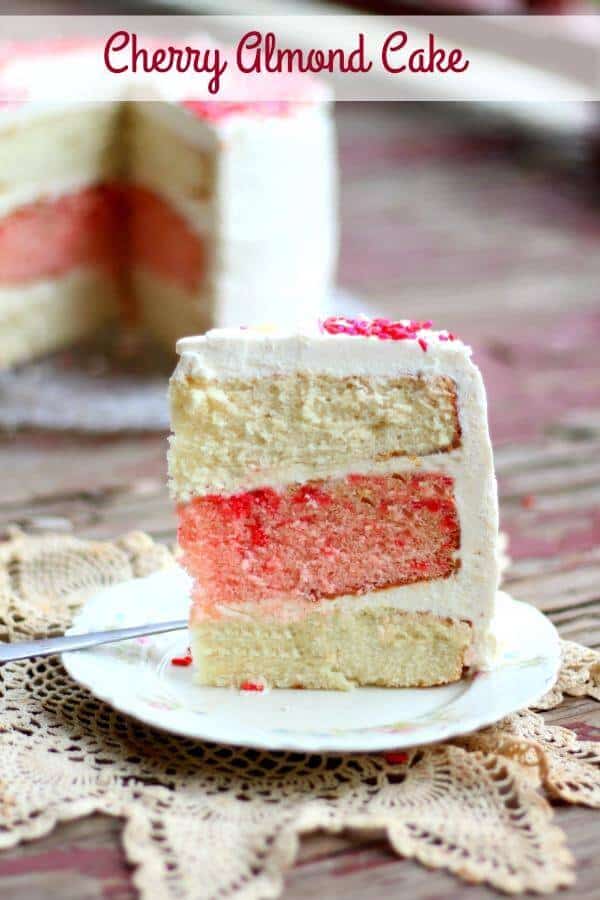 Valentine's Day Memories

I love holidays of all kinds. There's just something about the traditions and special recipes that go along with each holiday that makes me happy. I see holidays as a reminder to invest myself into my relationships. Valentine's Day is a chance to let my family and friends know just how much I adore them.
One of my favorite memories is making a heart shaped Valentine's Day cake with my mom. She wasn't much of a baker but for some reason she decided to make a cake for Valentine's Day. I was probably three or four years old but I still think it's the most beautiful Valentine's Day cake I've ever seen. What do you think?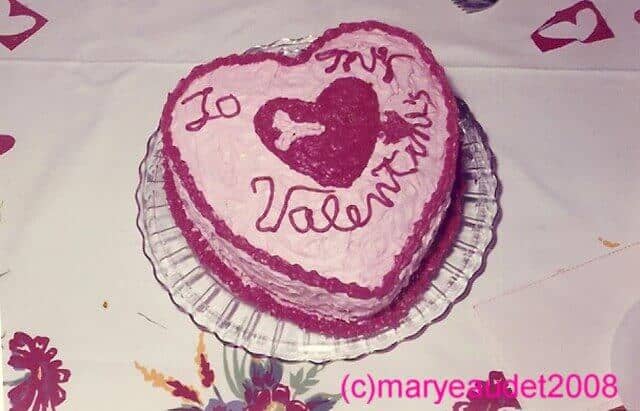 Yeah I know it says 2008 but that was from when I was still marking all my images. I promise you, that's from 1963 or so. I still have that tablecloth and cake plate. As a matter of fact I just realized that it's the same cake plate I used for this cake! 🙂
I don't remember how much of the cake I actually decorated but I do remember proudly serving that cake to my dad. My parents didn't do much as far as Valentine's Day when it came to their own relationship -- at least not that I know of -- but there was always a gorgeous card for me and a little gift from the Valentine's Fairy.
You see the Valentine's Fairy would sneak into the house and leave a fun Valentine's themed gift on my bed during dinner. I was an only child and my parents were in their 40s when I was born so I was doted upon. Not spoiled but definitely very loved. I've tried to pass that on to my kids -- to somehow let them know how very loved they are without spoiling them. So far so good. They are pretty terrific.
Cherry Almond Cake for ANY Day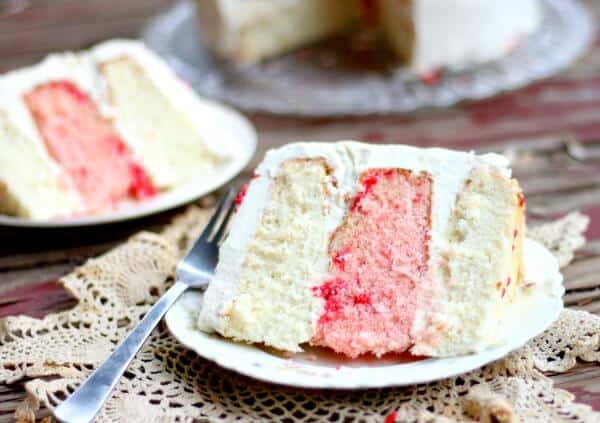 So, this cherry almond cake... It's a 3-layer cake so it's super tall and pretty. There are two layers of fluffy almond cake with a pretty pink layer of sweet Maraschino cherry cake in between them. You can actually see vanilla bean in the almond layers and Maraschino cherry bits in the pink layer. It's just pretty.
Just wanted to thank you for sharing the recipe for the cake and icing it was unbelievably GOOD and now GONE…
But, like people, a pretty cake is no good at all if it's not yummy on the inside. This one is. The layers are full of flavor, tender, and they are a good way to get that buttercream in your mouth.
The buttercream. Oh my gosh, you better plan on extra because it's going to be very hard not to lick your fingers until the white chocolate buttercream is all gone. It's not heavy at all -- the texture is similar to Swiss buttercream or the whipped frosting from the bakery. Very light and very, very rich, and perfect on this cherry almond cake.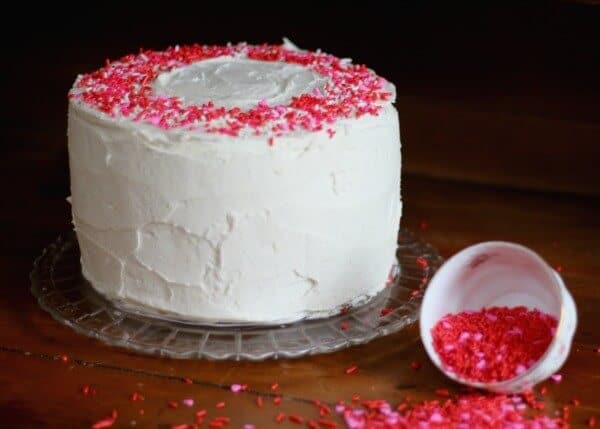 Supplies You May Need
The following are affiliate links. We are a participant in the Amazon Services LLC Associates Program, an affiliate advertising program designed to provide a means for us to earn fees by linking to Amazon.com and affiliated sites.
What's new? Check out my Restless Chipotle & Co. Store on Amazon where you'll find all kinds of nostalgic goodness! Thanks so much for being a part of Restless Chipotle!
I am a fan of Bob's Red Mill products. Cake flour is one of the reasons this cake is so light and velvety.
Bob's Red Mill - Super-Fine Cake Flour
There are all kinds of vanilla beans and they have different nuances. This packet has 4 different kinds of vanilla beans so you can experiment to find what you like best.
Madagascar Bourbon Assortment Vanilla Beans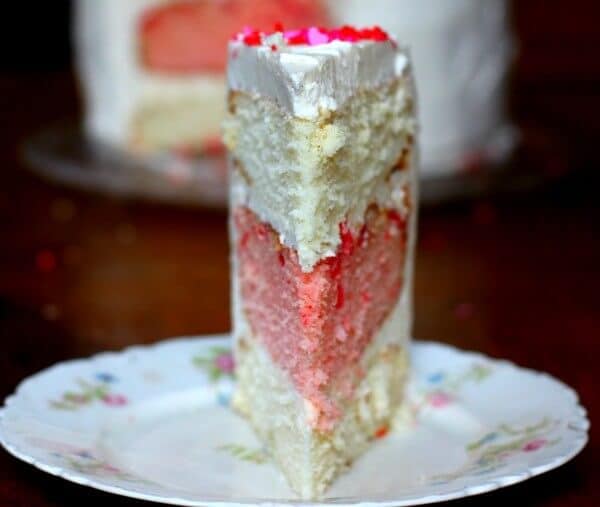 Cherry Almond Cake Recipe
Here's that cherry almond cake recipe!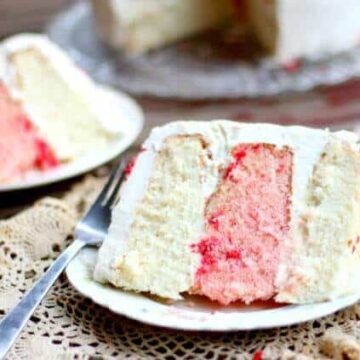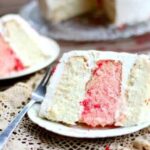 Cherry Almond Cake
Print
Save
Go to Collections
Beautiful 3 layer cake flavored with almond and Maraschino cherries and frosted with a thick layer of airy white chocolate buttercream.
As an Amazon Associate I earn from qualifying purchases.
Ingredients
4

cups

cake flour

1

teaspoon

baking soda

½

teaspoon

baking powder

½

teaspoon

salt

1

cup

unsalted butter

3

cups

sugar

2

teaspoons

vanilla

1

teaspoon

almond extract

1

inch

of vanilla bean

,

, seeds scraped into the batter pod set aside (add the pod to the sugar bowl for vanilla sugar)

2

cups

buttermilk

6

egg whites

,

, unbeaten

¼

cup

finely chopped Maraschino cherries
Buttercream
18

ounces

white chocolate chips

3

cups

room temperature

,

, unsalted butter, cut in cubes

9

cups

confectioner's sugar

1 ½

teaspoons

almond extract

¾

cup

heavy cream
Instructions
Preheat oven to 350F
Grease 3 8-inch round cake pans. Cover bottoms with waxed paper and dust with flour.

Sift together the flour, salt, baking powder and baking soda.

Cream butter and sugar until light and fluffy, about 5 minutes

Beat in vanilla, almond extract, and vanilla scrapings.

Add dry ingredients alternately with the buttermilk, beating well after each addition.

Add egg whites and beat at medium speed for two minutes.

Add chopped Maraschino cherries to ⅓ of the batter.

Divide the almond batter equally between 2 greased and wax paper lined 9-inch round pans.

Add the Maraschino cherry batter to the third pan.

Bake at 350 for 20 minutes, reduce heat to 325 and bake for 25 minutes more, or until the cake tests done.

Cool in pans 10 minutes, then turn out and finish cooling on racks.
Buttercream
Melt the white chocolate chips in the microwave, stirring every 30 seconds.

Let cool to room temperature.

Beat the butter until fluffy.

Add the confectioner's sugar.

Beat on high until well mixed.

Add the almond extract and heavy cream

With mixer on high spoon the melted white chocolate into the buttercream, beating until it is light and airy.

Use to fill and frost the cherry almond cake.
Nutrition Facts
Calories:
1127
kcal
|
Carbohydrates:
148
g
|
Protein:
8
g
|
Fat:
57
g
|
Saturated Fat:
35
g
|
Cholesterol:
132
mg
|
Sodium:
527
mg
|
Potassium:
207
mg
|
Fiber:
0
g
|
Sugar:
124
g
|
Vitamin A:
1475
IU
|
Vitamin C:
0.2
mg
|
Calcium:
123
mg
|
Iron:
0.4
mg
Sign up for the emails and never miss another recipe!!
We'll never share your email or send you spam. Pinkie swear.
If you liked this Cherry Almond Cake you may also like...
Chocolate Cake with Cookies and Cream Filling
Cherry Chocolate Chip Cake Life Love and Sugar
Honey Butter Cake The Cake Blog