These easy canned corn recipes transform a cheap, pantry staple into a meal that is full of savory, sweet flavors. So, grab that can of corn from the back of your cabinet, and let's get cooking—sides, dinners, and more!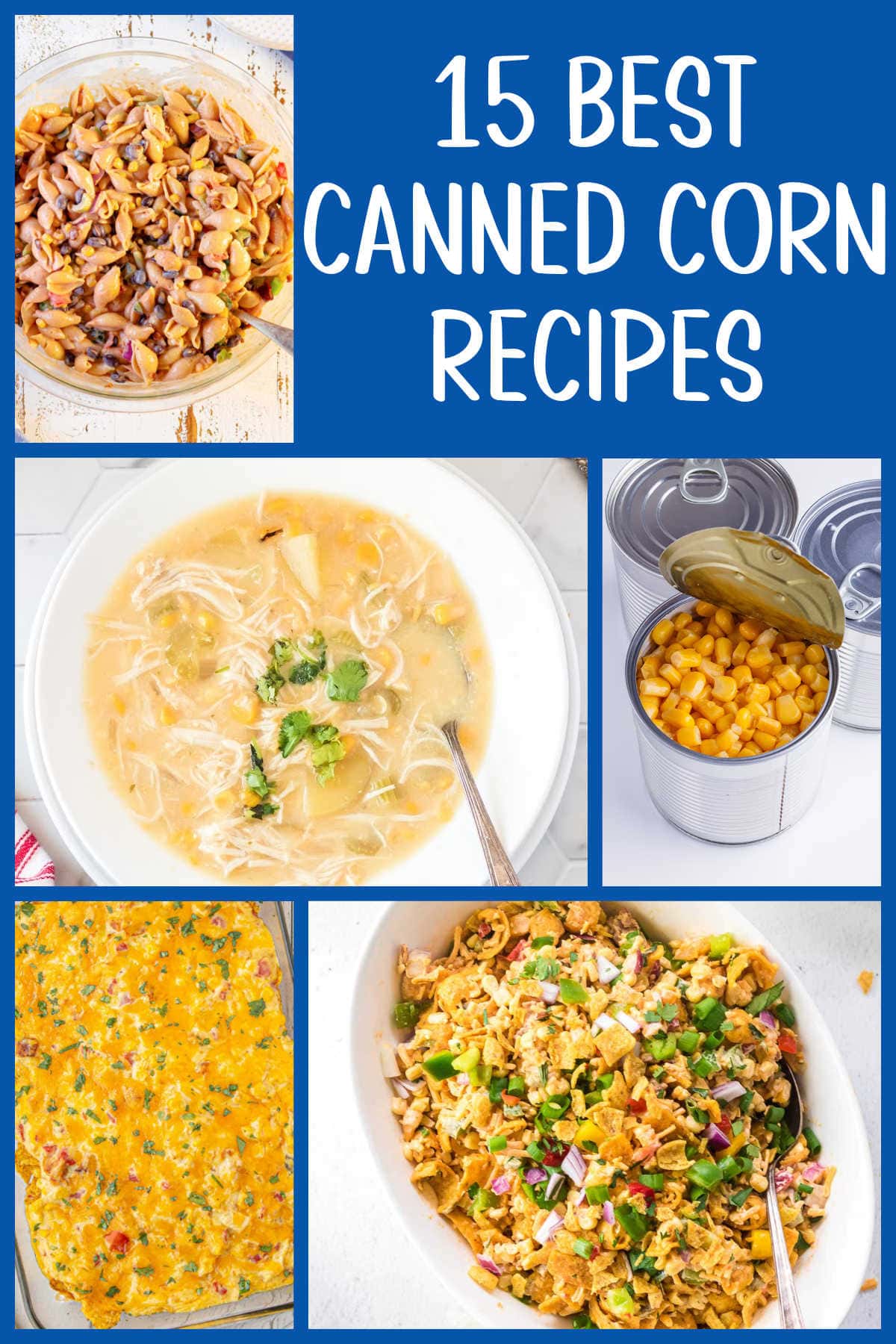 Table of Contents
❤️ Why we love these recipes
Canned corn is already cooked, so prep is effortless
Corn is budget-friendly and a great way to make meals stretch
Juicy, sweet corn kernels go with so many different flavors of foods
I love fresh sweet corn as much as anyone but it's at its best in the summer. Canned corn is available year 'round but I get tired of just dumping a can of corn in a bowl and microwaving til hot.
These recipes all use canned corn so you can have this budget-friendly veggie any time and use up the extra cans in your pantry!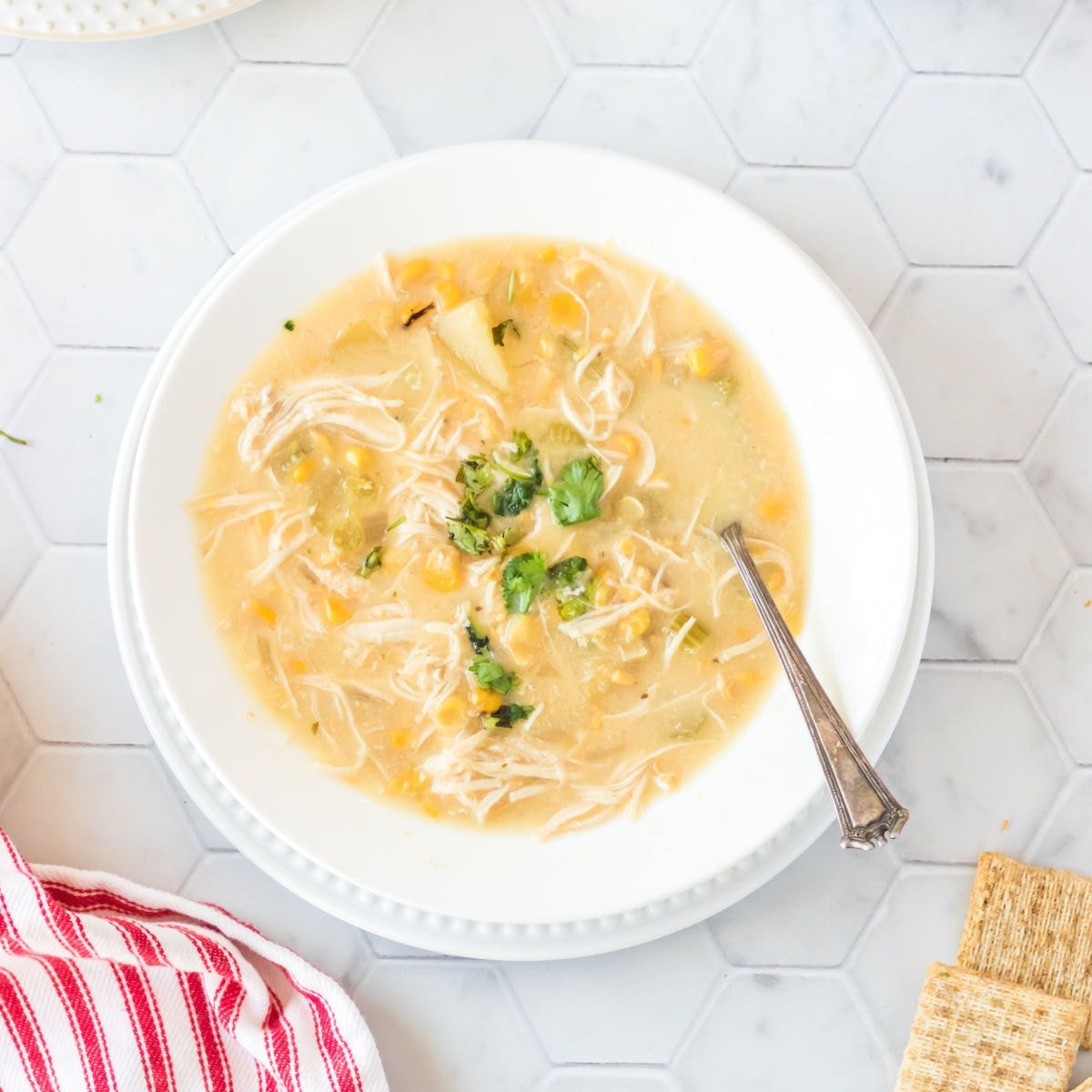 1. Crockpot Chicken Corn Chowder
Hearty and warm, crockpot chicken corn chowder comes together with almost no effort at all. Simply dump everything in and let the slow cooker work its magic.
Heads up—you'll use whole kernel corn and creamed corn in this flavorful main dish. Double the corn, double the fun!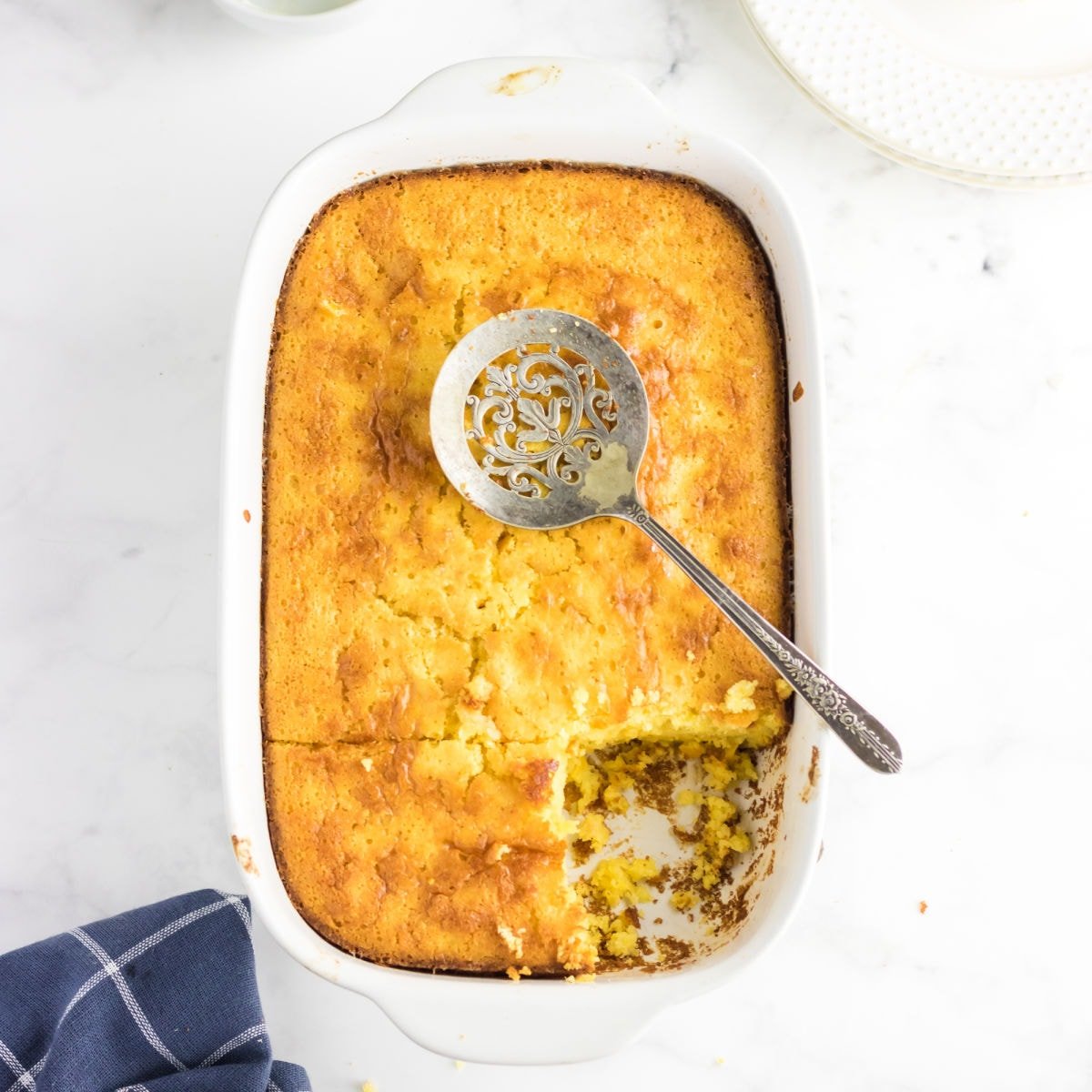 2. Creamed Corn Cornbread
Creamed corn cornbread starts off with a Jiffy mix, so it's super easy. However, after adding a few special extras (like creamed corn, buttermilk, and honey) this delicious side dish tastes anything but boxed.
Be warned: everyone will be asking for your recipe!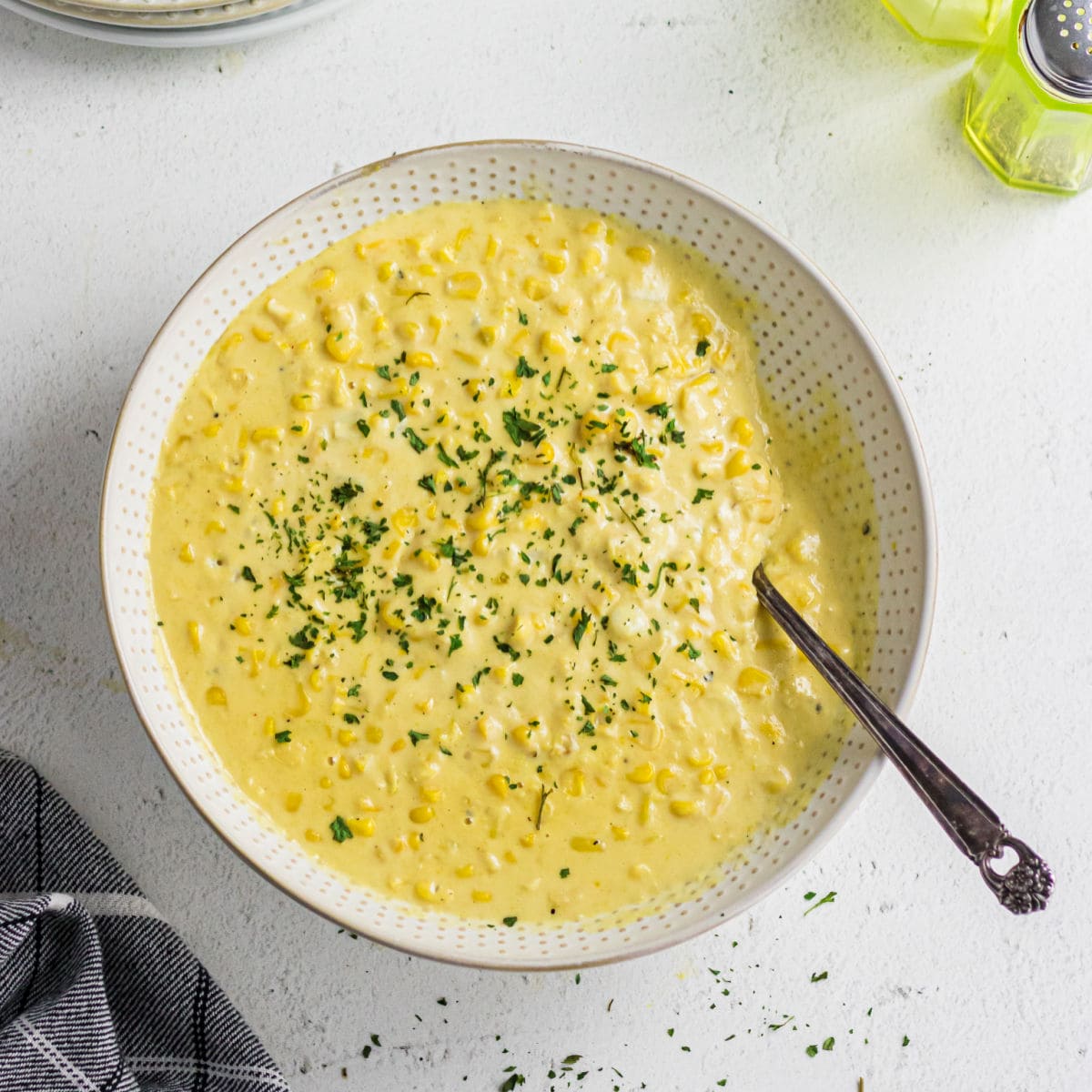 3. Creamed Corn
Homemade creamed corn is a Southern classic. It's been around for a long time, and, after the first decadent bite, you'll taste why!
Plus, you probably already have the main ingredients in your kitchen, like heavy cream, butter, and, of course, a can of corn. It all simmers together in under 20 minutes.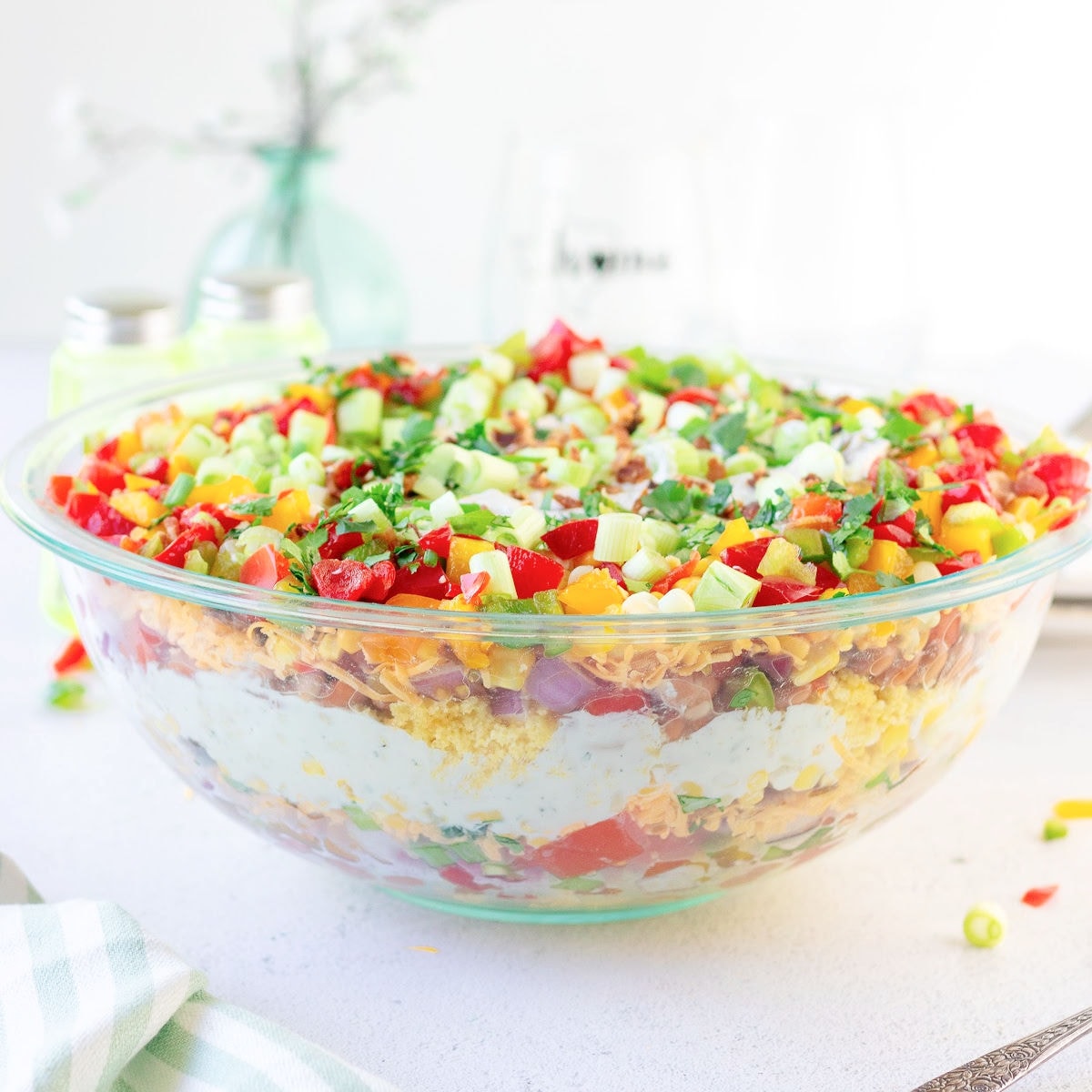 4. Layered Cornbread Salad
Layered cornbread salad is an easy recipe that puts other veggie side dishes to shame. The simple ingredients blend together in a symphony of flavor that is anything but, well, simple!
With hunks of cornbread, canned corn, bacon, red onion, cheddar cheese, beans, and more, this corn salad is almost a feast in itself! You'll love how the sweet flavors of corn mingle with the spicy chiles and zesty Ranch seasoning.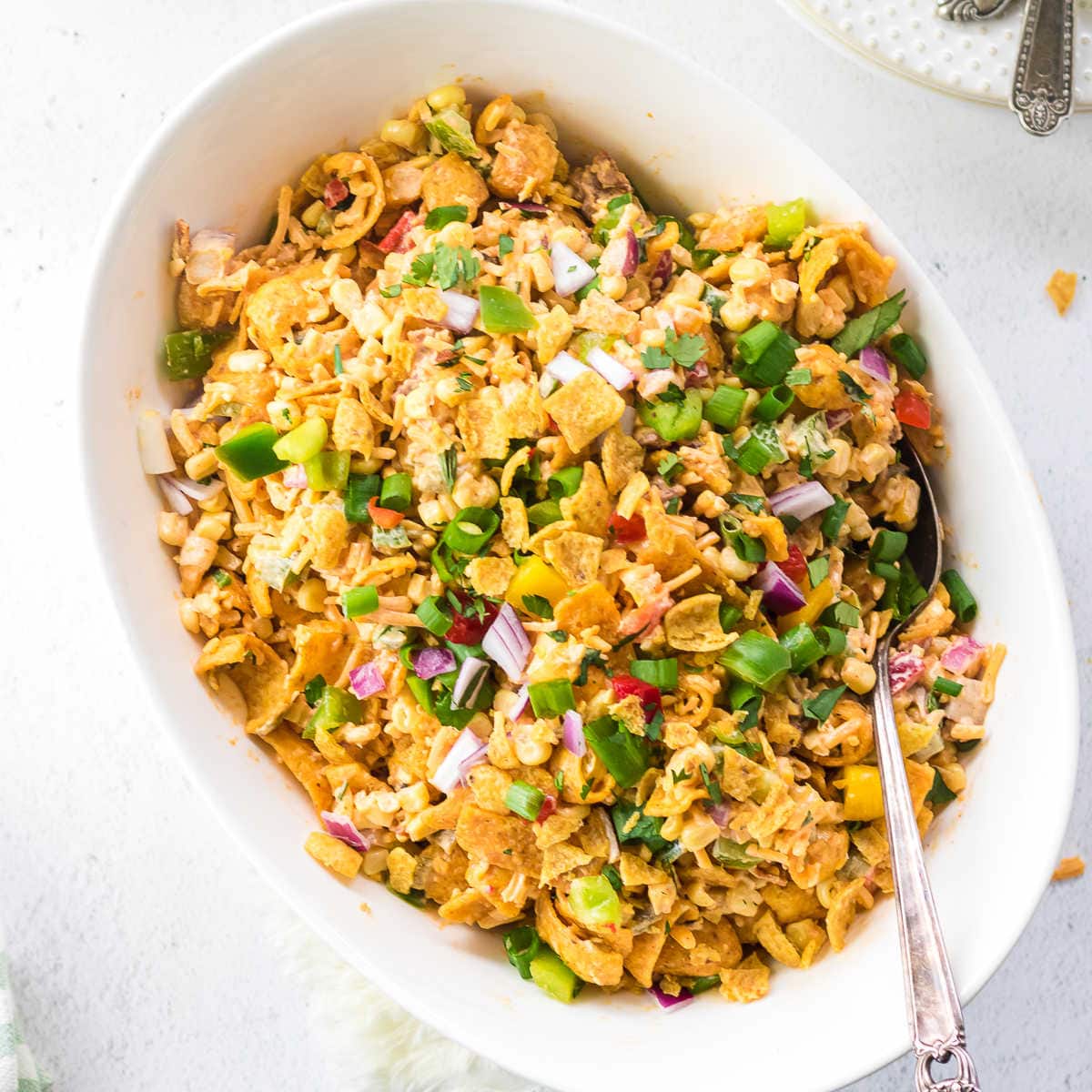 5. Frito Corn Salad
Take your summer corn dishes up a notch with Frito corn salad—featuring crushed Frito chips! Though, since we use a can of corn, you can make this delicious recipe all year-'round.
Red and green bell peppers, bacon, and jalapenos add the perfect savory flavors to complement the sweet corn taste. Plus, the taco-seasoning dressing is a great addition you'll want to add to everything.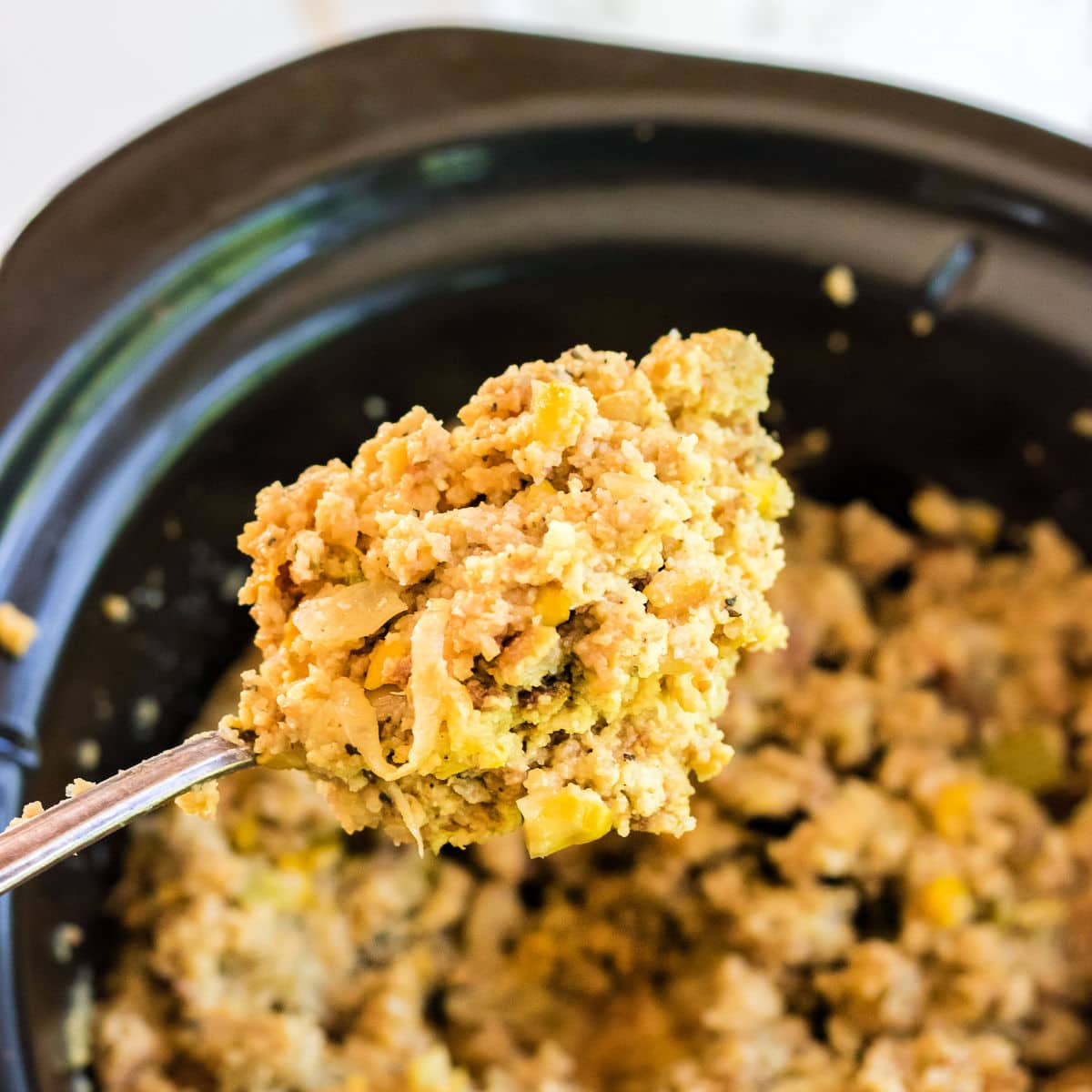 6. Slow Cooker Cornbread Dressing
Slow cooker cornbread dressing is an easy side dish that makes any meal taste like Thanksgiving dinner. Plus, since it's made in the crockpot, you have your stove and oven free to cook other dishes!
The flavors of sage, celery, and cream of chicken soup add a lovely, homestyle feeling to the creamy cornbread. Be sure to grab two scoops of this—it goes fast.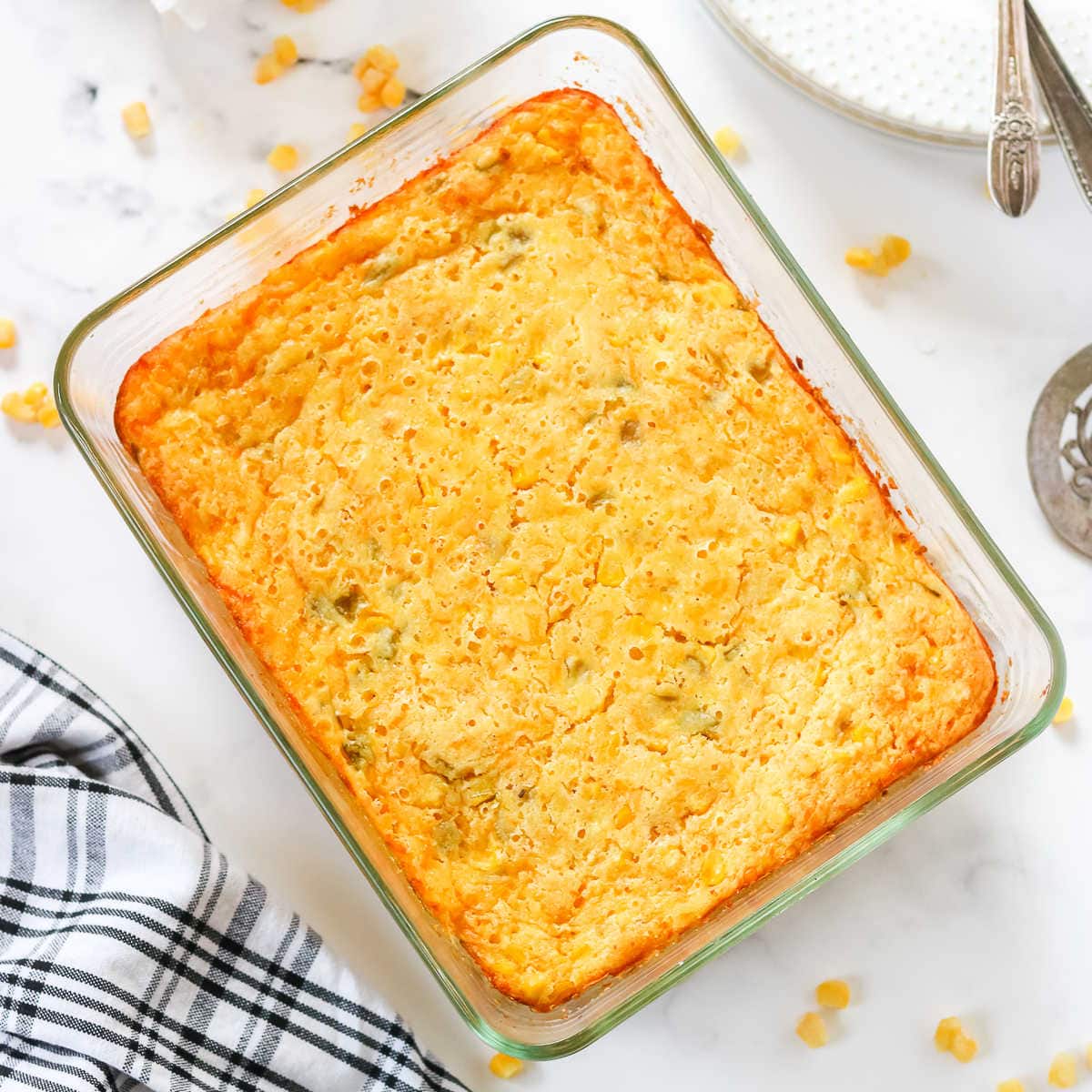 7. Jiffy Corn Casserole
Jiffy corn casserole is one of those simple canned corn recipes that'll make you wonder, "Where has this been all of my life?!" It's decadent, packed with flavor, and so easy to eat.
Crisp and crusty on the outside, the interior of this quick side dish is tender and packed with cheese, chiles, and a little bit of cumin. Even better? It only takes about five minutes to prep—it's basically effortless!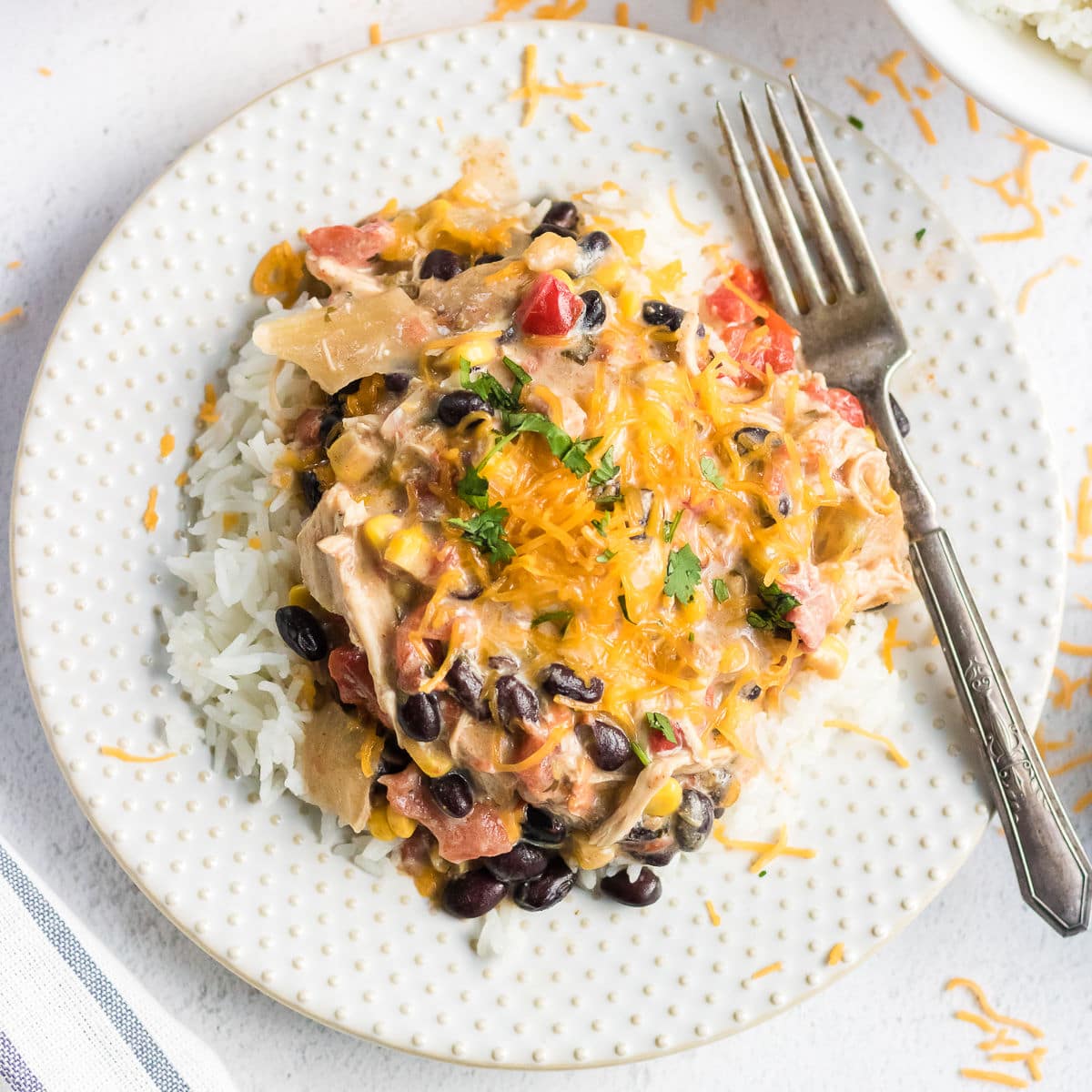 8. Fiesta Chicken
Dinner feels like a party when you serve easy fiesta chicken.
This crockpot recipe combines the savory flavors of tomatoes, black beans, and chiles with a can of sweet corn and some cream cheese for a rich, chicken-based meal the whole family will love.
Serve it over rice or scoop it up with tortilla chips! (A piñata is optional.)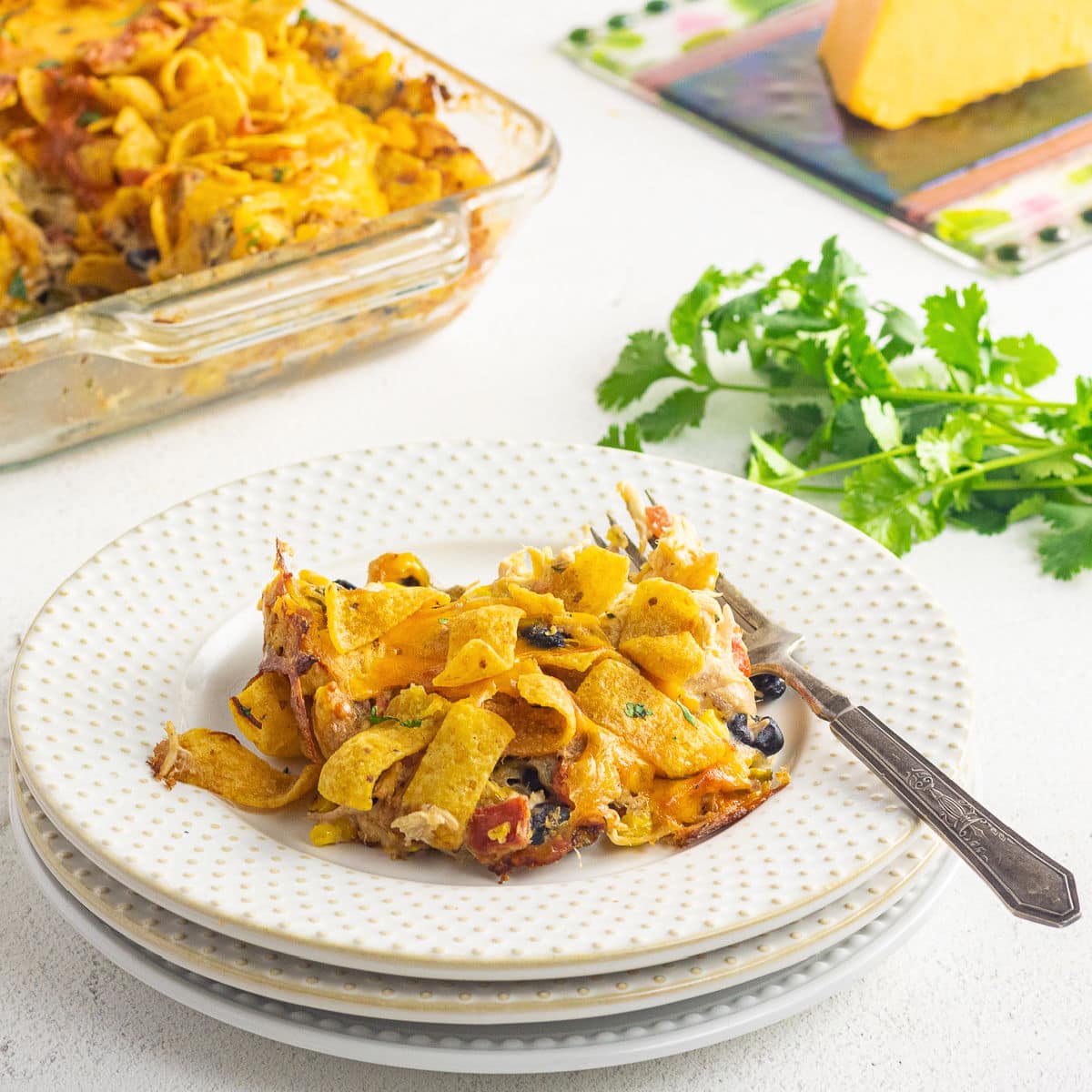 9. Frito Chicken Casserole
If you like easy corn recipes, there's nothing that compares to a fun, satisfying Frito chicken casserole for dinner.
This hearty meal is filled with protein, veggies, beans, and corn, so it's a full dinner in one dish. Then, it's topped off with deliciously addictive Frito corn chips and baked to warm, gooey perfection.
Basic ingredients never tasted so good. Make this one on repeat!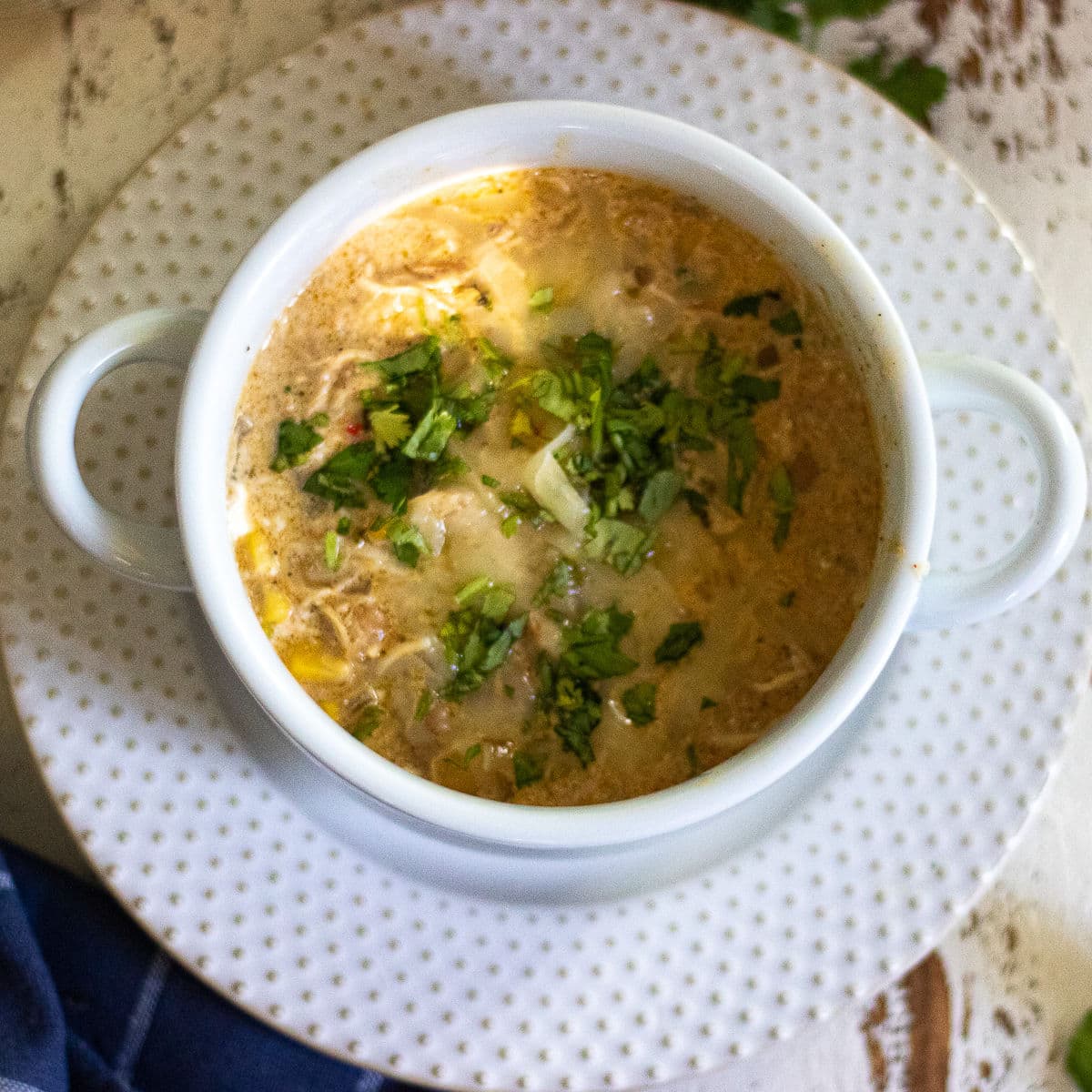 10. White Chicken Chili
With just five minutes of prep, you can have a next-level meal, sure to win big at any chili cook-off or please the whole family for dinner. (The latter of which is an even bigger win in my book.)
Slow-cooker white chicken chili is packed with flavorful goodies and just enough spice. The sweet corn, sour cream, and cream cheese perfectly balance out the heat from the chiles, spices, and pepper jack cheese.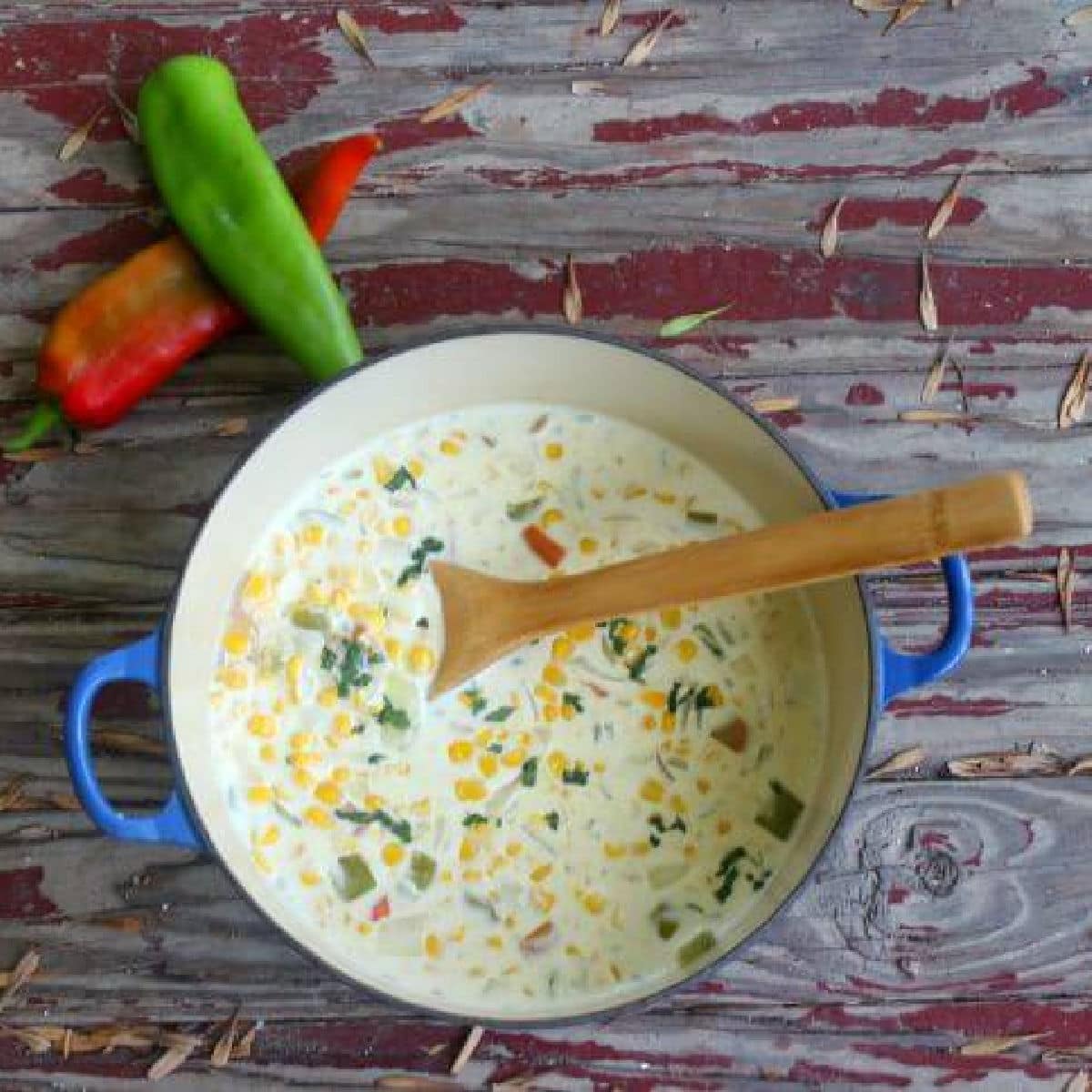 11. Hatch Chili Corn Chowder
Made easily on the stovetop, Hatch chile corn chowder takes just 15 minutes from start to finish—but tastes like it simmered all day!
This yummy soup strikes the perfect balance between silky and smooth, spicy and satisfying. Plus, it's a simple way to use up those cans of corn.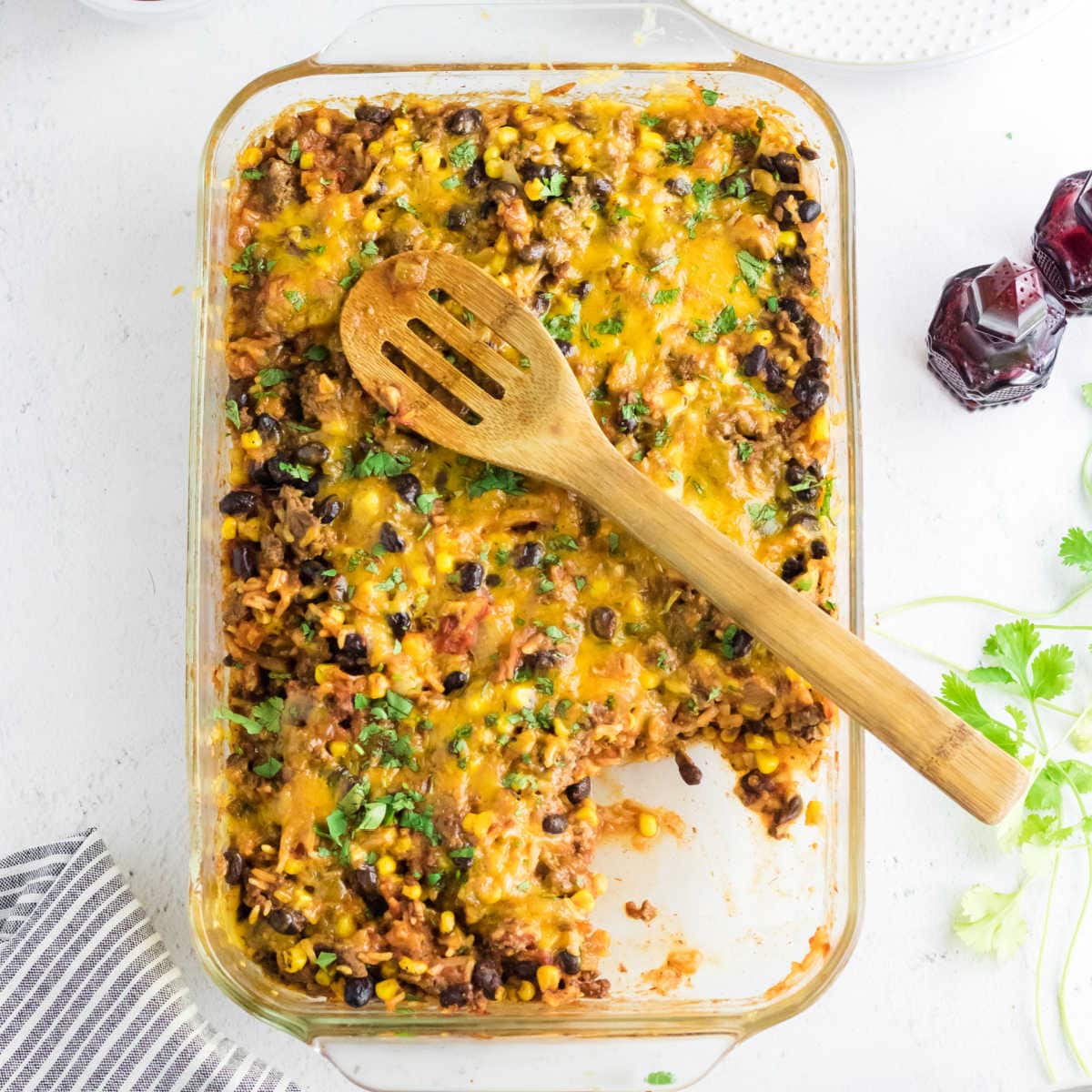 12. Easy Mexican Ground Beef Casserole
This easy Mexican ground beef casserole is full of bold Tex-Mex flavors! Beans,corn, ground beef, and rice make this hearty recipe a family favorite.
I like to use the fire-roasted canned corn if I can find it but regular corn will work just fine.
With all that cheesy goodness the whole family is going to love it - and you will, too, because it takes just 30 minutes.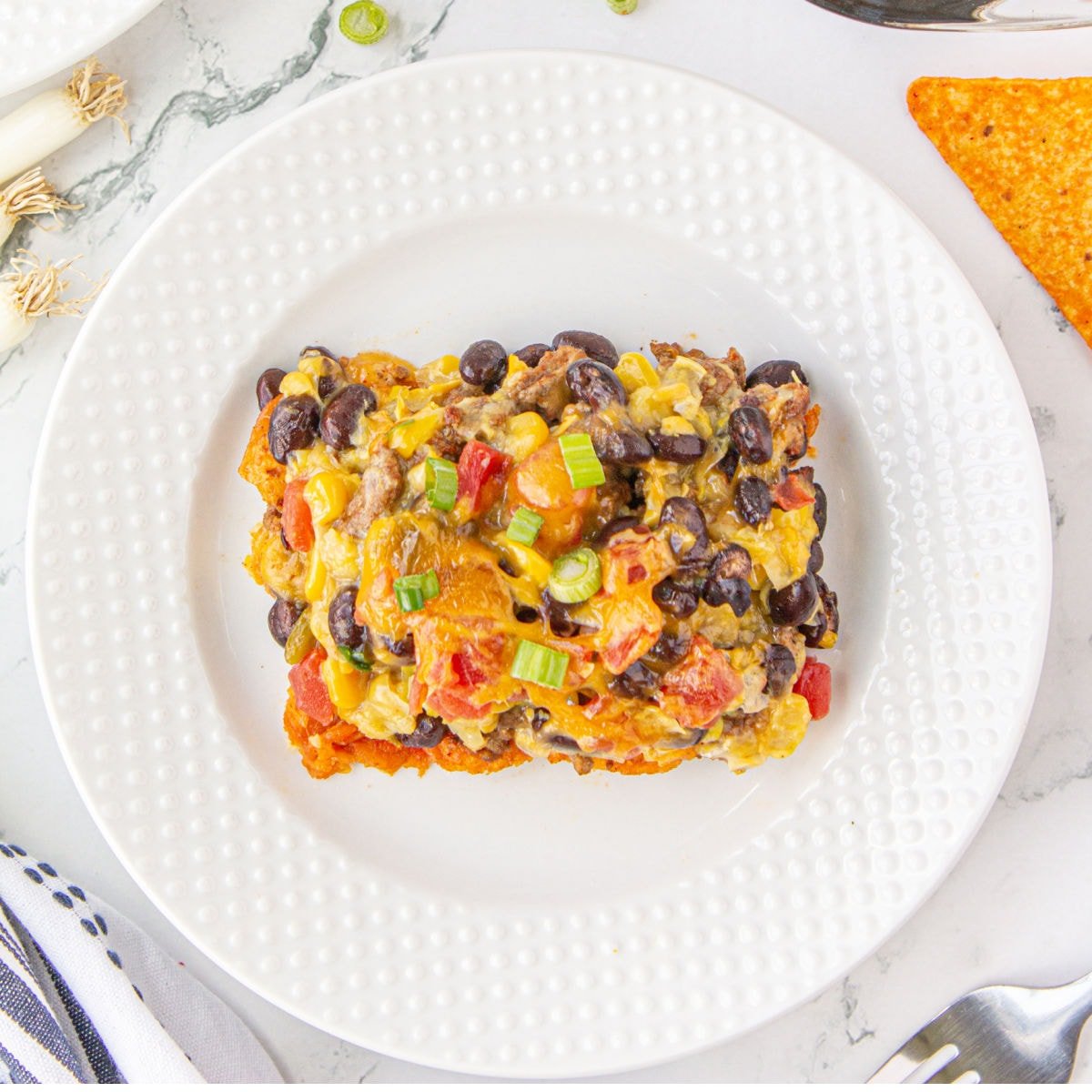 13. Ground Beef Dorito Casserole
Turn a grocery store staple into a fabulous full dinner with ground beef Dorito casserole. Yep, that Dorito—the chips!
Everyone gets excited about Dorito chips for dinner, and you'll be pumped when you see just how simple this family pleasing meal is to make.
The zesty little chips are the perfect topping to tangy, taco-seasoned ground beef, beans, and corn. Don't forget to add plenty of cheddar!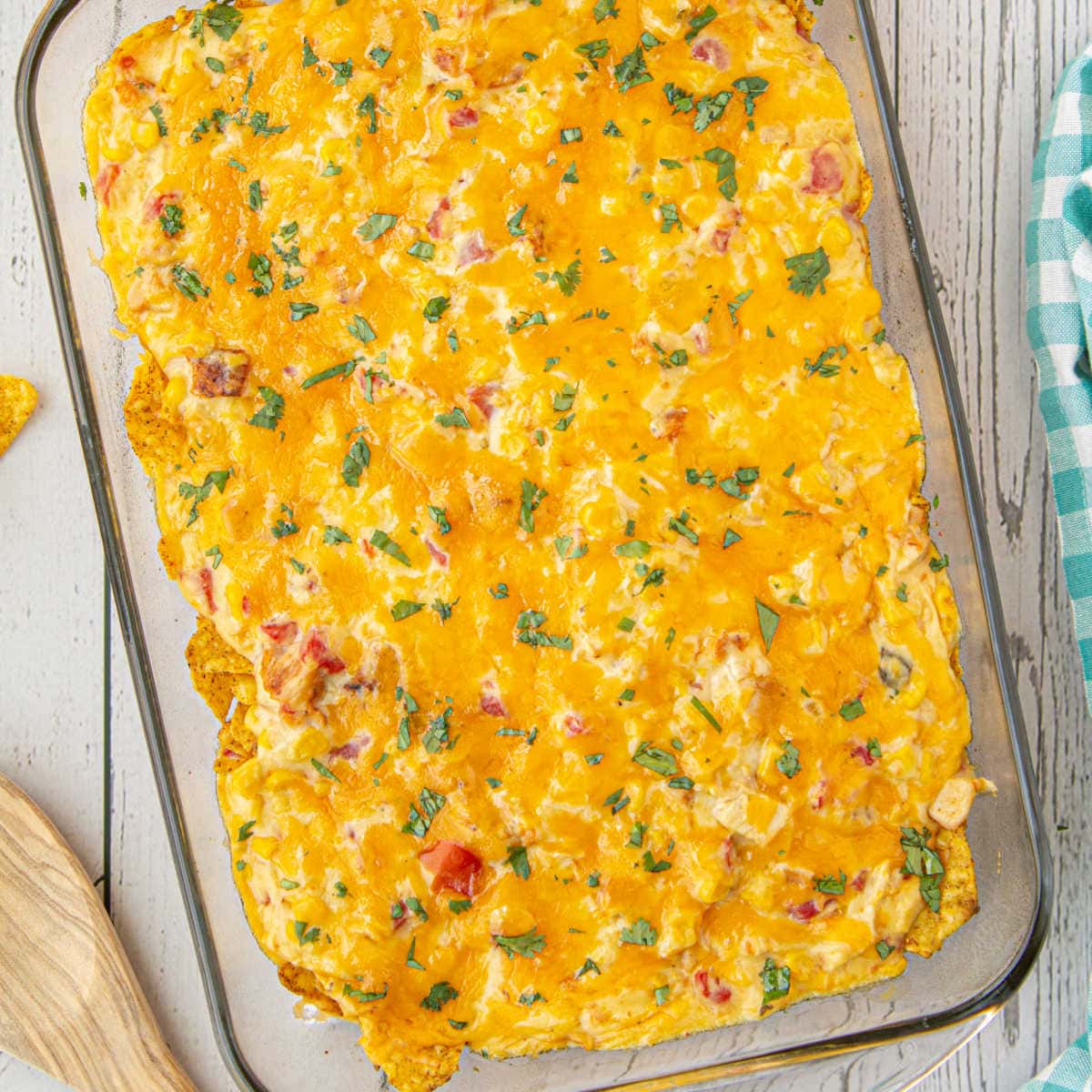 14. Easy Mexican Chicken Casserole
Like the idea of Dorito casserole, but not the ground beef? Try this easy Mexican chicken casserole instead—it's one of our favorite canned corn recipes.
With the zesty flavors of Cool Ranch Doritos, tomatoes, and corn, it's similar to the Doritos casserole recipe above but uses chicken instead of beef. The whole family will love the cheesy, crispy, satisfying meal.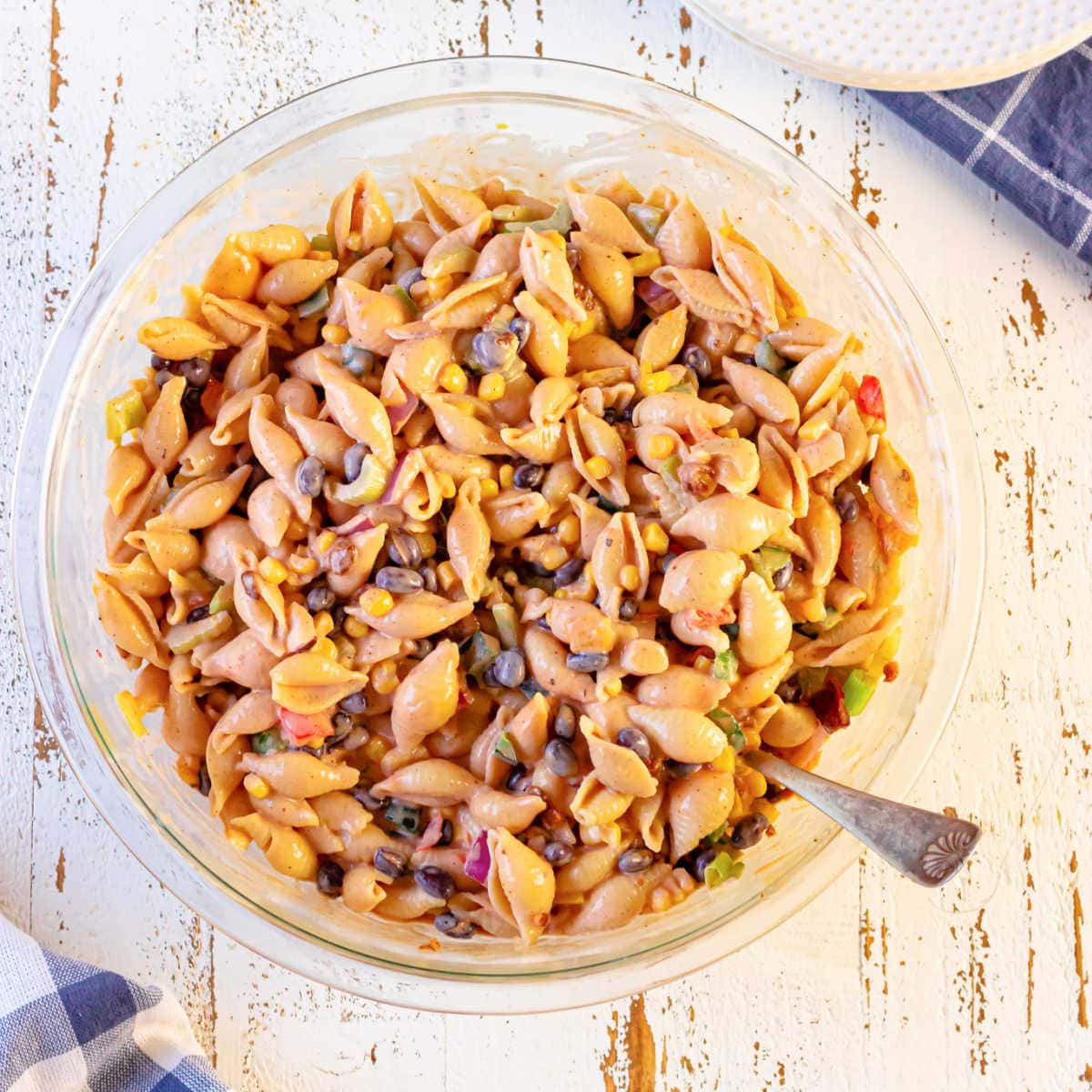 15. BBQ Macaroni Salad
It's not Texas without BBQ. Even if you don't live in the South, you'll impress everyone with this BBQ macaroni salad. Trust me, it goes fast at potlucks, cookouts, and, of course, summer barbeques.
The creamy, classic macaroni salad you loved growing up gets a slight update with sweet and smokey BBQ sauce, corn, peppers, and black beans. It's a tasty side dish and canned corn recipe that you can enjoy for days.
What can I add to canned corn to make it better?
Wondering how to season canned corn?
I always like to start with some salt, fresh cracked black pepper, and a little butter—everything is better with butter. From there, you can add even more tasty flavor.
Try these great ideas!
Chili powder and lime juice
Cayenne pepper
Diced green chilies
A pinch of red pepper flakes
Cheese (cheddar and parmesan cheese are always good)
Fresh parsley and chives
A little hot sauce—or, a lot!
💭 Things to know
You can use canned (drained) or frozen corn in any of these recipes.
Some canned corn already has salt in it, so season recipes carefully. You can always add more, but it's tough to fix food that's too salty.
I like to buy cans of corn in bulk from my favorite wholesale store. That way, I always have some on hand to make dinner stretch!
Grabbed some fresh corn from the farmer's market? Use it ASAP—corn tastes best just after it's removed from the stalk.
Corn is full of fiber and vitamin C, so it's a delicious and healthy addition to your dinner table.
Creamed corn isn't always a suitable swap for regular canned corn, but you can often get away with it in recipes like soup, stew, and chili.
What are your favorite ways to use canned corn? Let us know in a comment below!