This simple banana bread recipe with orange glaze is sure to brighten up any drizzly, gray morning with its bright citrus and sweet banana flavor combination. Use those overripe bananas to create this family friendly quick bread in minutes.
For this recipe you'll need: very ripe bananas, orange juice, orange zest, eggs, all-purpose flour, baking soda, baking powder, salt, confectioner's (powdered) sugar, walnuts, 2 8×4-inch loaf pans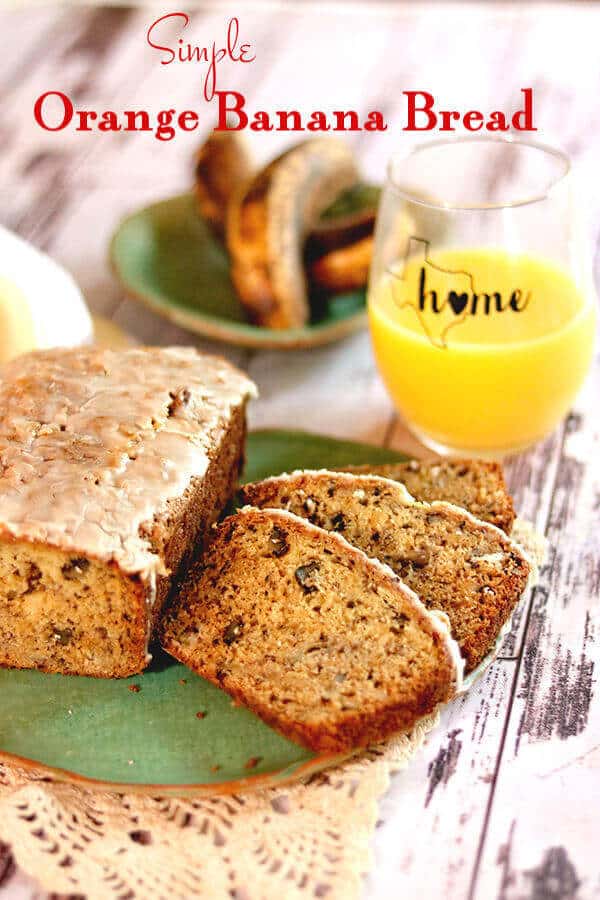 A Simple Quick Bread Your Family Will Love
Banana muffins or quick bread – I've never cared much which one I was eating because I love them both! As a matter of fact you can bake this batter in muffins tins for about 15-20 minutes at 375F if you prefer.
There's just something cozy about having a loaf of homemade quick bread on the breakfast table. It never fails to make me think of chrome and vinyl chairs, red or white laminate table tops, and pitchers of freshly squeezed orange juice.
Those were the days, weren't they?
Well we can't go back but we can definitely create those warm, happy memories for our family and friends with a few slices of this sweet treat!
How to Make the Best Banana Walnut Bread
Time needed: 1 hour and 10 minutes.
Get ready to have the best banana bread on the block! Just follow these easy steps!
Start with Ripe Bananas

Within reason, the more ripe the bananas are the better the bread will taste. Start with the ripest bananas possible!

Preheat Oven to 325F

Baking longer on a low temperature keeps this orange banana bread moist.

Melt Butter and Combine with Eggs, Sugar, Juice, and Banana

Combine the sugar and liquid ingredients together until they are mostly smooth – unless you like chunks of banana in your banana bread – then leave a few small pieces of banana.

Combine Dry Ingredients

Blend the dry ingredients together very well.

Add the Dry Ingredients to the Wet Ingredients

Quickly blend well. There will be lumps. Don't over-mix quick breads or they will be tough and dry.

Pour into Greased Pans

Use 2 greased 8×4 inch loaf pans for this recipe. The smaller pans make the bread rise a little higher.

Bake about 60 Minutes

Bake until a toothpick inserted in the center of the bread comes out with just a few moist crumbs clinging to it. 50 or 60 minutes is about right.

Let Cool in Pans

Let the bread cool in the pans for about 10 minutes before turning out to cool the rest of the way. It will slice better when completely cool. If you leave it until the next day the flavor will be more pronounced and the bread will be more moist.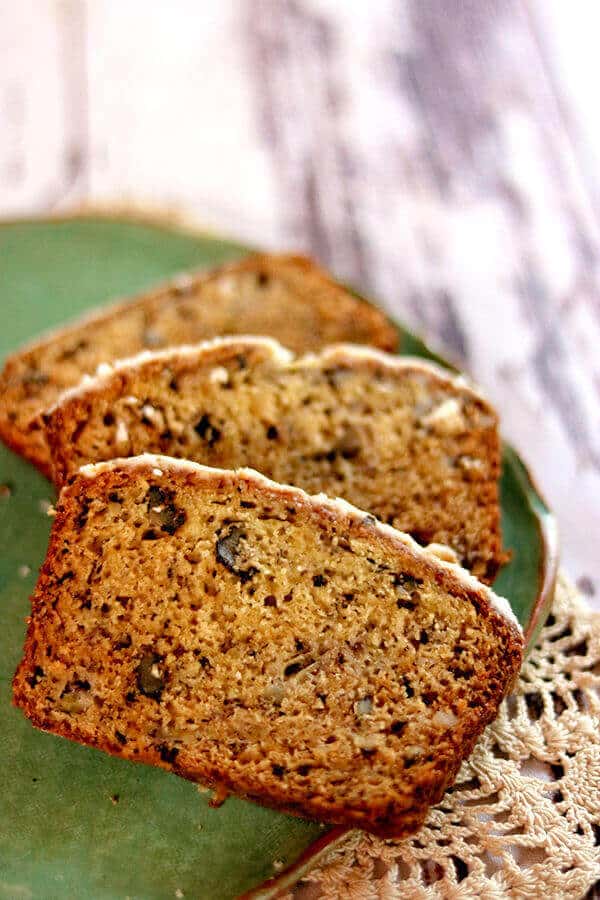 Orange Banana Loaf FAQs
Why is banana bread dark?
Once the banana peels are removed, and especially with over-ripe bananas, the flesh begins to oxidize and turn brown – like an apple does. You can keep your banana bread lighter by adding a little citrus as I have done in this orange banana bread recipe.
How do you tell when banana quick bread is done?
You can stick a toothpick in the center of the banana bread and when it is done there were only be a few, moist crumbs clinging to the toothpick. You can also push an insta-read thermometer into the center – the bread is done when it is 200F to 205F.
How long will homemade banana orange bread keep?
2 days at room temperature, about 1 week in the refrigerator, and up to 3 months frozen. Always wrap it AFTER it cools completely to ensure it doesn't get soggy.
Can banana bread be mailed?
Since banana bread molds very quickly at room temperature it's not a good candidate for mailing.
You May Need…
The following are affiliate links. We are a participant in the Amazon Services LLC Associates Program, an affiliate advertising program designed to provide a means for us to earn fees by linking to Amazon.com and affiliated sites.
What's new? Check out my Restless Chipotle & Co. Store on Amazon! Thanks so much for being a part of Restless Chipotle!
I am totally in love with these colorful, vintage looking juice glasses!! I bought them last fall and they've held their bright color through MANY cycles in the dishwasher!
More Quick Bread Recipes that Use Over-Ripe Bananas
Ok the last one is a cake not a bread but I couldn't resist – it's one of my favorites! Need more ideas? Check out this post by Money Saving Mom of 55 Way to Use Up Ripe Bananas!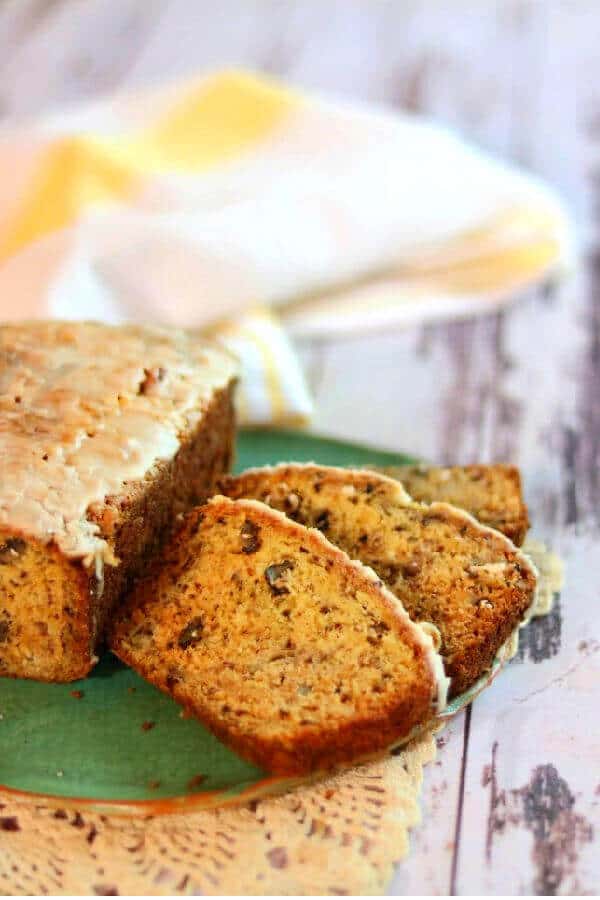 Simple Banana Bread Recipe
This simple quick bread is extra moist and delicious with lots of banana flavor! The tangy orange glaze makes it even better! Make a loaf to keep and a loaf to give away to a neighbor or friend.
If you love this recipe please give it 5 stars!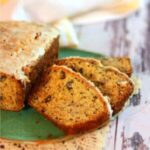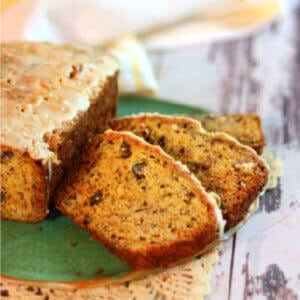 Banana Bread Recipe with Orange Glaze
Print
Add to Collection
Go to Collections
This super simple banana bread is made with over-ripe bananas and orange juice – it's a bright, uniquely flavored quick bread that everyone loves!
As an Amazon Associate I earn from qualifying purchases.
Ingredients
Bread
1 1/2

cups

granulated sugar

1/4

cup

butter

,

melted

2

eggs

3

bananas

,

very ripe – mashed (1 1/4 cups approximately)

3/4

cup

orange juice

3

cups

all-purpose flour

1 1/2

teaspoons

baking powder

1 1/2

teaspoons

baking soda

1

teaspoon

orange zest

1/2

teaspoon

salt

1

cup

walnuts

,

chopped
Glaze
1

cup

Confectioner's sugar

,

powdered sugar

1/4

teaspoon

orange zest

1 to 2

tablespoons

orange juice
Instructions
Banana Bread
Melt butter and let it cool so that it's comfortably warm to the touch.

Combine the sugar, melted butter, and eggs and mix well.

Stir in bananas and orange juice.

Combine the dry ingredients and add to banana mixture – mix gently just until moistened.

Stir in walnuts.

Pour into two greased 8×4-in. loaf pans.

Bake at 325 for 50 to 60 minutes or until a toothpick inserted in the center comes out clean.

Cool for 10 minutes in pan then remove from pans to a wire rack to cool completely.
Glaze
Mix glaze ingredients together until spreadable and then spread on warm bread.
Notes
To freeze: Securely wrap and freeze cooled loaves in plastic wrap and foil. To use, thaw at room temperature.
Nutrition
Calories:
287
kcal
|
Carbohydrates:
51
g
|
Protein:
4
g
|
Fat:
7
g
|
Saturated Fat:
2
g
|
Cholesterol:
7
mg
|
Sodium:
208
mg
|
Potassium:
203
mg
|
Fiber:
1
g
|
Sugar:
30
g
|
Vitamin A:
125
IU
|
Vitamin C:
8
mg
|
Calcium:
30
mg
|
Iron:
1.4
mg
Tried this recipe?
Tag me!! @Marye_RestlessChipotle