A hot, open-faced turkey sandwich is comfort food from way back. It's quick, it's easy, and there's just something about it that makes you feel like the world really is a great place to be.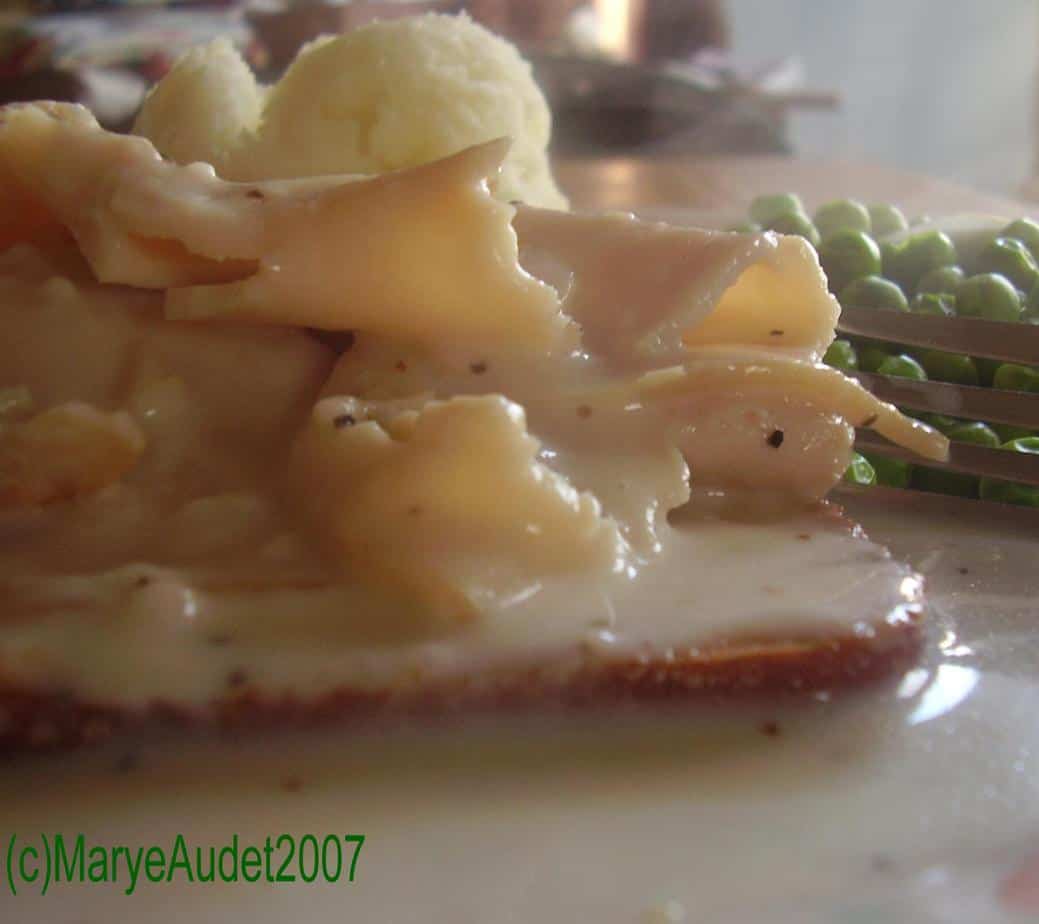 I grew up in a time when diners were easy to find and fast food was not. You'd go in and, if you were lucky and your parents were really cool, you'd sit on one of the high, chrome stools, your bare legs sticking to the red vinyl. Bare legs because if you were a girl, and if you were going somewhere away from the house, you would be wearing a dress.
The stools would turn and you usually could get by with spinning on it a few times before your mother noticed and gave you the look.
Diner food was fast food back then. You didn't head through the drive-thru and you didn't eat off of styrofoam or paper. Plates were thick, clunky pottery, usually with a colored stripe around the rim. You got your coke in a greenish glass that was full with crushed ice and cold when you touched it. So cold that it dripped condensation and frosted up a bit. People at real food on real plates with real silverware. Now we eat fake food on fake plates with fake silverware.
Interesting.
So every diner had two things in common. There was always a glass domed pedestal with cake or pie in it and there was always a Blue Plate Special. That was something that wasn't on the menu. It changed daily and it was advertised on a little card attached to your menu with a paper clip. Meatloaf and gravy was just as likely to be on there as my personal favorite, the hot, open-faced turkey sandwich.
A thick slice of bread, stacked with sliced turkey, then covered with rich, turkey gravy and served hot alongside a mound of mashed potatoes and a scoop of peas. The gravy was the common denominator, running over the plate and pulling everything in to its thick, meaty grip.
Heaven.
And there is nothing like it. Not anywhere. The hot, open-faced turkey sandwich is stick to your ribs food for a chilly autumn day -- with maybe a spattering of rain. It is guaranteed to warm the chilliest bones and cheer up the dreariest soul. This is classic diner food. Pair with with a scoop of mashed potatoes, a scoop of peas, a buttered roll on the side and a piece of warm apple pie and you are in carb heaven.
I serve it on potato bread...don't expect left overs.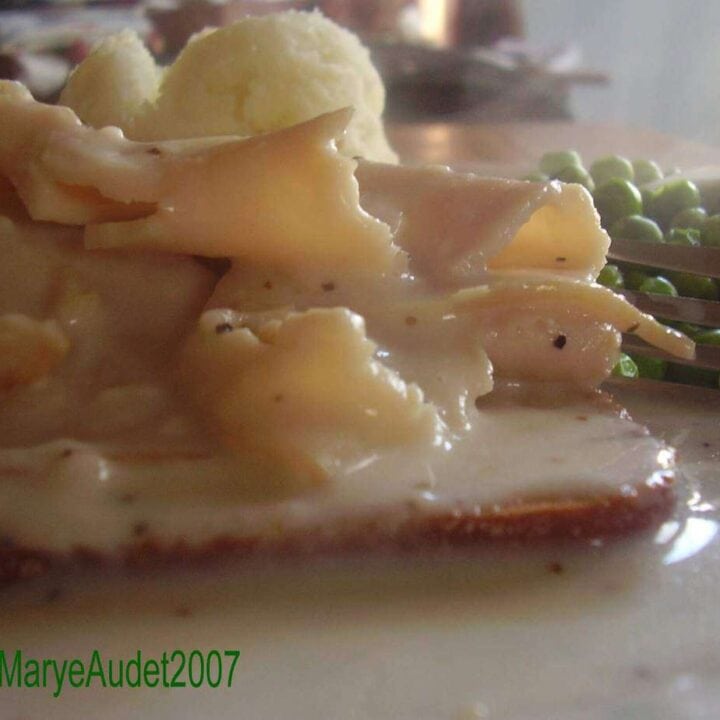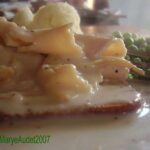 Hot, Open-Faced Turkey Sandwich
Print
Add to Collection
Go to Collections
As an Amazon Associate I earn from qualifying purchases.
Ingredients
2

pounds

thin sliced turkey breast from the deli

,

, or sliced turkey leftovers

6

thick slices Potato Bread

1

cups

half and half cream

2

cup

turkey or chicken broth

3

tablespoons

flour

2

tablespoons

butter

4

oz

cream cheese

½

teaspoon

dry sage

Salt and pepper to taste
Instructions
Melt butter in heavy saucepan over medium heat.

Whisk in flour and cook, stirring constantly for about 2 minutes.

Add broth, salt, pepper, sage, cheese, and cream, whisking all the while, and simmer until thick and smooth.

Add sliced turkey and heat through. Serve steaming hot, over thick sliced of potato bread.
Sign up for the emails and never miss another recipe!!
We'll never share your email or send you spam. Pinkie swear.