These pink party food ideas are perfect for any pink party! Thanks to over 40 great ideas you'll be "pinkspired" for baby showers, bridal showers, birthday parties, or tea parties.
Or, what about a Barbie movie-themed party?
They'll work for Valentine's Day, too! Don't miss the tips for success at the bottom of the post.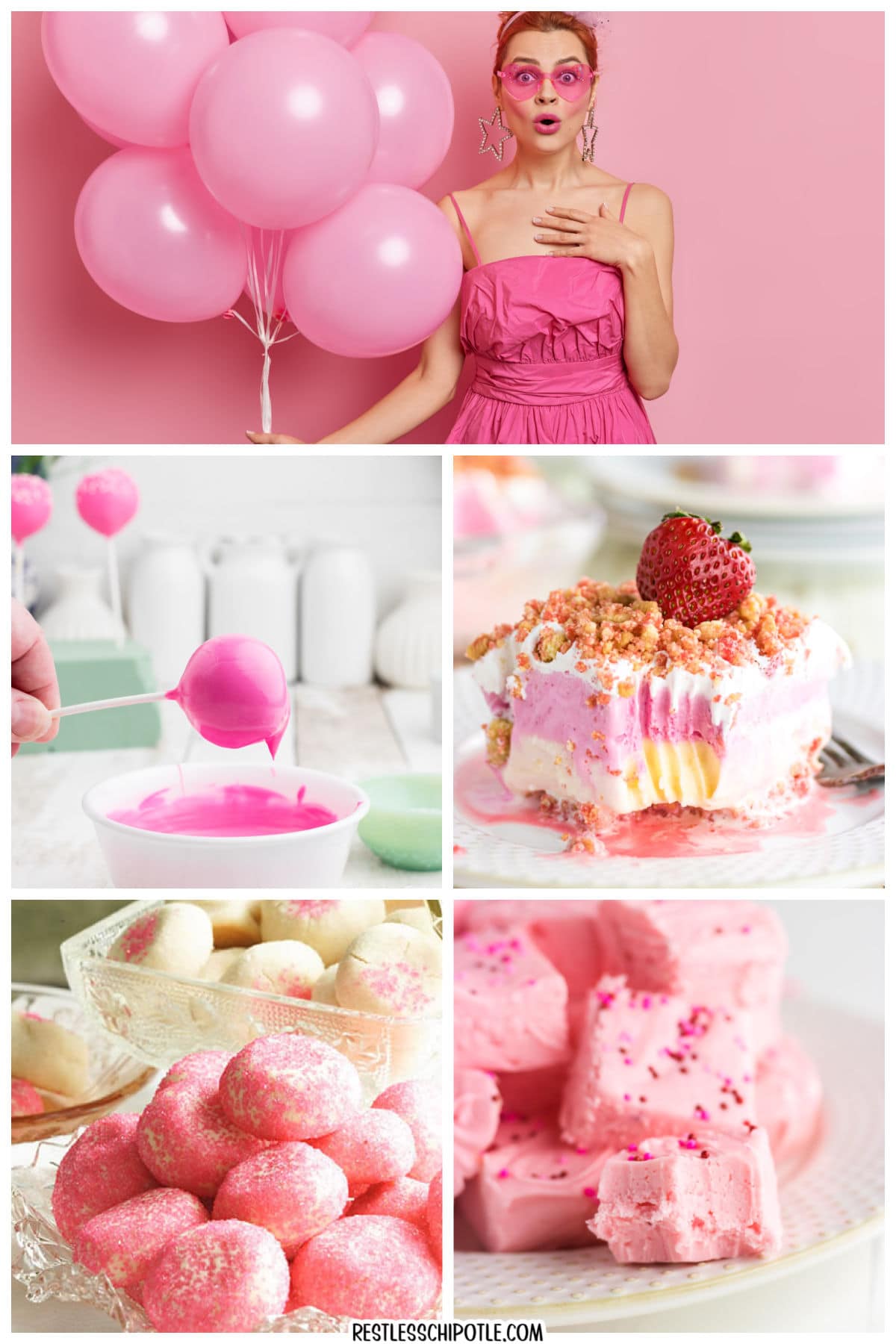 Jump to:
Why we love pink party food
The prettiest sweet treats make any dessert table more fun
Pink recipes are easy to make and many are naturally colored
A pink-themed party decorates itself, so you don't need to fuss over much else
Hosting a pink-themed party is a great way to celebrate any special occasion—especially if the pretty hue happens to be someone's favorite color!
These delicious pink food ideas are perfect for Valentine's Day, bridal showers, birthday parties, breast cancer awareness luncheons, slumber parties, baby showers, Barbie parties, and so much more.
Strawberry Crunch Ice Cream Cake
Easy Strawberry Fudge
Cherry Almond Cake
Cherry Dr Pepper Cake
Strawberry Pound Cake
Millionaire Pie
Strawberry Sheet Cake
Pink Lemonade Cupcakes
Chocolate Cherry Cupcakes
Pink Velvet Cupcakes
Sugar Cookies
Rose Wine Sorbet
Frosted Circus Animal Ice Cream
Pink Cake Pops
Pink Rice Krispie Treats
Funfetti Cake Mix Cookies
Pink Pretzel Treats
Raspberry Orange Breakfast Strata
Strawberry Lemonade
Minnie Mouse Cupcakes
Candy Cane Cocktail
Strawberry Vodka Lemonade
Strawberry No Churn Ice Cream
Pink Frosted Lofthouse Cookies
Grandma's Southern Butter Cookies
Strawberry Crunch Cake
More great pink party food ideas
💭 Tips for pink party success
Looking for more pink party ideas? Good news! Here are some tips to host the best pink-themed party ever!
Tie the theme together by asking guests to wear their favorite pink outfits!
Don't feel like you have to stick to one type of pink. Switch things up and use all different shades of pink for the best presentation.
Add more color with naturally pink foods. Things like pink grapefruit, fresh berries, and carafes of cranberry juice add easy pops of color.
Most bread recipes can be tinted with food coloring. Don't stop at savory food—make pink hamburger buns or bread to stay on theme!
Decorating doesn't have to be fussy. Get creative with pink balloons, pink tablecloths, and some fresh flowers—you're good to go!
Baby's Breath flower bunches are inexpensive and give an airy, feminine quality to your tables. Tuck a few sprigs under a cookie plate or in a Mason jar.
Use sprinkles instead of glitter on the table(s). It's just as pretty and it's edible and easy to clean up.
Cheap tablecloths make easy DIY photo backdrops. Attach it to a wall with some sticky tack, add some balloons or a banner for decoration, and snap away!
Check the recipes to make sure your pink party food is okay to sit at room temperature. Refrigerate anything with dairy or meat.
📓 Meal plans in minutes