Don't want to scroll through the page to get to the recipe? Use the table of contents to click on the section you want to go to.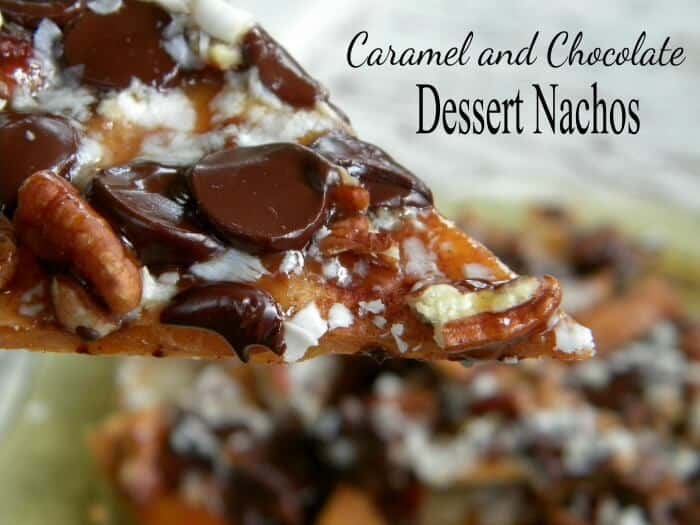 Jump to:
❤️ Why you'll love it
A fun idea for barbeques, cookouts, and camping
Super easy recipe doesn't require any baking and only takes minutes
Use homemade tortilla chips or storebought for even easier prep
Get ready for so much fun and excite your sweet tooth with this creative grilled dessert nachos recipe!
Crunchy tortilla chips are loaded up with a yummy cinnamon sugar mixture, then finished off with gooey melted chocolate, sweet caramel sauce, and nutty toppings—it's addictingly snackable.
📖 Variations
Use your favorite toppings to switch up the flavor of these grilled dessert nachos just like traditional nachos. It makes it the perfect dessert!
Feel free to use chocolate sauce instead of chocolate chips.
Drizzle some peanut butter over top.
Serve with fresh strawberries for a pop of juicy sweetness.
Instead of pecans, you could use shredded coconut if you like it!
Toss some mini marshmallows, butterscotch chips, or mini candy pieces over the nachos before grilling them.
Top off the nachos with some fresh whipped cream.
No-Fry Option: Bake the tortillas in a single layer on a baking sheet, brushed with melted butter, for 10-12 minutes at 350 degrees F.
🔪 Instructions
This is an overview of the instructions. Full instructions are in the green recipe card at the bottom of the page.
If making nacho chips from scratch, fry flour tortillas until golden brown.
Toss the chips in a paper bag with the cinnamon and sugar.
Spread the cinnamon tortilla chips in an aluminum pan and add toppings.
Heat on the grill until the chocolate is melted to your liking.
🥫 How to store leftovers
Enjoy your grilled dessert nachos as soon as the chocolate melts. They're impossible to resist much longer than that, anyway! However, they'll get soggy the longer they sit, so I don't recommend storing leftovers.
If you happen to have leftover homemade cinnamon tortilla chips—without any toppings—keep them in an airtight container. They'll last for a few days before getting stale.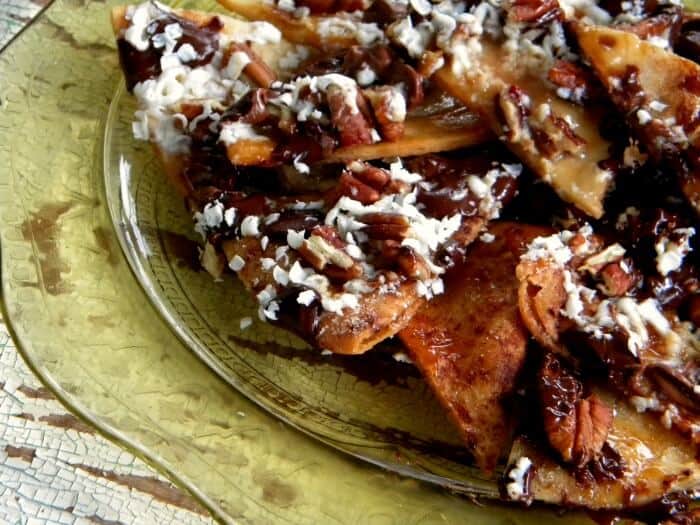 💭 Things to know
Expert Tip: Don't let the chips cool too much after frying. The cinnamon sugar mixture will stick better if they're still warm.
High-smoke point oil is best for frying. We like peanut oil because it's affordable and has good flavor. You can use vegetable oil or canola oil if you have nut allergies.
Poking holes in the sides of the aluminum pan increases airflow so that the chips stay crisp. It also ensures everything is flavored by that deliciously savory grill smoke—the best part of grilling, after all!
Watch the grill closely because the chocolate won't take too long to melt.
👩‍🍳 Dessert Nacho FAQs
How do I make crispy tortilla chips—not soggy chips?
Monitor the temperature of the frying oil closely! If it's too cool, the chips will absorb too much oil and take longer to crisp up.
Do I need to use a specific type of chocolate?
Nope—the sky's the limit! Feel free to experiment with different flavors or brands of chocolate chips to see what you like best. You could even chop up one of those fancy flavored chocolate bars... you know which ones I'm talking about. Treat yourself!
Can I prepare dessert nachos in advance for a party?
It's best to assemble dessert nachos just before serving to maintain their texture, but you can prepare the components ahead of time. Make the cinnamon-sugar chips and store them in an airtight container. Chop the nuts and prepare the sauces and toppings in advance. When it's time to serve, assemble the nachos for a fresh and delightful dessert experience.
📚 Related recipes
There's nothing like the flavor of fresh fruit, and this Brazillian Cinnamon Sugar Grilled Pineapple is no different. It's the perfect way to enjoy a simple, sweet treat without turning on the oven!
No-Bake Rolo Cookies are the ideal sweet-and-salty dessert. Plus, they only take three minutes to make. Okay, maybe four if you take your time!
If you're looking for another easy dessert that has all of the best flavors (chocolate, fudge, toffee, etc.), you need this Brownie Trifle in your life!
📞 The last word
I love Tex-Mex and I love chocolate so this was a no-brainer for me! I knew that I would love it!
Trust me, you will too!
This recipe has been featured on Today Food.
If you click on the number of servings in the recipe card you can adjust the measurements up or down for the exact number of servings you need. Don't forget that you can click on "add to collection" to save it to your own, private recipe box!
If you love this recipe please give it 5 stars! ⭐️⭐️⭐️⭐️⭐️
📖 Recipe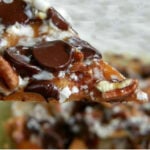 Grilled Dessert Nachos
Print
Pin Recipe
Save
Saved!
Flour tortillas are covered with cinnamon and sugar then sprinkled with chocolate and caramel. Cooking them on the grill makes them the perfect outdoor dessert recipe. Use either homemade flour tortilla chips or purchased tortilla chips.
As an Amazon Associate I earn from qualifying purchases.
Equipment Needed
disposable aluminum pan with holes poked in the sides for air flow
Ingredients
For Flour Tortilla Nachos
Oil for frying

,

, I like peanut oil the best.

8

flour tortillas
For Tortilla Chip Nachos
4

cups

white corn tortilla chips
For Topping
¼

cup

sugar

1

tablespoon

cinnamon

1

cup

caramel sauce

6

ounces

chocolate chips – bittersweet

,

, milk, dark, semi-sweet or a combination

6

ounces

white chocolate grated

1

cup

chopped pecans
I earn a commission from Instacart from qualifying purchases.
Instructions
For Flour Tortilla Nachos
Cut the tortillas into 8 wedges each.

Add oil to a deep pan until it reaches a depth of 3 inches.

Heat to 375F – use a frying thermometer to keep track of the heat.

Fry the wedges in the oil until crispy and golden. Do not overcrowd the pot.

Turn the tortillas over occasionally while frying so that they cook evenly.

Drain on paper towels.

Mix the cinnamon and sugar in a paper lunch sack.

Shake the warm tortillas in the sack until covered with the mixture.

Place the tortillas in the disposable aluminum pan.
For Tortilla Chip Nachos
Shake the tortillas in the sack until covered with the mixture.

Place the tortillas in the disposable aluminum pan.
For Topping
Add the chocolate chips and the caramel sauce to the top of the chips in the pan. Sprinkle with the pecans.

Grate white chocolate over the top.

Place the pan on the grill heated to medium.

Close grill cover and cook until chocolate is melted, checking it every three or four minutes.

Serve hot.
You'll find more helpful tips and variations in the body of the post.
Nutrition Facts
Calories:
766
kcal
|
Carbohydrates:
105
g
|
Protein:
9
g
|
Fat:
37
g
|
Saturated Fat:
11
g
|
Polyunsaturated Fat:
10
g
|
Monounsaturated Fat:
11
g
|
Trans Fat:
0.04
g
|
Cholesterol:
4
mg
|
Sodium:
525
mg
|
Potassium:
343
mg
|
Fiber:
6
g
|
Sugar:
49
g
|
Vitamin A:
44
IU
|
Vitamin C:
0.4
mg
|
Calcium:
196
mg
|
Iron:
2
mg
Nutrition information is estimated as a courtesy. If using for medical purposes, please verify information using your own nutritional calculator. Percent Daily Values are based on a 2000 calorie diet.
Sign up for the emails and never miss another recipe!!
We'll never share your email or send you spam. Pinkie swear.
✍🏻 A note from Marye...
I know y'all don't always like the stories bloggers tell so when I have one I try to put it at the very bottom so you can read or skip as you like.
The grill is the icon of summer in America — and we'll toss nearly anything from steaks to pizza over the flame.
We'll even grill dessert! It's the perfect way to get dinner on the table without turning the kitchen into a sauna, at least here in Texas. No one wants to cook inside when it is 109F.
I know I don't. And with these grilled dessert nachos I don't have to.
My dad had apparently been sprinkled with some sort of magic dust from the grill gods at birth. He had a knack for coaxing the flavors out of steaks and hamburgers that would have made the Pied Piper hang his head in shame. The entire neighborhood bowed to his mad skills and neighbors eyed our patio with envy when they were downwind from the bewitching tendrils of smoke that wafted enticingly across the fence.
One neighbor in particular seemed to have the need to compete with everything our family did. We painted the shutters black and he painted the shutters black, we got a pool and he got a better one. His theme song seemed to be Anything You Can Do, I Can Do Better.
He was frustrated by the fact that, not only would Dad not play his game, my dad would not even acknowledge his attempts. The knowledge that his entire family (including the dog) stood at the fence drooling whenever we cooked out probably didn't help.
One Saturday he must have finally had enough. Dad was getting the grill set up and Mr. F. called to him over the fence in one of those tones that sounds friendly but makes you want to move the knives to a lock box. "Grilling today, Bob?"
Dad looked up and smiled. "Yep, sure am. Burgers. You?"
Mr. F's ego inflated like a Puffer fish. You could tell he figured he finally was going to out-do Dad. "I'm grilling dessert," he smirked. "Cherries jubilee."
Dad smiled and went back to his basting.
We were sitting at the kitchen table eating those perfectly smoky burgers when we heard sirens, followed by excited voices. It seems that when Mr. F. tried to finish off the cherries jubilee with flaming brandy he caught his siding on fire. His fancy grilled dessert was marinated with several hundred gallons of pressurized water.
The idea of doing dessert on the grill without having to call the fire department intrigued me from that point on.
These grilled dessert nachos take just a few minutes. The gooey, sweet combination of caramel and chocolate is balanced by the crunch of pecans and cinnamon dusted tortilla chips. Make it even easier by using commercial tortilla chips for a sweet – salty combo.
And I haven't had to call the fire department at all.
First published Mar 17, 2014. Last updated June 9, 2023 for editorial improvements and more information.