Grilled dessert nachos make a fabulous, easy, warm weather dessert. Yes, I know there is still snow on the ground in some areas but warm weather is coming, I promise.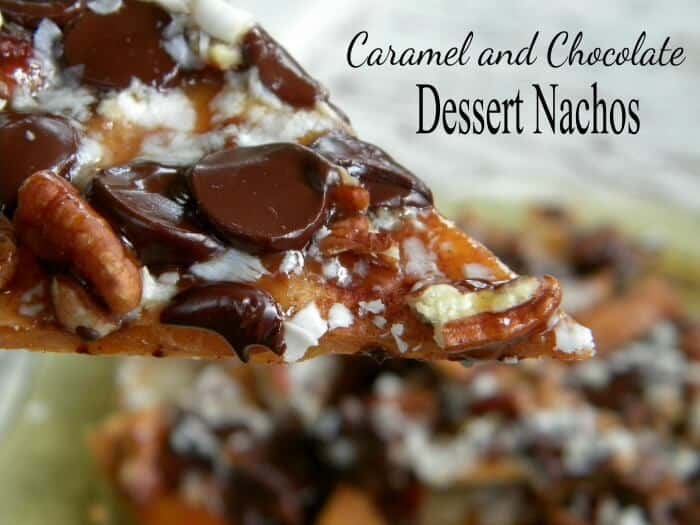 The grill is the icon of summer in America — and we'll toss nearly anything from steaks to pizza over the flame. We'll even grill dessert! It's the perfect way to get dinner on the table without turning the kitchen into a sauna, at least here in Texas. No one wants to cook inside when it is 109F.
I know I don't. And with these grilled dessert nachos I don't have to.
My dad had apparently been sprinkled with some sort of magic dust from the grill gods at birth. He had a knack for coaxing the flavors out of steaks and hamburgers that would have made the Pied Piper hang his head in shame. The entire neighborhood bowed to his mad skills and neighbors eyed our patio with envy when they were downwind from the bewitching tendrils of smoke that wafted enticingly across the fence.
One neighbor in particular seemed to have the need to compete with everything our family did. We painted the shutters black and he painted the shutters black, we got a pool and he got a better one. His theme song seemed to be Anything You Can Do, I Can Do Better.
He was frustrated by the fact that, not only would Dad not play his game, my dad would not even acknowledge his attempts. The knowledge that his entire family (including the dog) stood at the fence drooling whenever we cooked out probably didn't help.
One Saturday he must have finally had enough. Dad was getting the grill set up and Mr. F. called to him over the fence in one of those tones that sounds friendly but makes you want to move the knives to a lock box. "Grilling today, Bob?"
Dad looked up and smiled. "Yep, sure am. Burgers. You?"
Mr. F's ego inflated like a Puffer fish. You could tell he figured he finally was going to out-do Dad. "I'm grilling dessert," he smirked. "Cherries jubilee."
Dad smiled and went back to his basting.
We were sitting at the kitchen table eating those perfectly smoky burgers when we heard sirens, followed by excited voices. It seems that when Mr. F. tried to finish off the cherries jubilee with flaming brandy he caught his siding on fire. His fancy grilled dessert was marinated with several hundred gallons of pressurized water.
The idea of doing dessert on the grill without having to call the fire department intrigued me from that point on.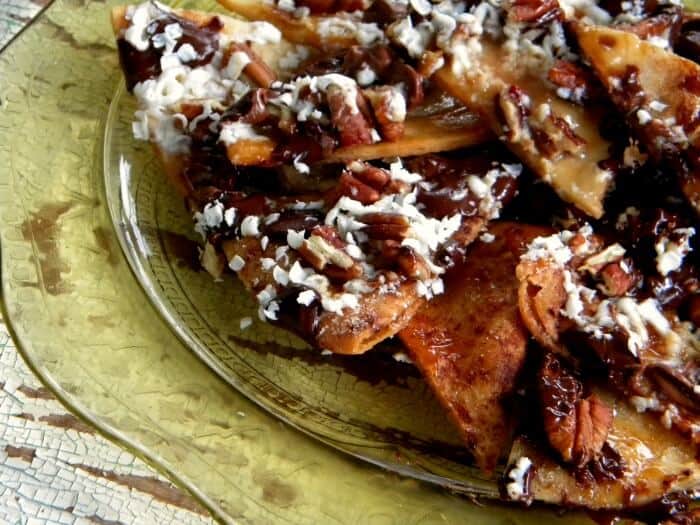 These grilled dessert nachos take just a few minutes. The gooey, sweet combination of caramel and chocolate is balanced by the crunch of pecans and cinnamon dusted tortilla chips. Make it even easier by using commercial tortilla chips for a sweet – salty combo.
And I haven't had to call the fire department at all.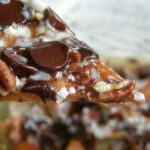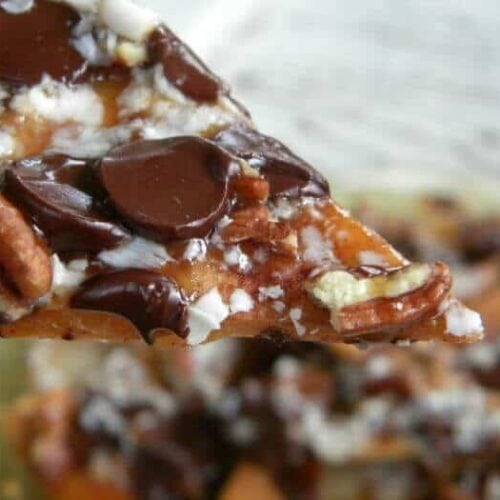 Grilled Dessert Nachos: Gooey Caramel and Chocolate Heaven
Print
Save
Go to Collections
Flour tortillas are fried and covered with cinnamon and sugar then covered with four kinds of chocolate and caramel.Cooking it on the grill makes it the perfect outdoor dessert recipe.
As an Amazon Associate I earn from qualifying purchases.
Ingredients
Oil for frying

,

, I like peanut oil the best.

8

flour tortillas

¼

cup

sugar

1

tablespoon

cinnamon

1

cup

caramel sauce

6

ounces

chocolate chips – bittersweet

,

, milk, dark, semi-sweet or a combination

6

ounces

white chocolate grated

½

cup

heavy cream

1

cup

chopped pecans

1

disposable aluminum pan with holes poked in the sides for air flow
I earn a commission from Instacart from qualifying purchases.
Instructions
Cut the tortillas into 8 wedges each.

I use an

electric fryer

because it makes things easier. If you don't have one then fry on the stovetop.

Add oil to a deep pan until it reaches a depth of 3 inches.

Heat to 375F – use a frying thermometer to keep track of the heat.

Fry the wedges in the oil until crispy and golden. Do not overcrowd the pot.

Turn the tortillas over occasionally while frying so that they cook evenly.

Drain on paper towels.

Mix the cinnamon and sugar in a paper lunch sack.

Shake the warm tortillas in the sack until covered with the mixture.

You can store the tortillas in an airtight container for up to 3 days before continuing.

Place the tortillas in the disposable aluminum pan.

Add the chocolate chips and the caramel sauce and then sprinkle with the pecans.

Grate white chocolate over the top.

Place the pan on the grill heated to medium.

Close grill cover and cook until chocolate is melted, checking it every three or four minutes.

Serve hot.
Sign up for the emails and never miss another recipe!!
We'll never share your email or send you spam. Pinkie swear.
Frozen Red Velvet German Chocolate Deep Dish Pie Restless Chipotle
Fresh Strawberry and Cream Tart Restless Chipotle