If you've got a church potluck coming up you'll love this roundup of easy slow cooker recipes! They've been hand picked to be easy on the budget, crowd pleasing, and delicious!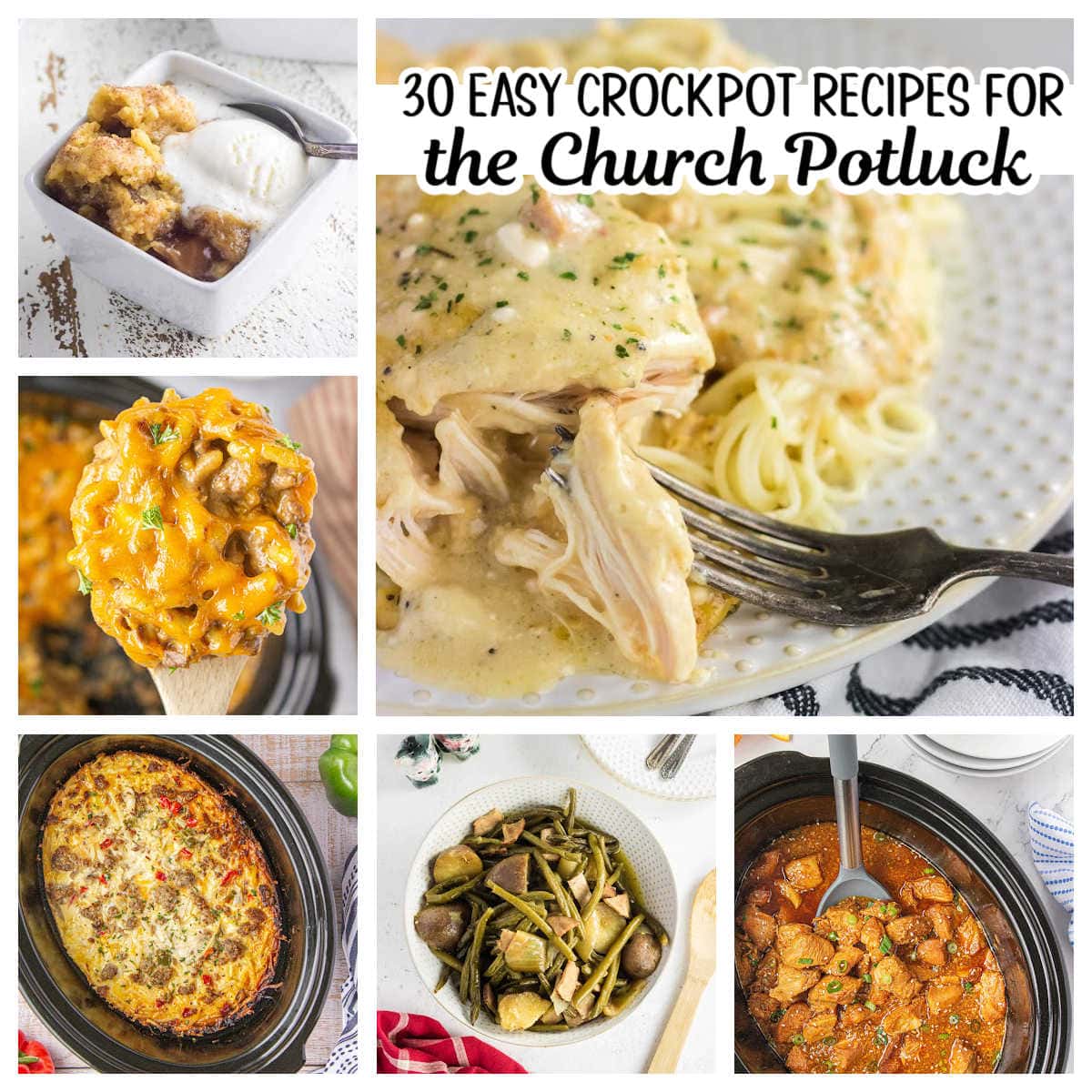 Jump to:
Why we love church potlucks
Church potlucks have been around for just about as long as churches have. It's a way to connect with others in the congregation and strengthen bonds and friendships.
Sharing food has always been part of the church experience and I imagine it always will be.
Slow cooker recipes are absolutely the easiest way to bring deliciousness to share with your church family.
Each of the following recipes has been chosen for 3 reasons.
It's budget friendly.
It feeds a crowd.
It's easy to make and take.
Oh, and all of these recipes are just as yummy for the work potluck, the family potluck, the GNO potluck, or any other kind of potluck you can think of.
You'll also want to check out these 56 amazing potluck dessert recipes.
Chicken Spaghetti
Angel Chicken
Broccoli, Chicken, and Rice Casserole
Slow Cooker Apricot Chicken
Root Beer Chicken
Fiesta Chicken
Easy Orange Chicken
White Chicken Chili
Southern Smothered Chicken
Chicken Enchilada Casserole
Cheeseburger Mac & Cheese
Mississippi Pot Roast
Beef and Noodles
Meatball Sandwiches
Mac & Cheese
Cheesy Scalloped Potatoes and Ham
Louisiana Chicken and Sausage Gumbo
Slow Cooker Breakfast Casserole
Slow Cooker Ravioli Lasagna
Caramel Apple Dump Cake
Slow Cooker Green Beans, Potatoes, and Ham
More great potluck ideas
But wait! There's more! I've hunted around the Internet to find these crockpot potluck favorites.
💭 Tips for success
Having a great crockpot recipe for the church potluck is only one piece of the success puzzle. Here are some tips that will take you to expert level in no time.
Print out index cards with the name of the recipe and the ingredients. Tape it to the crockpot. That way if anyone has food allergies they will know immediately if they should serve up or not.
Keep the slow cooker on warm! Going from hot to room temperature before eating is just asking for a food borne illness - even if the food has been prayed over!
Anything that is sitting out for more than 2 hours should be tossed. If you've brought something and are hoping for leftovers bring along a airtight container and an ice chest. Put the leftovers in the container and put it in the ice chest to keep it cold.
Make sure you have your name and phone number an the crockpot AND the lid.
Don't take any serving utensils that you're not willing to lose.
Don't choose a slow cooker recipe that has a ton of sloshy liquid if you will be driving the backroads.
Do you have a favorite slow cooker dish for potlucks? Leave a comment I'd love to hear about it!
Thanks so much for reading! Be sure to check out the Slow Cooker category for more crockpot recipes.