Thanks to Tillamook for sponsoring this post.
This chipotle mac and cheeseburger recipe takes two family favorites and creates the most amazing cheeseburger that you ever ate. A juicy hamburger is topped with creamy, gooey mac and cheese spiced up with chipotle. Then caramelized onions are added and the whole thing is tucked into a giant bun.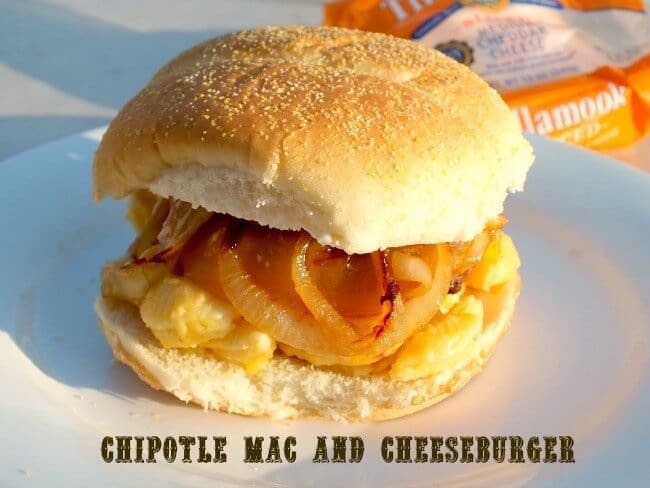 Marc finished the deck the day before my birthday - excellent timing since my son in law, daughter, the grandkids, and some friends stopped by... for several hours... to satiate themselves with the grilled bliss that are Marc's hamburgers. The man can grill.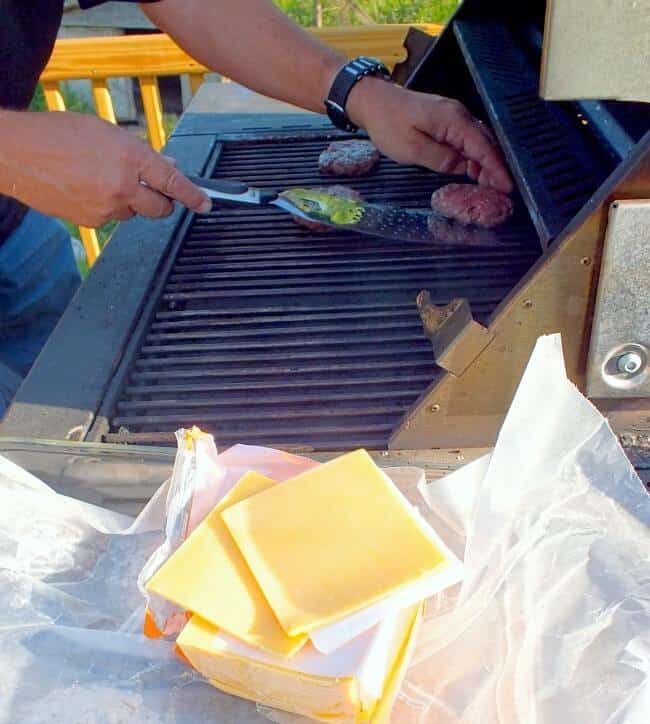 Jon and Michael spent the afternoon playing cards and trading sarcasm with Erin, stirring the mac and cheese before we made the burgers. And yes, my kitchen is messy - I used to be a great housekeeper... those were the days...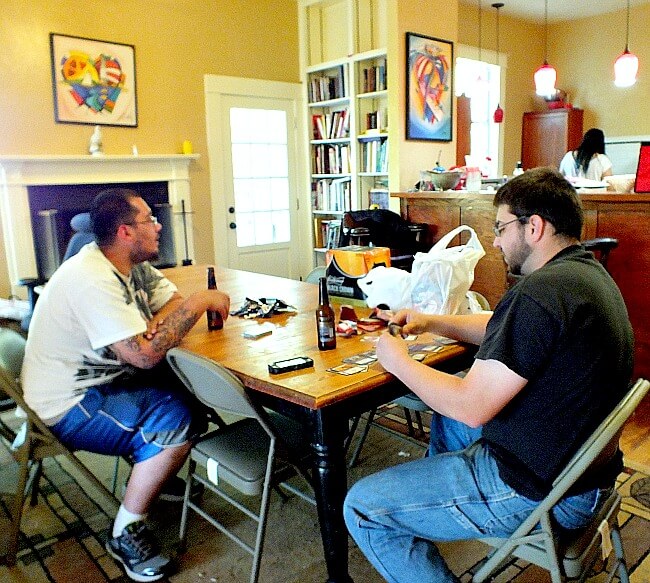 Anyway the deck is all beautiful and had the table and chairs and grill on it plus the way cool ice chest thing he got me for my birthday. OK, one of my birthday presents... I had seen it at Lowes and fallen in love with it. It is rustic wood box, raised on four legs, with an aged looking handle on top and a bottle opener on the side. It looks fabulous and matches the lights I picked out.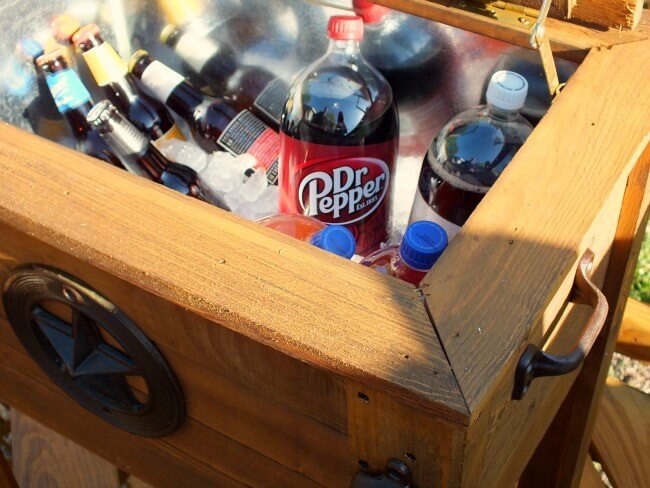 What can I say? I love my deck. We don't live too far from town but we are in a creek in a heavily wooded area so it seems like it is rural... which I like.
Since we were having burgers I decided to go ahead and create this unique cheeseburger that they had challenged me to make. I just couldn't decide what to do. I had so many ideas! I finally blindfolded myself and reached into the swirling chaos that is my brain to grab the first idea that crossed my mind, Chipotle Mac and Cheeseburgers.
You can use any macaroni and cheese recipe you like but it is best with homemade. Use the shells rather than the elbows because they stay put in the burger bun better. I used this mac and cheese recipe but left out the crumb topping and the eggs. I also substituted a Smoked Gouda for the Swiss cheese. I added liquid smoke to the burger mix to give it that "grilled over a fire" flavor.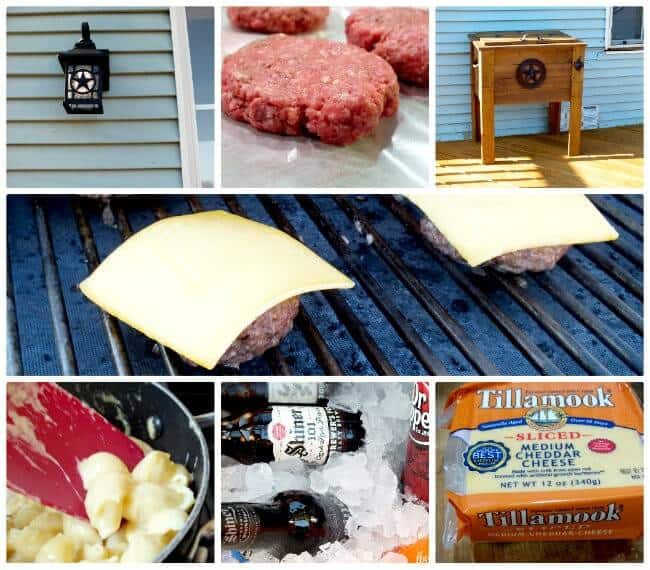 The cheese slices were added at the end of grilling so they could get gooey and melty. The burger buns were brushed with olive oil and grilled slightly, too. Then it was time to build. A scoop of mac and cheese on the bottom bun, topped with the smoky cheeseburger, then topped with caramelized onions. Finally, the top burger bun was brushed with chipotle mayonnaise (just mash a chipotle pepper and blend to taste with your mayo). It was delicious. Absolutely delicious.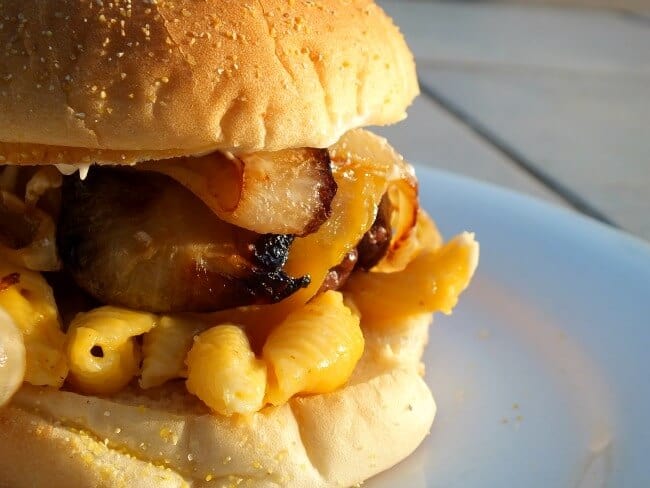 Plus the leftover mac and cheese makes a great lunch the next day!
Tillamook is a company that I am happy happy happy to work with!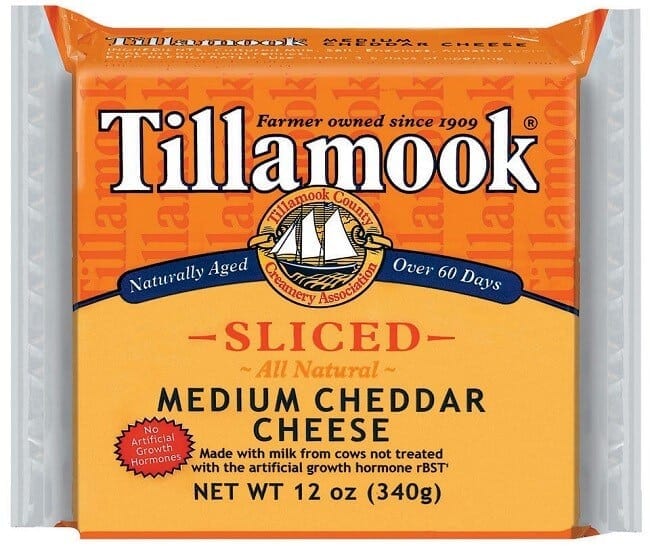 What are you waiting for? Start inviting people over for a cookout this weekend!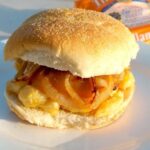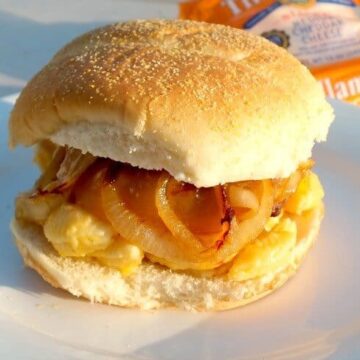 Chipotle Mac and Cheeseburger
Print
Save
Go to Collections
Smoky cheeseburger sits on top of macaroni and cheese, then is covered with caramelized onion, bacon, and chipotle mayo. A great way to turn a cheeseburger into something even more awesome.
As an Amazon Associate I earn from qualifying purchases.
Ingredients
3

lbs

ground chuck

,

(80% lean)

2

tablespoons

Liquid Smoke

Kosher salt

Freshly ground pepper

8

burger buns

Olive oil for brushing

2

cups

prepared macaroni and cheese

,

, made with smoked Gouda and Tillamook sharp cheddar

8

slices

Tillamook medium cheddar

2

medium onions

,

, sliced

1

tablespoon

chipotle in adobo

,

, mashed

½

cup

Hellman's mayo

16

slices

of crisp bacon

,

, optional
I earn a commission from Instacart from qualifying purchases.
Instructions
Pour about a tablespoon of olive oil in a pan and add the onions. Saute slowly, stirring often, until they are golden brown and very tender.

Set aside.

Mash the chipotle and stir it into the mayo.

Set aside.

Preheat the grill to high.

Mix the liquid smoke into the burger gently, making sure that it is well blended.

Separate the meat into 8 equal portions.

Gently form into a ¾ inch thick patty - be careful not to compact the meat too much. This will make it tough.

Grill for 3 minutes, or until the burger is slightly charred with good grill marks.

Flip and grill for 3 minutes more (for medium rare) or until the patty is just under temperature for desired doneness.

Brush the buns with oil and put them cut side down on the grill.

Add the cheese to the burgers and close the grill cover for one minute to allow the cheese to melt.

Remove buns and cheeseburgers from the grill.

Place ¼ cup of hot macaroni and cheese on the bottom bun.

Put the cheeseburger on top.

Add 2 slices of the crispy bacon if using

Spoon ⅛ of the onions on top of the cheeseburger.

Spread the cut side of the top bun with chipotle mayo and put it on the burger.

Serve with a good, artisan amber ale and pretzels.
Notes
Use shell macaroni for the macaroni and cheese - it stays in the bun better. You can use boxed mac and cheese if you must but it won't be nearly so good.
Sign up for the emails and never miss another recipe!!
We'll never share your email or send you spam. Pinkie swear.