This is the second in a series of yeast bread baking tips and techniques. If you haven't read part one be sure to go and read that first.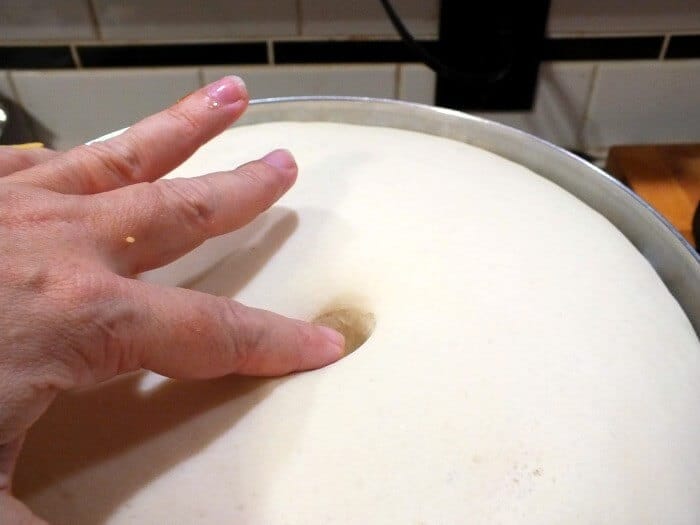 You know, when it comes to bread baking the mixing and kneading are really the hardest parts to get right. If those are done properly everything else more or less falls into place. Ready for the next batch of yeast bread baking tips?
At this point you've mixed the bread to the perfect balance of yeast to liquid to flour. You've kneaded it thoroughly so that it feels like an earlobe when you pinch it and the dough kind of pulls back when you try to stretch it out. You should be proud of yourself. In fact, go and make a quick cup of coffee because you are about to kick back and relax for a bit.
First Rise
Some bread recipes only call for one rising and some call for three. I'll tell you a secret — if you let the dough rise at least twice it will have a much better texture than if you only let it rise once.
Form your kneaded dough into a round ball and oil it. Place it in a large oiled bowl. This will keep the dough from developing a dry crust — it's very important. When the yeast produces the gas and the dough expands a crust will keep it from expanding. If it's kept soft it has the flexibility to puff up like a balloon. Now, cover the bowl with a warm, barely damp tea towel.
Put the bowl in a warm (75-85F is good but my warming oven is 105F) spot for 1 ½ to 2 hours — or until the dough doubles in size (more about that later). Good places to let dough rise are:
On the counter in the summer
In the oven with the light on.
On top of the refrigerator.
On top of the water heater.
If your kitchen is cooler you'll need to give it a longer time to rise. When the barometric pressure is low, like on a rainy day, your bread will rise higher and lighter than when it is clear and sunny. Scientifically speaking it's because the air is lighter on stormy days than on clear days so the dough doesn't have as much weight holding it down.
Now, once you have your dough all squared away and rising nicely you should grab that cup of coffee and relax.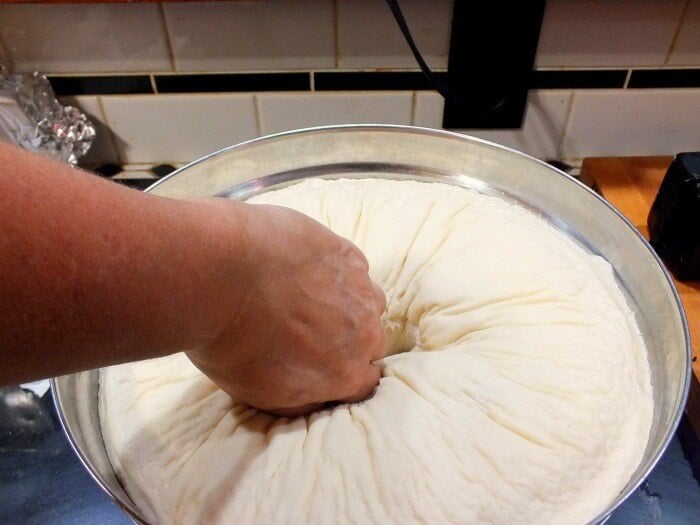 Punching Down
This may be my favorite part.
Once the dough has risen enough (doubled in size) you can gently push your finger into it to make a dent and the dent won't fill back in. If it feels elastic or pushes back against your finger give it a few more minutes.
When it has doubled you make a fit and punch it to flatten it out. You then knead it for a few minutes to get as much air out as possible. This will ensure that the bread doesn't have big air pockets.
Second Rising
Once you've gotten the air out you'll want to let it rise again. Let's go back to the science lab a minute.
Remember, yeast is a living organism so while it was rising the first time the yeast cells were doubling, too. Now it has twice as much yeast living in it as it did before.
What does that mean to you?
Well, for one, it will rise much faster than the first time. All of those extra yeasties are making their own carbon dioxide gas. The extra gas bubbles also mean that the bubbles are smaller and the grain of the bread is more finely textured.
The second rising usually doesn't take more than 45 minutes — often only 30. This is a good time to work on cleaning up the kitchen if you haven't already.
Punch It Down Again
Now, you are just going to punch it down like you did the first time. This time let the dough rest for five to ten minutes, covered with that damp tea towel. This gives the gluten time to relax and makes it easier to shape your dough.
Final Shaping
Gently work your dough into a loaf shape and then tuck the ends underneath.
There are several ways to do this but the two most often used are:
Roll it into a rectangle as wide as your bread pan is long. Roll up tightly like a jelly roll, pinch the seam on the bottom to seal, and tuck the ends under.
Just squeeze it into shape with your hands, tucking the ends under.
Place the loaf in a greased 8'X4" loaf pan and grease the top.
Final Rise
You are going to let it rise one more time. Cover the loaf with a warm, damp tea towel and put it in a warm spot. Let it rise until it just barely comes above the loaf pan and the pan feels light when you lift it. This can take anywhere from 30 minutes to an hour.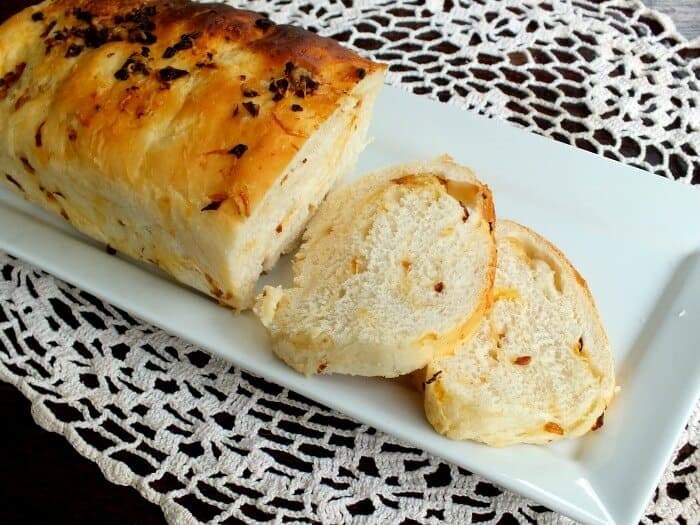 The Crust
While the dough is rising go ahead and preheat your oven to the temperature specified in your recipe. You can also prepare a "wash" to be brushed on the loaf just before baking. Each wash achieves a different type of crust.
Melted butter brushed on the loaf before and after baking makes a soft, buttery crust that is rich and delicious.
A whole egg can be beaten with a tablespoon of water and then brushed on he top. This results in a shiny, golden brown crust.
An egg white can be beaten with 1 ½ teaspoons of water to create a shiny, slightly crispy, light crust.
An egg yolk can be beaten with two teaspoons of water to make a shiny, golden crust.
A milk wash will make the crust dark brown, soft, and more of a matte.
Water brushed on the crust before baking makes the crust crispier.
You can also achieve a very soft crust by covering the bread with a dry tea towel as it cools.
You can achieve a very crisp crust by leaving the bread in the oven with the oven turned off for ten minutes after the suggested baking time.
Baking
Bake the bread for the suggested time. You can place an aluminum foil tent over it if it seems to be browning too much. The bread is done when you can tap the top or bottom and it sounds hollow. You'll know it when you hear it, I promise.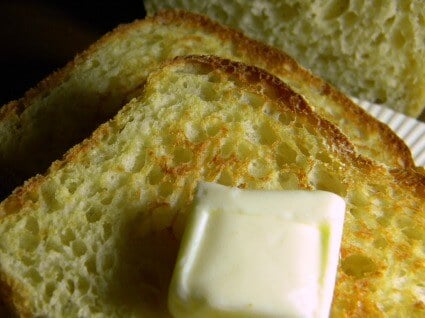 Cooling
Let the bread cool in the bread pan for about five minutes and then take it out and let it cool completely. If you cut bread while it is hot you'll just mash it down. At least try to give it fifteen minutes. Always use a really sharp bread knife and cut with a sawing motion for the best results. Homemade bread that has been properly kneaded, risen, and baked can be cut almost paper thin without breaking.
Storing
Store your bread in a sealed container for a day or two. You can freeze it for longer storage.
If you want to make the dough ahead of time you can usually let it rise the second time in the refrigerator overnight covered with oiled plastic wrap. You can also freeze the unbaked dough (shaped or not as you wish). Just remember to double your yeast if you are planning to freeze unbaked bread dough.
Whatever you do don't refrigerate your bread. It will dry out pretty quickly.
In Part Three of yeast bread baking tips we'll look at common problems for bread bakers and their solutions. Are you feeling more confident, yet?
Here are some tools and ingredients that will help you use your yeast bread baking tips for success!