Cream cheese filled banana bread is a dense, moist banana bread loaf with a cheesecake layer. It's easier than it looks and absolutely delicious for breakfast, brunch, or snacks.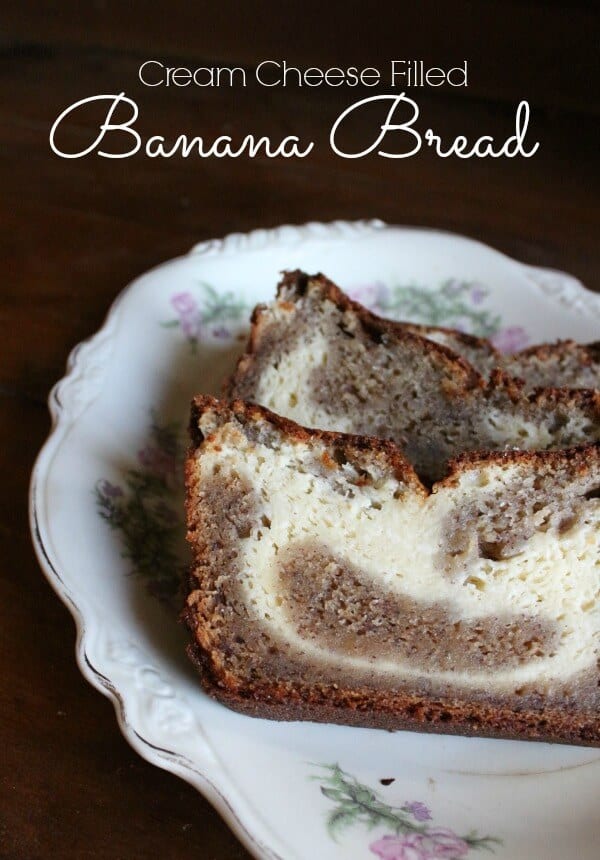 We love banana bread around here so even though I make it all the time I am always looking for something new and different.
One day my eldest daughter tagged me in a Pinterest pin and I knew that I would be making this cream cheese filled banana bread for sure. It was originally pinned from Averie Cooks and her images looked amazing. I was drooling by the time I got half way down the page. So, one day when I had really, really, REALLY ripe bananas I decided that the time had come to make it... with a few tiny tweaks.
Funny thing about bananas -- we used to be able to go through a ton of them relatively quickly but since Ethan left for the Navy they tend to get overripe if I'm not careful. My youngest kiddos don't seem to like them as well as the older ones did. I love them but the carbs get me so I may allow myself a slice once in awhile just to savor the flavor, you know? I grew up on Corn Flakes with sliced bananas in it and exactly two teaspoons of sugar. That's how it was done at our house... it is now serious comfort food as far as I am concerned.
I grew up in the 1960s. It was magical, growing up then. Maybe every generation has their own special variety of magic and childhood memories but somehow I find it hard to believe that video games will incite the same types of memories that kickball in the street on the first night of summer vacation do. Grocery stores were just that. You didn't go there to get sheets or makeup, you didn't go there to get a check cashed or a birthday cake. You went to the grocery store to get groceries -- just groceries. The cereal shared an aisle with several other breakfast related foods as I recall and the selection was humble. Rice Krispies, Corn Flakes, Sugar Smacks, Quisp, Honeycomb, Puffed Wheat, and Trix were the ones I remember. The produce section was just as small with in season vegetables, potatoes, onions, and bananas no matter what time of year it was. You might only get a perfectly juicy peach in July but by golly you could get a banana anytime. Most of the moms (Think Leave It To Beaver types) considered the banana an essential part of childhood diets. They went in school lunches and were offered as snacks. Skin your knee? Have a banana. Celebrating finally learning all the 12's in multiplication? Celebrate with a banana.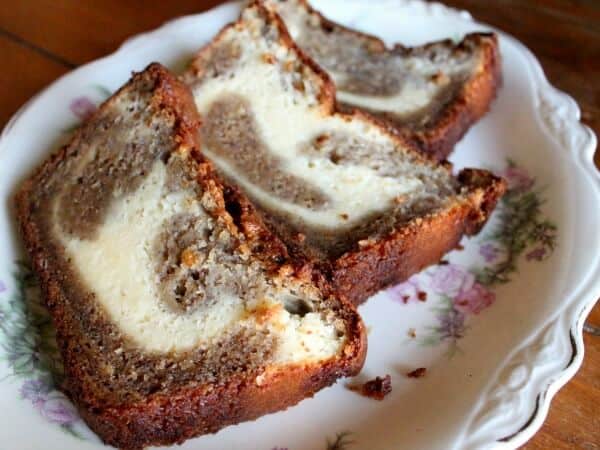 So, you see, I saw this recipe as not just another banana recipe but another way to experience this food that has been prominent in my life. Baking with bananas gives me a warm sense of nostalgia, much like I felt when they brought Fizzies back a few years ago or when I happen to see Mannix reruns.
Getting older is crazy stuff.
This banana bread is not crazy stuff but it is crazy good -- even if you don't have a weird fixation on bananas.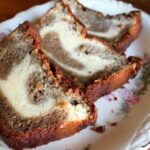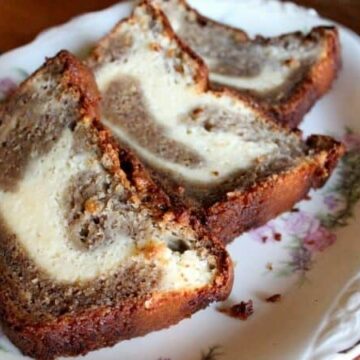 Cream Cheese Filled Banana Bread
Print
Save
Go to Collections
As an Amazon Associate I earn from qualifying purchases.
Ingredients
1

large egg

½

cup

brown sugar

,

, packed

¼

cup

granulated sugar

¼

cup

melted and browned butter

¼

cup

cup sour cream

2

teaspoons

vanilla extract

1

cup

mashed ripe bananas

1

cup

all-purpose flour

½

teaspoon

baking powder

½

teaspoon

baking soda
Instructions
Preheat oven to 350F.

Grease a 9x5-inch bread pan and set aside.

Melt the butter in a heavy pan until it is the color of honey - watch it carefully and do not burn!
Bread
Whisk the egg, sugars, butter, sour cream, and vanilla until combined.

Stir in the banana.

Gently fold in the flour, baking powder, baking soda. Don't overmix.
Cream Cheese Layer
Beat all of ingredients for the cream cheese layer in a large bowl with the mixer until smooth.
Assembly
Spoon about half the bread batter into the pan.

Pour the filling mixture over the top, smoothing it carefully.

Add the remaining batter.

Bake for approximately 50 minutes, or until a toothpick inserted in the center comes out clean.

Don't overbake or the cream cheese will get a bready texture.

Cool in the pan 10 to 15 minutes then turn out to cool completely. Don't try to slice this warm!
Sign up for the emails and never miss another recipe!!
We'll never share your email or send you spam. Pinkie swear.