Pretzel crusted peanut butter pie is easy and delicious. Add caramel and chocolate ganache and you take it over the top — say there is no baking required and I will definitely pay attention.
For this recipe you'll need: pretzels, unsalted butter, caramel sauce, chocolate chips, heavy cream, creamy peanut butter, cream cheese, sugar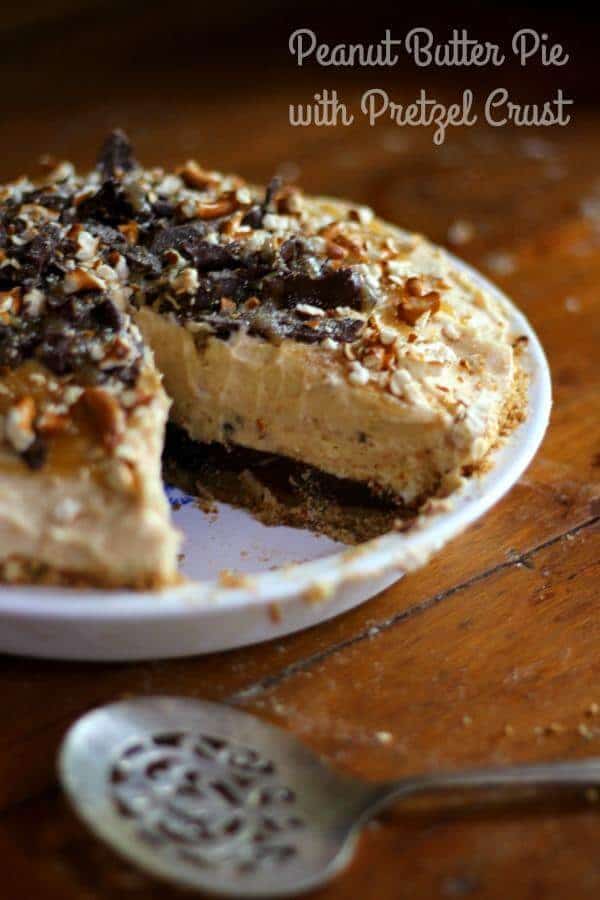 I originally posted this on March 14, 2012 and the recipe has been really popular because it's so amazing… over 14k pins last time I checked… but I got tired of looking at the images…because… ewww… and cringe… SO, I forced my family to indulge in this one more time so that I could update the recipe and the images.
Please pin the new images. They. Are. So. Much. Better.
Not much updating on the recipe. I made the ganache a little creamier and smoother and also realized that I use 10-inch pie pans while most of y'all use 9-inch pie pans. This can be problematic… so I've noted on the recipe that you can use one 10-inch or two 8-inch pie pans and things should be just fine. I also thought it was funny after I finished the pie that I had used the same pie pan I used originally — a vintage Corning Cornflower Blue pie dish.
I hope you enjoy the images. Definitely try the pie – it's so good. Salty, sweet, creamy, a little crunchy, and a little gooey from the caramel. Very rich…. Here's the original post –
Pay attention, y'all.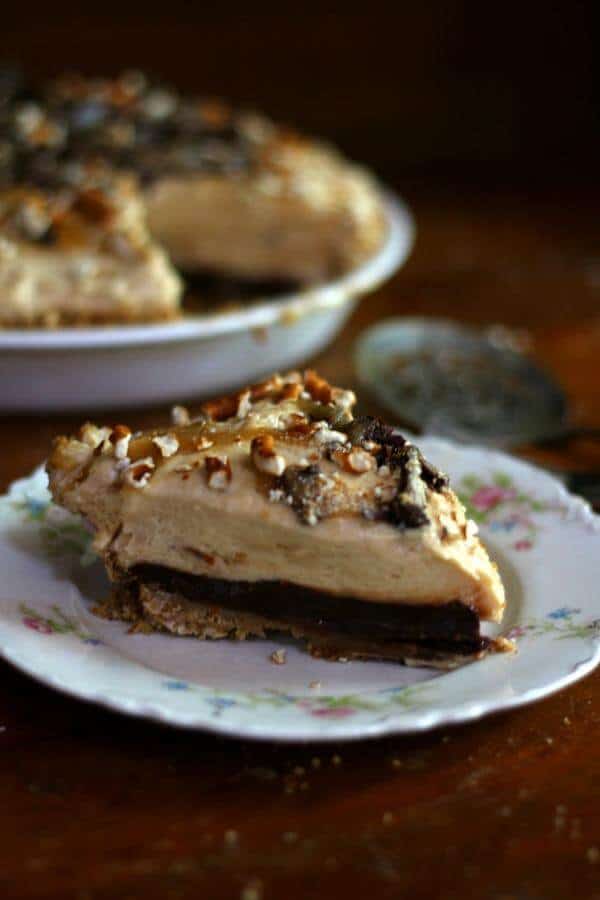 March 14 (3-14 get it?) is national pi day. What better way to celebrate with a pie? Let's face it, any excuse will work, right?
Everyone who knows me knows that I have a deep and abiding hatred of all things math.I would rather diagram sentences, memorize verb conjugations in French or Latin, or clean a toilet in the men's restroom at Walmart than do math.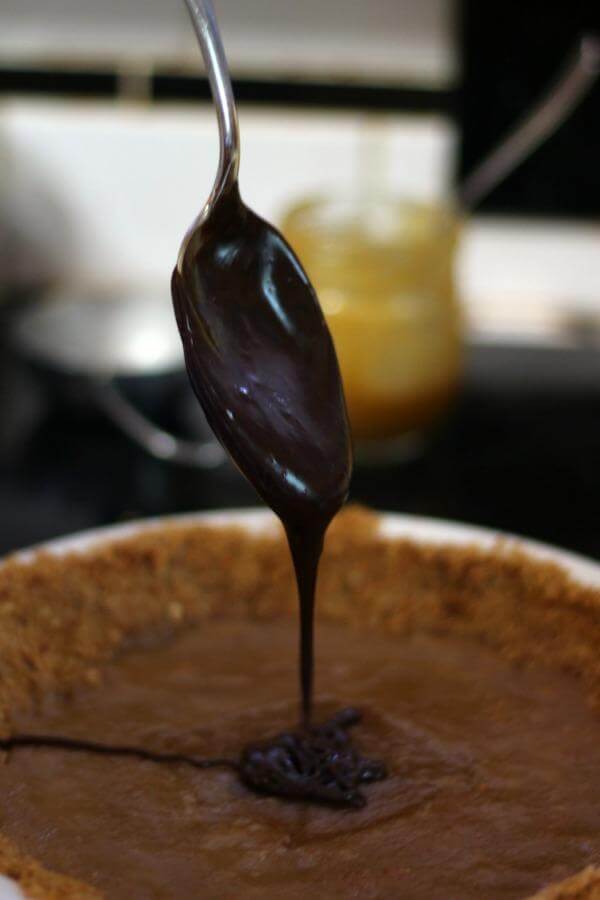 You can use melted caramels, commercial caramel sauce, OR you can treat yourself to the Jack Daniels caramel sauce here. You know which one I would go with, right? Yeah, I thought so.
Save some of the pretzel crumbs and chocolate to drizzle over the top. It looks beautiful and tastes better.
Cut this in small pieces. It is written for 10 servings but you could probably make it 12 unless your family is expert dessert consumers. (I went back and forth on is or are in that sentence but the subject is family not consumers. Family takes the singular verb. Just don't ask me to figure out where x is.)
C'mon. You know you want to. Just. One. Bite.
You May Need
The following are affiliate links. We are a participant in the Amazon Services LLC Associates Program, an affiliate advertising program designed to provide a means for us to earn fees by linking to Amazon.com and affiliated sites.
What's new? Check out my Restless Chipotle & Co. Store on Amazon! Thanks so much for being a part of Restless Chipotle!
If you can't find Fleur De Sel Sea Salt locally you can get it on Amazon. I also prefer the 10-inch glass pie pans. It just seems to make a nice sized pie for my family and I like glass baking dishes better than metal ones in almost every circumstance. If you prefer 9-inch pie pans or even 8-inch pie pans you can get glass ones as well. I love this 9-inch glass pie plate with an expandable cover! The generously sized rim allows you to grab it out of the oven without tearing up the pie and having a reusable cover is great.
Peanut Butter Pie
Here's that scrumptious peanut butter pie recipe!
If you love this recipe please give it 5 stars!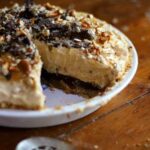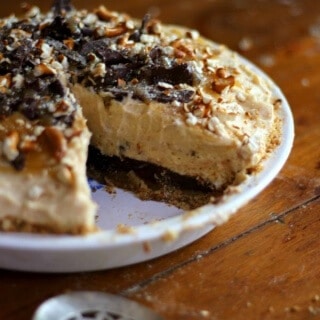 Peanut Butter Pie with Pretzel Crust
Print
Add to Collection
Go to Collections
Makes 1 10-inch or 2 8-inch pies. Rich, creamy peanut butter pie with the extra luxury of caramel and chocolate ganache. Salty, sweet, creamy, rich, crunchy and delicious – it will tame your dessert monster in a flash. Lots of calories here – save it for special occasions.
As an Amazon Associate I earn from qualifying purchases.
Ingredients
Crust
2

cups

coarsely crushed pretzels

,

reserve some for the top

1/3

cup

unsalted butter

,

melted
Caramel Bottom Layer
1/2

cup

caramel sauce

,

either homemade or commercial
Chocolate Bottom Layer
12

ounces

chocolate chips

,

,milk chocolate, bittersweet, semi sweet, dark, or a combination – reserve some for topping

3/4

cup

heavy cream
Peanut Butter Layer
1 1/4

cup

creamy peanut butter

8

ounce

package cream cheese

,

, softened

1/2

cup

sugar

1

pint

heavy cream

1/3

cup

sugar
Optional
Fleur de Sel

Chocolate curls
Instructions
Crust
Preheat the oven to 350.

Add the melted butter to pretzel crumbs and toss with a fork.

Press the mixture into a 10 inch pie plate, firmly.

Bake for 10 minutes, or until set.

Remove from oven and allow to cool completely.
Chocolate Layer
Heat the 3/4 cup of heavy cream to a simmer.

Remove from heat and stir in the chocolate chips.

Continue to stir until mixture is smooth and all of the chips are melted.

Set aside.
Peanut Butter Layer
Add the peanut butter and cream cheese to a mixer fitted with the paddle attachment.

Beat until the peanut butter and cream cheese mix and soften.

Add the 1/2 cup sugar and beat until there is no graininess.

Set aside.

In a clean mixer bowl, with the whip attachment whip the cream until it begins to thicken.

Slowly add the 1/3 cup sugar as you continue to whip the cream until it is thick and fluffy.

Do not overbeat.

Carefully fold half of the whipped cream into the peanut butter mixture, be sure not to deflate the cream.

Fold in the rest of the whipped cream.
Assembly
Add the caramel to the prepared crust.

Chill briefly. (10 -15 minutes, just to set)

Spoon the chocolate on top of the caramel and chill for 10 minutes or so.

Add the peanut butter mixture.

Top with the reserved chocolate and pretzel crumbs

Just before serving top with a sprinkle of Fleur de Sel if desired.
Notes
A great homemade caramel sauce can be found on Restlesschipotle.com. https://www.restlesschipotle.com/2012/03/banana-bread-pudding-with-jack-daniels-caramel-sauce/
Nutrition
Calories:
870
kcal
|
Carbohydrates:
69
g
|
Protein:
14
g
|
Fat:
62
g
|
Saturated Fat:
31
g
|
Cholesterol:
135
mg
|
Sodium:
511
mg
|
Potassium:
320
mg
|
Fiber:
3
g
|
Sugar:
42
g
|
Vitamin A:
30.8
%
|
Vitamin C:
0.7
%
|
Calcium:
12.9
%
|
Iron:
10.9
%
Tried this recipe?
Tag me!! @Marye_RestlessChipotle
If you liked this Peanut Butter Pie you may also like…
No Bake Kool Aid Pie Dinners, Dishes, and Desserts
No Bake Butterfinger Pie Plain Chicken
This is the original image from 2012. 🙂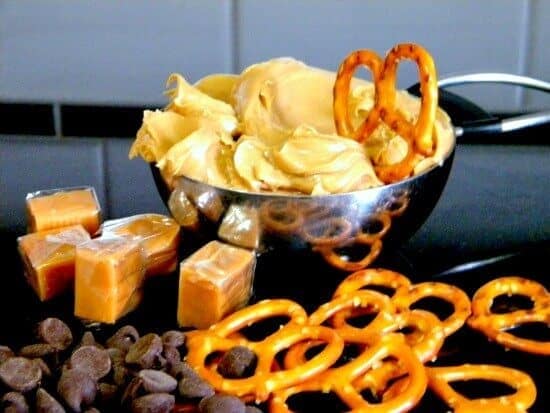 Let's Keep in Touch!