The key to good pie is a great crust! Let's learn how to keep pie crusts from sticking to the pan so you can enjoy your favorite dessert in all its crisp, flaky crust perfection.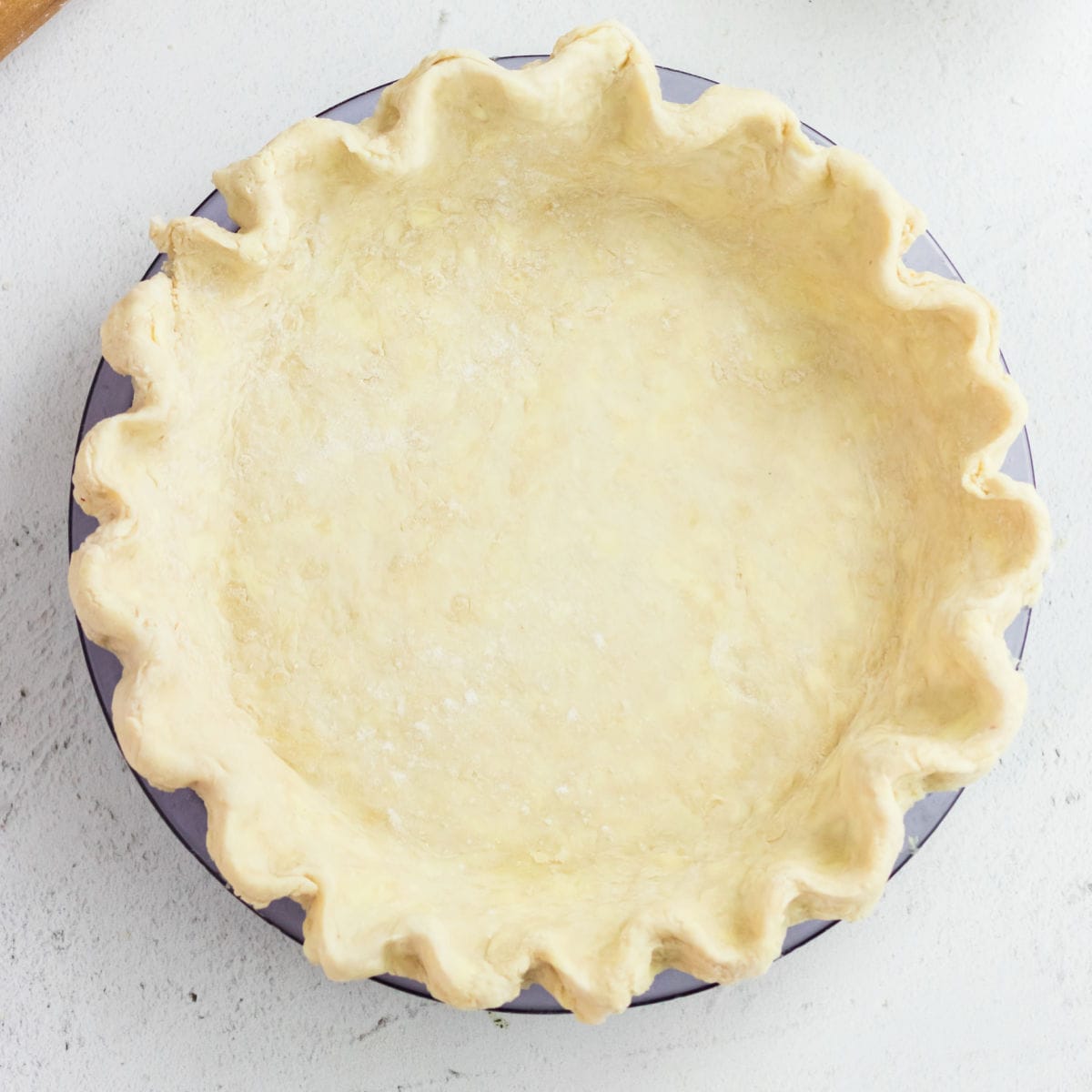 Table of Contents
🗝️ Key takeaways
There are a few common mistakes pie bakers make that can cause pie crust to stick to the pan. Thankfully, the solutions are simple!
These pie crust tips can work with fruit pies, custard pies, baked pies, and no-bake pies, too.
Not all pie pans are created equal—the pan material plays a role in how your pie will cook.
These easy tips will help you prevent your pie crust from sticking to the pan. Follow them closely, and you'll end up with an award-winning, lip-smackin' good pie.
Do You Need to Grease a Pie Pan
Generally, no, you don't need to grease a pie pan. Homemade pie crusts are mostly butter, so the pie dough creates its own grease while baking in the oven.
Adding more butter or oil to the pan could ruin the bottom crust and create soggy bottoms! No one likes a soggy bottom.
However, if you're baking a tart crust or graham cracker crust, you'll likely want to grease the pan. Crumbly crusts like these need a little extra grease underneath to prevent them from sticking to the pan.
This is also true of unbaked pie dough sheets from the store. A little spritz of non-stick cooking spray won't hurt.
Always err on the side of caution and follow your recipe closely. If the writer doesn't tell you to grease the pan, you generally don't have to.
How to Keep Pie Crust from Sticking to the Pan
We all know the dreaded feeling—you go to scoop out a slice of steaming hot apple pie, and sure enough, the bottom crust sticks to the pan.
One of several factors might be the cause:
Using too-soft butter
Not chilling the dough
Tearing or cracking the dough
Not carefully sealing pie crust edges on double-crusted pies
Butter is too soft
Classic all-butter pie crusts must be made with very cold butter and ice-cold water. If you use soft butter in the pie crust, not only is the crust likely to stick, but the dough will be nearly impossible to shape and roll out.
Similarly, if your pie dough is too warm, butter will leak out while it bakes. Not only will this produce a terribly sad crust, but the melted butter can burn. Without the butter to act as grease, you'll have a crust that sticks.
This food processor pie crust recipe works well because the butter stays cold.
Dough is not properly chilled
Also, make sure your pie dough is properly chilled in the fridge before you bake it.
Make the dough into a disk and wrap it in plastic wrap. Refrigerate for 30 minutes before continuing with the recipe.
Tears and cracks
If your pie dough is torn or cracked, the filling can seep into the tear and ooze underneath the crust. That area will burn and glue your pie crust to the bottom of the pie pan.
This is especially true of fruit filling.
Before you add your filling be sure that there aren't any cracks in the dough. Don't overfill your pie, either.
That could make it bubble over and ooze down the sides.
Finally, if you're making a double-crusted pie make sure you seal those edges well!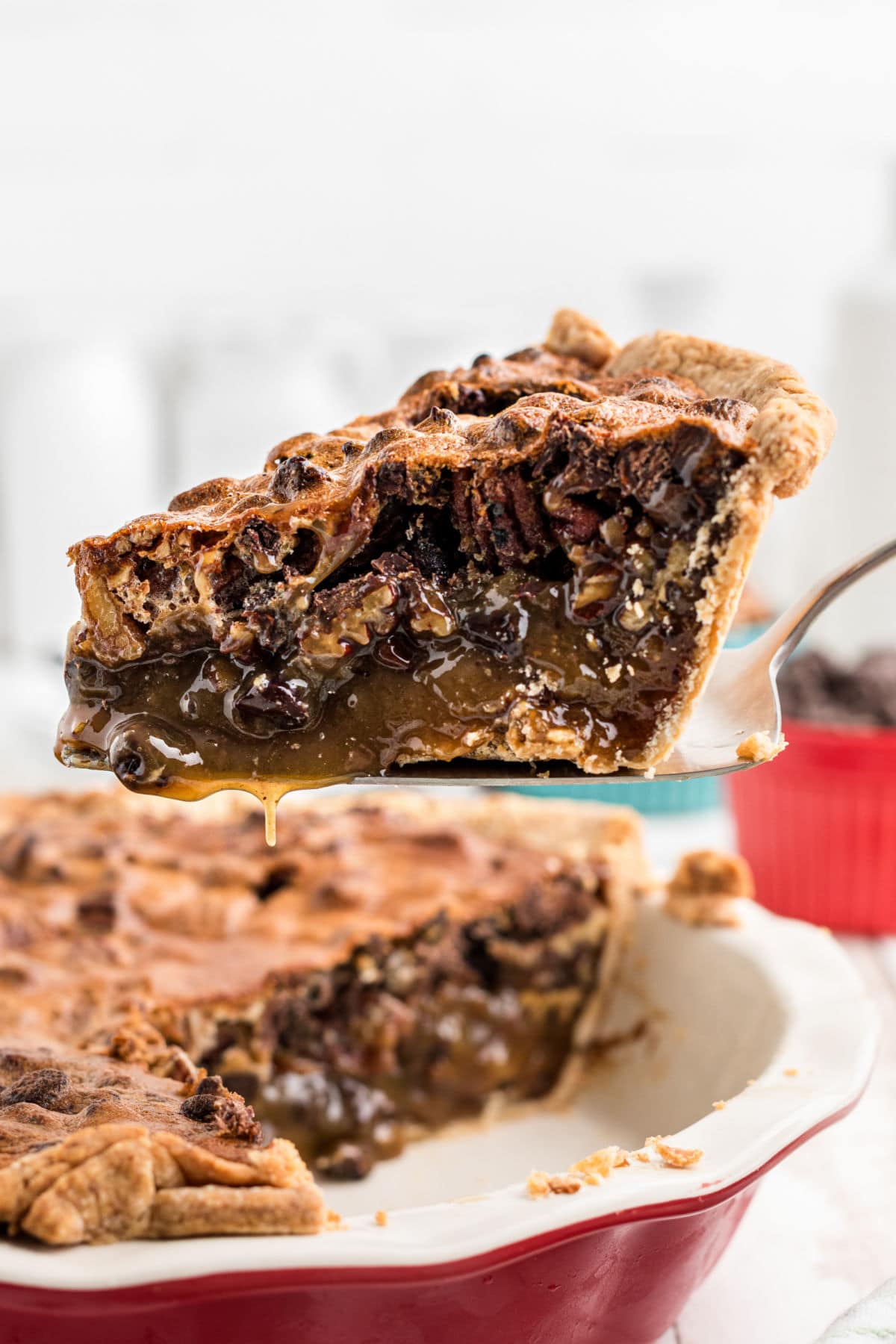 How the pie pan material affects baking
There are three popular choices for pie pans, and all will do the job fine. However, they work differently, so if your recipe doesn't specify which material to use, keep these tips in mind.
Metal
Metal pans are the thinnest, so they get really hot. They're great when you want a really golden-brown crust and your pie filling cooks quickly.
Ceramic
Ceramic pans are much thicker and heavier. The material conducts heat more slowly, so they're better suited to pies with fillings that need longer cooking times—like apple pies that simmer to thicken.
Glass
Finally, we have glass pie pans. They are closer in conductivity to ceramic pans, with one unique feature.
Glass pans have a clear bottom so you can see when your pie crust is cooked! Many newer bakers prefer this as an added sense of security.
👩‍🍳 FAQs
Should I flour my pie pan?
That's not a good idea—this isn't a cake, after all! Unless you enjoy the taste and texture of raw flour, don't flour the pie pan.
What should I use to grease my pie pan?
If your recipe calls for it, you can smear the pan with a butter wrapper, apply a thin layer of vegetable oil with a pastry brush, or lightly rub the pan with shortening.
Should I line my pie pan with parchment paper?
You can if you really want to, but a good pie crust doesn't need it. In fact, pressing the pie crust into wrinkly parchment can actually make the paper more difficult to remove later on.
Can I grease my pan with non-stick spray?
If your recipe instructs you to grease the pan, you can. However, be careful using a non-stick spray since it's easy to apply too much of it and create puddles of oil.
My crust is stuck to the pan. Now what?
I feel for you! Thankfully, there are a couple of easy hacks for unsticking your pie crust.

Warm up a baking sheet in your oven, take it out, and place your pie pan on top for 20-30 seconds. Or, you can suspend the pie pan in a shallow dish of hot water for the same amount of time.

Either method will soften the bottom of your crust and make it easier to cut slices without mangling the crust too badly.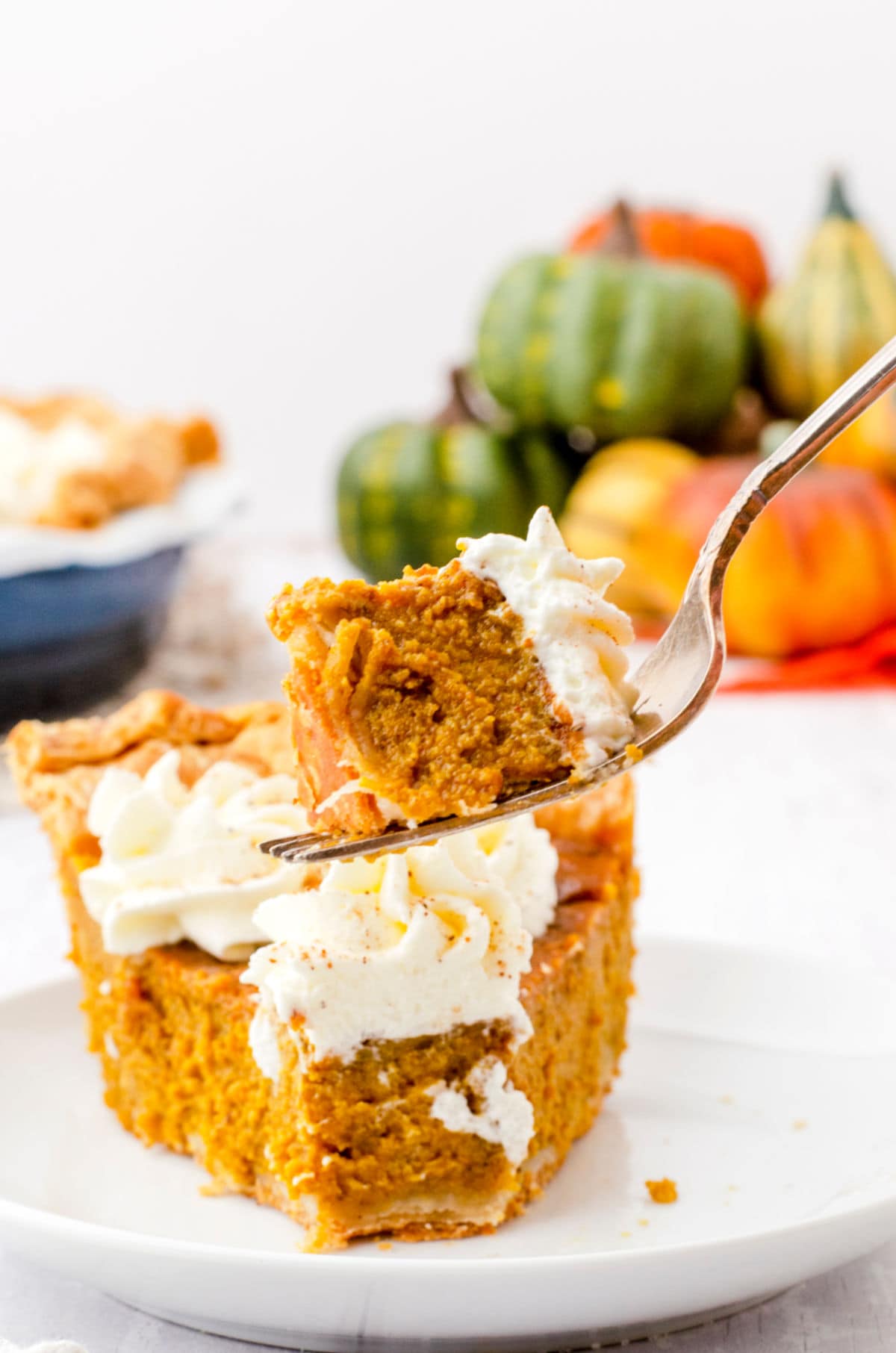 📚 Related recipes
A perfect pie crust takes patience and practice. These tips will help you create pies with flaky layers.