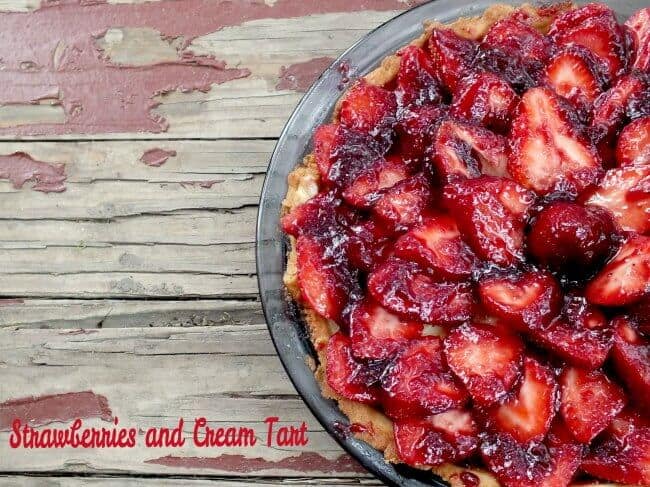 This fresh strawberry and cream tart is easy to make and a great way to use ripe, in-season berries. The sweet, buttery crust doesn't need to be rolled -- it can be pushed right into the pan!

Strawberries.
I associate summer with the aroma of strawberries permeating every molecule of air in the house. The kitchen would be fragrant with tangy-sweet berry smells as my dad sat at the table hulling flat after flat of ripe strawberries and my mother kept an eye on the shimmering garnet colored  jam as bubbles slowly rose to the surface and popped, almost in slow motion. Each pop led to a burst of the scent of fruit.
Every once in awhile my dad would eye a particularly big, juicy strawberry suspiciously and hand it to me. "Too big for jam, you'd better eat it."
We never had fresh strawberry fresh strawberry pie or strawberry cake. Strawberries were held sacred by my family, their only purposes were to be eaten out of hand when still cozily warm from the sun, to be sliced, macerated, and then spooned lavishly over hot biscuits and vanilla ice cream, or to be made into sparkling jars of jam.
It is with a distinct feeling of rebellion that I make strawberry pies, cakes, and tarts — half guilty and half joyous in my personal freedom.
Those huge berries were not at all related to the insipid, bland, hybridized to death berries I see in the stores. They were usually from Farmer's Market or a roadside stand. There was usually a table with baskets of berries and a jar with a label that said, "Pay here. Thank you." It's amazing that the jars were full of crumpled bills and no one seemed to run off with either the money or the berries. We lived in Southwestern New Jersey for a couple of years and were surrounded by Pick Your Own farms. For 50 cents or a dollar you could work your way down rows of lush plants, picking berries, eating a few, and finally triumphantly heading home with sandy soil in your shoes, a red ring around your mouth, and plenty of berries for jam.
I miss those days.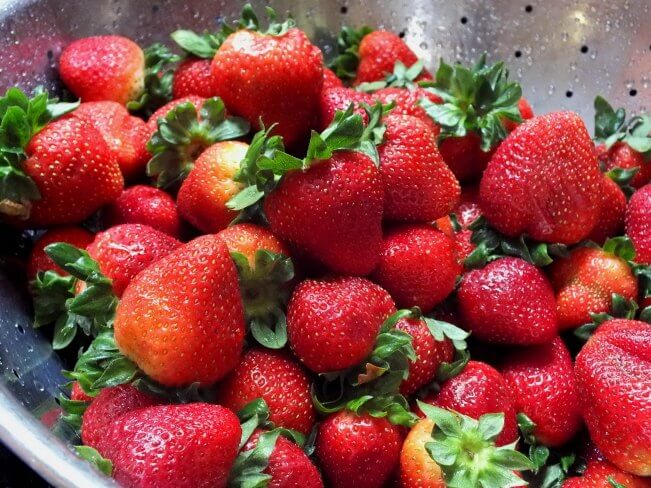 When I saw these berries I was definitely intent on creating with them. I did make a strawberry shortcake in honor of my parents (and the fact that we traditionally eat strawberry shortcake for dinner - not dessert but only shortcake and nothing else - at the beginning of the season.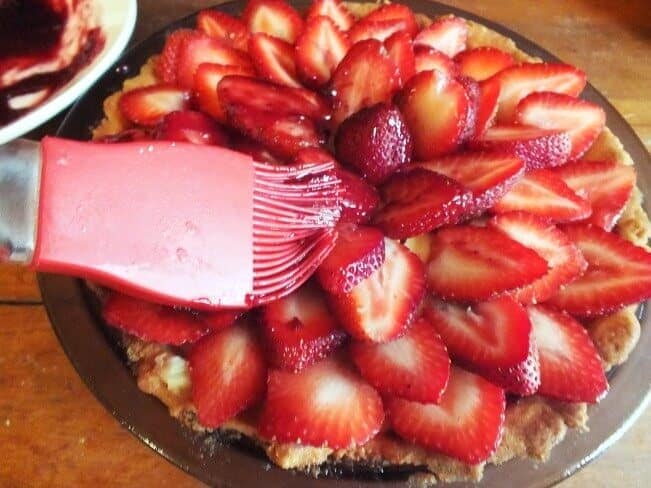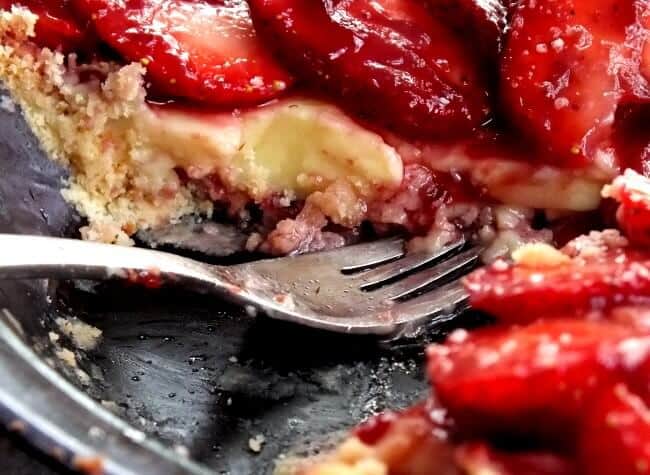 This strawberry and cream tart looks complex but it is super simple to make. The pate sucre is sweet and buttery - plus you can just push it into the pie pan - no rolling. The pastry cream is flavored with toasted marshmallow syrup but you can use vanilla or almond as well. I glazed it with raspberry jam because I think it makes the flavor a little deeper but you can use strawberry jam as well.


They only baking you'll do is to precook the crust — and you can do that a day ahead if you like. Let the strawberry and cream tart chill several hours before slicing so that you'll get nice, clean slices.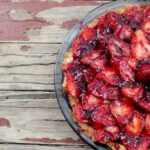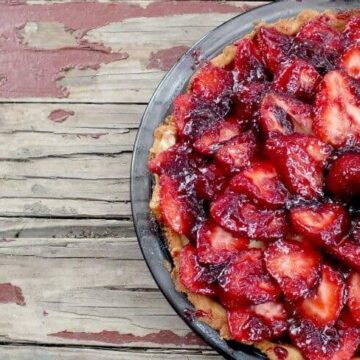 Strawberries and Cream Tart
Print
Save
Go to Collections
A creamy strawberry tart that is as beautiful as it is delicious. Toasted Marshmallow syrup flavors the cream for a sweet twist on this French classic.
As an Amazon Associate I earn from qualifying purchases.
Ingredients
Pate Sucree
Creme Patissiere
6

medium egg yolks

½

cup

sugar

¼

cup

flour

2

cups

whole milk

2

tablespoons

toasted marshmallow syrup
Strawberry Topping
1

quart

ripe strawberries

,

, hulled and sliced vertically

⅓

cup

seedless raspberry jam
I earn a commission from Instacart from qualifying purchases.
Instructions
Pate Sucree
Cream together the butter, sugar, and salt on medium speed for 2 minutes or until well blended and pale.

Scrape the sides and bottom of the bowl with a rubber spatula.

Add the flour and beat on low speed just until well mixed.

Add the egg yolk and vanilla and continue to mix on low until the dough comes together.

Lightly butter a 10 inch tart or pie pan.

Push the dough into the pan and up the sides keeping it as even as possible.

Put the shell in the freezer while you preheat the oven to 350F.

Bake for 30 minutes, or until golden brown.
Creme Patissiere - may be made 3 days ahead
Mix the ½ cup sugar, flour, and milk in a microwave safe bowl.

Whisk until well blended and microwave for 10 minutes or until it begins to thicken, stirring every minute.

Beat egg yolks.

Add about a cup of the hot liquid to the yolks a little at a time to bring the temperature of the yolks up - whisk constantly.

Add the warmed yolk mixture back to the bowl, whisking constantly to keep the eggs from curdling.

Microwave for about three minutes more, whisking every minute or so.

Stir in the marshmallow syrup.

Butter a piece of plastic wrap and push lightly on top of the pastry cream.

Refrigerate until needed.
Assemble the Tart
Spread the creme patissierie in the tart crust evenly.

Arrange the strawberries over the cream.

Warm the raspberry jam in the microwave until it liquefies and begins to bubble.

Brush over the strawberries.

Cover and chill about 4 hours before serving.
Sign up for the emails and never miss another recipe!!
We'll never share your email or send you spam. Pinkie swear.