These easy cornmeal popovers are a yummy twist on classic breakfast popovers. The addition of cornmeal gives them a slightly sweet, nutty flavor. Served with melted butter and honey, they're a comforting blend of country and classy.
For this recipe you'll need: butter, eggs, milk, buttermilk, water, flour, cornmeal, salt, metal popover pans 
If you are in a hurry click here to go straight to the easy cornmeal popovers recipe.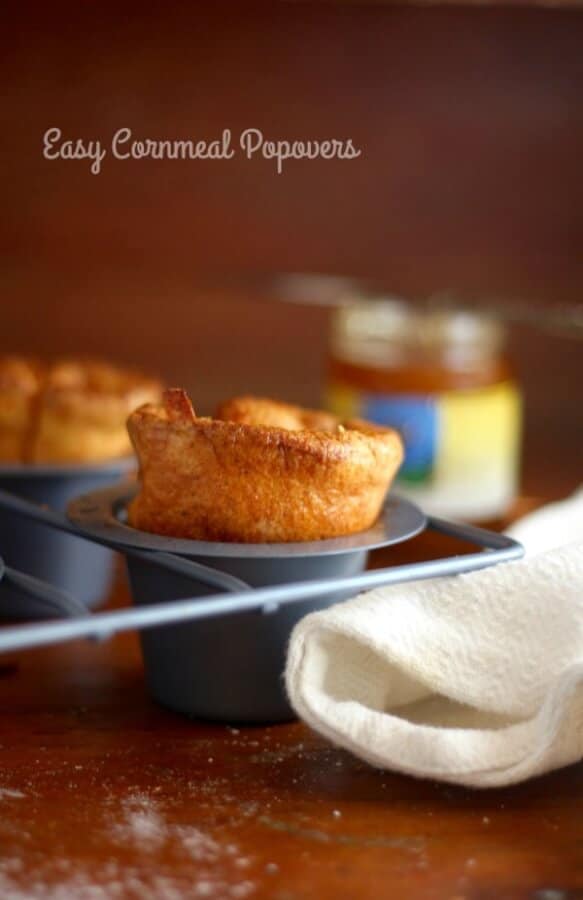 I've been in love with popovers and all their variations since the first time my mom took me to Neiman Marcus's Zodiac Room for lunch.
Back then you dressed up to go shopping. There was no such thing as heading out to the mall in jeans and a tee. Only "trash" appeared in public without perfectly coiffed hair and at least a little lipstick. It was Dallas, it was the late 60s/early 70s and life was simple and uncomplicated. As long as you lived by the rules you'd do fine.
And by doing fine I mean that you'd go to college, find a suitable husband, and settle down in the "Bubble" (Highland Park/University Park) or a wealthy suburb to raise children, decorate your husband's arm at social events, and bring a 5-Star worthy casserole or pie to church potlucks and bake sales.
And while I was perfectly prepared for that lifestyle the Universe had other plans for me. By 1975 all of that had changed, conservative Dallas caught up with the right and left coasts, and frayed jeans and flower power had arrived with a vengeance. I traded my White Shoulders perfume for Opium perfume and  learned to drink beer. From a can.
Oh the horror.
I'm not sure all of that freedom turned out to be a good thing. I kind of miss dressing up, gracious living, and the idea that my entire purpose in life was to be arm candy. Obviously a feminist I am not. True story - I HATE putting gas in my own car.
Back to popovers.
The Zodiac Room is located on the sixth level of Neiman Marcus downtown. To this day it is one of those places that still represents Old Dallas from the menu to the service. White linen tablecloths, white linen napkins... quiet, peaceful atmosphere...Today I am sure it is fine to head there in jeans but I can't do it. When I go I put on a dress, and stockings, and makeup. I can't tell you how tempting it is to pull my mom's ivory colored gloves from the place I have them stored. It's the Zodiac Room, after all!
And, just like they always have, you'll be served big, steaming popovers and strawberry butter. Of course, those popovers are made of fine, white flour - nothing as plebeian as cornmeal.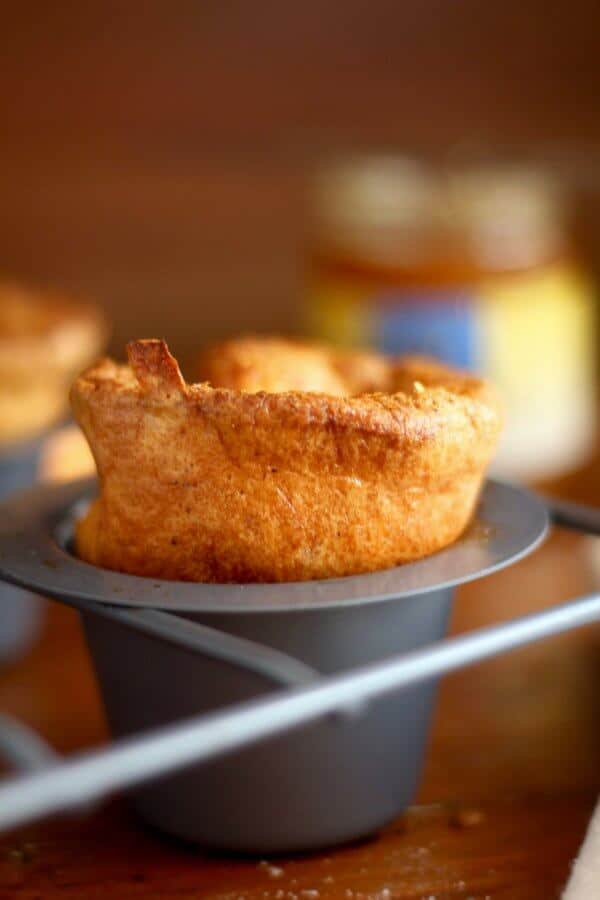 These easy cornmeal popovers are not as refined as those but the flavor is amazing. The cornmeal adds an extra crispness to the outer crust and a little extra flavor, too. The important thing to remember is that the popover pans need to be very hot when you add the batter. This is what gives them that distinctive thin, crispy crust and causes them to rise high and light in the oven.
Here are some tips for perfect popovers -
Make sure the ingredients are all at room temperature.
Do not use egg substitute.
Do not use lowfat milk.
Use good, metal popover pans. I do not recommend using muffin tins OR silicone.
Always grease the pans with melted butter. DO NOT USE COOKING/BAKING SPRAYS.
Serve immediately - they are not something you can make ahead of time.
The following are affiliate links. We are a participant in the Amazon Services LLC Associates Program, an affiliate advertising program designed to provide a means for us to earn fees by linking to Amazon.com and affiliated sites. Thanks so much for being a part of Restless Chipotle!
Some people say you can make popovers in custard cups or muffin tins. I disagree. A popover pan helps them rise high and really pop. These are the popover pans I use and I am totally in love with them. Sometimes I mix things up a little and use blue cornmeal instead of white or yellow. It's got a slightly different flavor and a dusky color, depending on the color of the actual cornmeal you use. Some types are more blue than others.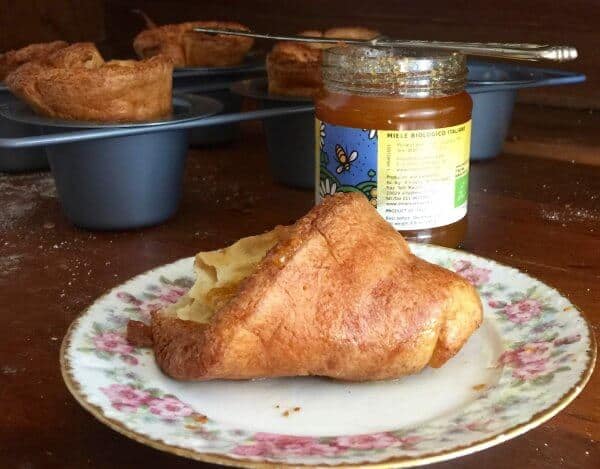 If You Liked This Easy Cornmeal Popovers Recipe You May Also Like...
Fresh Peach Muffins with White Chocolate Chips
Here's the cornmeal popovers recipe!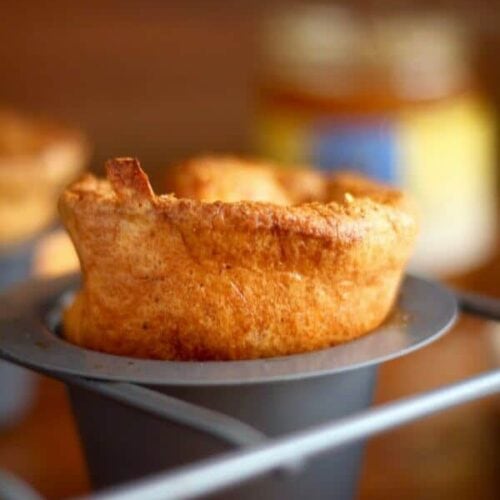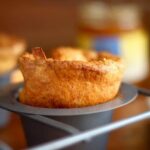 Easy Cornmeal Popovers Recipe
Print
Save
Go to Collections
Classic popovers meet country casual in these easy cornmeal popovers. Perfect served with butter and honey for breakfast or filled with creamed chicken for lunch. Popover pans ensure that the popovers "pop" and rise high.
As an Amazon Associate I earn from qualifying purchases.
Ingredients
4

tablespoons

unsalted butter

,

room temperature

3

large eggs

,

room temperature

1

cup

milk

,

room temperature

⅓

cup

buttermilk,

room temperature

⅓

cup

water

,

room temperature

¾

cup

flour

¼

cup

cornmeal

½

teaspoon

kosher salt
Instructions
Preheat the oven to 375 degrees.

Use 2 tablespoons of the butter to generously grease popover pans.

Pulse the cornmeal in a blender or food processor until very fine.

Mix the cornmeal, flour, and salt in a bowl. Set aside.

Melt the remaining 2 tablespoons of butter.

Whisk together the eggs, milk, buttermilk, and water in a bowl.

Gradually stir the cornmeal mixture into the egg mixture.

Add the melted butter and whisk until smooth.

Let stand for 30 minutes at room temperature.

Put the empty, buttered popover pan in the oven for 5 minutes.

Carefully remove it and pour about ¼ cup of batter into each well.

Put in the oven immediately – bake for 25 to 30 minutes or until the popovers are puffed and golden.

Turn the oven off.

Slit the tops of each one with a knife to let the steam escape and return to the oven for a few minutes.

Serve immediately.
Sign up for the emails and never miss another recipe!!
We'll never share your email or send you spam. Pinkie swear.