Chipotle pecan pie is classically sweet but the sweetness is balanced with the smoky tease of chipotle and the caramel notes of the bourbon. There's just enough chipotle to make your lips and mouth tingle with every pecan-filled bite. Pair it with vanilla ice cream for a chilly contrast.
My family loves desserts of all kinds but most of them are pretty partial to pecan pie. They love the stuff — and who can blame them? Gooey filling oozing around crunchy pecans in a buttery crust — what's not to like? And, more importantly — what's a holiday table without a pecan pie on it?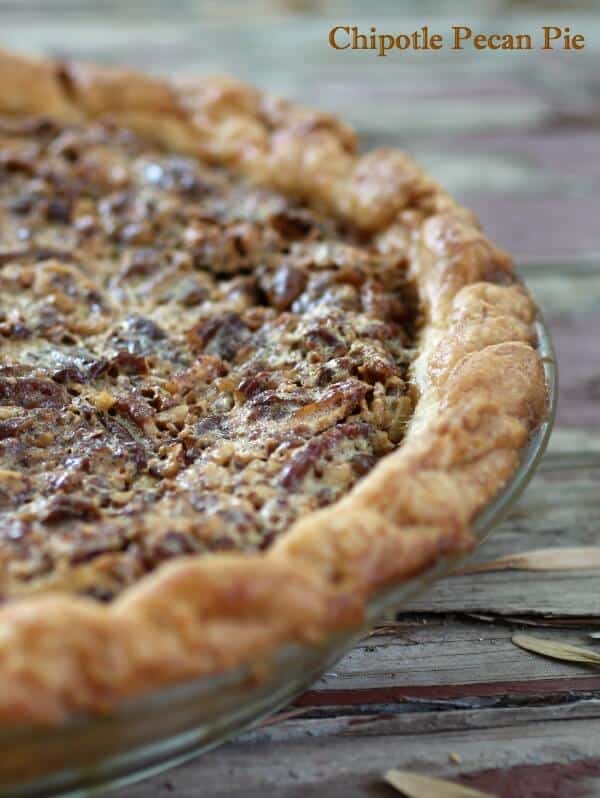 Still, sometimes I get tired of the same old recipes all the time. Most of you probably don't know but I've been a food writer for Texas Living Magazine for a little over a year. When we decided to do a piece on pecan pies I knew I wanted to create a couple with some unique twists. Something a little different that still was solidly Texan in character. Obviously I tend to drift toward chipotle in recipes. The smoky spicy flavor is full and fruity. It goes well with sweet or savory and I thought it would balance that super sweetness of the pie.
It did.
There isn't enough chipotle to burn your mouth. First you taste the sweetness of the gooey filling, then the buttery pecans and the crumbly crust. Then you get a little of the caramel flavor from the bourbon. It isn't until you think, "wow, I didn't taste any chipotle" that you start feeling a warm tingle moving from the back of your throat to the front of your mouth. It's a slow, gentle burn like the cozy embers of a dying fire on a chilly night and as that warmth fades you are literally compelled to take another bite… and another.
The really wonderful thing about pecan pies is that the sugar is a preservative. You can make the pie a week ahead of your holiday celebration and it will still be delicious when you serve it. Just keep it tightly covered in the refrigerator. A word of warning — it will pick up flavors from other foods so be careful about making sure it's sealed and maybe hold off on making your garlic and onion braised fish dish.
I am extremely excited about Christmas this year. I love Christmas and I start decorating as soon as I can do so without looking like a crazy person, usually the day after Thanksgiving. I love the craziness of a full house of kids, in-laws, grandkids, and friends but at this point in my life, with four kids in the military (yep, four. My daughter leaves for the Navy in April) it's not even possible to get everyone together. I don't have a family picture and I want one so much. When I am feeling particularly dramatic (oh please, don't pretend you don't have those dramatic moments, I can't be the only one!) I lament that the only time everyone will be together again is my funeral. One son in Korea, one in Florida, one in Las Vegas, and who knows where Shiloh is going to end up?
Well, my military sons got together and coordinated their leave time. EVERYONE IS GOING TO BE HERE FOR CHRISTMAS! I am so excited I randomly burst into tears. I started working on the menu as soon as Matt told me.
It was supposed to be a surprise. They were just going to show up at my house and surprise me. I don't know if y'all remember what happened last March when Matthew walked into my room while I was working? I had no clue he was coming home, he was in Japan as far as I knew. Well he walked into my room and I was head down, deep in thought writing an article. I heard this deep voice say, "Hi Mom!" and when I looked up I just lost it. It was terrible, I really did almost have a heart attack. After that Matt decided that maybe it wouldn't be a good idea for the three of them to do that so he took pity on me and told me. So I'll be happily surrounded by 8 kids, 2 in-laws, a step, 3 grands, and my husband — pure bliss. AND I'll get my family picture. I promise I'll be posting it all over the Internet so you don't have to worry that you won't see it.
Have I mentioned how excited I am?
I'd love it if you gave this a try and let me know what you think. If you do happen to make it just post a picture on the Restless Chipotle Facebook page or Instagram (#restlesschipotle) and let us admire your accomplishment. 🙂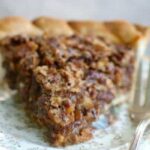 Chipotle Pecan Pie
Print
Add to Collection
Go to Collections
Classic pecan pie with a smoky spicy kick and a little bourbon to keep it interesting. This pie fairly screams Texas.
Total Time
1
hour
10
minutes
As an Amazon Associate I earn from qualifying purchases.
Ingredients
1

cup

light corn syrup

3

eggs

1

cup

brown sugar

4

tablespoons

butter

,

, melted and allowed to turn golden brown

1/2

teaspoon

vanilla

2

tablespoons

of bourbon

1/4

teaspoon

of chipotle powder

,

, more or less to taste

1/3

teaspoon

of Kosher salt

2

cups

chopped pecans
Instructions
Preheat the oven to 350F.

Toast the pecans for a about 5 minutes in the oven being careful not to scorch them; set aside.

Whisk the eggs until well blended; add the corn syrup and melted butter.

Add the sugar, vanilla, bourbon, chipotle, and salt.

Whisk until smooth.

Stir in the pecans.

Pour into the crust.

Bake for 1 hour at 350F. The middle of the pie will still jiggle slightly.

Chill before serving.
Sign up for the emails and never miss another recipe!!
We'll never share your email or send you spam. Pinkie swear.
If you liked this Chipotle Pecan Pie you may also like…
From left to right: Red Hots Candy Apple Pie, Swedish Apple Pie, Bacon & Bourbon Apple Tarts
Check out the other great recipes on Meal Plan Monday!