There's nothing quite as satisfying as a big bite of gooey pecan pie with a buttery, flaky crust.
Let's learn how to reheat pecan pie so you can enjoy holiday leftovers or get ahead of hectic Thanksgiving dinner prep.
Either way, rest assured—your pie will taste fresh out of the oven every time!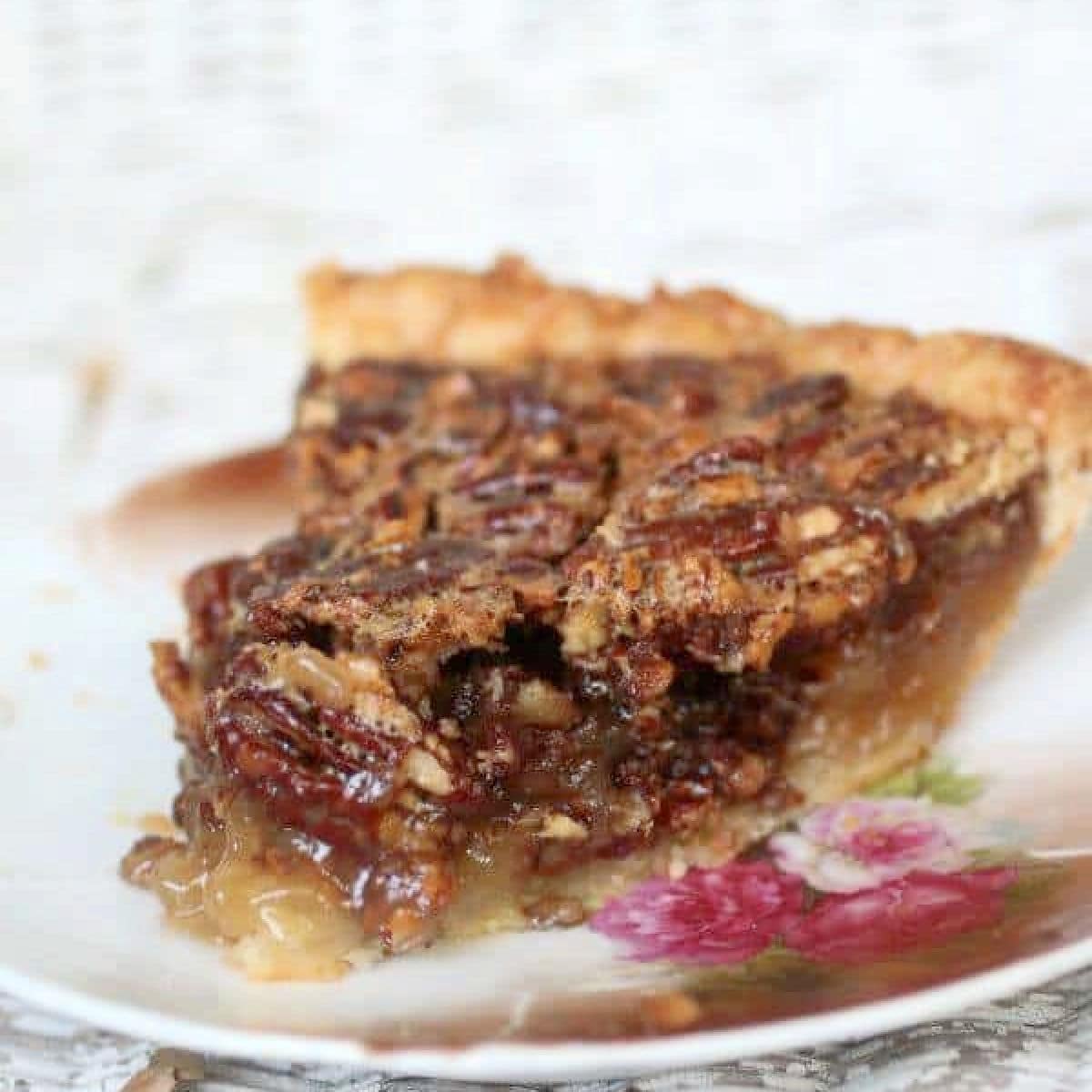 Table of Contents
🗝️ Key takeaways
Southern pecan pie tastes like old-fashioned comfort and, better yet, it keeps great. The good news? Reheating is super easy!
Don't let Thanksgiving leftovers go to waste. Prep desserts in advance of the busy holiday season and enjoy 'em long after the family leaves.
Learn four different methods to reheat homemade and store-bought pies perfectly. I'll share tips for single slices and whole pies!
There's nothing quite as deliciously ooey-gooey as a slice of warm pecan pie with ice cream melting on top. Since it has to chill overnight to set it can be a real headache getting it to just the right temperature.
Well, get your ice cream scoops ready but these methods really work!
Easy Oven Method
The most traditional and best way to heat up leftover pecan pie is in the oven, especially for whole pies. It keeps the inside gooey while preserving the flakiness of the pie shell.
If it's frozen thaw your pie overnight in the fridge before you plan to heat it up. If it's not frozen then go straight to the steps!
Once thawed, I recommend letting it sit out at room temperature for a bit so that it heats more evenly.
Then, follow these steps:
Preheat your oven to 300 degrees F.
Place the pie in an oven-safe dish, foil pan, or on a cookie sheet.
Cover the top of the pie with aluminum foil.
Let it heat in the oven for 15-20 minutes (less if heating a single slice.)
To check if the pie is heated in the center, use an instant thermometer. When heated through, the temperature will read about 200 degrees F.
No thermometer? No problem! You can use a butter knife. Hold the knife in the middle of the pie (or slice) for 10 seconds—without touching the bottom of the dish.
Then, carefully place the butter knife near the back of your hand, touching it gently if it's not too hot. This will help you gauge the internal temperature to make sure it's warmed through.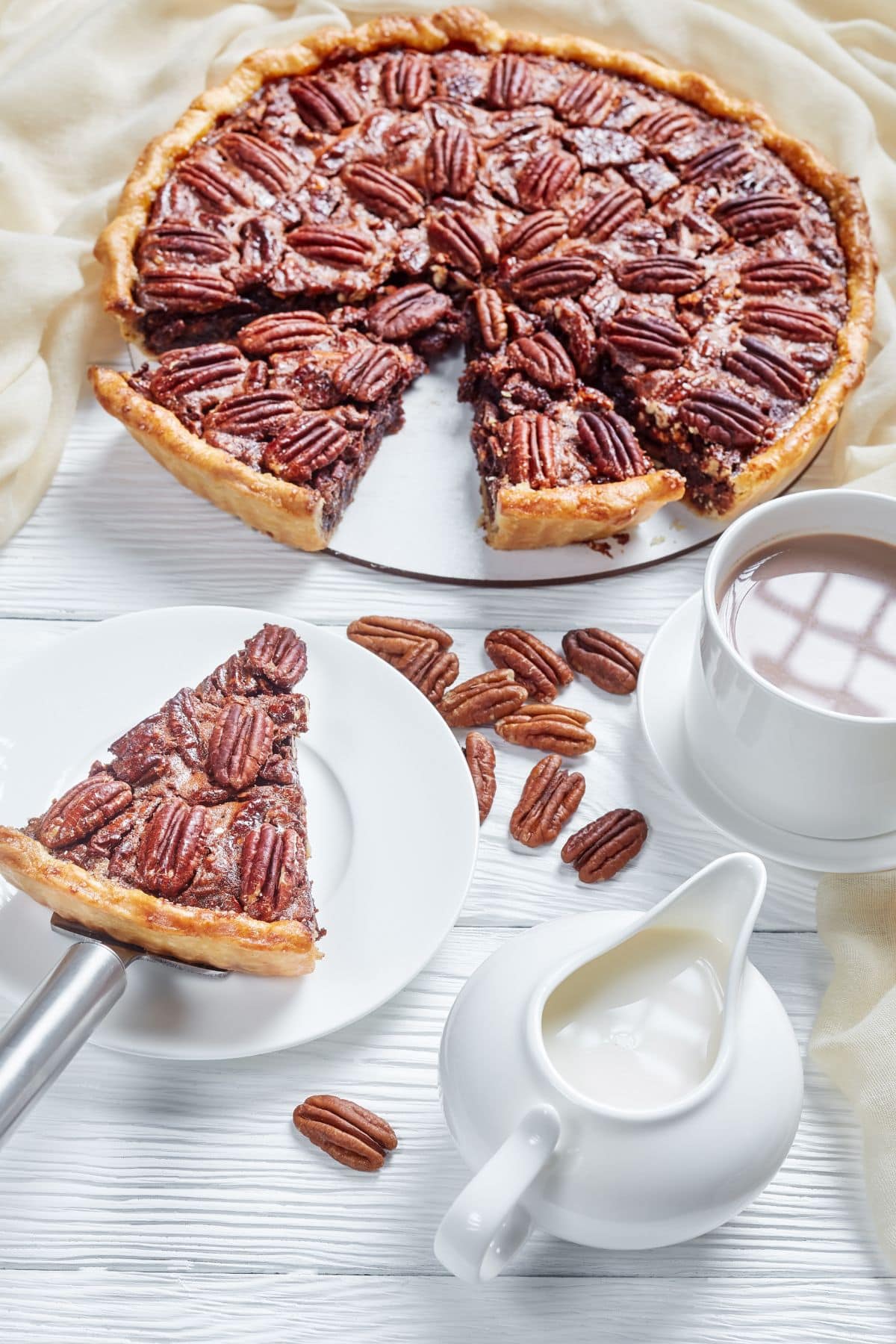 Reheat Pecan Pie in the Air Fryer
Revive that tender-crisp crust using the air fryer! This is the best method for reheating single slices since most air fryer baskets aren't quite large enough to fit a Southern family-sized pie.
To keep clean-up at a minimum, line your air fryer with aluminum foil or parchment paper. Then, set your air fryer to 300 degrees F.
After bringing your slice of pie to room temperature, let it heat in the air fryer for 5 minutes or until it's warmed to your liking.
Keep in mind, air fryers are very powerful. So, don't walk off and leave your pie to cook, or it'll burn. Set a timer if the kids, husband, dog, or doorbell is likely to distract you—I've been there!
Use the Stove
Reheating pecan pie on the stove might sound odd, but it's a quick way to warm the inside while keeping the crust on the bottom nice and flaky. However, be careful—you'll want to monitor the heat so it doesn't burn.
Add smaller slices of room-temperature leftover pie to a skillet. Warm it on low to medium heat for 5-10 minutes.
I recommend covering the skillet to speed up the process. Otherwise, the bottom might heat up and dry out before the pie filling is warmed. If you don't have a lid, loosely top your skillet with foil.
How to Reheat Pie in the Microwave
The best part about using a microwave to reheat pecan pie is how quickly you get your hands on a slice of that gooey goodness. However, the crust tends to get a little softer with this method.
Place your slice of pie on a microwave-safe plate and heat in fifteen-second intervals until warm. Any longer without checking, and you risk burning the filling.
This is the only reheating method where the results are pretty much the same if you start with frozen pie or thawed pie. The only difference is that frozen pie will take longer.
If you're in a hurry, the microwave method is ideal. It requires less time than preheating the oven or air fryer. The only downside is that your golden brown crust gets a tad soft.
💭 Things to Know
Always let homemade pecan pie cool to room temperature before storing. Then, cover it tightly with two layers of plastic wrap and place it in an airtight container or plastic bag.
I like to slide some parchment paper in between each slice before the pecan pie freezes. This way, you can enjoy individual servings of pie without thawing the whole thing.
For the best results, let frozen pecan pie thaw in the fridge overnight before reheating it.
Make sure you don't store pecan pies (and fruit pies, for that matter) with whipped cream on them.
Pecan pie freezes well because the moisture content is low, and it doesn't have a ton of dairy. The best part? That means you can prep your pies way in advance of Thanksgiving (I'm talking August!) and pull them out at the last minute. No one will know a difference.
Don't put a cold glass pie dish into a hot oven or vice versa. That's why it's important to bring the pie to room temp before reheating, especially if you plan to freeze and bake without removing it from the dish.
📚 Try These Pecan Pie Recipes
If you're looking for a classic pecan pie, search no further. My Southern Pecan Pie is a Thanksgiving and Christmas dinner must!
This Pecan Pie Cheesecake is a show-stopping dessert that everyone loves. It's unique, rich, ultra-creamy, and perfect for a special occasion.
For a twist on a classic recipe, try this no-bake Pecan Praline Coconut Pie. We love a delicious, decadent treat that doesn't take much effort.
📞 The Last Word
You can use the oven, air fryer, stove, or microwave to reheat pecan pie, so the hardest part is choosing which of the different methods you'll use.
In just a few glorious minutes, you'll be gobbling up a slice of warm pecan pie—or maybe two slices!
But I have to know... are you Team Warm or Team Cold?