An easy buttermilk biscuits recipe is a staple in any southern kitchen. My version bakes up soft and buttery, with a million flaky layers thanks to a unique mixing technique. Don't you just love that first rush of fragrant steam that wafts up from a freshly opened biscuit? YUM!
Ingredients for this recipe: White Lily flour (or cake flour), butter, buttermilk, baking soda, baking powder, sugar, salt, ( you may use self rising flour and omit the baking soda and baking powder)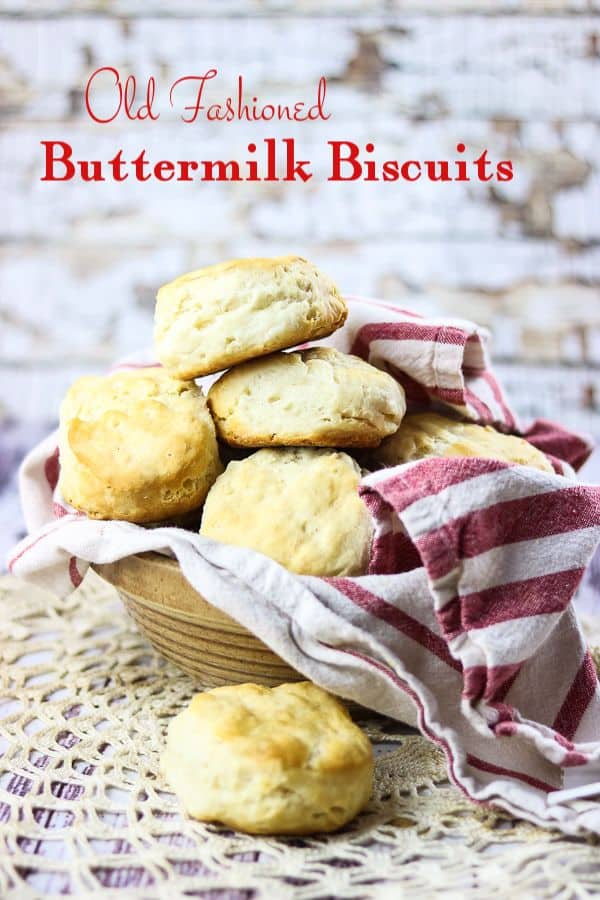 "Easy" Homemade Biscuits Are Particularly Difficult to Master!
I'd love to tell you that I started making light, fluffy biscuits at my grandmother's knee when I was 5 but that, my friends, would be a lie.
The truth is that I spent over a decade trying to find the perfect flaky buttermilk biscuits recipe only to realize that it wasn't the recipe it was the technique.
Quest for Easy Buttermilk Biscuits
I made biscuits you could bang nails in the wall with. I made biscuits that you could use to skip across the lake if you couldn't find a flat rock. I've even made biscuits that resembled hockey pucks – only the hockey pucks probably had a better flavor.
I cut in the butter too small. I cut in the butter too big… Until one day I didn't have time to cut in the butter at all and, surprise surprise… What came out of the oven were the lightest, fluffiest biscuits known to man.
Can I have a hallelujah?
Best Technique for Flaky Biscuits
The secret?
I used the big holes of a grater and just grated ice cold butter into the flour mixture – then I gave the dough a few folds before shaping.
It made all of the difference. The trick is that the butter has to be icy cold and you can't over-mix the dough. Simple enough, right?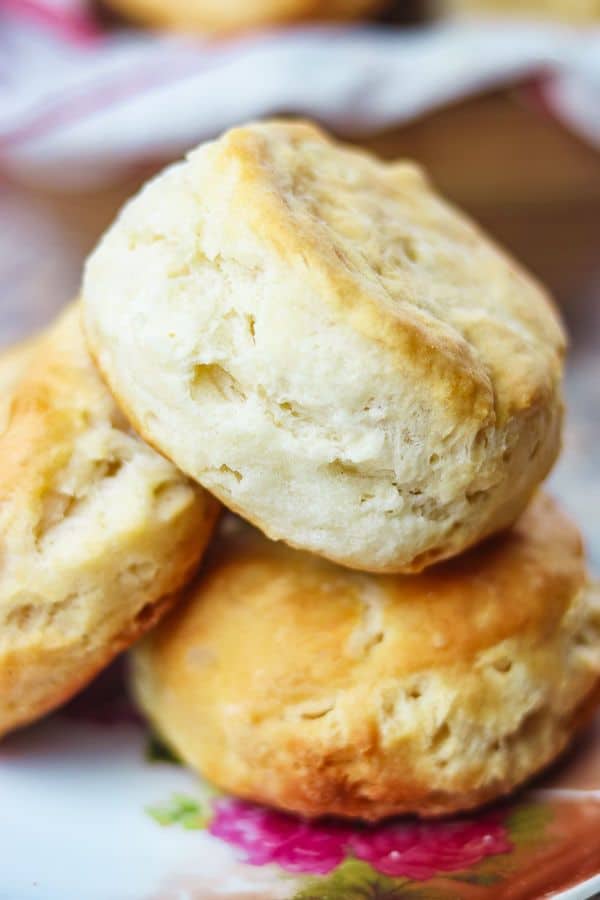 Buttermilk Biscuits Recipe FAQs
It seems to be that the quest for the perfect southern buttermilk biscuit is similarly popular to the quest for the perfect bathing suit. Dang near impossible.
Still, there are questions that come up – so here are the most common biscuit questions and their answers.
Should you chill biscuit dough?
Nope. You need to get that dough right into a hot oven just as soon as possible after mixing it up. Baking powder and baking soda lose their oomph soon after they get wet.
What does buttermilk do for biscuits?
It has and acid that reacts with baking soda to make baked goods rise better. Buttermilk also helps create a more tender crumb in baked goods.
Can I use milk instead of buttermilk for biscuits?
You can – just omit the baking soda and add in a little more baking powder. OR you can make a buttermilk substitute with 1 tablespoon vinegar to 1 cup of milk – let that sit for a few minutes before using.
What's the secret to fluffy biscuits?
Avoid over-mixing and handle the dough gently.
Tips for the Best Buttermilk Biscuits Ever
The more experienced you are with any recipe the easier it is to make. These tips will make up for any experience you lack! I think you'll agree that these easy buttermilk biscuits are exactly that.
Easy.
Keep your baking soda and baking powder fresh – don't use it if it's over 6 months old. It's still safe to eat but it will have lost some of the rising power.
Sift your dry ingredients. It helps fluff up the flour.
Keep all of your ingredients ice cold.
Pat the dough into shape for cutting – don't roll it.
After patting it into shape cut it in equal sized rectangles and stack one on top of the other before cutting.
Cut the buttermilk biscuits about 1-inch thick.
Push the biscuit cutter straight down – don't twist when cutting.
Dip the cutter in flour often to keep it from sticking.
Bake them as soon as possible after mixing.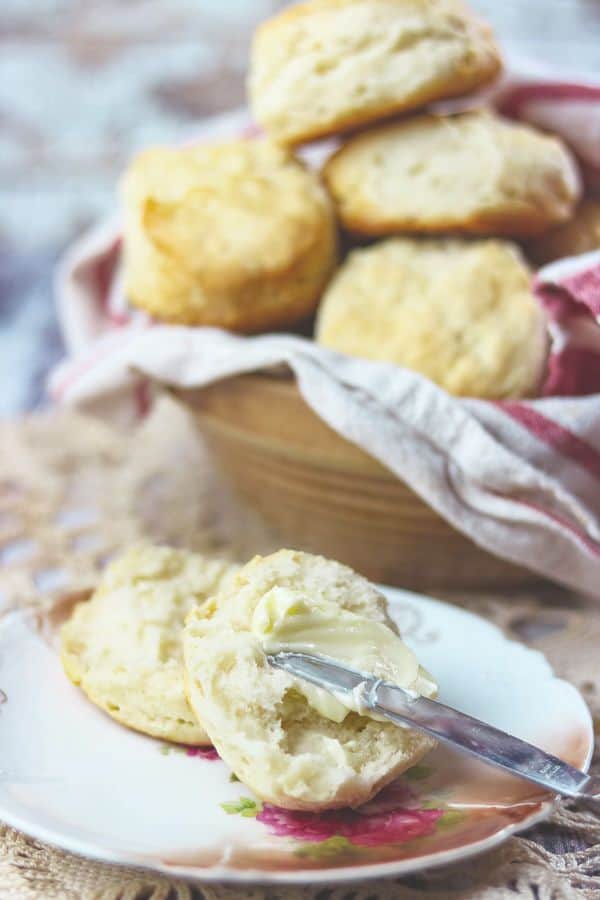 More Easy Quick Bread Recipes
Steaming hot biscuits with yellow pools of butter melting inside, fragrant muffins bursting with blueberries, sweet and moist banana bread… these are the types things that tell us that we're home, we're safe, and we're loved. These are the moments that help us recall cherished memories and make happy memories for our kids and grandkids.
Make quick breads a part of your breakfast routine – they are generally quick to make and freeze well so you can make them on the weekends and serve them all week long.
Check out this classic southern recipe that uses 500F oven!
You May Need…
The following are affiliate links. We are a participant in the Amazon Services LLC Associates Program, an affiliate advertising program designed to provide a means for us to earn fees by linking to Amazon.com and affiliated sites.
What's new? Check out my Restless Chipotle & Co. Store on Amazon where you'll find all kinds of nostalgic goodness! Thanks so much for being a part of Restless Chipotle!
White Lily Flour, whether self rising or all-purpose, is truly the best flour for biscuits in my opinion. It's worth ordering.
These scalloped biscuit cutters come as a set so you can make whatever size you need. I think the scalloped sides are prettier as well.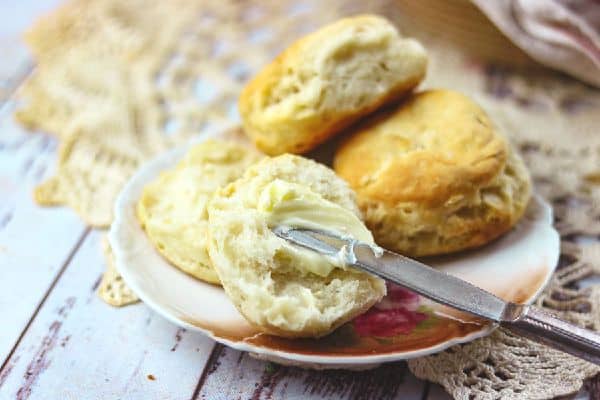 Easy Buttermilk Biscuits Recipe
I don't think there's anything as comforting and welcoming than a plate stacked high with hot, homemade buttermilk biscuits and a jar of homemade jam close by, how about you?
If you love this recipe please give it 5 stars!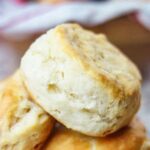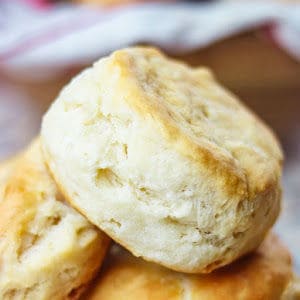 Easy Buttermilk Biscuits
Print
Add to Collection
Go to Collections
If you've never made a perfect buttermilk biscuit before then you'll absolutely love this recipe. Tall, butter, flaky homemade biscuits any time you want them.
As an Amazon Associate I earn from qualifying purchases.
Ingredients
2

cups

flour

,

white lily or pastry flour is best

1

tablespoon

baking powder

1/4

teaspoon

baking soda

1

teaspoon

sugar

1

teaspoon

salt

1/2

cup

butter

,

ice cold – put in the freezer for 10 minutes before using.

1

cup

buttermilk

,

plus a little more for brushing tops
Instructions
Preheat the oven to 425F.

Lightly grease a cookie sheet or cover it with parchment/silpat.

Sift the flour, baking powder, and baking soda into a bowl.

Whisk in the sugar and salt.

Using the large side of a grater, grate the butter into the flour mixture stopping occasionally to fold the butter shreds into the flour.

Stir the butter shreds into the flour and then make a well in the center.

Pour the cold buttermilk into the well and mix the flour mixture into it lightly with a fork until a soft dough is formed.

Turn out on a lightly floured countertop and gently knead 15 strokes..

Cut into 2 equal pieces and stack one on top of the other.

Pat down until it's 1" thick.

Cut straight down with a biscuit cutter.

Place biscuits on the prepared baking sheet.

Brush the tops with a little buttermilk. Sprinkle with a little sugar if desired.

Bake for 15 minutes, or until golden brown and done.
Notes
If using self rising flour leave out the baking powder and baking soda.
Nutrition
Serving:
1
each
|
Calories:
158
kcal
|
Carbohydrates:
18
g
|
Protein:
3
g
|
Fat:
9
g
|
Saturated Fat:
5
g
|
Cholesterol:
23
mg
|
Sodium:
306
mg
|
Potassium:
150
mg
|
Fiber:
1
g
|
Sugar:
1
g
|
Vitamin A:
270
IU
|
Calcium:
72
mg
|
Iron:
1
mg
Sign up for the emails and never miss another recipe!!
We'll never share your email or send you spam. Pinkie swear.
Share Your Images
Part of Meal Plan Monday