Discover the magic of a milk frother! Unveil its role in creating creamy, velvety textures for your favorite coffee beverages and more!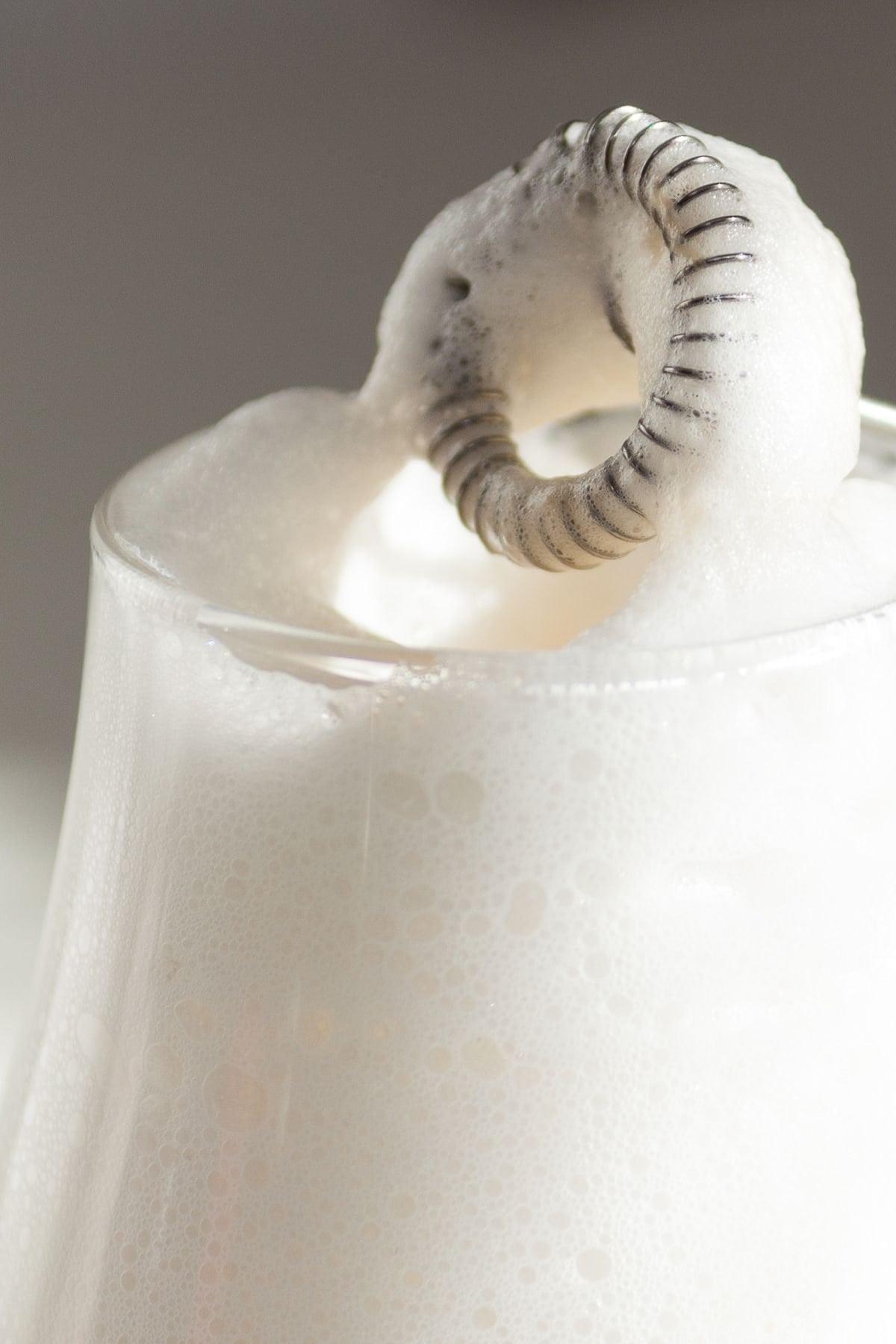 Table of Contents
🗝️ Key takeaways
Handheld milk frothers transform a basic coffee drink into a decadent, creamy creation!
Skip the expensive coffee shops—now you can make tasty cold foam and warm milk foam from the comfort of your own home.
You can use many different types of milk, but some work better than others.
Good news, coffee lovers—gone are the days of spending an entire week's paycheck at the corner cafe for a hit of caffeine.
We'll learn what a milk frother is, discover which kind of milk frother is best for you, and find out how this small kitchen appliance can elevate your morning routine!
🥛 What is a milk frother
A milk frother is a small kitchen device that whips air bubbles into hot milk, giving it a creamy, foamy texture.
Warm froth is often used to top coffee beverages, such as lattes and creamy cappuccinos. However, you'll also find it poured gently into tea drinks, like matcha lattes.
Lately, it's become popular to sweeten cold milk, froth it, and use it to add flavor and texture to chilled coffee drinks and cold brews. This is often referred to as "cold foam."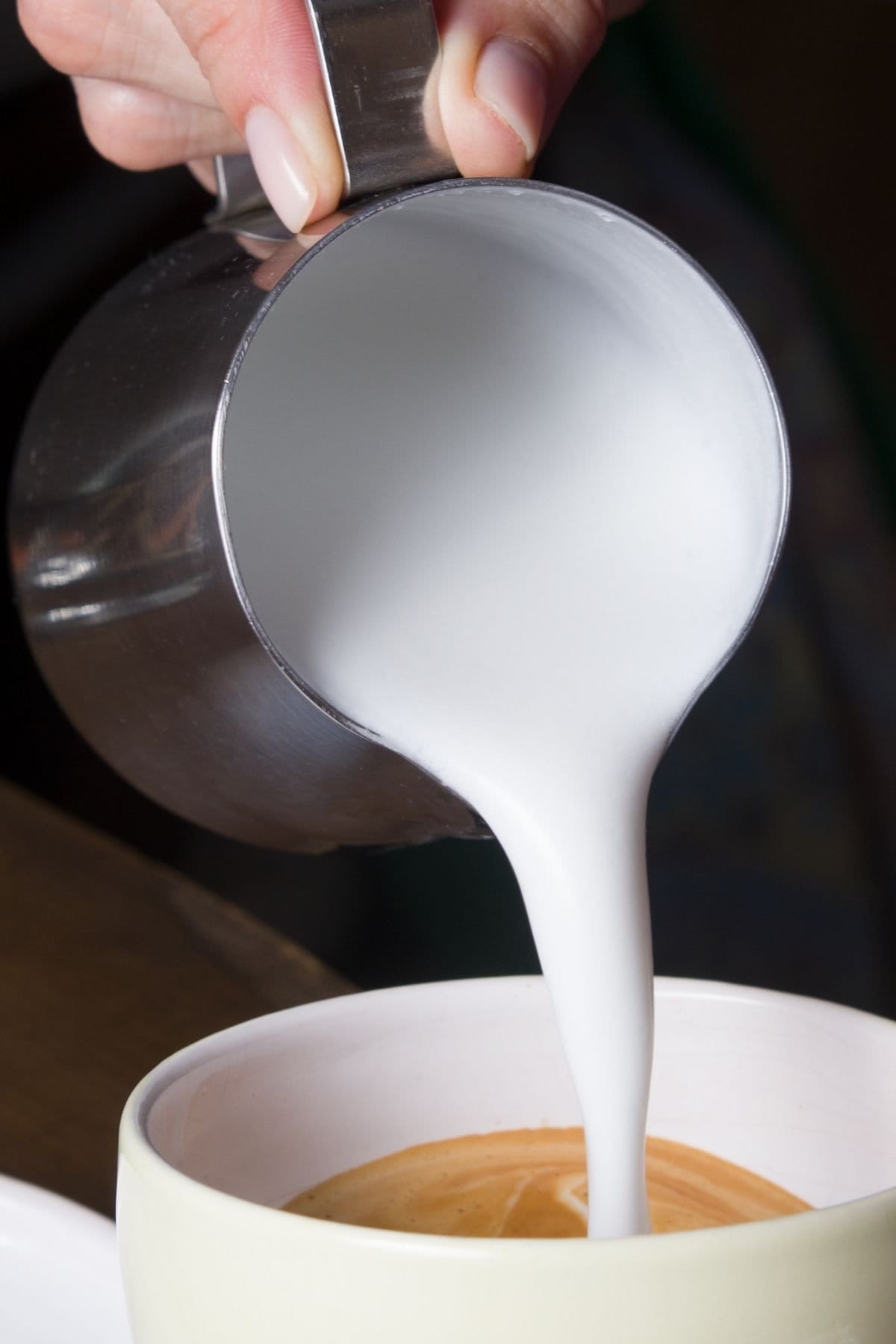 🔎 Types of milk frothers
There are a few different types of milk frothers on the market today. It's always a good idea to do a little research to get the best bang for your buck. Here's a quick breakdown:
Handheld frothers are battery-operated small devices that have a coin-sized whisk attachment on one end. You simply press a button, insert the whisk end into your milk, and froth until you have a thick foam.
On the other hand, manual frothers resemble a French press. You pour milk in and press down on the top plunger repeatedly. This pushes the milk through a screen, creating large air bubbles.
Electric milk frothers are shaped like small kettles and are generally made of stainless steel. They are automatic, so you pour your milk in, turn the frother on, and it will produce a high-quality, hot foam.
🛁 How to clean
The best way to clean a milk frother is with hot, soapy water. Read your manual carefully, as most frothers are not dishwasher-safe.
Though milk can leave a sticky residue, the good news is that it's not difficult to remove. Using some mild dish detergent and a kitchen scrub brush should do the trick.
Stubborn dried or burnt milk giving you trouble? Try adding baking soda and pouring some vinegar onto the tough spot. Often, the reaction will loosen any stuck milk bits enough so you can scrub them off.
It's never a good idea to let your frother sit for a long time with milk in or on it. By rinsing your frother right after you use it, you'll extend its lifespan, keep it in tip-top shape, and enjoy good foam for years to come.
☕ Ways to use a milk frother
Create all sorts of fun coffee drinks and even try your hand at latte art using a milk frother. There are so many possibilities!
You can use a handheld frother to whip the cream for these Copycat Salted Caramel Lattes.
Experiment with tea lattes! Froth some hot milk until it just starts to get foamy (little bubbles, not big ones.) Combine equal parts creamy froth and hot sweetened tea for a relaxing, calming treat.
This Spiked Mexican Hot Chocolate warms you—and your tastebuds—on a blustery winter day. Let the kids froth milk for their own hot cocoa to turn a fun snow day treat into an exciting new experience!
Enjoy cocktails? You can use a handheld frother to whip the egg whites for your favorite classic gin fizz or Amaretto sour.
💭 Things to know
A steam wand is not exactly the same as a milk frother. A milk steamer uses hot vapor to foam the milk, not air bubbles.
Electric frothers are more pricey than handheld or manual milk frothers, but they're great if you want to froth a lot of milk at one time.
You can froth hot or cold milk depending on how you plan to enjoy it.
Froth milk for a shorter time to enjoy it in a flat white, a little longer for a latte, and the longest time for use in a cappuccino.
Best milks for frothing
Not all milk holds a foam the same way. For best results, choose milk with a higher fat content. This will create a more stable foam.
| | | |
| --- | --- | --- |
| Milk | Pros | Notes |
| whole | creates extra creamy, frothy milk | whole milk is best for stable latte art |
| 2% | popular choice to keep on hand in the fridge | Starbucks generally uses 1-2% milk for their lattes |
| skim | lighter foam with smooth texture | skim milk lacks creaminess |
| oat milk | mild oat flavor goes well with coffee | best non-dairy milk for frothing |
| almond | low-cal, low-fat option | froths best at room temperature |
| soy milk | froths very well and is stable | higher protein level resembles dairy-based foam |
| coconut | high in fat, so it creates a creamy froth | choose a carton of coconut milk, not canned |
Hemp milk, rice milk, cashew milk, and macadamia milk don't work well.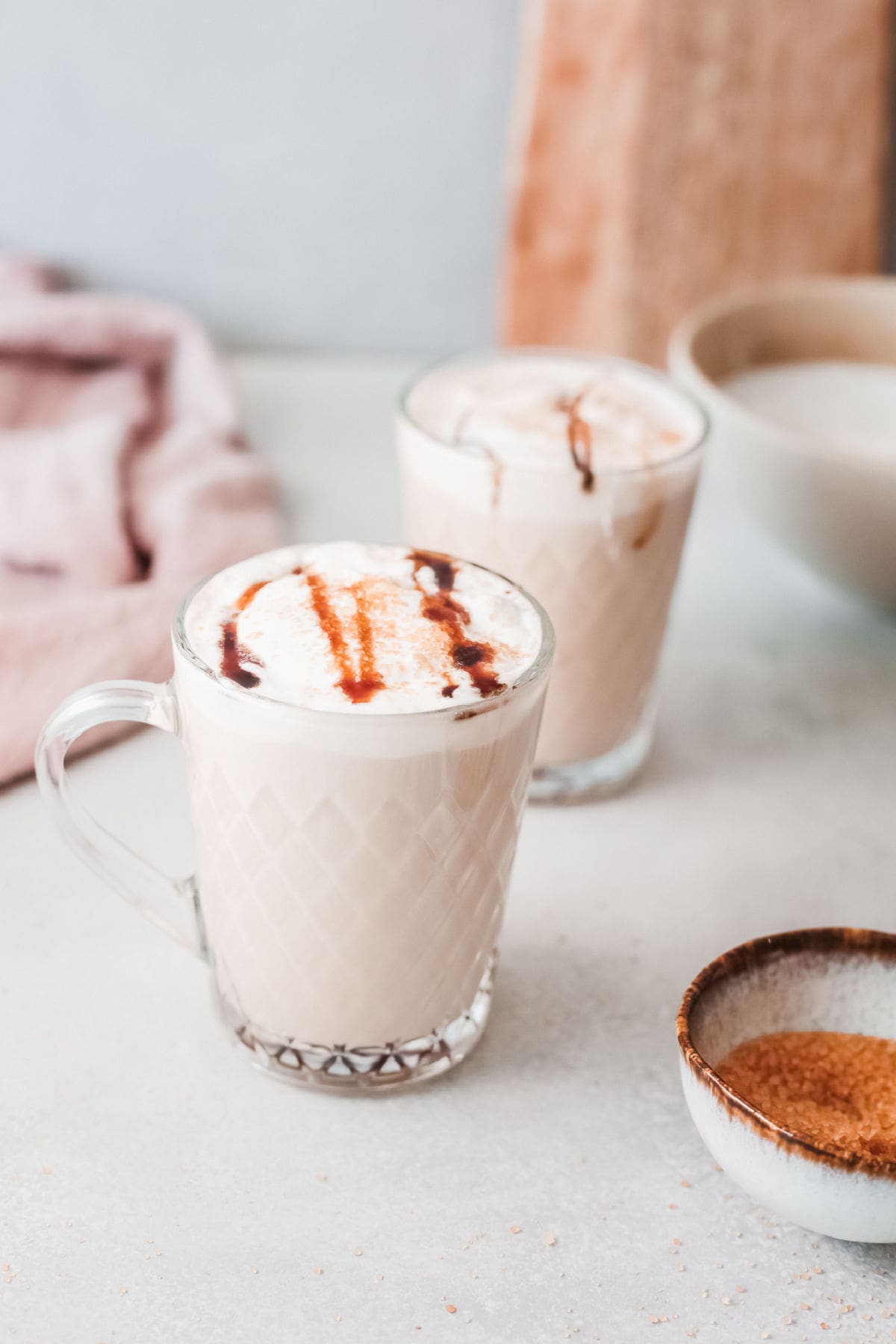 👩‍🍳 FAQs
What is the best type of milk for frothing?
I always opt for whole milk or 2% milk. If you have to avoid dairy, I recommend choosing oat milk for cold form. However, if you're making a warm drink, room-temperature almond milk works well!
Can you froth milk too much?
Yep! If you add too much air into the milk, you'll end up with actual foam rather than foamed milk.
Can I make whipped cream with a handheld frother?
Sort of! The idea is the same, but most handheld milk frothers aren't strong enough to create a lot of stable whipped cream, especially to use as a frosting. However, it'll whip small amounts of heavy cream—perfect for topping off your mug of hot chocolate!
What's the difference between steamed and frothed milk?
Steamed milk is heated with tiny, very hot vapor bubbles. On the other hand, frothed milk is created by air alone. Steamers are often used in cafes along with industrial-sized coffee machines. However, some electric frothers for use at home also have a steam option.
How long does it take to froth milk?
It depends on which type of milk frother you use. If using a handheld frother, it may only take 20 seconds or so. For some types of foam, electric frothers can take 45 seconds or more!
📚 Related recipes
🫶 Restless Chipotle recommends
As an Amazon Associate I earn from qualifying purchases.
This hand held, heavy duty milk frother comes in a bunch of different colors.
This is an automatic milk frother and steamer. I use this one and I just love it.
This frother makes a lot at one time if you often serve more than one or two cups.
This Nespresso system comes with everything from the coffee maker to the frother.
📞 The last word
It's great to head out to your favorite coffee shop and indulge in your favorite coffee drink but it gets expensive. A milk frother gives you the option for all your favorites right at home.
Coffee shop ambiance not included.