This is a fun appetizer that looks fantastic, tastes amazing, and is easy to clean up. How perfect is that for New Years, Superbowl, or your next movie night with friends?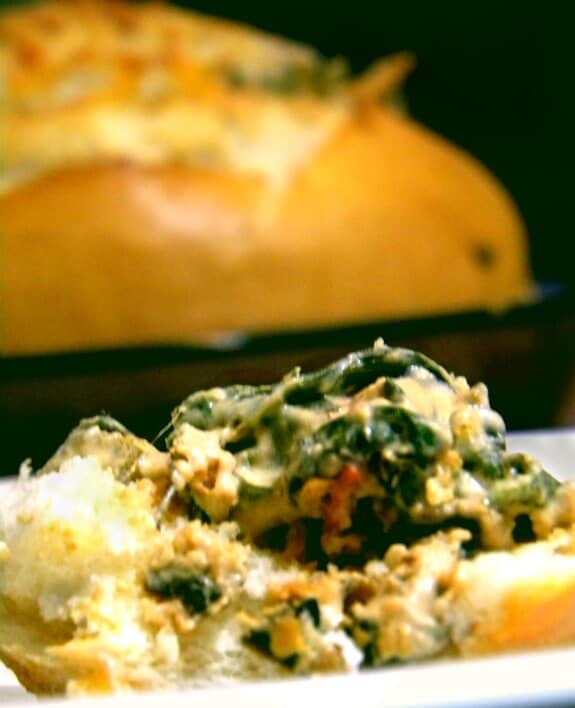 Spinach dip.... been there done that, right? Even the yummy variations like spinach and artichoke dip have sort of been done to death. Well, this recipe brings some heat to the table with a jolt of spicy salsa and an afterburn from some pepperjack cheese. You hollow out a sourdough boule, leaving a nice thick wall. Spoon in your ingredients and top with some Panko and cheddar. Bake for 15 minutes and serve it with almost anything - pretzels, chips, bread, crudites, sausage. Once the dip is gone I guarantee someone is going to be pulling pieces of the bread off the bowl and eating it.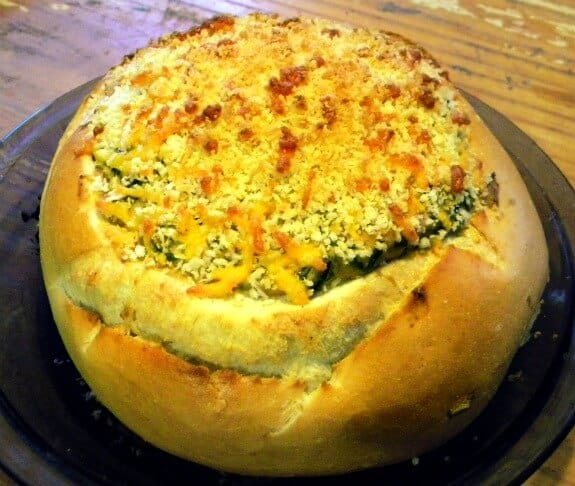 It is that good. Now, make this fit your tastes. Substitute mild or medium salsa for the hot salsa. Use regular Monterey Jack cheese instead of the pepperjack... If you like a spicy kick but think that the hot salsa and pepperjack are too much I'd suggest going with a medium salsa and plain Monterey Jack cheese. Tweak it from there, adding heat until you get it just right.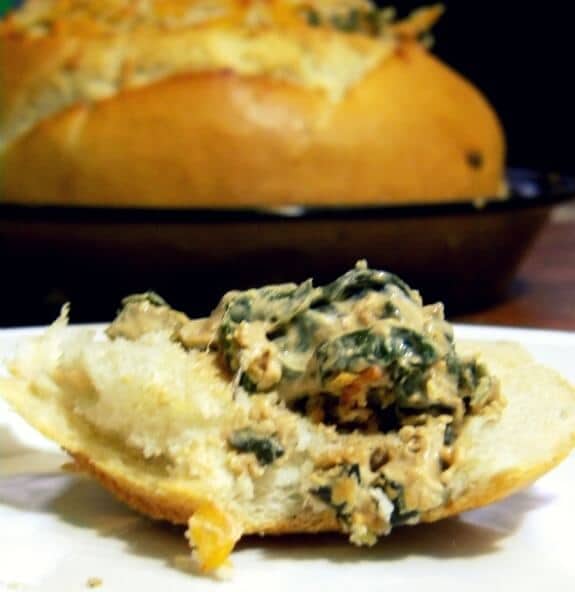 This is really quick and easy. The color isn't gorgeous but once someone takes a bite they won't care.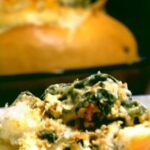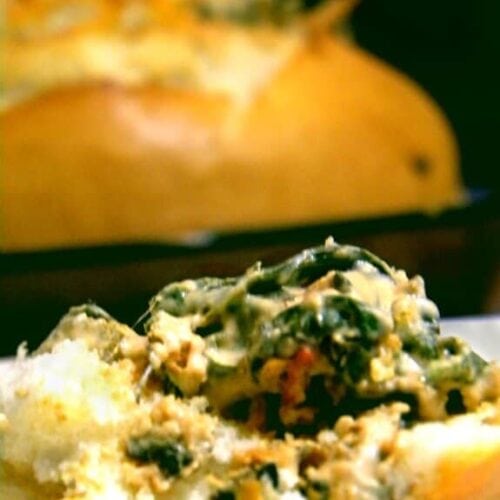 Spicy Spinach Dip in a Sourdough Boule
Print
Save
Go to Collections
As an Amazon Associate I earn from qualifying purchases.
Ingredients
1

(8 ounce) jar medium salsa (I used hot)

1

pound

chopped fresh baby spinach

¾

cups

shredded Monterey Jack or pepperjack cheese

,

(I used pepperjack)

½

cup

smoked cheddar

,

, grated (divided use)

½

cup

onion chopped

2

cloves

of garlic

,

, chopped

¼

cup

chopped cilantro

,

, optional

1

(8 ounce) package cream cheese, diced and softened

1 15-

oz

can chopped black olives

,

, drained

1

tablespoon

balsamic vinegar or lime juice

½

cup

Panko crumbs

salt and pepper to taste

1

large sourdough boule
Instructions
Preheat oven to 400F

Cut a slice off the top of the boule and carefully pull out the bread leaving about a 1 ½-inch thick wall and bottom.

Saute the onion and garlic in a little olive oil until it softens.

Add the chopped onion, cover and turn down heat.

Steam for 2 to 3 minutes, or until the spinach is wilted.

Add half the smoked cheddar, Monterey Jack, salsa, cream cheese, black olives, and vinegar.

Stir to blend.

If mixture does not seem wet enough add up to ¼ cup heavy cream.

Spoon into the hollowed out bread bowl.

Mix the remaining cheddar and Panko and sprinkle on the top.

Place on a cookie sheet.

Bake for 15 minutes or until heated through.

Serve hot
Sign up for the emails and never miss another recipe!!
We'll never share your email or send you spam. Pinkie swear.