M&M's cheesecake is thick, creamy, chocolaty and has all of the flavor of those cookies we all love so much.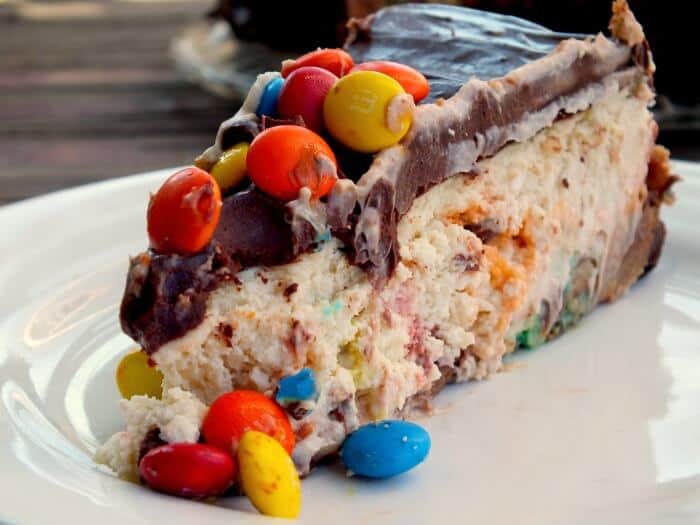 So it has been forever and a couple of days since I posted anything. We have been so very busy with my son being here, Christmas, and to top it off I have a couple of fabulous new clients. Life is the best it's been in such a really long time and it just keeps getting better. Don't you love when things feel that way?
I have always had a thing for red M&Ms. When my older kids were little I had them convinced that the red ones were always mine and they saved them for me. In fact, they usually still do but now it's just because the love me. Red tastes better. So, when I set this cake on the table the first thing they wanted to know was why the red M&Ms were part of the cake.
Uh... because it's Christmas...DUH.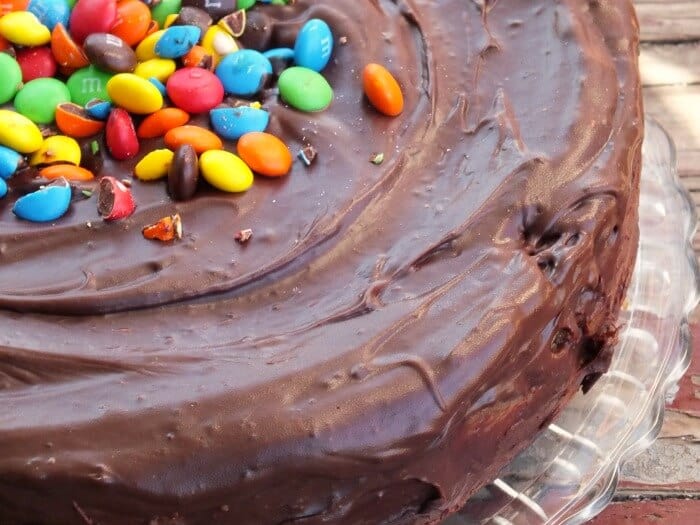 Have you made one of my cheesecakes yet? If you have you know that they are rich, creamy, and perfect — if you'll allow me bragging rights.
This cake is all of that... it has that brown sugar vanilla flavor that M&Ms cookie dough has. I added M&Ms to the batter but I wasn't thrilled about that part. The candy melts in the batter. It does kind of leave blots of color in the cheesecake and I haven't figured out how to stop it from melting. So much for melting in your mouth, not in your hand.
Still, even with the melting? It's delicious.
M&Ms Cheesecake Recipe
This is a fun dessert. It isn't elegant or classy. C'mon y'all, it's M&Ms.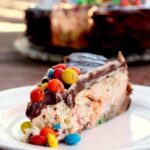 M and M's Cheesecake
Print
Add to Collection
Go to Collections
Creamy, dense cheesecake that's studded with M&Ms, covered with creamy ganache, and sprinkled with more M&Ms. It's colorful and fun but most of all it's delicious.
As an Amazon Associate I earn from qualifying purchases.
Ingredients
2

cups

crushed graham crackers or pecan cookies

1/3

cup

melted unsalted butter

,

(maybe a bit more)
Cheesecake
32

ounces

of cream cheese

,

, room temperature

1

cup

brown sugar

1

cup

sugar

6

large eggs

,

, room temperature

2

teaspoons

vanilla

1

cup

M&Ms

16

ounces

Daisy sour cream

,

(see note below), room temperature
Ganache
1

cup

heavy cream

12

oz

milk or semi-sweet chocolate

1/2

cup

M&Ms
Instructions
Crust
Mix the cookie crumbs and butter and then press the mixture into the bottom and up the sides of a 9" springform pan.

Bake at 375F for about 10 minutes.

Set aside.

When cool cover the outside of the pan with heavy duty aluminum foil, making sure it is at least 3/4 of the way up the pan
Cheesecake
Beat cream cheese and sugar at slowest speed until it is mixed well. Do not whip it - air will get in the batter and it will lose its dense texture.

Add eggs one at a time, slowly mixing in for about 2 minutes after each addition.

Fold in vanilla, 1 cup of the M&Ms, and sour cream by hand.

Pour a layer of the batter into a prepared crumb crust in the springform pan.

Repeat until all the batter is used up.

Make sure the foil is still securely around the pan.

Put the cheesecake pan in a 12" cake pan with high sides and put into a 375F oven.

Pour hot water into the 12" pan until it comes halfway up the sides of the cheesecake pan - don't let it go over the top of the aluminum foil!

Bake for 45 minutes.

Turn off oven and let set for one hour. Do not open the door!

Remove cake from oven, take off foil, and let come to room temperature.

Refrigerate covered. Placing paper towel on top of cake will soak up any condensation

Refrigerate overnight.
Ganache
Heat the cream until bubbles form around the edge.

Remove from heat and stir in the chocolate until smooth.

Just before serving run a knife around cake and remove from pan.

Pour the ganache over the top, smoothing and letting it drip down the sides as you go.

Sprinkle with the remaining 1/2 cup M&Ms.
Notes
Never use low fat anything in this cheesecake. Also, I use Daisy sour cream because it doesn't have any added ingredients - a lot of brands have thickeners and other unnecessary ingredients. The recipe is high calorie as are all good cheesecakes but it isn't something you are going to eat every day either.
Sign up for the emails and never miss another recipe!!
We'll never share your email or send you spam. Pinkie swear.
You might also like: