Cantaloupe Jelly is an old fashioned southern treat that you make in the slow cooker. You don't even need to use pectin! It's a great way to get a sunny taste of summer goodness all year long in an easy freezer jam that anyone can make! Just five ingredients make a soft, amber jelly that's so full of flavor you'll want to eat it with a spoon. Keep it in the refrigerator for up to a week or in the freezer for longer storage.
For this recipe you'll need: cantaloupe, sugar, lemon juice, salt, vanilla beans or vanilla extract, jelly jars or plastic freezer containers
Jump to Recipe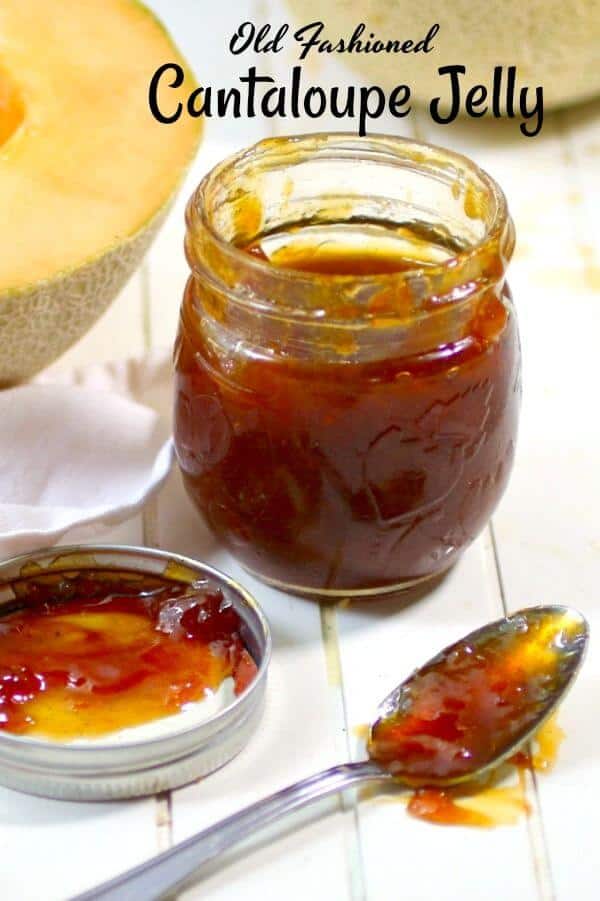 I've made homemade jelly, jam, freezer jam, pickles, and preserves for a long time. Nothing in the past couple of years, though. There's really nothing like the fresh summer flavor that's captured in homemade jams and jellies. You can't buy it at the store no matter how much you pay for it.
Sadly, most people don't have time to make jam and jelly anymore. I know that, as much as I enjoy the process, I rarely have time to do it. Life is just too busy!
Life isn't too busy for this cantaloupe jelly recipe! I think that cantaloupe jelly is a misnomer – since it's slow cooked it's really more like a cantaloupe butter. Still the flavor is fabulously rich and fruity plus the color is a gorgeous, glowy amber. It's almost as if it produces its own light.
I found this recipe stuffed into the pages of an old cookbook I bought – it was torn from a newspaper and I have no idea where or when it was from. I added the vanilla bean because it reminded me of my favorite summer breakfast when I was little.
Homemade cantaloupe jelly recipe without pectin is easy to make in the slow cooker.
Click To Tweet
In the 1960s people were less concerned about diets. Personally, I think we've become overly concerned about it to the point that we've created an obese society by trying to tamper with real food to make it something it was never meant to be but I'm going to stay off that soapbox for now. Anyway, in the 1960s, at least in MY house, ice cream was a viable dairy product. So, there was absolutely nothing wrong with a cantaloupe, cut in half with the seeds scooped out, served with a scoop of vanilla ice cream in the center of it for breakfast on the weekend.
It was my favorite.
The combination of the sweet, juicy fruit and the creamy, vanilla ice cream was heavenly to me. I loved it! So when I found this recipe I decided to try to add vanilla to it in order to recreate the flavors of my childhood summers. So happy to say that it worked!
Once you've tried this easy freezer jam on the buttermilk bread, Amish white bread, or the English muffin bread you are going to be hooked!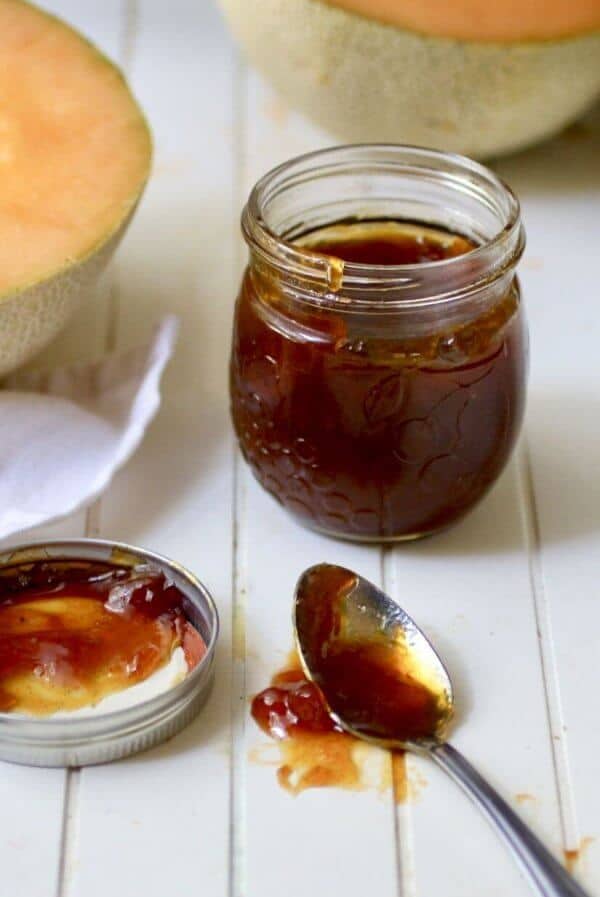 Variations on Cantaloupe Jelly Recipe
So, there are a lot of possible variations and I thought I'd list the ones I liked best.
Add 1 teaspoon of grated, fresh ginger instead of the vanilla
Use half peaches or mangoes
Add a few mint leaves
A little freshly grated nutmeg is nice
Use half brown sugar and half sugar
Use honey for the sweetener instead of sugar
Try honeydew instead of cantaloupe – I haven't tried watermelon yet but I plan to
A leaf or two of lemon basil or lemon balm is nice if you're growing it
Lemon zest adds an extra zing
Tips for Jelly without Pectin
When you make this cantaloupe jelly, or any freezer jam or jelly without pectin, you should expect that resulting jelly to be somewhat softer than when you use pectin. It shouldn't be runny but it will be more like what the jelly companies are calling "spreadable fruit". Here are some tips to help you out –
If it's too runny after 4 hours take the top off the slow cooker and let it continue to cook an hour or so. This allows the liquid to evaporate more easily.
If you'd like a firmer freezer jam use 3 tablespoons of pectin and follow the cooking instructions on the pectin package
Do not seal this in jelly jars. It should be stored in the freezer until ready to use and then it should be thawed overnight in the refrigerator. Store leftovers in the refrigerator.
Longer cooking will give it a darker color. For a more golden color use pectin as directed and forgo the slow cooker.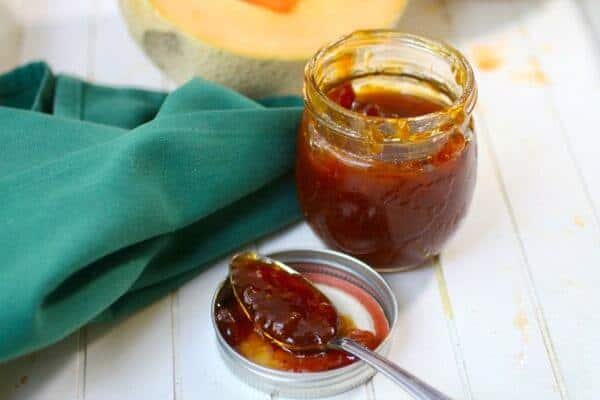 You May Also Need…
The following are affiliate links. We are a participant in the Amazon Services LLC Associates Program, an affiliate advertising program designed to provide a means for us to earn fees by linking to Amazon.com and affiliated sites.
I use the little four ounce jam jars. They work great and you can use them in the freezer. And if you happen to need a slow cooker this programmable slow cooker is my favorite!

Southern Cantaloupe Jelly Recipe
Cantaloupe Jelly
Freezer jelly is super simple to make and it's a great way to use some of the abundance of cantaloupe available right now. Its unique flavor is a welcome spoonful of summer anytime of the year. It's a beautiful amber color, too.
Ingredients
2

ripe cantaloupe

,

, seeded, cut from rind and diced (5 cups puree)

1

vanilla bean

,

, or 1 teaspoon of vanilla

¼

cup

lemon juice

3

cups

of sugar

,

, or more depending on sweetness of fruit

Pinch

Salt
Instructions
Spray the crock of a slow cooker with nonstick spray.

Set aside.

Puree the cantaloupe in the blender in small batches.

Add the cantaloupe, vanilla bean (if using vanilla extract add it last), lemon juice, sugar, and salt to the slow cooker.

Stir well.

Cook on low for 2 to 4 hours. You may need more time depending on the juiciness of the fruit.

Remove the vanilla bean and scrape the insides into the jelly, then discard the pod. Add the vanilla if using extract.

Stir to distribute the vanilla then spoon into freezer containers.

Freeze until ready to use.

Unfrozen jam will keep in refrigerator about 1 to 2 weeks
Nutrition
Calories:
56
kcal
|
Carbohydrates:
14
g
|
Sodium:
3
mg
|
Potassium:
62
mg
|
Sugar:
14
g
|
Vitamin A:
15.6
%
|
Vitamin C:
10.8
%
|
Calcium:
0.2
%
|
Iron:
0.3
%
If you liked this freezer jam recipe you may also like…
From left to right: Fig Jam, Onion Bacon Jam, not pictured- Strawberry Rose Jam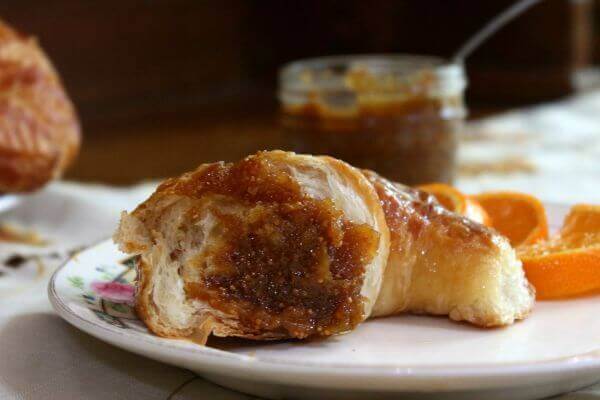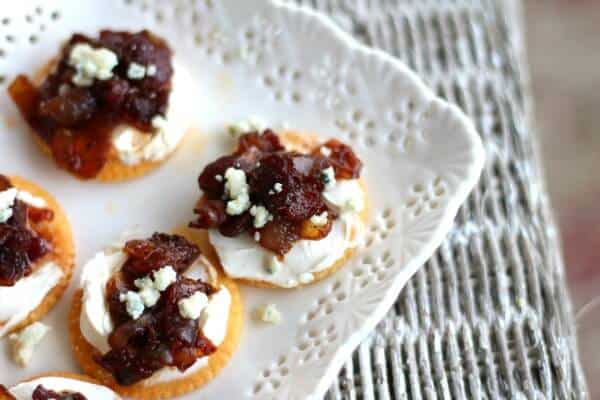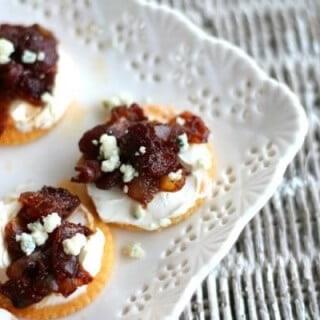 Let's Keep in Touch!