This homemade pasta dough recipe will help you create tender, homemade pasta — and it's so easy! Step by step instructions and images help you all the way through. This post has been updated from the original March 2012 version. Last updated December 2018.
For this recipe you'll need: all-purpose flour, kosher salt, eggs, olive oil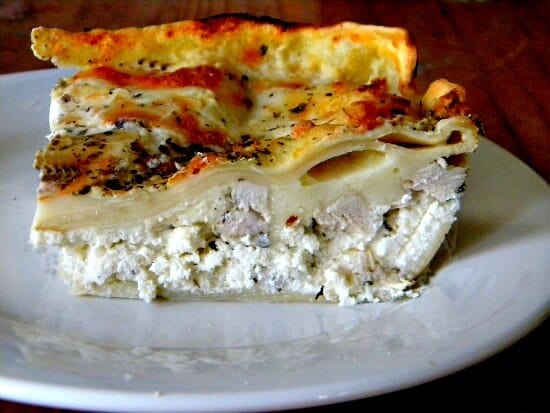 Homemade Pasta Is Easier than You Think
I was going to post my Chicken Alfredo Lasagna recipe today and then I remembered that I wanted to post this homemade pasta dough recipe first so that you could really make a lasagna that would make your entire family (including random inlaws) drool.
Don't get me wrong – store bought pasta is fine. Better when it is organic but …all in all… it does the job. It just doesn't do the job as well as this homemade kind… which isn't hard to make. It's sort of like saying that a pair of sneakers will work fine with that sexy little black dress… but if possible a pair of Betsy's would be so much better.
You know what I mean. I know you do.
Homemade pasta dough is really quite simple, pretty fast and very inexpensive. It is messy and that is the one negative about making your own pasta. Maybe it is just me – I tend to be messy anyway. You don' believe me? Who found red food color on her upper thigh when she had been wearing jeans? Yep. Me.
When I get done in the kitchen it looks, more or less, like someone took the flour scoop and just pretended it was fairy dust and I was Wendy (from Peter Pan). Fly!
Using a Pasta Roller
The first thing you will want is a pasta roller. Now, you can roll the pasta by hand with your rolling pin but it is more difficult to get it exactly right. It is usually thicker when made that way which does detract from the delicacy of the finished dish. If you have a Kitchen Aid you can buy a pasta attachment and there are actual electric pasta makers, too. Personally, even though I have an electric pasta maker I prefer the hand cranked kind, like this –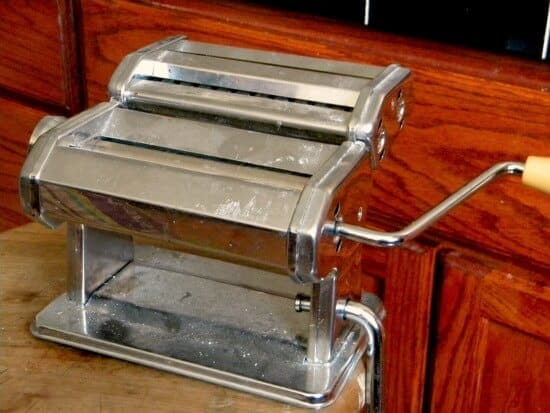 This is the one I have and I think it is worth every penny. It is heavy duty and easy to use. It is easy to clean up…and it doesn't get bogged down with whole wheat or vegetable pasta doughs. So, if you don't have one consider this.
I attach mine to a plain wooden stool. It works best for me. You can attach yours to the table, counter, or whatever is convenient. It just needs to be stable.
Homemade Pasta FAQs
Experience level – easy.
How do you make easy homemade pasta?
You can make homemade pasta with either a hand cranked machine, an electric pasta maker, a pasta making attachment, or just a rolling pin. The main thing is that the pasta get rolled out thinly.
What is the best flour for pasta?
You'll find out more about flour in this post. Semolina is the flour mostly used in homemade pasta but all-purpose flour can be used as well. Whole wheat flour works best if you use part all-purpose along with it.
How long does fresh pasta last?
Fresh pasta can be refrigerated for two days or so. You can freeze it for longer storage.
How to Make Homemade Pasta Step by Step
Step one is to mix the dough together and knead it. You will probably want to do this in your mixer unless you have arm muscles like the Incredible Hulk. I used to knead this stuff by hand but I am not that interested in firm youthful upper arms. At least not interested enough to actually knead this. But you can…if you want to. Once it is kneaded you will form it into a ball and let it rest for about a half hour. This allows all the gluten that you have developed to chill out and relax. Just leave it on the counter with a towel tossed over it.
After your half hour has passed and the gluten is relaxed you will roll it out into a rectangle, then cut it in fourths, and it is ready for you to begin feeding it through the machine.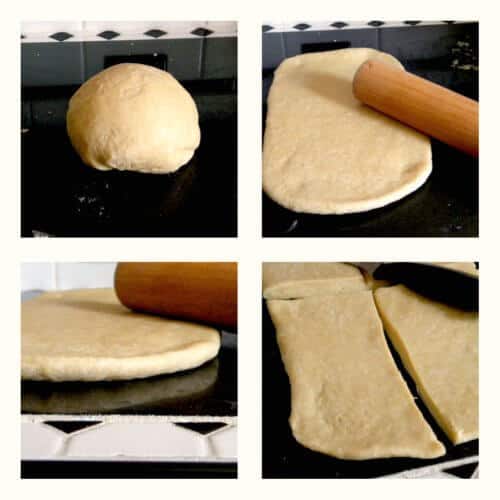 If you are using a pasta maker like the one above you will set it on #1 and feed the dough through 4 or 5 times. Then you will set it on #2 and feed it through 1 or 2 times… I usually set it on #3 for a thinner pasta and feed it through again. Experiment to see how thin you like your pasta – and you will probably find that you use different thicknesses for different dishes. For lasagna I stop with a #3. This particular pasta maker has 9 different settings. Anyway you just keep feeding it through until you have the thickness you want.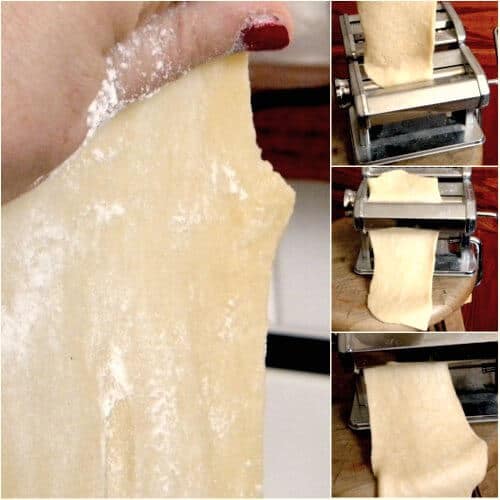 Once that is done it is ready to be cut into the shape you desire. Most of the hand cranked pasta makers just have two different flat noodle settings but you can buy extra attachments for different shapes. For lasagna you don't need to cut it with the pasta maker. Just measure the length of your lasagna pan and cut it short enough to fit. Use as many pieces and you need for the width.
For fettuccine or linguine you will just feed the homemade pasta dough through the proper sized cutters on the machine (usually on the back) and it will be automatically cut to size.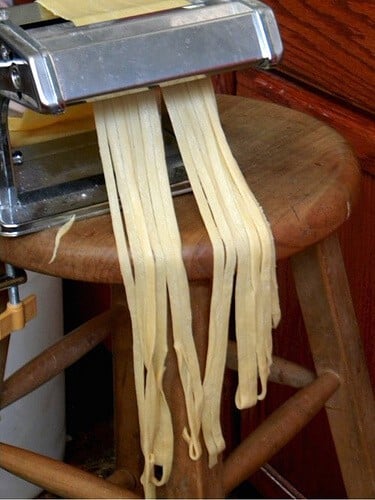 I usually let homemade pasta dough dry for a half hour or so before I cook it but you don't have to. Keep in mind that fresh pasta will cook VERY quickly. Test it after 2 minutes. You can even use the lasagna noodles in the lasagna without boiling it first – I don't like to do that because I think it gives it a raw doughy starchy taste but other people say it is fine. Try it and see if it works for you – after all you will save about 2 minutes. 🙂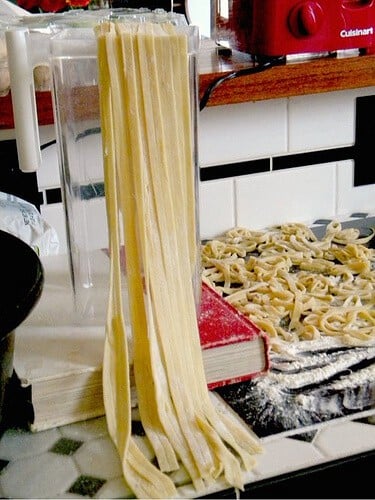 Ready to try it? Here's the recipe I use… oh…and that lasagna? Here's the recipe: Chicken Alfredo Lasagna with Homemade Pasta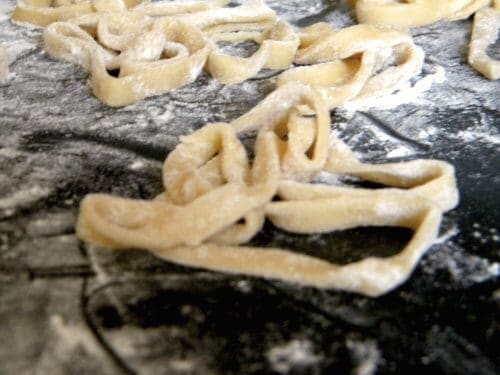 You May Need…
The following are affiliate links. We are a participant in the Amazon Services LLC Associates Program, an affiliate advertising program designed to provide a means for us to earn fees by linking to Amazon.com and affiliated sites.
What's new? Check out my Restless Chipotle & Co. Store on Amazon! Thanks so much for being a part of Restless Chipotle!
Pasta is delicious and inexpensive when it is homemade. you might think that it takes a lot of time but it really doesn't – especially with one of these pasta makers. You can use the electric kind or a hand cranked version. This is the Pasta Maker I have and you can get it on Amazon. Or, try the pasta attachment for your Kitchen Aid.

More Great Pasta Recipes from Restless Chipotle
Here are some of my favorite pasta recipes – you can use this pasta with any of them!
Homemade Pasta Dough Recipe
This is my favorite homemade pasta dough recipe. It's probably not one of those recipes you'll make on a busy weeknight but it's fantastic for a family dinner on the weekend. If you love this recipe please give it 5 stars.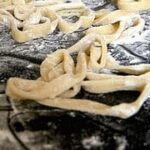 Best Homemade Pasta Dough Recipe…Ever
Print
Add to Collection
Go to Collections
A delicate, delicious homemade pasta that is easy to make and quicker than you might think.
As an Amazon Associate I earn from qualifying purchases.
Ingredients
3 1/2

cups

all purpose flour

1

tablespoon

salt

,

, I use Kosher salt – you will need less if you use fine salt.

4

eggs

1

tablespoon

good olive oil

About 4 to 5 tablespoons of water

,

give or take
Instructions
Blend the flour and salt together.

Add the eggs, oil and half of the water.

Mix slowly, adding more water as needed until the dough can be formed into a ball that holds together. don't let it get too wet or it will be hard to work with.

Knead for about three minutes, or until the dough is smooth and elastic.

Cover with a clean tea towel and allow to rest for thirty minutes.

Divide the dough into 4 parts.

Roll each part out on a lightly floured board so that it will fit through the #1 setting on your pasta maker.

If you are rolling by hand just roll each piece of dough out until it is as thin as you can get it and cut into the desired sizes.

Rub a light coating of flour on the dough.

Put the dough through the #1 setting about 5 times or more.

Change to a #2 setting and put the dough through that setting two or three times.

Change to a #3 setting and put the dough through that setting.

Continue to make the dough thinner until it is as thin as you want it.

Cut into desired shapes and allow to rest for a few minutes more.

Place in salted, rapidly boiling water and cook until done – 2 or 3 minutes.
Notes
You can use whole wheat flour, semolina flour, or a combination if you like.
You can substitute vegetable puree for the water.
I'd suggest following the recipe exactly before trying any variations.
Nutrition
Calories:
222
kcal
|
Carbohydrates:
41
g
|
Protein:
7
g
|
Fat:
2
g
|
Sodium:
898
mg
|
Potassium:
82
mg
|
Fiber:
1
g
|
Calcium:
8
mg
|
Iron:
2.5
mg
Sign up for the emails and never miss another recipe!!
We'll never share your email or send you spam. Pinkie swear.