Chicken Tetrazzini is one of those comforting casseroles that was a fixture in many of our childhoods. It was creamy, savory, and filling - I loved it as a kid and as a Mom! Let's face it - you can take a little chicken and use more pasta and create a filling, delicious dinner for the whole family. Could there ever be anything bad about that? I think not.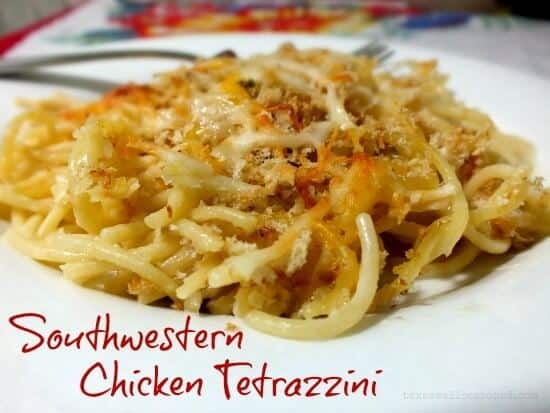 Isn't it funny that these budget stretching meals are the ones we remember the most fondly?
There is no reason to use canned cream of soup in this recipe. It will only take you a couple of minutes longer to create a fresh, flavorful sauce without additives, without a ton of salt, and with a ton of flavor. Once you make your own sauce you won't ever be happy with the canned stuff again - I promise you.
I used one of the many chicken tetrazzini recipes from a 1950s cookbook I have as a foundation for this one. I wanted to have a Texas flavor to it so I used PepperJack in the cheese mixture and cornbread crumbs for the topping. Result? Delicious! You can adjust the heat to your own tastes by adjusting the amounts of PepperJack and Jalapenos you add. If you don't have cornbread crumbs you can try crushing up your favorite tortilla chips - it should give you a similar result.
The pasta soaks up flavor and there is enough cheese to make it gooey when you serve it from the pan. The richness of the sauce and the cheese cools down the heat from the peppers - but just a little. All together you have a jumble of flavors and textures that will make you crave this stuff on a regular basis.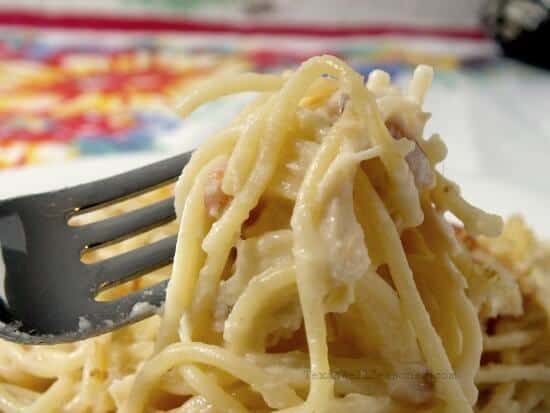 You can make this dish ahead and freeze it if you want. Follow the recipe all the way through except don't add the crumb topping. Let it cool and then wrap and freeze for up to three months. Thaw overnight in the refrigerator and add crumbs - bake until heated through - about 20 minutes.
📖 Recipe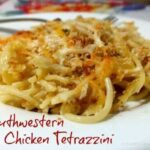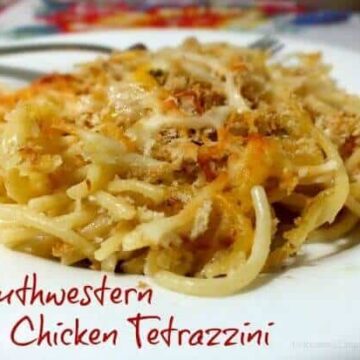 Chicken Tetrazini Southwestern Style
Print
Save
Saved!
Here's that rich, classic comfort food - chicken tetrazzini but with a Southwestern kick from pepperjack cheese and cornbread crumbs.
As an Amazon Associate I earn from qualifying purchases.
Ingredients
½

cup

butter

2

tablespoons

olive oil

4

boneless skinless chicken breasts

2 ¼

teaspoons

salt

1 ¼

teaspoons

freshly ground black pepper

1

large onion

,

, finely chopped

1

– 2 jalapeno peppers

,

, cleaned and diced small, optional

3

cloves

garlic

,

, minced

¼

cup

chopped fresh cilantro leaves

½

cup

dry white wine

⅓

cup

all-purpose flour

4

cups

whole milk

,

, room temperature

1

cup

heavy whipping cream

,

, room temperature

1

cup

chicken broth

1

lb

spaghetti

¼

cup

grated Parmesan

¼

cup

grated PepperJack

¼

cup

grated habanero cheddar or Habenero Jack cheese

¼

cup

Colby

¼

cup

Mozzarella

1 ½

cup

cornbread crumbs
I earn a commission from Instacart from qualifying purchases.
Instructions
Preheat the oven to 450 degrees F.

Cover a 13 by 9 by 2-inch baking dish with butter.

Melt 1 tablespoon each of butter and oil in a frying pan over medium-high heat.

Sprinkle the chicken with salt and pepper.

Add the chicken to the hot pan and cook until pale golden and just cooked through, about 4 minutes per side.

Transfer the chicken to a plate to cool slightly.

Coarsely shred the chicken into bite-size pieces.

Meanwhile, add 1 tablespoon each of butter and oil to the same pan.

Add the onion, jalapeno, and garlic, and saute until the onion is translucent.

Add the wine and simmer for a minute or two.

Transfer the mixture into to the bowl with the chicken.

Melt 3 more tablespoons butter in the same pan over medium-low heat.

Add the flour and whisk for 2 minutes.

Whisk in the milk, cream, broth, and salt and pepper to taste.

Increase the heat to high and bring to a boil.

Simmer until the sauce thickens, whisking constantly.

Whisk in about ¾ cup of the cheese.

Bring a large pot of salted water to a boil.

Add the spaghetti and cook until it is tender (a la dente)

Drain.

Add the pasta, sauce, and cilantro to the chicken mixture.

Toss until the sauce coats the pasta and the mixture is well blended.

Transfer the pasta mixture to the prepared baking dish.

Stir the remaining cheese and cornbread crumbs in a small bowl to blend.

Sprinkle the cheese mixture over the pasta.

Bake, uncovered, until golden brown on top, about 25 minutes.
You'll find more helpful tips and variations in the body of the post.
Nutrition information is estimated as a courtesy. If using for medical purposes, please verify information using your own nutritional calculator. Percent Daily Values are based on a 2000 calorie diet.
Sign up for the emails and never miss another recipe!!
We'll never share your email or send you spam. Pinkie swear.
If you liked Chicken Tetrazini Southwestern Style you may also like...
Alfredo Chicken Lasagna Restless Chipotle
Frito Chicken Casserole Restless Chipotle
Southwest Salsa Chicken Casserole Baking with Blondie
Broccoli, Rice, and Chicken Casserole Table for Two