Using a pizza stone on the grill makes this a quick easy dinner- make this fried green tomato pizza with smoky cheese and whole wheat crust!
Once you get used to using a pizza stone on a grill you'll be using it all season long for easy, quick summer meals!
I've combined a healthy, whole wheat pizza crust with smoked cheese, and my favorite recipe for fried green tomatoes to create a truly unique pizza recipe that's Southern all the way.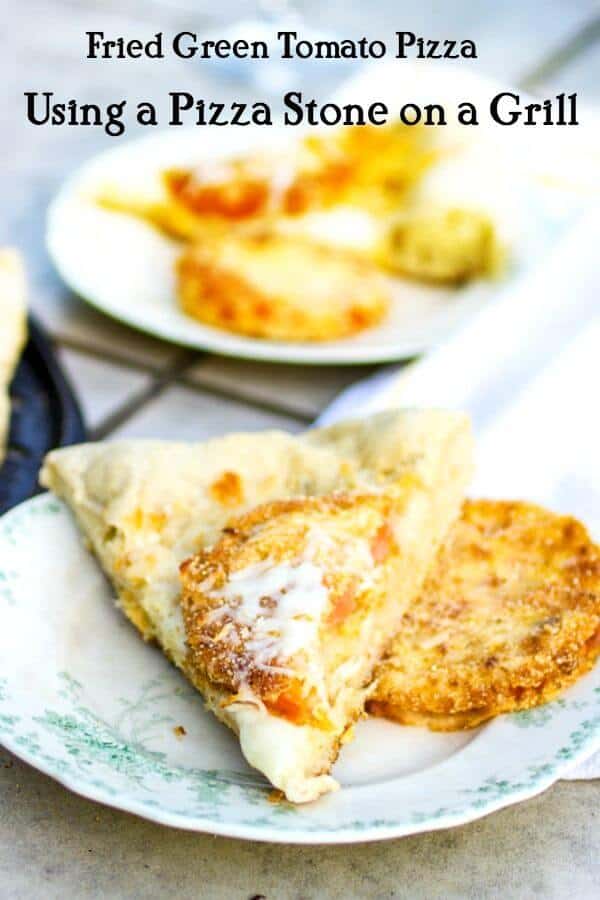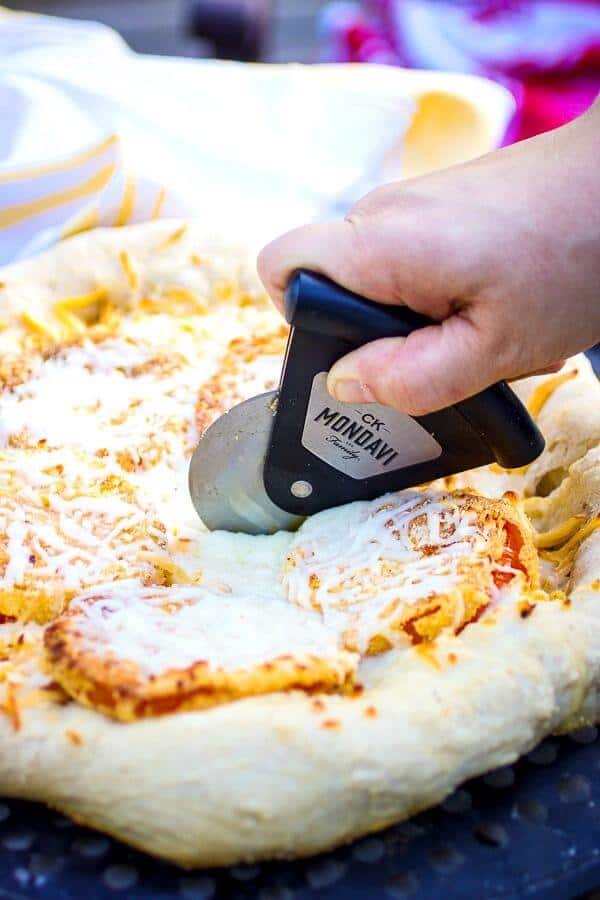 And that's how Fried Green Tomato Pizza came into being.
The whole wheat crust adds a wholesome, nutty flavor while the smoky cheeses are enhanced by grilling.
The tomatoes add a sharp tang along with a quick crunch.
Chewy, crispy, gooey - it's everything a pizza should be. Using a pizza stone took it over the top and made this pizza recipe even better!
Tips for Using a Pizza Stone on a Grill
This is an easy recipe - although because of the high heat involved children should not make this recipe without lots of supervision.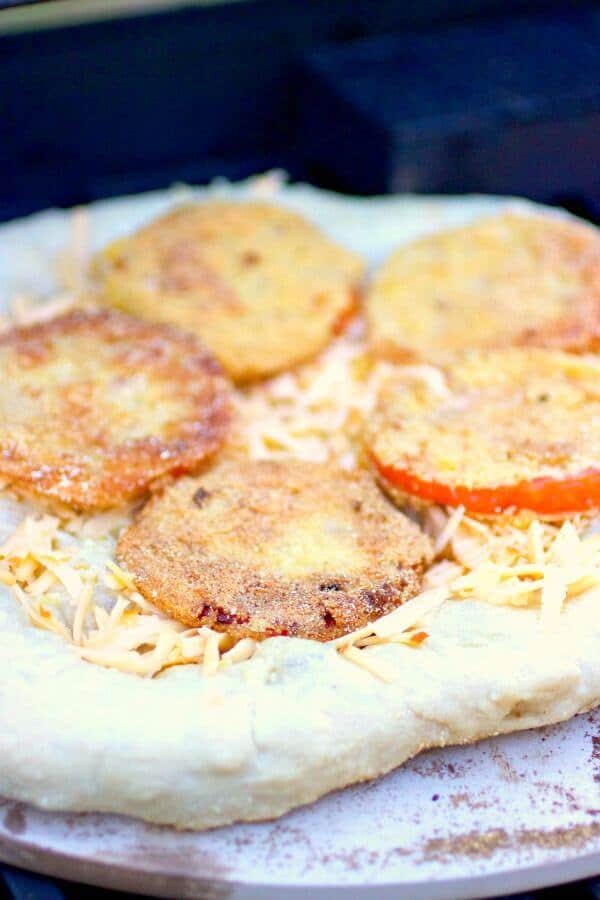 If you are hesitant about using a pizza stone on a grill I get it. I was worried the stone would crack, or the pizza crust would scorch, or any number of other things.
Once you do it, though, I am pretty sure you'll find that you LOVE the crispy texture and quick cooking time. This is now my favorite way to cook pizza!
For a thicker crust be sure to stretch the dough at least 20 minutes before cooking the pizza.
Dust the pizza stone with coarsely ground cornmeal to keep the pizza from sticking.
Don't be afraid to experiment with toppings.
Keep an eye on the pizza while it's cooking - especially the first time. Grills vary so you may need more cooking time.
Let the pizza stone cool overnight before trying to move it. It will retain heat a long time.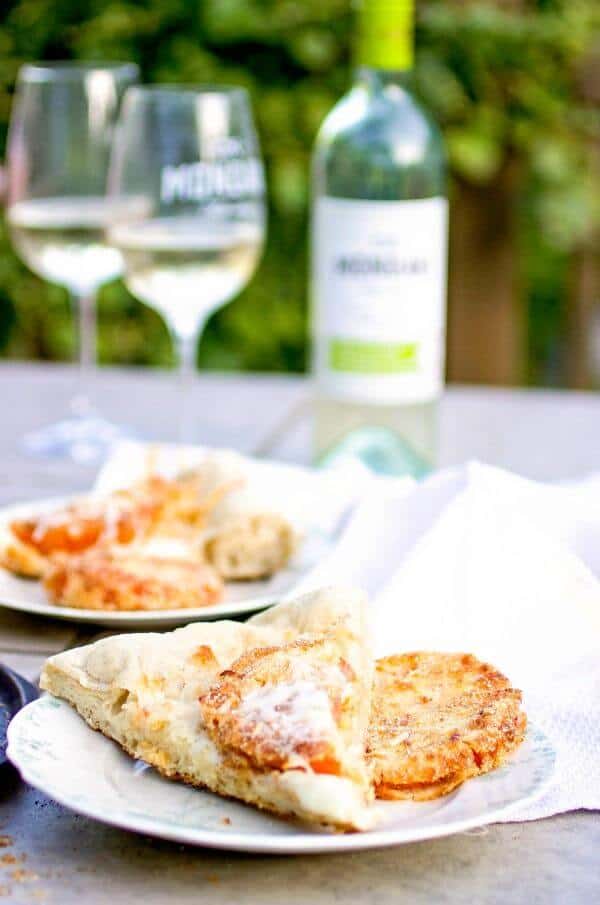 Still have questions about how using a pizza stone on a grill can make your summer taste better?
Can you use a pizza stone on a grill?
Yes, yes, a thousand times - yes! Grilling pizza gives it an added smoky flavor plus the stone absorbs moisture while the crust bakes making it even crispier.
Do you put oil on a pizza stone?
No, never (unless the manufacturer tells you to). The pizza stone is never oiled but the food is placed directly on the preheated surface. Cornmeal sprinkled lightly over the stone can be used to guard against sticking.
What temperature to cook a pizza using a pizza stone?
500F to 550F is usually about right. Let the stone heat while the grill is heating. If your pizza is thick crusted you may want to cook at a lower temperature for a little more time - 450F or so.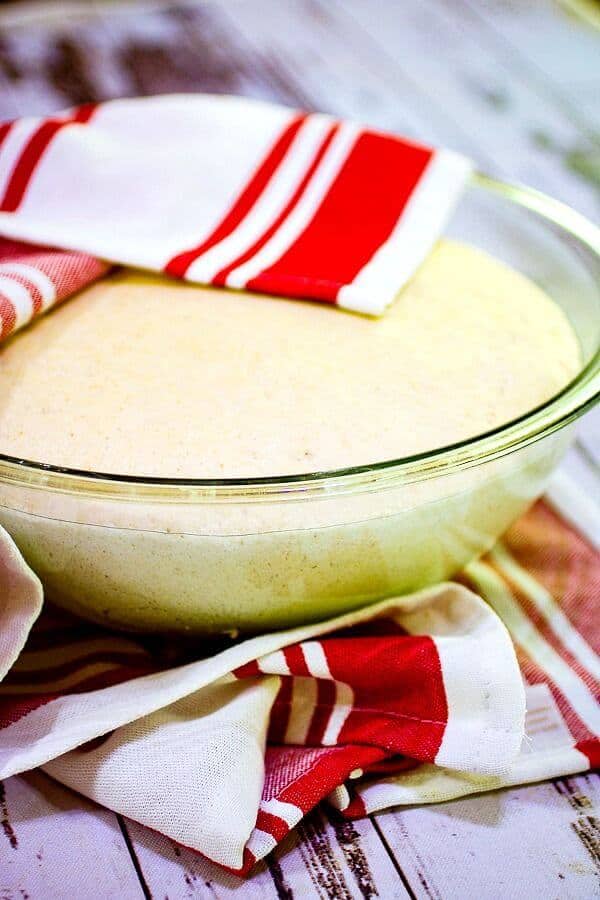 Can you cut the pizza on a pizza stone?
Always refer to manufacturer's instructions but as a general rule you can safely cut pizza on a pizza stone.
Can you wash a pizza stone?
Usually you can wash a cooled pizza stone with warm water and mild soap when needed. Refer to your manufacturer's instructions.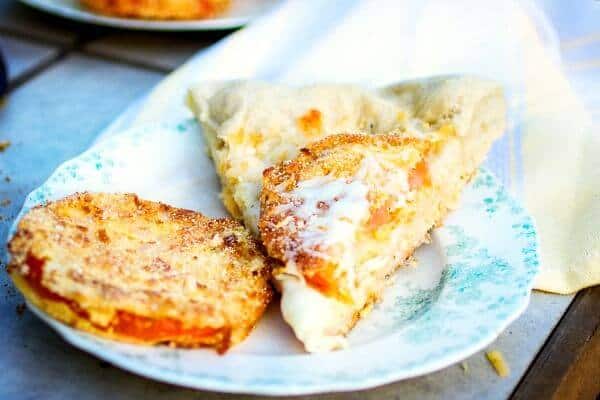 Caution!
Do not place cold dough on a pizza stone or place a hot pizza stone on a cool surface or it could crack.
You'll love this collection of summer cookout side dishes, too.
If you love this recipe please give it 5 stars!
📖 Recipe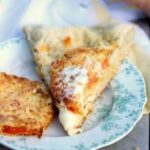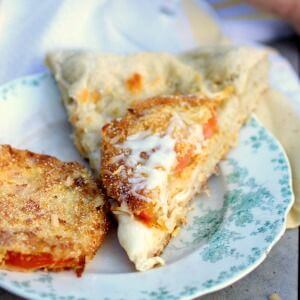 Grilled Fried Green Tomato Pizza
Print
Save
Saved!
Using a pizza stone on the grill makes this a quick easy dinner- make this fried green tomato pizza with smoky cheese and whole wheat crust!
Ingredients
Crust
1

tablespoon

yeast

2

tablespoons

olive oil

1 ¼

cups

water

,

,110F, use a little more if needed

1

tablespoon

honey

2 ¼

cups

whole wheat flour

3

tablespoons

vital wheat gluten

1

teaspoon

salt

cornmeal for dusting
Topping
2

teaspoons

oregano

8

fried green tomatoes,

, or enough to cover pizza

2

cups

smoked Gouda

2

cups

smoked Provolone
I earn a commission from Instacart from qualifying purchases.
Instructions
Put the paddle attachment on your mixer.

Mix together the water, honey, and yeast.

Let stand for 5 minutes.

Add ½ cup of the flour and the vital wheat gluten.

Add the oil and salt and mix well.

With mixer on low add the remaining flour until the dough forms a sticky ball.

Switch to the dough hook.

Knead for 5 to 10 minutes.

Let rise until doubled - about an hour.

Punch down and then let rest for 5 minutes.

Separate into 2 or 3 balls of dough and rub with olive oil.

Flour  the counter and press the dough into a disk.

Place the baking stone on your grill and preheat to about 550F.

Sprinkle some cornmeal on the counter.

Flatten the dough an the counter and gently stretch it to form a thin pizza crust, rolling with a rolling pin if necessary.

Sprinkle cornmeal on a flat baking sheet and add the pizza dough.

Gently rub a little olive oil over the dough, sprinkle with oregano, and cover with smoked Gouda.

Add the fried green tomato slices.

Cover with Mozzarella.

Sprinkle the preheated pizza stone with cornmeal.

Slide the crust onto the pizza stone.

Quickly cover and let pizza cook for 4 minutes.

Check pizza and if it's done use a spatula to remove from the pizza stone to a serving platter.

Cut into slices and enjoy.

Turn off grill and let the stone cool completely before trying to remove it.
Notes
You can make the dough the day before and let it rise in the refrigerator tightly covered for up to 12 hours.
You'll find more helpful tips and variations in the body of the post.
Nutrition Facts
Serving:
1
slice
|
Calories:
278
kcal
|
Carbohydrates:
23
g
|
Protein:
16
g
|
Fat:
13
g
|
Saturated Fat:
7
g
|
Cholesterol:
39
mg
|
Sodium:
494
mg
|
Potassium:
119
mg
|
Fiber:
1
g
|
Sugar:
1
g
|
Vitamin A:
290
IU
|
Calcium:
310
mg
|
Iron:
0.9
mg
Nutrition information is estimated as a courtesy. If using for medical purposes, please verify information using your own nutritional calculator. Percent Daily Values are based on a 2000 calorie diet.
Sign up for the emails and never miss another recipe!!
We'll never share your email or send you spam. Pinkie swear.
✍🏻 A note from Marye...
I know y'all don't always like the stories bloggers tell so when I have one I try to put it at the very bottom so you can read or skip as you like.
My summer memories are full of the warm, fresh flavors of classic Southern cooking.
Fresh vegetables, smoky grilled meats, and ripe fruit made up the majority of our summer meals when I was growing up.
We might have nothing but strawberry shortcake for dinner, or a plateful of fresh corn on the cob with a side of watermelon - my parents believed in eating seasonally before it was a thing.
We didn't eat meat a lot when I was a kid - but the vegetables from my parents garden were plentiful.
My dad was magic in a garden. I swear the man could put a dead stick in the ground and the next day you'd have a fig tree.
I think he was planting and harvesting until he died - I don't think he ever took a  year off. It was the one thing my parents seemed to do together - gardening.
I decided I wanted to bring those memories into this recipe.