This slushy prickly pear margarita is just as refreshing as it looks. Sweet prickly pear syrup tastes like a combination of raspberry, watermelon, and kiwi if you can imagine that. Add the tequila and you've got a summer cocktail that is worth the calories for sure!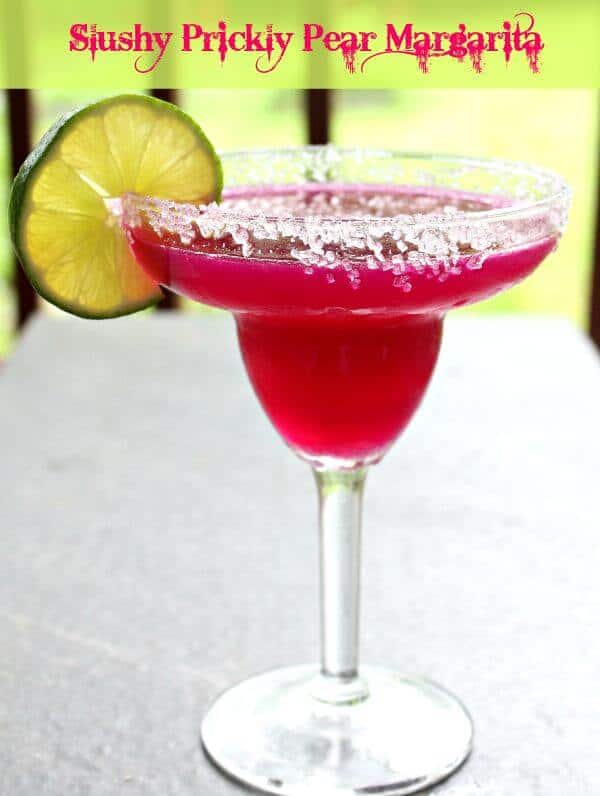 So y'all, I am at the beach on vacation - or as much of a vacation as I take. Everyone is sleeping late so I slip out to the beach around 6 AM to have quiet time and enjoy the morning. I've always been one of those nasty morning people -- and more so when I am at the beach. This morning as I was walking along I noticed a bright, pink blob on the shoreline. As I got closer I saw that it was a Portuguese Man-o-war! I'd never seen one before, other than in pictures. They're so pretty but those tentacles are still dangerous when they are dead -- they've got a nasty sting. If you've never seen on they look like a bright fuchsia Chinese dumpling made from Jello. I also saw some blue ones that were a gorgeous cobalt color.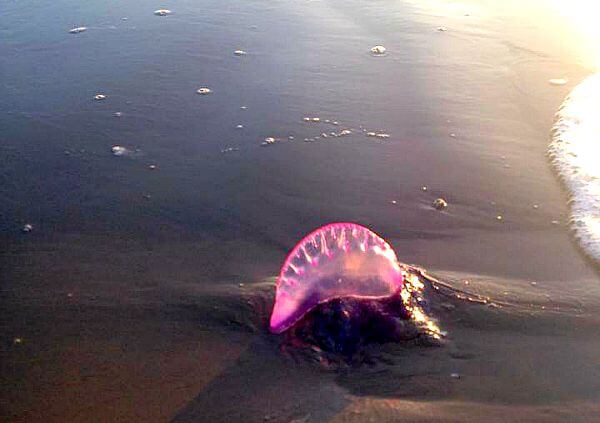 Seriously though. Doesn't it look like a giant pink dumpling made from jello? That picture is edited but the color is the same. It was amazing.
Oddly enough the pink of the Man-o-war made me think of prickly pear margaritas. Welcome to my world. A place where all of my thoughts are jumbled in a giant glass bowl and you never know which ones will connect at any particular moment.
So. Frozen margaritas.
Margaritas, especially frozen margaritas, are a summer drink. They are as appropriate by the pool as they are at a summer cocktail party. I don't really care for the plain lime ones, especially if they are made with the margarita mix (gag) but I love the fruity ones. I especially love the frozen, slushy, prickly pear margaritas.
I just hate the brain freeze that goes along with them.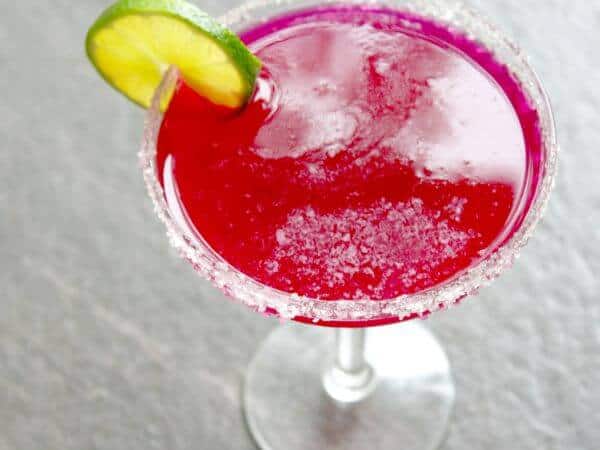 Prickly pear, if you aren't familiar with it, is a fruit that grows on a prickly pear cactus. It's bright purplish- pink when ripe and is sort of sweet with a tang.
You May Need...
What's new? Check out my Restless Chipotle & Co. Store on Amazon where you'll find all kinds of nostalgic goodness! Thanks so much for being a part of Restless Chipotle!
You can buy the Prickly Pear Cactus Syrup on Amazon if your store doesn't carry it. Even here in Texas it can be hard to find. Once you make this slushy prickly pear margarita you are going to be margarita-spoiled.
Forever.

Prickly Pear Margarita Recipe
Such a vivid pink color and sweet-tangy flavor! It's perfect for Cinco de Mayo!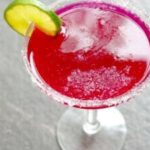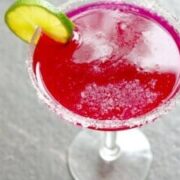 Slushy Prickly Pear Margarita
Print
Save
Go to Collections
This bright fuchsia pink cocktail is hard to resist. Refreshingly sweet with just a little pucker, Prickly Pear Margarita is slushy goodness anytime. Prickly pear tastes a little like a melon, a little like a kiwi, and a lot like the best thing you ever sipped.
As an Amazon Associate I earn from qualifying purchases.
Ingredients
3

ounces

silver tequila

½

ounce

Triple Sec

1-½

ounces

lime juice

2

ounces

prickly pear syrup

½

cup

ice

Lime slices for garnish

1

teaspoon

salt crystals

1

teaspoon

sugar crystals
I earn a commission from Instacart from qualifying purchases.
Instructions
Rub the rim of a margarita glass with lime juice.

Combine the salt and sugar crystals and roll the rim of the glass in the mixture until it is coated.

Set aside.

Combine the tequila, Triple Sec, lime juice, and syrup in a blender with the ice.

Pulse until blended and cold.

Strain into the glass.

Garnish with a slice of lime.
Sign up for the emails and never miss another recipe!!
We'll never share your email or send you spam. Pinkie swear.

If you like Slushy Prickly Pear Margarita you may also like...