Smooth and silky pots de creme with rich peanut butter flavor and a slight crunch from the brulee top. You can make them a day or so ahead of time. Difficulty level 3/10I'd like to say that I fell in love with pots de creme in a small cafe in Paris one rainy autumn afternoon as I gazed into the smoldering eyes of a passionate man I had just met.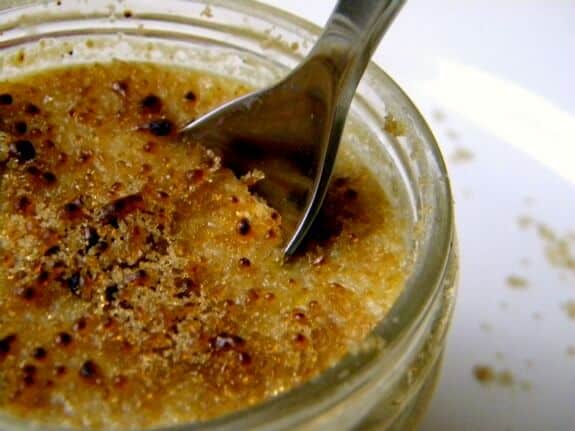 I'd like to say that but since I am really honest I can't because it isn't true. I fell in love with pots de creme in a tiny apartment kitchen in San Angelo, Texas when I was first married and just learning to cook. I cooked incessantly from the only cookbook I owned, one I bought in a local bookstore. When I made the very basic but oh-so-amazing vanilla pots de creme I was in love. Thoroughly, incredibly, head over heels in love with this silky, meltingly rich and not overly sweet dessert.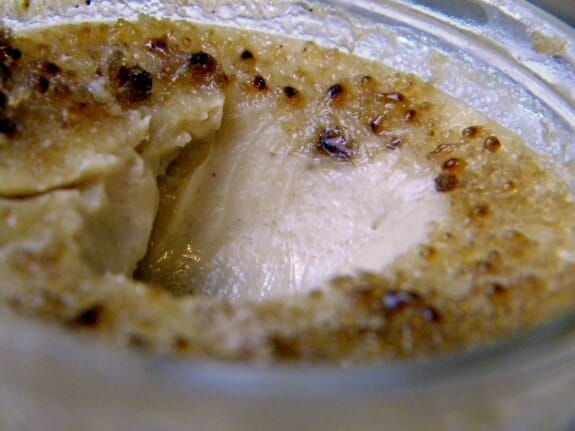 Here's a tip -- I like using 4 oz mason jars for pots de creme and other single serving desserts. They are the perfect size, they are heatproof, and they have screw on lids for storage. SO very convenient and they aren't expensive.
The custards are cooked in hot water in the oven, covered. This allows them to cook evenly and slowly, creating that hauntingly memorable texture. There is nothing you have ever had in your mouth that is like it when it is done right, and it is awful when it isn't done right. Luckily, I am going to tell you how to do it right.
Nice of me, huh?
First of all, no matter what ANYONE says...even if they have written 47 cookbooks, have a cooking show on food network, or are the most popular blogger on the Internet... perfect pots de creme cannot, I repeat, CANNOT be made with whole eggs. Not even one. You want egg yolks, preferably fresh, golden, organic egg yolks. Sometime if you get the chance make the pots de creme with duck egg yolks (but only make a strong flavor like chocolate) because the duck eggs make it even silkier. In any case, perfect pots de creme are made with egg yolks only. The whites keep it from getting silky because they are not fat and the perfect pots de creme needs ALOT of fat.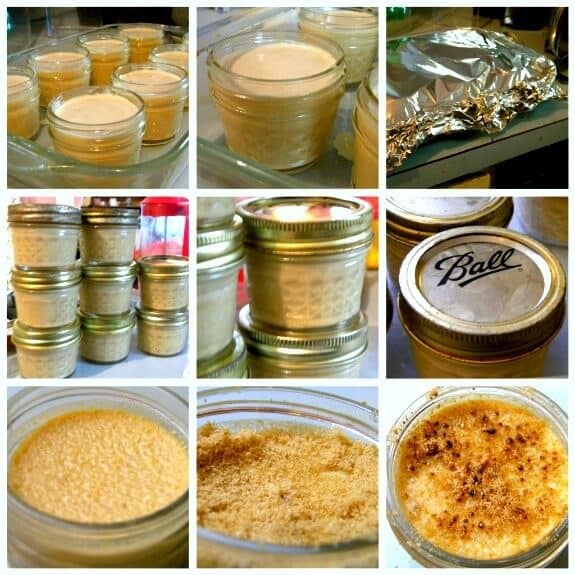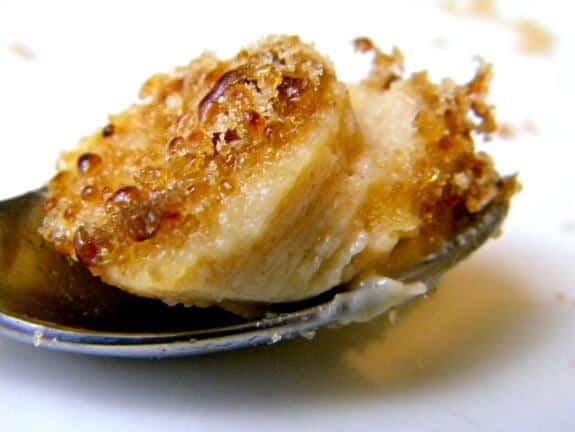 You can make it with all heavy cream, half and half, or cream and milk. It's up to you.

These are sort of a whimsical twist on a pretty elegant dessert. Full of peanut butter flavor but not overwhelming. The brulee top adds a nice, crunchy texture contrast and a shot of intense sweetness. I wouldn't use whipped cream on these, myself, they are rich enough. If you don't want to brulee then finely chopped peanuts or finely chopped chocolate (or a combination) would also be nice.
These are seriously easy. Yes, you have to plan ahead a little bit but they will stay fresh and delicious for up to three days so you can make them ahead. Don't freeze them or they will be awful.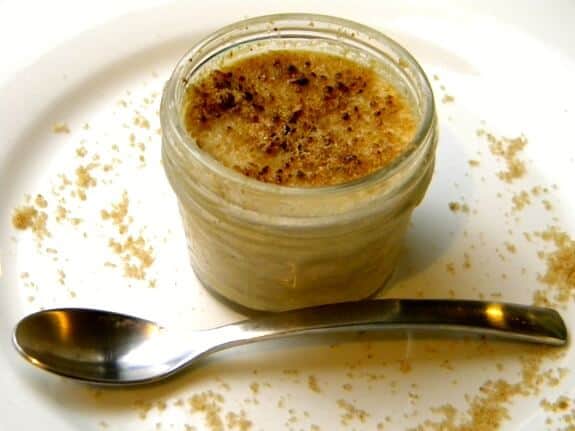 The baking time is not exact. I have found that these will be done anywhere from 20 to 40 minutes so check after 20 and then at 5 minute intervals. The middle should be shaky and slightly liquid, it will firm up on chilling. If you over cook these they will be grainy and the texture will be off.
Also, it is a good idea to strain the custard through a fine mesh strainer before adding to the custard cups -- this way if you have curdled any egg at all it will be strained out. I don.t strain it and I have not had a problem -- I think the problem with curdling arises if you use cold eggs, egg whites, or have the cream too hot when you mix it. If in doubt -- strain!
Use the egg whites to make Angel food cake or a white cake.
You will love these, I promise. And once you learn to make pots de creme you will be addicted...just like me. Oh, one more thing... pronounce it poe-deh-crehm NOT potz dee cream!
Learn to make it/learn to say it and then proceed to knock the socks off anyone you want to be impressed with your mad kitchen skillz.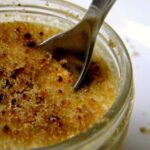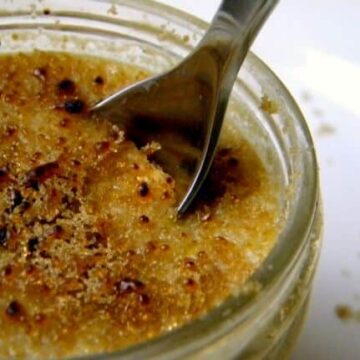 Peanut Butter Pots de Creme
Print
Save
Go to Collections
Smooth and silky pots de creme with rich peanut butter flavor and a slight crunch from the brulee top. You can make them a day or so ahead of time. Difficulty level 3/10
As an Amazon Associate I earn from qualifying purchases.
Ingredients
2

cups

heavy cream

1

cup

milk

⅓

cup

peanut butter

8

egg yolks

,

room temp

1

teaspoon

vanilla

½

cup

sugar

½

cup

brown sugar

,

plus more for topping
Instructions
Place 8 custard cups or small mason jars (the 4 oz size) in a large pan.

Heat the cream and the milk to just under a simmer, bubbles will form around the edge of the pot.

Blend the peanut butter into the cream mixture with a blender, set aside.

Beat the egg yolks at high speed while adding the sugar and brown sugar slowly.

Beat until the yolk mixture is lemon colored and loses any graininess from the sugar.

Slowly add the warm cream mixture, stirring constantly on low.

Add the custard mixture evenly to the cups.

Fill the pan with hot water until it comes halfway up the sides of the custard cups.

Cover the pan tightly with foil.

Bake until set, about 30 minutes, center will remain jiggly.

Remove from oven and allow to sit for 20 minutes.

Remove from pan and cover the custard cups tightly (mason jars work great for this because of the screw on lids).

Refrigerate overnight or for 6 hours.

Just before serving sprinkle about 1 tbs brown sugar over the top of each custard and flame it until it melts and bubbles - don't let it burn.
Nutrition Facts
Calories:
447
kcal
|
Carbohydrates:
32
g
|
Protein:
8
g
|
Fat:
33
g
|
Saturated Fat:
17
g
|
Cholesterol:
280
mg
|
Sodium:
98
mg
|
Potassium:
193
mg
|
Fiber:
1
g
|
Sugar:
29
g
|
Vitamin A:
1184
IU
|
Vitamin C:
1
mg
|
Calcium:
112
mg
|
Iron:
1
mg
Sign up for the emails and never miss another recipe!!
We'll never share your email or send you spam. Pinkie swear.