After my morning of sitting on the balcony and watching the endless sea and sky we went to eat. This time we chose O Shanigans Restaurant and Bar. Obviously it had a pub theme. Again I was somewhat disappointed in the food. Marc says it is because I am picky and we haven't eaten at one of the restaurants that you pay at yet…He also said that the average person would probably not see the issues that I did.
Perhaps that is true. I am picky about food.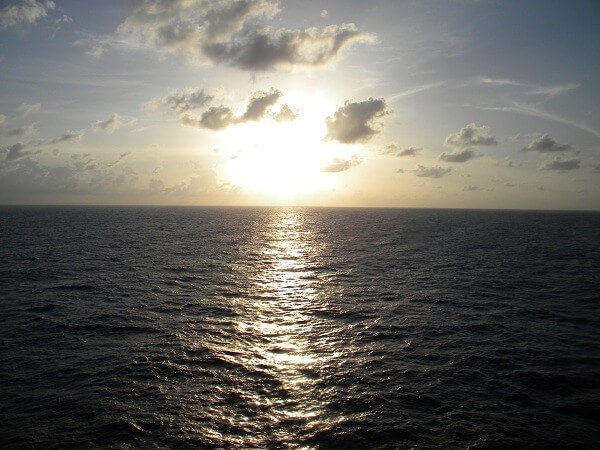 I ordered a corned beef on rye, one of my favorites… with French fries and a hard cider. I ordered the apple crumble for dessert.
The corned beef on rye was just that. Corned beef, no dressing, no Swiss,  on rye bread. There was so little meat on it that I took the filling from half the sandwich and added it to the other half. I prefer to eat half a good sandwich than a whole meager one.
The fries were o.k… obviously of the Ore-Ida variety. Eh. The server had no clue what hard cider was, although it was on the menu. She finally got someone to come and find out what it was that I wanted. That person said I should have asked for it by the brand name, rather than simply hard cider. They went to get it.
One of the delights of a corned beef on rye is drinking a good, crisp  hard cider with it and finishing it with an apple dessert. I promise. I was looking forward to the treat. Minutes ticked by and finally the server said that they had to go find the hard cider, that it was on the ship but not in their area.
I wondered why it was on their menu. I cancelled my order because by now I was starved and had been picking at the sandwich anyway. So much for the hard cider…I ate my lunch and then had the apple crisp.
Again… eh. The apple crisp was not really cooked enough. The apples were sliced thinly, almost too thin for a crisp which needs to be more of a country, hearty dish. These were more along the lines of what I would use for a French apple tart. They were, I imagine, Granny Smiths…but had retained too much texture to have what I was looking for. The flavor was decent but there was the aftertaste and mouth feel of raw flour and vegetable shortening. Butter does not leave a film on your mouth … Again...I expected better.
Am I enjoying myself? Absolutely! I am not really hard to entertain..I enjoy just sitting here on my little balcony listening to the sound of the sea and watching it change color. It is now the most unique blue I have ever seen and the seas are rougher than before; enough that I can feel the ship. I think we are in open ocean now, expected to reach Roatan tonight around midnight.
We went to an art auction on board and enjoyed a glass of champagne while looking at the various works. I was surprised when we won a raffle and actually won a picture… I am not sure of the value but it seems to me it was several thousand dollars. The funny thing is that when it came up at auction I was impressed with it although it wasn't the usual style I would pick. Thanks, God!
One of the things that has been amazing to me is people. I am not really a people person; I eschew crowds and love whom I love, if you know what I mean. I was surprised that so many people spent their time in the casino breathing smoke, getting drunk, and giving away their money. No judgment from me, it just seems an odd way to spend your time when you spent thousands of dollars on a cruise.
There is also a three story TV screen where people can watch sports or play Wii. I guess I don't get the thrill but lots of people seem to like playing Wii in macro-proportion!
The day was finished up with the best meal of the cruise so far, and a great performance by Cirque de Soliel. I was quite pouty going into it because my idea of vacation and Marc's are quite different and we are getting used to eachother. I like solitude, quiet..and am quite content to sit here and watch the sky change, read a book, and contemplate life over the fabulous merlot that they sent this morning. He is more of a shopper and sight-seer. So, when he said it was time for us to go to the Cirque I wasn't ready to leave my haven. After all, we had been out all day…spent the afternoon at the art auction…I wanted just to veg.
But we did go, and of course I am glad he didn't give in to my pouting. It was great fun and the food, as I said was the best so far. You didn't get a menu to pick from but ate just what was served as the show was unfolding.
The meal started with a classic iceberg wedge with Thousand Island dressing. Shrimp and hard boiled egg slices were served along side and the portion was generous. The bread served was a black olive roll, quite nice but not outstanding
The main course consisted of grilled zucchini and tomato done very well, a ricotta stuffed chicken breast, a small cut of very tender beef, and a potato au gratin dish made into individual size servings. The presentation was lovely and the flavor was excellent. The only complaint I had was that the sauce that was on the chicken was much too salty for my taste and overpowered the delicacy of both the chicken and the filling inside it. I am thinking it was a Marsala sauce but I am not sure.
Dessert was excellent…a chilled lava cake with a mixed berry sauce. It was presented beautifully. The lava cake, when served at room temperature or chilled ends up having a center of ganache instead of the warm sauce you might be used to. It was very chocolaty, very rich and very creamy. And really, can eating chocolate while watching shirtless, muscular men in tights flex their muscles ever be a bad thing? I think not.
So, my friends…that brings us to now. Nearly eight o clock, the second night on the ship. I am watching the sun slide behind the horizon and listening to the waves, roaring a bit now rather than purring. The ship has more movement but thankfully I am not feeling sick. I am hoping to get up to the Internet café to post this before too much longer… and our steward is waiting for me to leave so he  can make up the room and turn the covers back on the bed.
Tomorrow we will be in Roatan and I will be climbing Mayan ruins and trying to imagine life all those centuries ago. I feel very lucky, very loved, very pampered right now…and very relaxed. Maybe it is the creative me but my moods can be as changeable as the ocean and they don't seem to faze Marc one bit. He doesn't respond badly to anything I do and I love that. I feel a freedom that I haven't felt in decades just to be me… and maybe this week, because I am away from everyone who has known me for so long, maybe I can begin to break out of the mold that has been cast and be who I always have been.
As I have been wrapping up this chat with you the sun has slid behind some clouds on the horizon. The color of the light is a dusky blue and the sky holds none of the color it did last night. It is a gentle goodnight tonight… more like a mother's kiss than anything else. One of the things that struck me, that really should have been a "duh!" moment was that there were no birds in the sky. Well, yeah..we are out at sea! Of course not! But it was something I hadn't thought much about in the past. No planes flying overhead, nothing in the water, no birds…and out here on the balcony …no people. I could be absolutely alone in the entire world for all the evidence I have right now.
Love you. Goodnight.