What happens when you pull out your old faithful crockpot and find that the crock is cracked, or it won't turn on, or it sizzles when you plug it in?
Good news! Let's find you a slow cooker alternative that allows you to achieve similar results. We'll look at the best substitutes and cooking methods to help you create those delectable slow-cooked meals without a crockpot.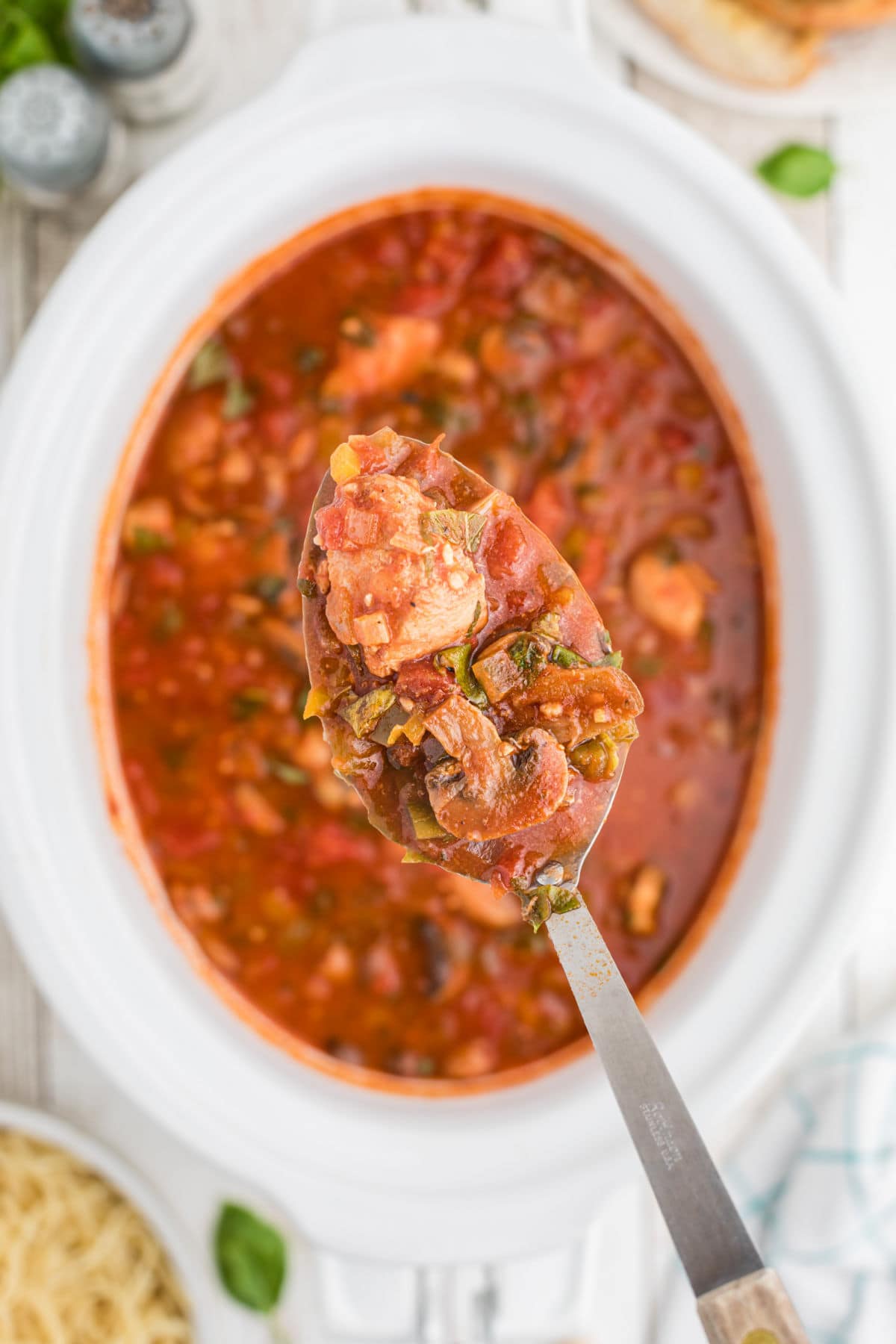 Table of Contents
🗝️ Key takeaways
It's good to know how to adapt slow cooker recipes to other methods in case your crockpot isn't available.
Most of these methods are more hands-on than an electric slow cooker so make them on the weekends when you'll be around to stir or add liquid as needed.
Slow cooker recipes can usually be easily adapted to other methods when necessary.
The Crockpot was first patented in 1940 and has become an indispensable part of modern kitchen equipment for many of us. It's one of those kitchen appliances that literally revolutionized how we fix our meals!
Its unique ability to slow cook and tenderize ingredients while retaining flavors is definitely a good thing!
Tight-fitting lid
One of the most important things about a crockpot is its tight-fitting lid. It's totally necessary for keeping the moisture and flavors in the food during the slow cooking process.
When searching for the best substitute, look for a pot that has a lid that fits snugly to get the best results.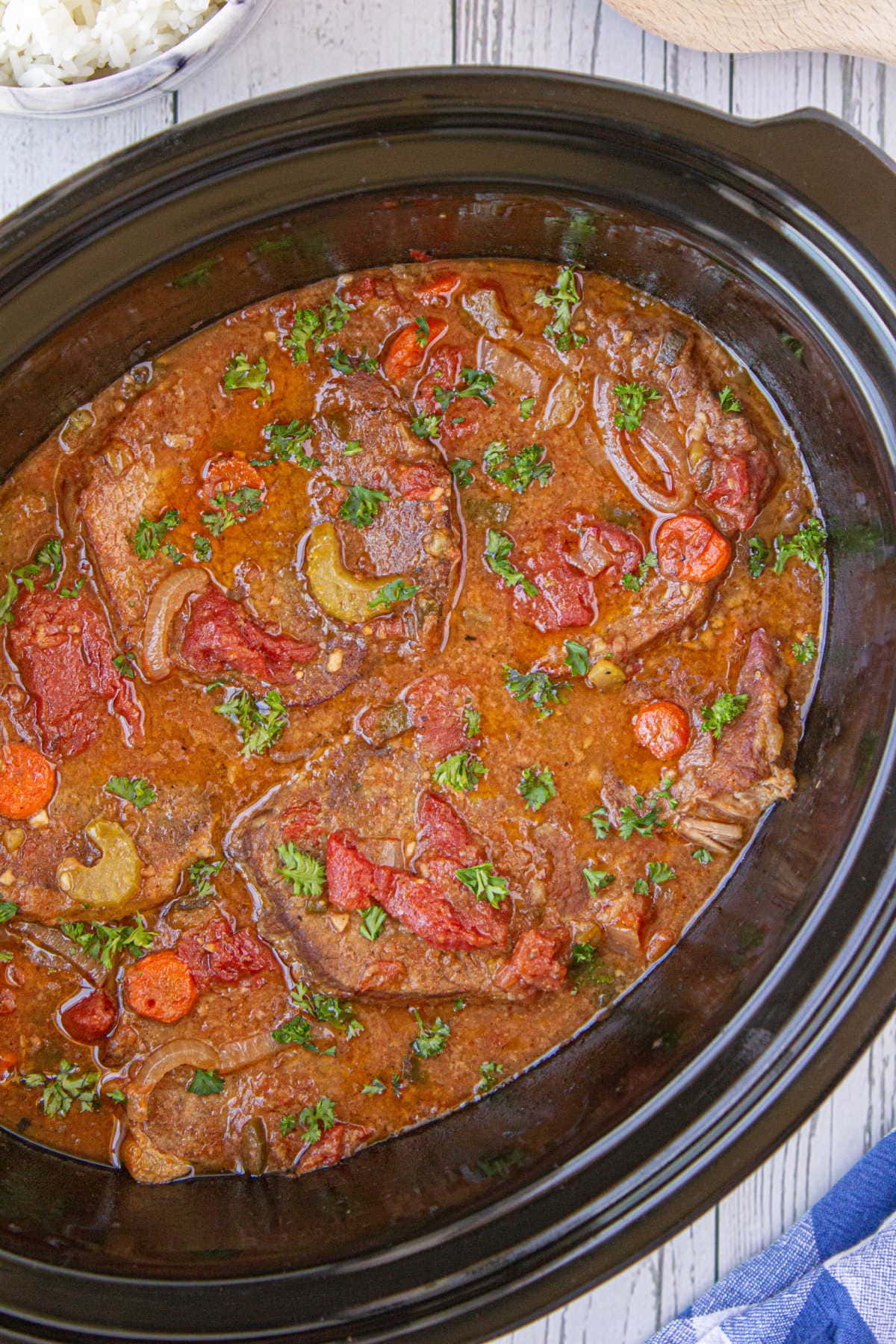 Best crockpot substitutes
Believe it or not there are ways to slow cook without a crockpot! Here are some slow cooker alternatives.
Multi-cooker
A multicooker is basically a crockpot that has several other functions like browning, sous-vide, and even baking. it's what I use most often.
They generally have a nonstick interior rather than a crock and I think they last longer because of it.
Electric pressure cookers (Instant pots)
The electric pressure cooker is often called an Instant-Pot or Insta-pot. It can usually be set on a slow cook or low heat setting. It works by a combination of pressure and heat.
Equipped with a 'slow cook' setting, it serves as an excellent substitute for a crockpot in your recipes. The end results will be very similar to food cooked in a slow cooker.
Rice cooker
A rice cooker can often be used as a slow cooker, depending on the model.
Set the temperature to the regular rice cooking setting. Once that's done leave it on the warm setting for as long as it takes to cook your meal.
This is best used when absolutely nothing else is available and with small amounts of food. Stew or ground beef dishes would work better than pot roast or large cuts of meat, for example.
Dutch oven
There are a lot of different types of Dutch ovens, and they'll all work pretty well, but cast iron is hands down the best.
A cast-iron Dutch oven closely mimics a slow cooker due to its ability to retain and evenly distribute heat. Its tight-fitting lid helps create a cooking environment similar to a slow cooker.
It can usually be used on the stovetop or in a 325F oven.
In fact, it was the "crockpot" of past centuries and the best option for tenderizing tougher cuts of meat until the crockpot was invented in the 20th century.
I think it's the best of the crockpot substitutes, honestly.
You can use a Dutch oven over direct heat (stovetop, fire, grill, etc) as long as you keep an eye on the liquid in the pot. You don't want your delicious meal going dry and scorching.
Covered casseroles
These are used in the oven. You put your ingredients in, cover, and set your oven to 325F. It will work like a slow cooker over several hours.
You may be able to do the same thing with a casserole dish covered tightly with aluminum foil.
Once again, cast-iron casseroles outperform any other kind. They distribute heat evenly, hold heat in longer, and will last forever with proper care.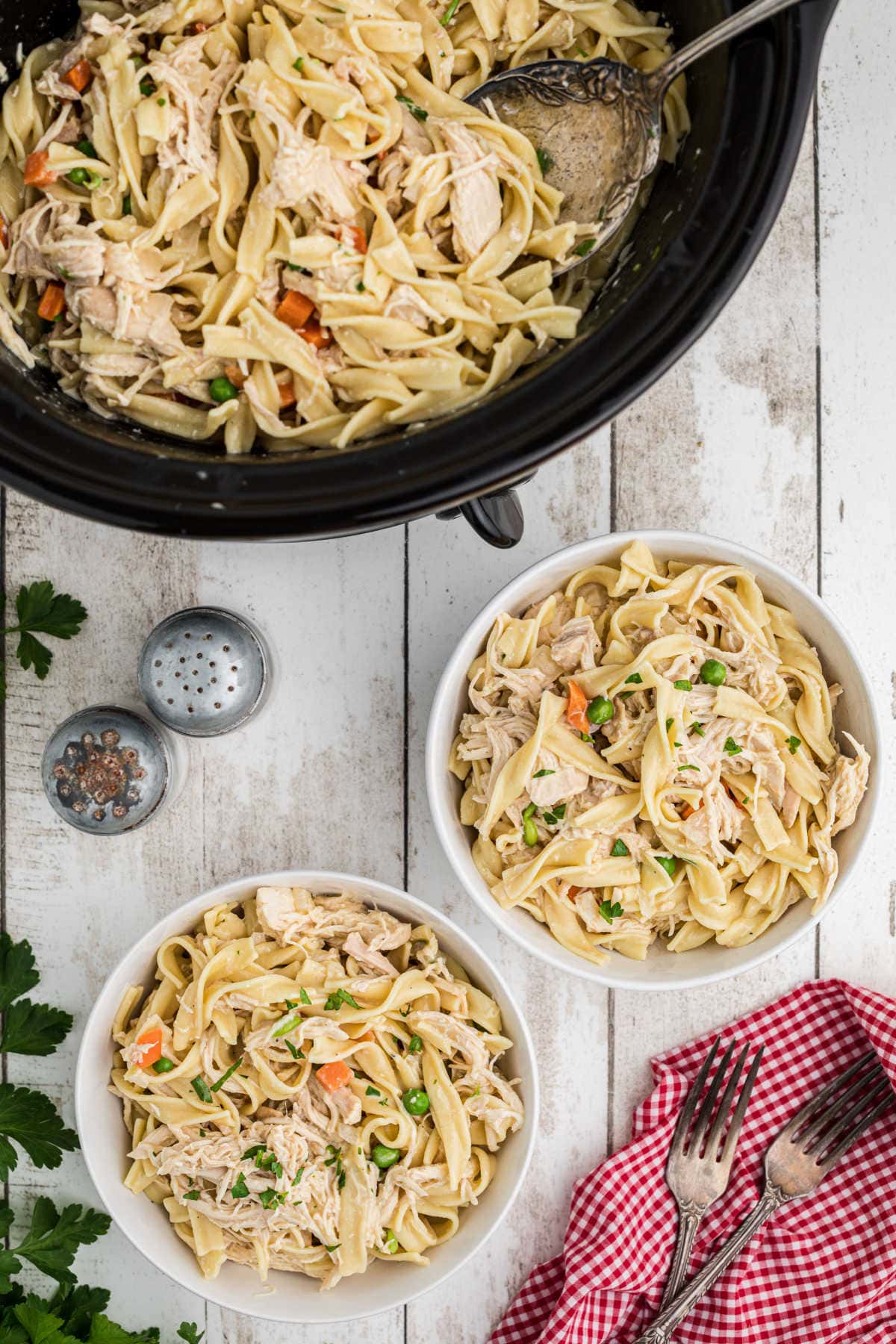 Adjustments
When you are using a slow-cooker recipe with one of the alternatives above you may need to adjust the recipe.
You'll most often need to use lower temperatures or the lowest heat setting on the equipment. For example, a Dutch oven or covered casserole should cook at 300 - 325F in the oven.
If your pot doesn't have a tight lid, no problem! Grab some aluminum foil and wrap it up real tight over the top to keep all those flavors inside.
💭 Things to know
Expert Tip: Crockpots distribute heat evenly but some substitutes may be different. Electric pressure cookers and rice cookers tend to concentrate heat in a different way so you need to stir once in a while to distribute heat evenly.
When using a substitute, especially those with different heat distribution, minor adjustments to cooking times might be necessary.
Each of these different methods might need a different amount of time.
Adding the right amount of liquid is crucial to prevent dishes from drying out.
Adding the right amount of liquid is crucial to prevent dishes from drying out.
If you don't have a tight-fitting lid cover the pot with aluminum foil to make a seal. It must be tightly wrapped around the edges to keep the heat and moisture inside.
Check and adjust the quantity of liquid to prevent your dishes from drying out or becoming overly soupy.
A Dutch oven recipe can usually be used in a slow cooker without many changes and vice versa.
Always use a meat thermometer or an instant-read thermometer to make sure the meat is at the desired temperature.
📚 Related recipes
Ready to try some slow cooker recipes? Here are some of our favorites.
Experiment
You may need to do a little experimenting to find a good alternative to a slow cooker - one that fits your situation.
Test various pots and appliances, adjusting cooking times and heat settings until you achieve the results you want.
🫶 Restless Chipotle recommends
As an Amazon Associate I earn from qualifying purchases.
When it comes to cast iron the only two brands that I will buy are Le Creuset and Lodge.
Le Creuset is colorful enamel-covered cast iron. It comes in tons of beautiful colors and lasts for generations. I have this Dutch oven and I'll never part with it!
This covered casserole has a glass lid. That's an excellent way to slow cook on the stovetop because you can see if you need to add liquid or whatever just by peeking through the top.
Lodge isn't as pretty but it's quite a bit less expensive than Le Creuset and they've come out with some colorful enamel-covered cookware as well.
My favorite is always going to be the classic cast iron pieces that have been around forever.
If you're considering a multi-cooker then this is the one I would recommend. The one I have isn't available anymore but this is the closest.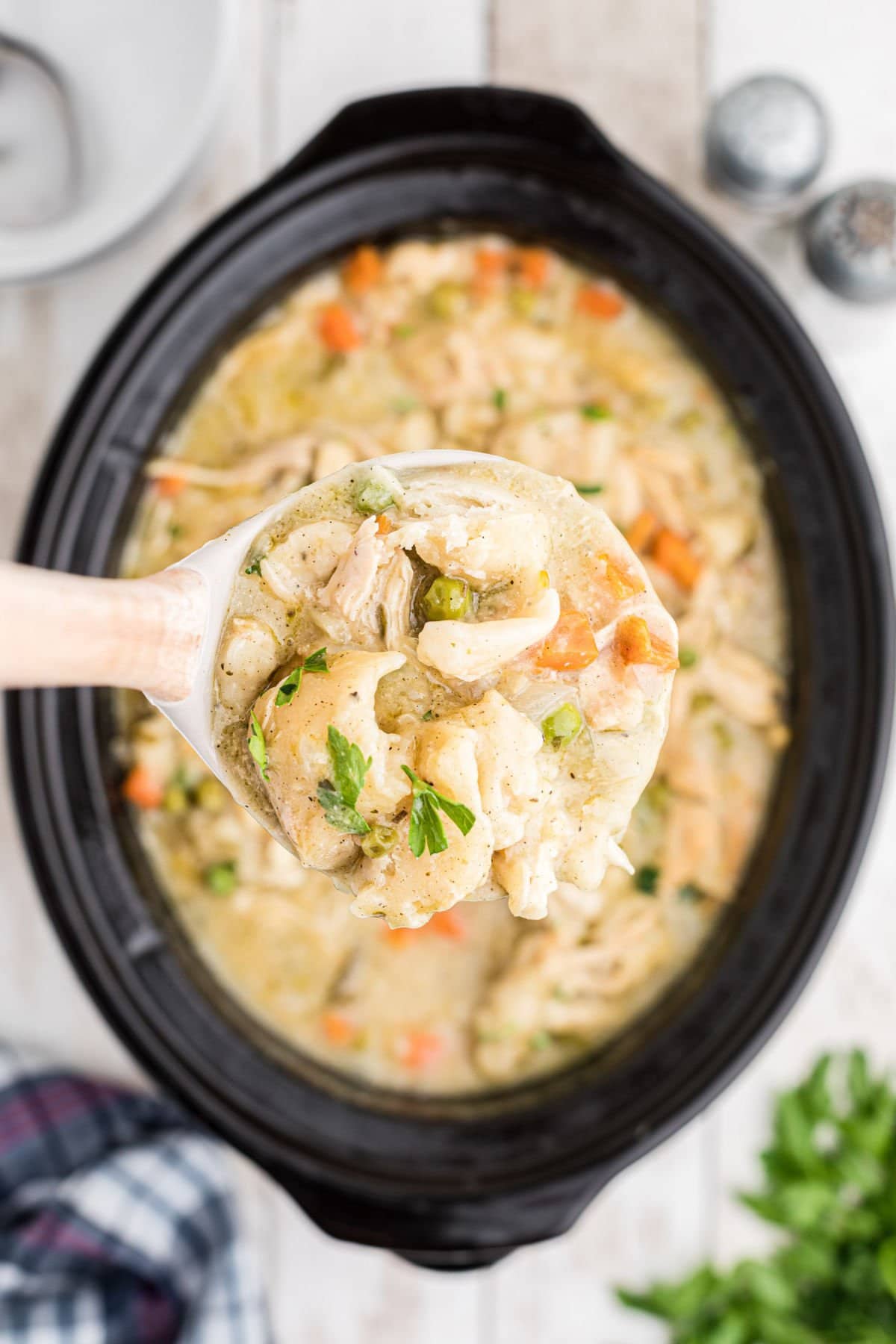 📞 The last word
The slow cooker is always going to be the go-to for slow-cooked meals but it's good to know that you can get similar results in other ways.
The main thing to make sure of is that the lid fits tightly and that you're keeping an eye on the heat settings.
With a little creativity and a willingness to try things out, you'll soon be cooking up those slow-cooked meals just like grandma does.
📓 Meal plans in minutes
Save time in the kitchen with this simple meal-planning app. All the recipes without all the ads. Sign up now and get a 14-day free trial!