These classic chocolate chip cookies are chewy on the inside with crisp golden brown edges. Pecans add crunch and flavor to these old-fashioned favorites.
For this recipe you'll need: butter, sugar, brown sugar, eggs, vanilla, almond extract, flour, baking soda, hot coffee, salt, bittersweet chocolate chips, semi sweet chocolate chips, milk chocolate chips, pecans
Who doesn't like a couple of warm, gooey classic chocolate chip cookies with a glass of milk? Or coffee? Or red wine? Or vodka, for that matter.
I don't know of anyone. Even people that don't get real excited about chocolate ( and I find people like that a little unsettling, don't you?) do usually like chocolate chip cookies. It really only comes down to two questions; Chewy or crispy? Thin or thick?
I will be honest with you. I like my chocolate chip cookies to be crispy on the outside and chewy on the inside, with a deep buttery -almost-salty flavor. I want them to be thick but not cakey. Classic chocolate chip cookies should have a chewy middle with crisp edges. I am extremely picky about my tollhouse cookies so when I say that these are the absolute best that I ever had I mean it.
Totally.
Shiloh is renowned for her chocolate chip cookie making. I rarely make them anymore because she often does. In fact, there are times when I am in bed and the house is quiet and dark… and all of a sudden I will smell chocolate chip cookie aroma wafting up the stairs. Even at one o clock in the morning there really isn't an incense that I love better.
Random, but true story. When I was in high school I got a job at a new company, The Great American Cookie Co. I am not sure why I took it – It was one of those things that you do on a whim. I had my own freelance window and visual merchandising company that handled several small businesses in the Dallas area and that the big stores used when they had a large event coming up – like Christmas. I also was modeling once in awhile and was represented by a few art galleries in the area. When you figure in the time I spent partying (it WAS the 70's after all) I had very little time to squeeze school into there. Anyway, I decided to work at the cookie place – it was my first real introduction to baking and working with frosting. I came home every night smelling like chocolate chip cookies – and I had many, many offers for dates. Coincidence? I think not. It is my belief that the aroma of chocolate chip cookies is more alluring than any pheromone out there.
Anyway.
These classic chocolate chip cookies are amazing; really truly amazing. The outside is delicately crispy and the insides are chewy. The dough is buttery and vanilla with a delicate almond nuance that just whispers its presence. The pecans are toasted for added texture and flavor and the combination of several types of chocolate makes for several layers of flavors that create waves of ecstasy that your tongue may never recover from.
You will never put a Chips Ahoy in your mouth again. Never. The Keebler elves may need to consider repairing shoes on the side.
They are that good.
This recipe is the foundation for any type of chocolate chip cookie I make from the Reese's stuffed cookies I posted earlier this week to all of the chocolate chip cookie recipes in my cookbook. And any I do in the future? You can bet that this will be the beginning recipe.
Classic chocolate chip cookies freeze beautifully baked or unbaked. One thing I like to do is make a huge batch and then drop them by teaspoonfuls onto a cookie sheet, very close together. I pop them in the freezer for about 30 minutes and then put them in freezer containers when they are frozen. Next time I want cookies I just preheat the oven and add a dozen or so of the frozen cookie dough balls to a silpat lined cookie sheet. I bake them as usual and I can serve hot, fresh chocolate chip cookies in less than 15 minutes with no mess. I swear these are the best chocolate chip cookies EVER.
I din't get the reputation for being Wonder Woman for nothing.
The following are affiliate links. We are a participant in the Amazon Services LLC Associates Program, an affiliate advertising program designed to provide a means for us to earn fees by linking to Amazon.com and affiliated sites.
What's new? Check out my Restless Chipotle & Co. Store on Amazon where you'll find all kinds of nostalgic goodness! Thanks so much for being a part of Restless Chipotle!
One of the secrets to great cookies that aren't burnt on the bottom is a heavy baking sheet that heats evenly. I like this commercial grade cookie sheet from Norpro. You'll also get great results with Silpat baking mats. If you've never used one you'll love it! Keeps cookies from sticking and doesn't make them spread so they are perfect and not paper thin. Finally, a good cookie scoop means that the cookies with all be the same size and each will be just as yummy as the next.
Here's that classic chocolate chip cookies recipe! You are going to love these!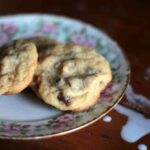 Chocolate Chip Cookies
Print
Add to Collection
Go to Collections
Chewy chocolate chip cookies that are delicately crispy on the outside and full of buttery flavor. The best chocolate chip cookies anywhere.
As an Amazon Associate I earn from qualifying purchases.
Ingredients
1

cup

butter

,

if you like a salty-sweet combo use salted butter, softened

1

cup

white sugar

1

cup

packed brown sugar

2

eggs

2

teaspoons

vanilla extract

1/4

teaspoon

almond extract,

optional

1

teaspoon

baking soda

1/2

teaspoon

salt

2

teaspoons

hot coffee or water

,

strong

3

cups

all-purpose flour

1

cup

bittersweet chocolate chips

1/2

cup

semi sweet chocolate chips

1/2

cup

milk chocolate chips

1

cup

chopped

,

toasted pecans
Instructions
Preheat oven to 350F.

Cream together the butter and both sugars until smooth.

Beat in the eggs, one at a time incorporating them well after each addition.

Add the vanilla and almond extract.

Dissolve baking soda and salt in hot coffee or water.

Add the baking soda mixture to the batter.

Stir in flour by hand.

Fold in the chocolate chips, and nuts.

Drop by teaspoonfuls onto ungreased cookie sheets.

Bake for 8 to 10 minutes or until edges are golden but the center is still slightly underdone.

Allow to cool for at least 10 minutes for the centers to set before removing from the pan.
Notes
Cook these slightly longer for crispy cookies. If the first batch seems to spread too much you can lightly dust the cookie sheet before adding the unbaked cookies for the remaining batches or you can freeze them first.
Sign up for the emails and never miss another recipe!!
We'll never share your email or send you spam. Pinkie swear.
If you liked these classic chocolate chip cookies you may also like…
Giant Chewy Chocolate Chip Cookies