Truffle oil is simply a food grade oil that fresh or dried truffles have been added to. The exotic fungus saturates the oil with all of its earthy, umami flavor – giving cooks an affordable way to get that delicious flavor in all kinds of dishes. Read on for everything you need to know about types and varieties of truffles, as well as how to use them.
First published… June 7, 2012… last updated October 28, 2016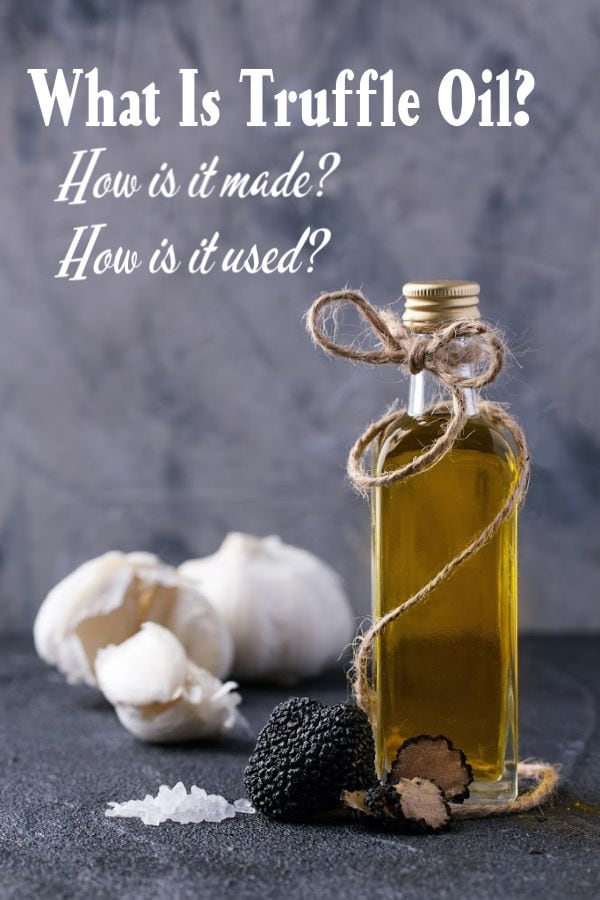 What Is Truffle Oil?
Truffle oil originated as a way to add the luxurious flavor of truffles to their dishes without the extreme cost of the fresh truffle. In order to make truffle oil a light oil is infused with pieces of truffle until the oil carries both the flavor and scent of the fungus.
All Oil Is Not the Same
With the popularity of food shows, food reality television, and celebrity chefs more home-cooks are using exotic ingredients than ever before. Saffron, wild caught salmon, and truffles used to be ingredients found only in five star kitchens but today these ingredients, and thousands like them, are available to almost everyone.
While there are plenty of truffle oils available commercially you have to be careful – some of them are chemically flavored while others taste like a slice of truffle has been waved over it for a few seconds.
Really good truffle oil is not cheap – but you can make it yourself.
Ingredients for Homemade Truffle Oil
Although many people make their own truffle oil successfully, and have done so for decades, there is recent concern that botulism can develop in the oil. Be sure to research for yourself, read the recommendations and come to your own, educated conclusions.
Truffles are the most important ingredient. Get good ones – fresh, dried, or brined. If you use brined truffles be sure to rinse well.
Oil to add the truffle to. Olive oil is often used but you could use any light flavored vegetable oil.
Sterilized canning jar with a twist on lid that's been sterilized, too.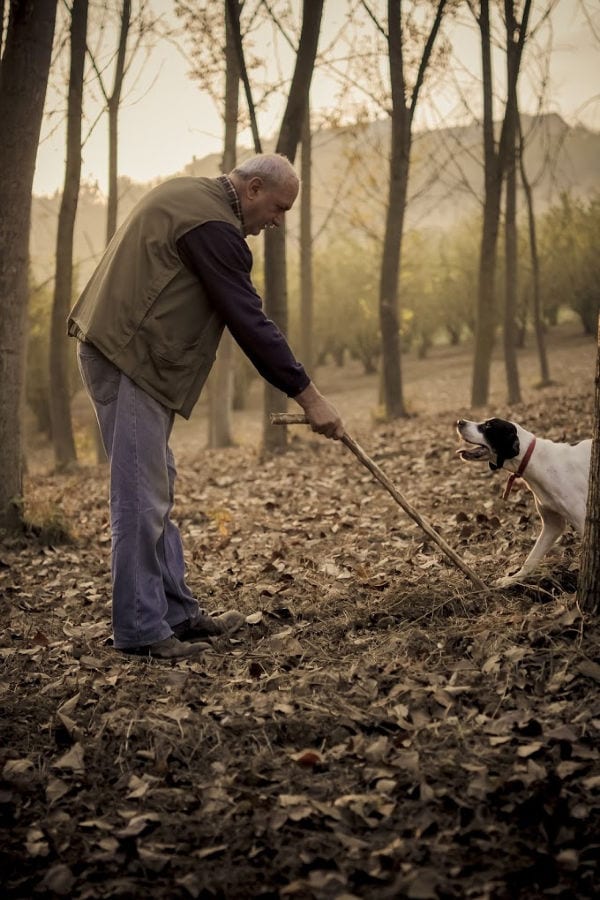 What Is a Truffle?
Simply put, a truffle is a fungus like a mushroom but it grows underground near certain species of trees.
The type of truffle is dependent on the type of tree it grows by. It reproduces by spores like other fungi, however since the spores of a truffle cannot be released underground the spores are spread in the feces of the animals that eat the truffles.
How Are Truffles Harvested?
Finding truffles is traditionally done with a "truffle hog". This is a female pig that naturally searches for truffles as part of her diet.
Recently dogs have begun to be trained to sniff out this delicacy because it is difficult to keep the pigs from eating the harvest!
It's not an easy task and can be quite time consuming – that's why this gourmet delicacy can be expensive! Truffles can sell for as much as $95.00 USD an ounce (2019).
Varieties of Truffles
There are several types of truffles. Most are considered either white or black, although there is a variety of truffle that is considered red because its flavor is reminiscent of berries.
Black Perigord
This is the black truffle on the menu of many gourmet restaurants. It grows by oak and hazelnut trees and can reach weights of up to 4 ounces each. They grow primarily in France, although some other European countries have them, and are harvested in the autumn and winter months.
Burgundy Truffle
The burgundy truffle is a type of black truffle and has been well known in the world of the gourmand since medieval times. It has a coffee colored interior and smells a bit like cornmeal. It is most often used with fresh vegetables.
Chinese Truffle
These black truffles have a hard shell and dark flesh with veins of white running throughout. It has a light scent and delicate flavor and is very inexpensive. Oils made with this truffle will not have the rich flavor of other truffle oils and this is what you most often find at your grocers.
Garlic Truffle
This species of black truffle has a garlicky scent and a smooth surface skin dotted with warts.
Hungarian Dessert Truffle
This is a uniquely sweet truffle that is found in Hungary. This member of the white truffle family it is found near black locust trees. It is often used in desserts and ice creams.
Italian White
The Italian white truffle is considered to be the most luxurious truffle of all. It has a flavor that combines garlic and shallots with an earthy mushroom flavor and scent.
Pecan Truffle
Pecan truffles grow in the Southern United States around pecan trees. They are only just starting to be used in commercial kitchens but sell for over $600.00 USD a pound (2019).
Truffle Oil FAQs
Here are the most commonly asked questions about this recipe. If you don't find the answer to yours here leave a comment below or email me – I'll get back to you as soon as I can!
What does truffle oil taste like?
Truffles are a little hard to describe. They have a similar earthy, musky flavor as mushrooms but are a little nuttier.
Should I refrigerate truffle oil?
It's definitely best to keep truffle oil in the fridge.
Does it taste like truffles?
Most inexpensive, commercial truffle oil does not taste like truffles but when you make it homemade with good oil and fresh or dried truffles it is amazing.
Using Truffle Oil in Recipes
Often truffle oil is lightly sprinkled over a dish just before serving. This allows the aroma to be at its peak. Try a sprinkle of truffle oil on –
Fish
Lobster
Poultry
Soups
Steaks
Stews
Garlic bread
Risotto
Vegetables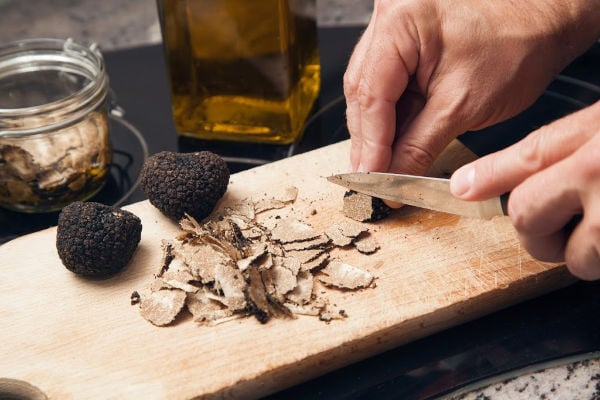 Recipes to Try
Here are some of my favorite recipes to use with this oil –
You might also like this post on using truffle oil on your own recipes and some recipes to inspire you.
You May Need…
The following are affiliate links. We are a participant in the Amazon Services LLC Associates Program, an affiliate advertising program designed to provide a means for us to earn fees by linking to Amazon.com and affiliated sites.
What's new? Check out my Restless Chipotle & Co. Store on Amazon where you'll find all kinds of nostalgic goodness! Thanks so much for being a part of Restless Chipotle!
You'll definitely want some bottles to keep your truffle oil in. I like these glass bottles with stoppers.
How to Make Truffle Oil
For the best flavor, and to ensure that you are using the real thing, you can make your own truffle oil with any type of truffle you prefer. The black truffle tends to have a richer flavor while the white is more delicate.
Use any oil that you like, including a good olive oil.
If you love this recipe please give it 5 stars!
Although many people make their own truffle oil successfully, and have done so for decades, there is recent concern that botulism can develop in the oil. Be sure to research for yourself, read the recommendations and come to your own, educated conclusions.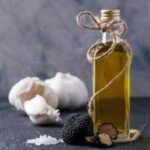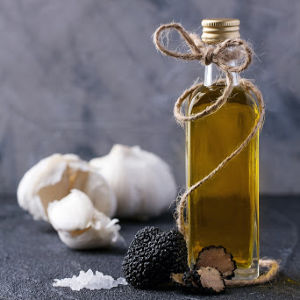 Truffle Oil Recipe
Print
Add to Collection
Go to Collections
A fresh, homemade truffle oil that will add flavor to almost any recipe. Use sparingly, this has a lot of flavor. Be sure to read the notes below the recipe.
Total Time
7
days
10
minutes
As an Amazon Associate I earn from qualifying purchases.
Ingredients
1

teaspoon

fresh truffle

,

(you can also use 1/2 teaspoon of dried, or 1 teaspoon of brined – just make sure to drain thoroughly)

1

cup

olive oil,

extra virgin

1

sterilized pint jar with sterile screw on lid
Instructions
Chop the truffle into small pieces.

Add to the oil.

Add the mixture to the jar.

Shake the jar well and store in a cool, dark place.

Shake daily for one week.

The oil will be good to use at the end of a week but will continue to strengthen as it sits.

Once opened keep in the refrigerator for up to one month.
Notes
*Warning! Although many people make their own truffle oil successfully, and have done for decades, there is recent concern that botulism can develop in the oil. Be sure to research for yourself, read the recommendations and come to your own, educated conclusions.
Nutrition
Serving:
1
teaspoon
|
Calories:
3.98
kcal
|
Carbohydrates:
0.02
g
|
Protein:
0.01
g
|
Fat:
0.45
g
|
Saturated Fat:
0.06
g
|
Sodium:
0.09
mg
|
Fiber:
0.01
g
Sign up for the emails and never miss another recipe!!
We'll never share your email or send you spam. Pinkie swear.