This Viennese Christmas Bread Recipe, also called Viennese Striezel, is an impressive three layer sweet bread studded with candied cherries and dried cranberries. Flavored with Cardamom and orange, I've used whole wheat flour rather than the traditional white flour to give it a nutty, country flavor.
I was thrilled to partner with Bob's Red Mill to create this recipe. I have used their products for years and have always been happy with the results. In fact, Bob's Red Mill got started in 1978 and I think I started baking with the flour as soon as it became available in Texas. That means we've been "friends" for almost 40 years — actually my longest relationship to date! I love that it's GMO-free and organic, too.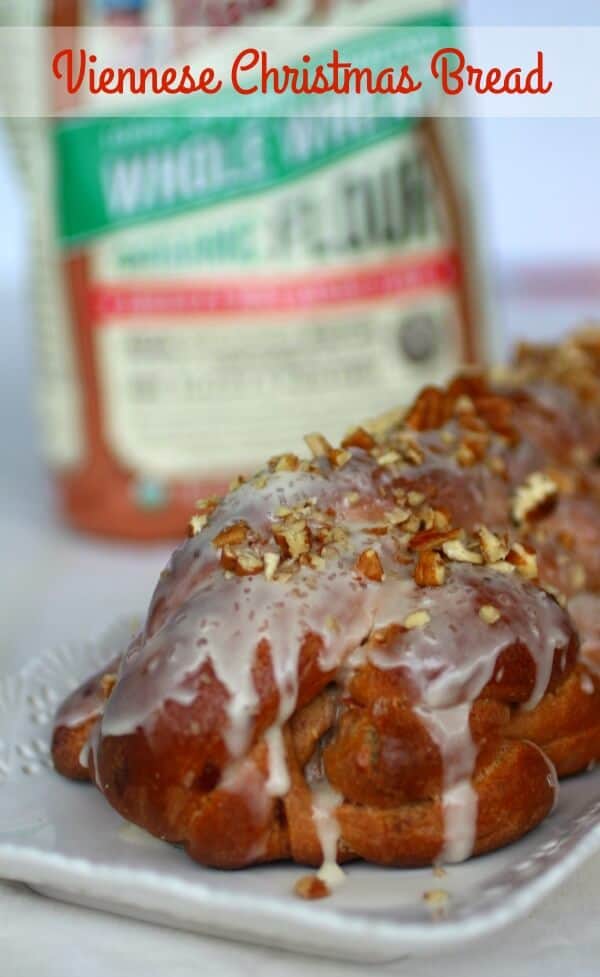 The Restless Chipotle Channel
I have always loved working with whole wheat flours and I often take traditional white flour recipes and convert them. Whole wheat flour not only adds that chewy texture and nutty flavor but it adds fiber, protein, and vitamins too. Most people run into the problem of heavy texture which usually means the flour hasn't been kneaded enough. If you are kneading by machine it is going to take a good ten minutes and if you are kneading by hand it's going to be more like 20 minutes of kneading. I'd also suggest that you use a little gluten flour along with the whole wheat flour — it will help the bread rise high and light and make the kneading process easier.
Many of my memories of Christmas as a kid have to do with smells as much, or even maybe more, than sights or sounds. I can remember walking into our house after school in the dim winter light, my legs bright red from the cold (you wore dresses or skirts to school bach then no matter what) and feeling the blast of warm air scented with fruitcake or Christmas cookies. It was the only time of the year my mom baked and she usually baked fruitcakes for all of her siblings, our neighbors, the milkman, the postman, and people I can't even think of right now. It was a generous time back then — something I think we've lost for the most part. Maybe it's time to get it back?
When I bake during the Holiday season I feel connected with all of those memories. It makes my house smell wonderful so when MY kids come in from school I know that they are making Christmas memories similar to mine so long ago, and it's likely that they'll make these same memories for their kids. It's how the generations connect — memories and recipes.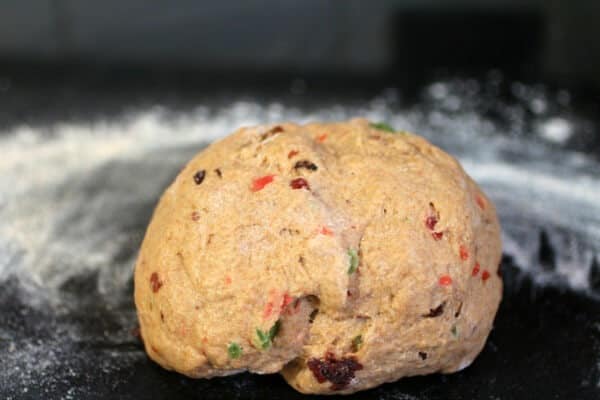 So, this Viennese Christmas bread recipe — perfect for giving! Perfect for making memories!
European countries are known for their yeast breads and the sweet yeast breads that they create during the holidays are gorgeous. At least I think they are from the recipes I've tried and the images I have seen — I haven't traveled to Europe yet, although it's on my bucket list. Anyway, I think Austria has more of the Christmas bread recipes than some of the other countries — at least I've seen more.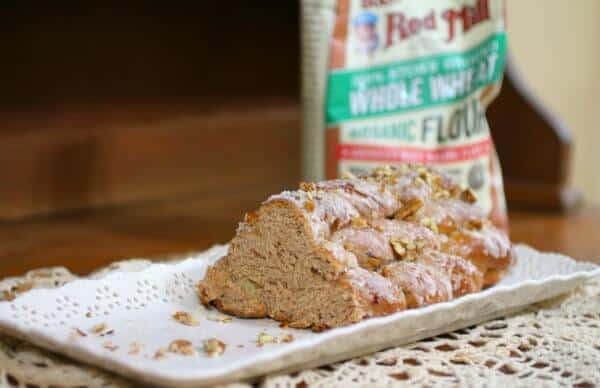 This Viennese Striezel is a braided Christmas loaf that really isn't difficult to make. The dough is flavored with cardamom, orange, and just a hint of vanilla to give it a little extra sweetness. As I said, I've replaced the traditional white flour with Bob's Red Mill whole wheat flour. I also used dried cranberries soaked in rum in place of the raisins in the original recipe which is in one of my go to vintage cookbooks, Farm Journal's Homemade Bread, circa 1969. Believe it or not, I bought it at a used book store in 1975! It's falling apart, stained, and has half the cover gone but I still use it at least a couple of times a month.
You'll want to do this Christmas bread recipe on a day when you are going to be home all day because of the rising time (4 hours). Letting it rise overnight in the refrigerator is also an option.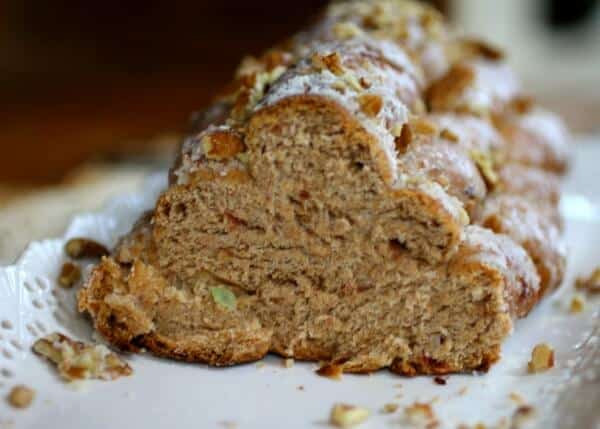 Clickable Table of Contents
hide
How to Make a Braided Loaf
Braiding the bread makes for a pretty loaf and it's easy to do. You'll just need to divide the dough into nine pieces after the rising.
Roll each into a strand about 15-inches long. Start with four strands and braid them loosely — it's easiest if you start at the center and braid to each end.
With the side of your hand make a dent down the middle of the braid. This helps the next braid to stay put.
Take the next three strands and braid them loosely, starting at the middle and braiding to the ends.
Carefully place it on top of the first braid and press gently. Now, make another dent down the middle of the second braid.
Take the remaining two strands of dough and twist them loosely around each other.
Place on top of the second braid and press gently.
Bring the ends of the last twist down over the ends of the loaf and tuck underneath.
That's it! Super simple right? Here are step by step images for braiding the Viennese Christmas Bread recipe —
You are seriously going to love this Christmas bread recipe. It is a great gift, it freezes well, and it makes amazing French toast if you get tired of eating it with just butter. I like to give this in a basket along with a jar of orange marmalade and a tin of Vanilla Earl Grey tea.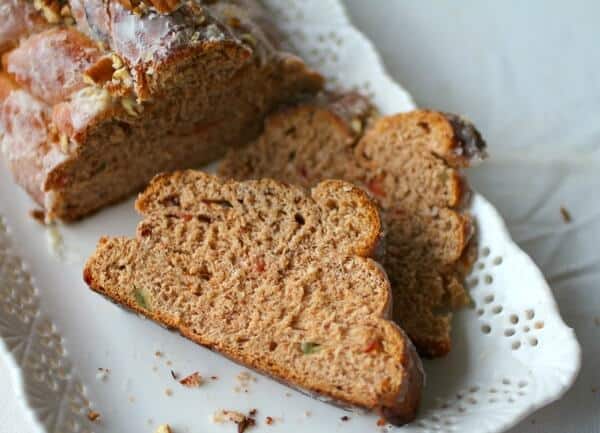 How about a Bob's Red Mill coupon to help you get started?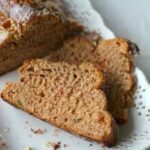 Print Recipe
Viennese Christmas Bread Recipe
A whole wheat sweet bread with orange and vanilla flavors studded with candied cherries and dried cranberries is a welcome gift during the holidays. It makes the most amazing French toast ever.
If you liked this Viennese Christmas Bread Recipe you may also like…
Holiday Breakfast Wreath The Kitchn
Cream Cheese Filled Sweet Bread Positively Splendid
I was selected for this opportunity as a member of Clever Girls and the content and opinions expressed here are all my own.
Part of the Meal Plan Monday #92 Link Up!