If you find yourself craving that crazy state fair food don't worry. There's a recipe for that! Here are ten of the best foods that you can get at the State Fair of Texas only now you can get them right in your own home. If only Yankee Candle Co. made a candle the smelled like the Midway, right?
Check out these deep fried brownies...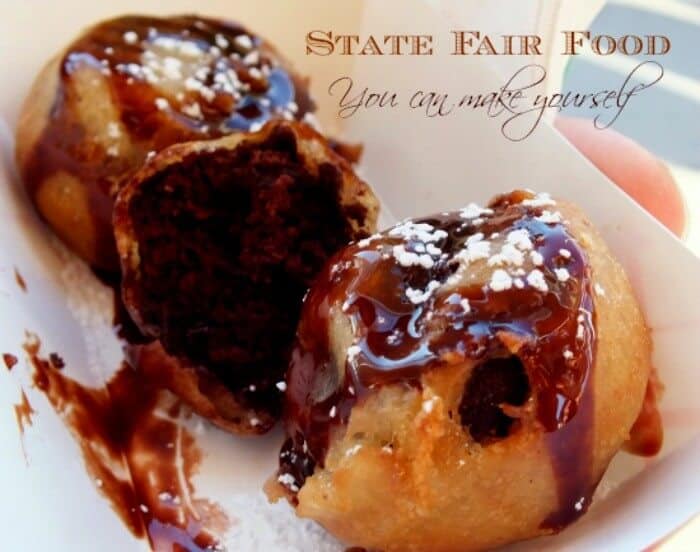 You know, every once in awhile I get an email from a disgruntled reader that accuses me of being a mass murderer because of the amount of fat and calories in so many of my recipes. Well, yeah. If you eat this stuff every day you are going to die. There's no way around it. You will get a backside the size of Alaska and drop over dead clutching your chest but with a smile on your face and buttermilk biscuit crumbs on your lips. This stuff was never meant to be eaten every day. It is a treat. You make a few, you eat a few,you share a couple with those you love and then you go back to salad, lean chicken, and green tea. Make smart health choices — you are an adult. Just do it and don't blame me or Paula Deen, or any other food writer if you get obese because you decided to eat 800 calorie slices of cheesecake on a daily basis.
All things in moderation.
I just want to add that I miss the old Big Tex. He has been my man crush since I was two! I just don't like his new look... 2012 on the left 2013 on the right. He caught on fire and burned two days after the picture on the left was taken. I cried for days.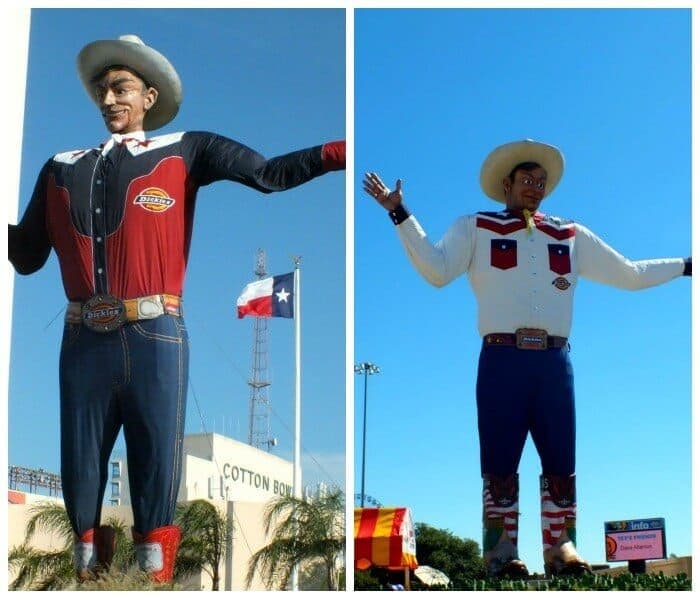 So, grab Netflix and put on State Fair (60th Anniversary Edition)
, which is an old Rogers and Hammerstein movie that was filmed at the Texas State Fair even though the story-line sets the whole thing in Iowa. AS IF! Watch it and you'll know. Get the movie, make yourself some fried beer and grab a Dr Pepper, then settle in for a cozy afternoon. See? You can go to the fair anytime.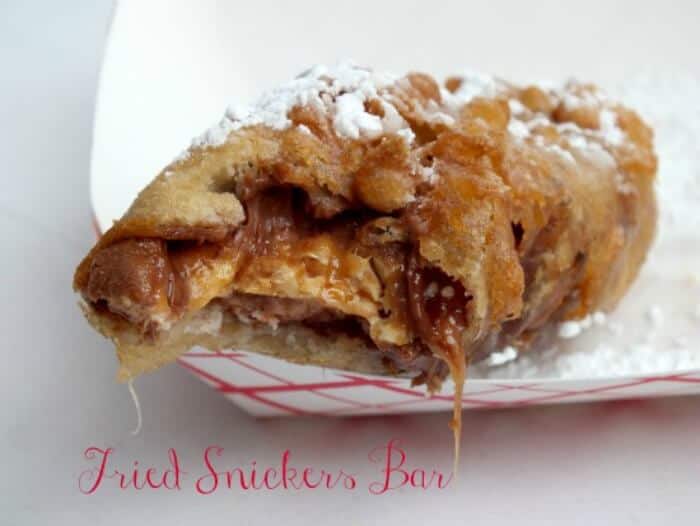 Recipes for My Top 10 Texas State Fair Foods
If America's favorite cookie is the Oreo then we are besotted by Deep Fried Oreos. The cookies are dipped in a pancake batter and then dropped in hot oil until the outside is crispy and golden. Like most deep fried foods, these are best when freshly fried – just give them a minute to cool down so you don't burn your mouth. A little Confectioner's sugar dusted over the top makes them pretty. How do they taste? Something like a combination of a funnel cake and an Oreo dipped in milk.
Is there a person who can go through an entire day at the fair and not eat a funnel cake? No one that I know – especially not me. Funnel cakes are crispy and light – sort of sweet but also not terrible sweet. They are plate sized and dusted with powdered sugar. This year I had a red velvet one with cream cheese drizzle.
When you take funnel cake batter and a Snickers bar and add hot oil what do you get? Gooey, oozy chocolate wrapped in crispy fried goodness on a stick. I had one of these at the Texas Fair and, although it was delicious it was also very, very sweet – almost too much, even for me. Plan on sharing this with a friend.
Corn Dogs are a tradition. If you don't eat at least one you get kicked out of Texas, and lose your right to drink sweet tea. I think there is even a fine. Seriously – I hate hot dogs and every nasty chemical and weird meat scrap that goes in them but by Stephen F. Austin I have to have a corn dog now and then. You can actually make them a bit healthier by using one of the premium no-nitrate hot dogs.
Deep fried brownies are chewy brownies encased in fritter batter. The quality of the end product will depend a lot on how good the brownies are – choose the best, darkest, chocolatiest recipe you can find for the best results. Hit them with some chocolate syrup and pig out.
Deep fried pickles hit the spot when you are craving something that you can't identify. Dill pickles are sliced and then dipped in a light batter before they are fried. You can use any type of dill pickle – consider the spicy ones if you like a little heat. When they come out of the oil drain them well on paper towels and pat off any excess oil. Salt them lightly and dip them in Ranch or Honey-Mustard for a great snack or appetizer. Paula Deen also has a fried pickle recipe but it uses Bread and Butter pickles.
Beer and pretzels? Deep fried beer at the fair is made of a pocket of pretzel dough filled with beer and then sealed. Think of ravioli. This recipe does not use pretzel dough but you could use a pretzel recipe and substitute it if you want. The filling and frying instructions will be the same. I'd make a grainy mustard dip to go with them. Be careful, there isn't enough heat to dissipate the alcohol.
Cookie dough. You eat it out of the mixing bowl, you eat it in ice cream and brownies and now you can eat it fried. Decadent? Yes but seriously it's cookie dough. Use a pasteurized egg products so that there is no worry about Salmonella
There you go. Ten ways to feel like you are at the fair any month of the year. And be happy! There are only 10 months until the Texas State Fair opens again!! Now go get that movie!