This Snickers Bar Cheesecake is full of all of the flavors of the candy bar -- chocolate, peanuts, and caramel are folded in to a vanilla cake batter. As if that wasn't decadent enough chunks of Snickers are added.
When I think of truly awesome cheesecake recipes it's not usually something plain. I like mixtures and layers of flavor and texture - like this Snicker's Bar cheesecake. Easy, basic, but unique and decadent in every way. Kyrie, Nick, and Matthew have always had their birthdays together - at least until Matt left home and ended up in the Middle East. Their birthdays are July 1, 3, and 11 so it was just easier to do it all at once. Each got to choose their own cake because we normally had enough people to handle all of that cake and ice cream.
This year Kyrie chose a Holy Cow Cake but all Nick would say was that he wanted some kind of cheesecake with caramel. I couldn' t figure out what kind to make so I got my oldest daughter on messaging to help me brainstorm. We were tossing possibilities back and forth and all of a sudden she said Snickers Bars.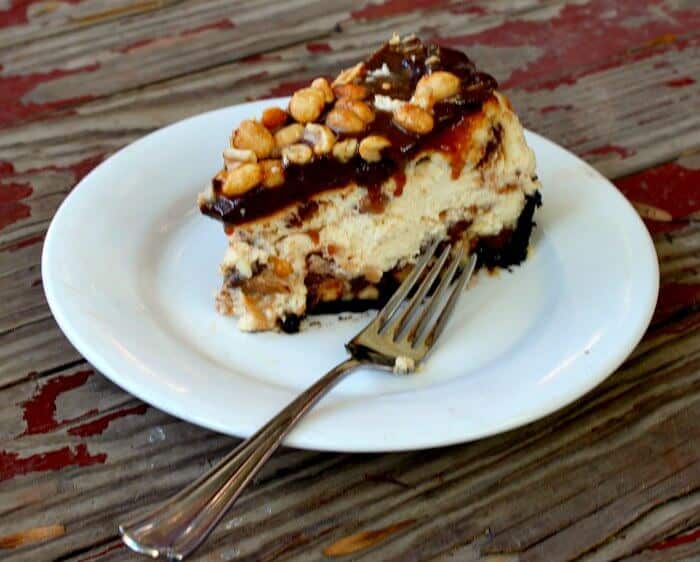 It was perfect.
The Snickers bar cheesecake was a hit at the party. I used Oreos for the chocolate crust and sprinkled salted peanuts, caramel and chocolates on the top of the crust. I poured part of the cheesecake in, swirled caramel over it, then poured the rest of the cheesecake in and kind of swirled the caramel through the batter.
It was delicious. The piece that I hid for later was even in better. You know what they say about stolen honey being sweeter? Yeah, well, hidden cheesecake is the best.
Nick is now 14 and he asked for cheesecakes at every birthday. He is growing into quite a young man. He is quiet and empathetic - I guess I'd have to describe him as a social introvert. He loves being around people as long as he gets his time alone. He loves to draw - since Ethan left for boot camp Nick has taken over E's Bamboo pad and is really getting good on it. He is saving up for a computer and has worked his butt off this summer to earn money - sadly his diligence is limited by my income. He earned 85.00 the first week and I had to put him on hold!
I love that my kids are growing into men and women that I can be proud of but I hate that they are growing up! I was telling a close friend at the kids' party that I feel like we've downsized. When we first became friends four of her six boys were at home and seven of my eight children were home. Over the years they have become family - helping me in so many ways through the divorce and aftermath, she and my other sidekick took care of details at my wedding, and on and on. The two of them have my back!
Well, now she has two at home and I have four at home. When we have parties we cry together over the kids that have moved on because it is all so different. I think she misses Ethan as much as I do - he probably spent as much time at her house as here at home.
So, enjoy your kids because they grow up and leave home much earlier than you will be ready for. In the meantime make some memories that they can take with them. Every time one of my kids comes home there is at least one dish that they ask for. Each has a different food that no one can make like mom!
Thank God I am still essential for something! 🙂
📖 Recipe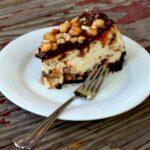 Snickers Bar Cheesecake
Print
Save
Saved!
Sweet and salty, tangy and rich, creamy and crunchy - this cheesecake has it all covered. If you like Snicker's bars you love this version. Creamy cheesecake, gooey caramel, rich chocolate, and salty peanuts create magic right here!
As an Amazon Associate I earn from qualifying purchases.
Ingredients
Crust
2

cups

Oreo crumbs

¼

cup

sugar

⅓

cup

unsalted butter

,

, melted
Filling
4

packages of Philly cream cheese

,

(36 ounces total), room temp

2

cups

sugar

6

eggs

,

, room temp

1

cup

bittersweet chocolate chips

1

cup

roasted

,

, salted peanuts

1

cup

caramels

,

, cut in fourths

½

cup

Snickers bar pieces

1

cup

caramel sauce

⅓

cup

heavy cream

1

teaspoon

vanilla

1

cup

sour cream

,

, room temp
Topping
¾

cup

bittersweet chocolate chips

1

cup

heavy cream

1

cup

caramel sauce

¼

cup

peanuts
I earn a commission from Instacart from qualifying purchases.
Instructions
Crust
Mix the crumbs with the sugar and butter.

Press into the bottom and part way up the sides of a 9 inch springform pan.

Cover the pan bottom and sides on the outside with aluminum foil to keep any water out.
Cheesecake
Preheat the oven to 375F.

Beat the cream cheese on low speed until smooth.

Add the sugar and continue to beat at low speed.

Add the eggs, one at a time, beating well after each.

Remove bowl from mixer and fold in the vanilla and sour cream

Sprinkle the chocolate chips, peanuts, caramels, and Snickers pieces on the crust.

Pour ½ of the cheesecake batter on top.

Swirl the caramel sauce over the batter and top with the rest of the batter.

Place the aluminum foil covered pan in another, larger pan.

Add water until it comes halfway up the sides of the outside of the cheesecake pan. (this makes the bain marie)

Bake for 45 minutes.

Turn off the heat and leave the cake in the oven for 1 hour. DO NOT open the oven door.

Remove from the bain marie and to a rack to cool to room temperature.

Refrigerate for at least 4 hours or overnight.
Topping
Heat the cream until almost boiling.

Add the chocolate chips and stir until melted.
Assembly
Remove the cake from the refrigerator.

Carefully slide a knife between the cake and the pan sides to loosen the cake.

Remove the sides of the springform.

Spoon the melted chocolate over the top.

Garnish with a swirl of the caramel sauce and peanuts sprinkled on the top.
Notes
nutritional info is approximate...
You'll find more helpful tips and variations in the body of the post.
Nutrition information is estimated as a courtesy. If using for medical purposes, please verify information using your own nutritional calculator. Percent Daily Values are based on a 2000 calorie diet.
Sign up for the emails and never miss another recipe!!
We'll never share your email or send you spam. Pinkie swear.
If you like Snickers Bar Cheesecake you may also like:
S'mores Cheesecake Restless Chipotle
Meyer Lemon Meringue Pie Cheesecake Restless Chipotle
Peanut Butter Cheesecake with a Pretzel Crust Bake or Break