These brownie cheesecake bars are decadent bite of pure sin that starts with a rich brownie layer that's topped with a creamy layer of cheesecake then covered with a gooey layer of pecan praline. It's like your favorite cookie, candy, and dessert all rolled into one perfect bite of goodness.
For this brownie cheesecake bars recipe you'll need: butter, sugar, eggs, cocoa, flour, salt, vanilla, cream cheese, brown sugar, cream, pecans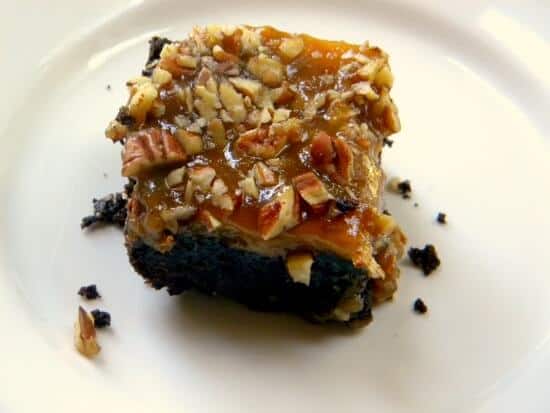 My good friend and sidekick, Edye, is from Louisiana. I feel I must say this before I say the next part so that you will understand.
I say "PRAY-leen"
She says "PRAH-leen"
I try to ONLY say PRAH-leen when she is around because... well you know them cajun types.They can get violent. And I happen to know she goes to the gun range on a regular basis. I don't know how bent outta shape she would get over PRAY-leens - and why take chances?
She probably  has crocodile wrestling ribbons in her game room.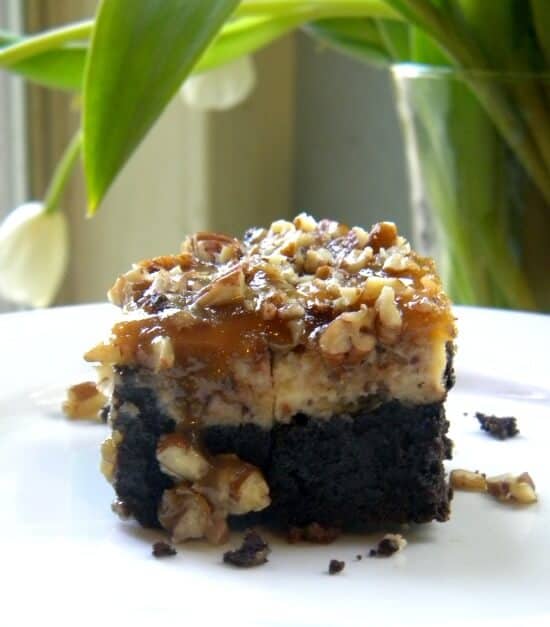 Seriously. Edye is one of those friends that is just there for ya. She doesn't tell you what to do, she doesn't judge what you do, and God help the person who has the audacity to criticize you in front of her. There is nothing like that kind of friend. In a Zombie Apocolypse I am standing behind her....unless she is facing away from the zombies.
On Mother's Day I swore I wasn't making dessert and then, of course, I did. But I wanted to make an easy dessert. And I did that too. I took my pecan praline cheesecake recipe, my favorite brownie recipe and sort of smooshed the two together creating the perfect PMS dessert...chocolate, cheesecake, pecans, and tons of calories. Yum.
Marc bit into one and was like... "MMMM, that's good."
But when Edye bit into it? I knew. I just knew. She was experiencing Nirvana.
.... And I whispered, "PRAY-leen"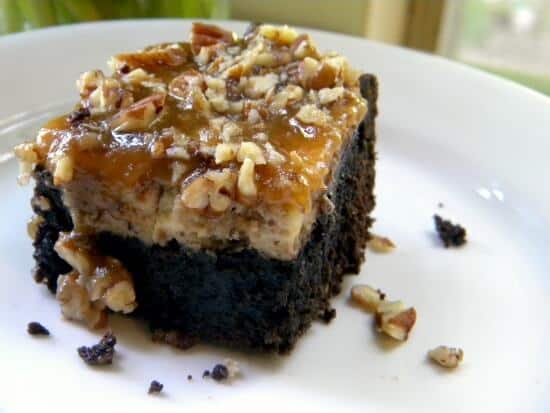 Don't be afraid to make these brownie cheesecake bars!! They are super easy and there are really only three parts, none of which is difficult. The hardest part is resisting the aroma that comes out of the oven.
The brownies can be mixed up in one bowl because the butter is melted and allowed to turn a lovely golden brown. Just remember to let it cool before adding the eggs or there will be trouble in the form of scrambled egg in your brownie...which is not appetizing at all.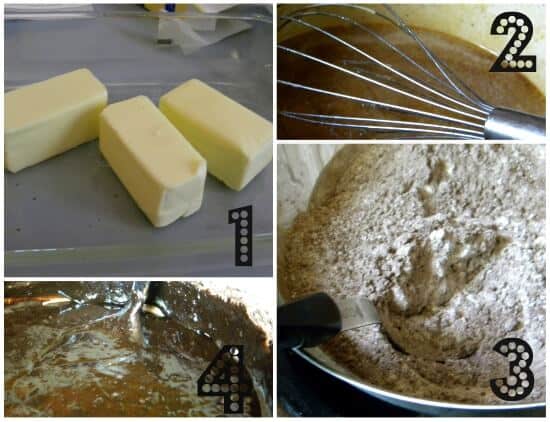 Once it is all mixed together the batter is very loose. Spoon it into your buttered 13x 9 inch pan and let it bake for about 10 minutes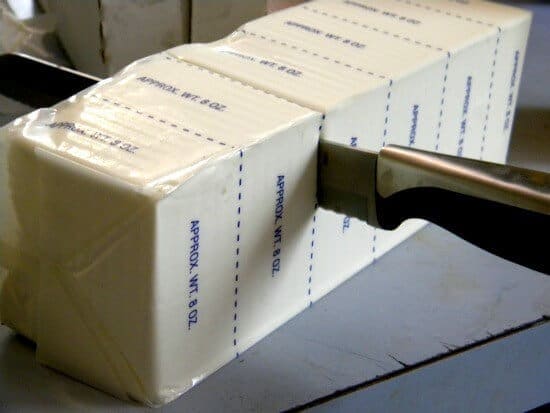 While that is going on you can get out your cream cheese. We buy it in bulk around here but you probably don't need as much. Just 1 ½ lb should be just fine.
You will mix up the softened cream cheese, eggs, brown sugar and chopped pecans and then spread it on the partially baked brownie layer. Bake for about 10 more minutes.
When the brownies come out of the oven you will create the praline glaze to pour over the top. The you sprinkle with more pecans.
Then you chill it if you are very patient. We weren't.
Brownie Cheesecake Bars with Praline Topping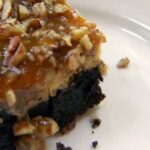 Pecan Praline Cheesecake Brownie Bars
Print
Save
Go to Collections
rich cheesecake over a rich dark brownie, with a buttery salty praline glaze
As an Amazon Associate I earn from qualifying purchases.
Ingredients
Cheesecake batter
24

oz

cream cheese

⅔

cup

brown sugar

1

tablespoon

vanilla

3

eggs

¼

cup

cream

1 ½

cups

finely chopped pecans
Praline glaze
½

cup

unsalted butter

½

cup

brown sugar

2

cups

chopped pecans
Instructions
Grease a 13 x 9 inch pan

Melt butter until golden brown

Cream sugar, melted butter until smooth

Add eggs one at a time. beat well

Add flavoring

Stir in dry ingredients

Spread into a greased 13 x 9 inch pan

Bake at 350 for 15 minutes

Carefully spread with cheesecake mixture and bake for another 10 – 15 minutes

Cover with Glaze and chopped pecans
Praline Cheesecake Layer
Beat all ingredients until well mixed

Spoon over partially baked brownie layer

Bake as directed
Praline Glaze
Melt the butter in a large saucepan; stir in the brown sugar and simmer, whisking, until there are no more crystals.

Pour over the brownies and sprinkle with chopped pecans
Nutrition Facts
Calories:
541
kcal
|
Carbohydrates:
47
g
|
Protein:
6
g
|
Fat:
38
g
|
Saturated Fat:
17
g
|
Cholesterol:
122
mg
|
Sodium:
240
mg
|
Potassium:
201
mg
|
Fiber:
2
g
|
Sugar:
37
g
|
Vitamin A:
970
IU
|
Vitamin C:
0.2
mg
|
Calcium:
66
mg
|
Iron:
1.7
mg
Sign up for the emails and never miss another recipe!!
We'll never share your email or send you spam. Pinkie swear.