I have been away from home for well over 24 hours and on board the Norwegian Epic for nearly 20 hours. I am thrilled that I have not gotten the least bit sea sick, despite my worries that I would – I am very susceptible to motion sickness.
At the moment it is 10:30 and I just woke up. I am sitting on the private balcony outside my cabin listening to the gentle purring of the sea against the ship as it cuts through the azure water. The sky seems to be in some sort of competition with the sea for which can create the purest blue.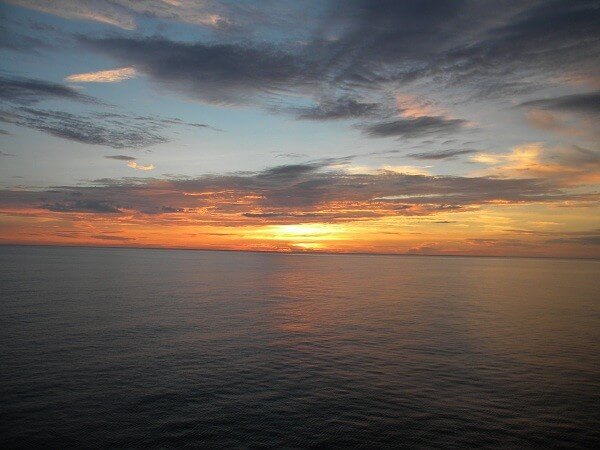 As I look out I can see a line of light water and I wonder if what created that…at times a small group of bubbles rise to the surface of the water and pop and I wonder if it is a dolphin, a whale, a mermaid? My imagination has taken flight with the lack of actual thinking that I have to do.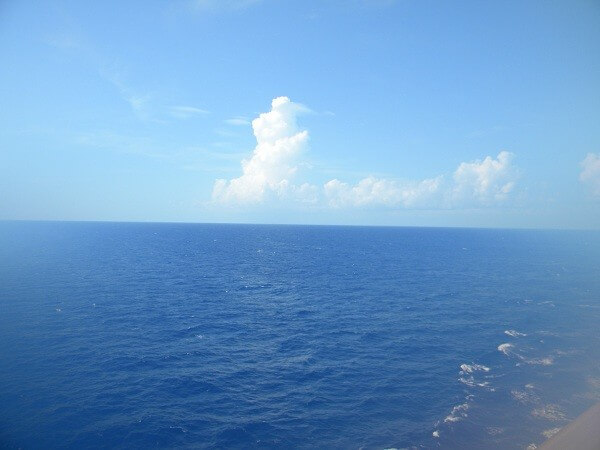 Yesterday was difficult for me in many ways. Leaving the kids is always a traumatic departure from the normal life I love and lead. The ship was very crowded and confusing and I just don't do crowds of people well. We were in a hurry to eat and went to the Garden Café…which is basically a huge cafeteria on the deck where the pool area is – the food was horrid. Perhaps it was the first day confusion for them too, I don't know. I had a chicken wrap and a vegetable wrap, both of which were soaked in dressing and soggy. Marc had steamship carved beef…and it wasn't rare… it was cold, slippery raw.
I thought perhaps the desserts would fare better with my overly critical palate but I got both the chocolate crème caramel and the lemon mousse cake and neither was very good. The chocolate crème caramel was overcooked, rubbery, and coarse in texture with a flavor that ended in a bitter aftertaste. I suppose it was a bit like my mom's boxed chocolate pudding mix when it scorched. (Back in the day they used to make a pudding mix but it wasn't instant, it still had to be cooked…and watched carefully for scorching.) The lemon mousse was better… a little airier than I like my mousse to be, almost cotton candy like, and the flavor was insipid.
Dinner time came and we fought our way through the mass of humanity to the Manhattan Dining Room. In order to get there we had to travel through the casino area…and billows of cigarette and cigar smoke. I think this is horrid planning because nothing will ruin your ability to taste foods like the nasty aroma of smoke.
We were told it would be a 30 to 40 minute wait but it was only maybe 10 minutes, for which I was very grateful. We were blessed to get a two person table near a window. I ordered the Roast Asparagus Salad, the Artichoke Cream Soup and the Chicken Picatta with Gnocchi. I also had the Tiramisu for dessert.
The service was fabulous, and the dining room gorgeous. This is a beautiful ship – no doubt about it. Very romantic.
The bread was a nice selection of baguettes, whole grain rolls made with wheat berries, sunflower seeds, sesame seed, poppy seed, and oatmeal I think. Very nice.
I was surprised at the menu plan that including gnocchi...but I will get to that in a minute. The asparagus salad was lovely. Several stalks of asparagus arranged on a swirl of hollandaise and some lightly sautéed mushrooms on top.
The artichoke soup had a drizzle of basil oil and a lot of flavor. It was lighter than I expected – thinking it had a base of chicken stock and milk rather than any cream. It was also delicious and not too filling.
The chicken piccatta was presented beautifully with a rough chopped tomato and basil sauce. The chicken was very tender and had good flavor. Let's chat about the gnocchi, shall we?
Gnocchi is difficult to make in the best of circumstances. It easily gets too heavy, too doughy, or rubbery if held to long. It can work in a very well run kitchen in a moderate sized restaurant but in a restaurant that is serving 4000 people? Not so much. The head chef would do well, in my opinion, to rethink the gnocchi and go with something equally interesting but more stable like orzo with a garlic butter. Italian cuisine is full of amazing shaped pasta… gnocchi is wonderful in its place…but this isn't it.
The tiramisu was delicious. The plating was imaginative and delicate. A graceful scroll of chocolate was placed on the top of the tiramisu in such a way that it scrolled down to the plate and chocolate sauce. Lovely.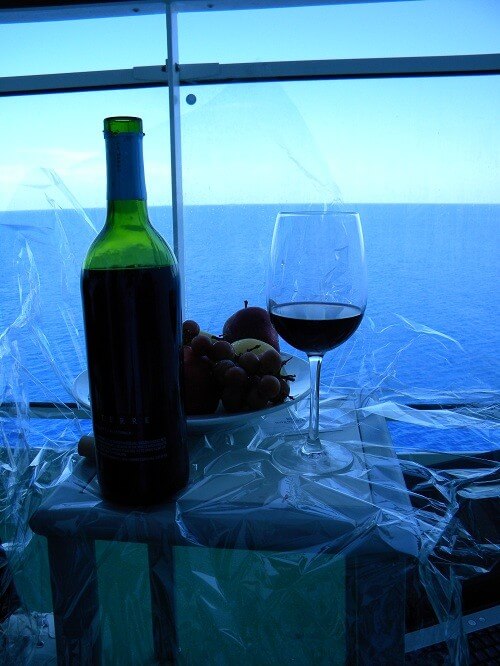 As I have been writing this the crew brought a basket of fruit and Merlot. Do I feel pampered? Sitting on my balcony, wearing my robe with my feet up, talking to my friends (you) and drinking Merlot while feasting on fresh grapes? Yeah. This is the life for sure.
More later. Love ya!
Marye.