Enjoy this frozen Hypnotiq Margarita all summer long! Soft, soothing blue cocktail has the refreshing grapefruit and citrus flavor of Hypotiq liqueur. Who doesn't love a good frozen margarita recipe?
For this recipe you'll need: Hypnotiq liqueur (available at most liquor stores), silver reposado tequila, Triple sec, lime juice, sugar, ice. You may also want a lime and sugar crystals for garnish.
If you are in a hurry click here to go straight to the Frozen Hypnotiq Margarita recipe.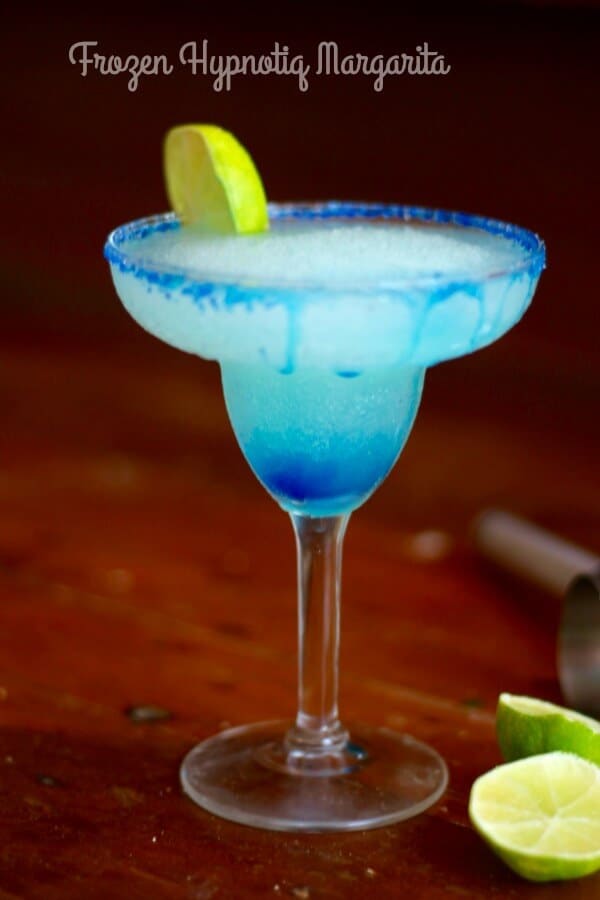 Have you ever had Hypnotiq Liqueur? It's a gorgeous light blue color and the flavor is a blend of citrus but with a strong flavor of sweet grapefruit. It's made in France from vodka, cognac, and fruit juice. I do love the flavor but I really, really love the pretty color that it gives to the cocktails you use it in. I used silver tequila in this so that the color wouldn't change with the addition of a darker alcohol.
I never liked margaritas. I am sensitive to flavor and the combination of the sour margarita and the salty rim was just not my kind of thing. I was much more inclined to get a frozen pina colada or a frozen peach daiquiri because I enjoyed the sweeter, slushier cocktails. It was that way until I had my first frozen, fruity margarita and then my entire opinion about margaritas shifted. Now I try to see how many different margarita variations I can come up with.

The Restless Chipotle Channel
And if you are a regular reader (and I hope you are) you are rolling your eyes and thinking, obviously.
One of the things I really like about this frozen Hynotiq Margarita is that it has a unique flavor to go along with the pretty color. It's lightly sweet not overpoweringly so. That light sweetness makes this cocktail especially refreshing.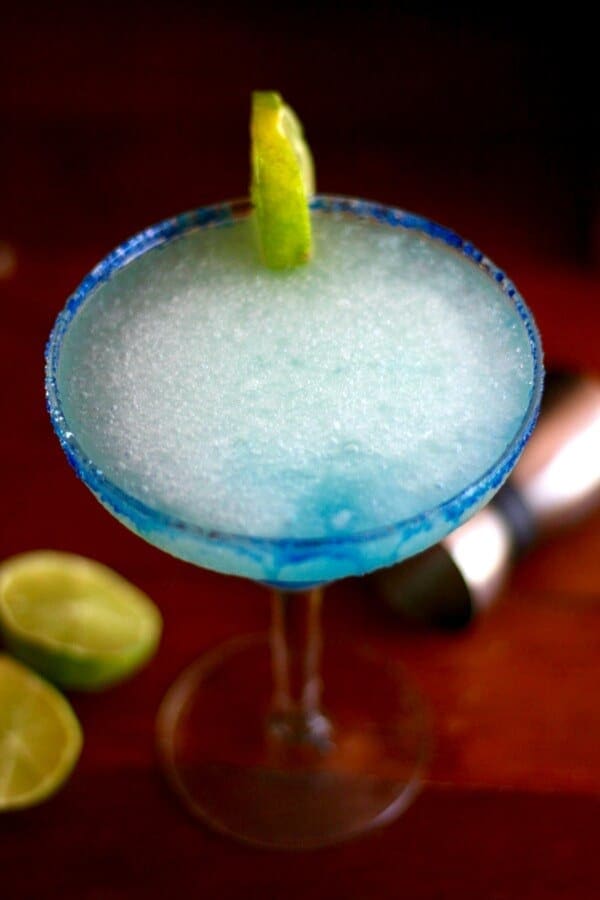 I added blue sugar crystals around the rim. It took me awhile to get the images and as the glass sweat it made the blue sugar crystals run into the glass. It's a nice effect I think.
The following are affiliate links. If you click through and buy something I will get a small commission used for keeping the blog up and running smoothly. Thank you for being a part of Restless Chipotle!
This is the exact blue sanding sugar that I used. And, this is the Margarita set that I have. It comes with a pitcher and 6 margarita glasses. It's been a great buy as far as I'm concerned!
Here's that frozen Hypnotiq Margarita recipe. Cheers!

Frozen Hypnotiq Margarita
Ingredients
Lime for garnish

Blue sugar crystals

3

oz

Hypnotiq

1

ounce

Silver Tequila

1

ounce

Triple Sec

1/2

ounce

lime juice

1

teaspoon

sugar

6

ice cubes
Instructions
Rub water around the rim of a chilled margarita glass.

Roll the rim in the blue sugar crystals until it is covered.

Set aside.

Put the remaining ingredients in a blender and blend until slushy.

Pour into the chilled margarita glass.

Garnish with lime.
If you liked this Frozen Hypnotiq Margarita you may also like…
Tiffany Blue Sparkler (with Hypnotiq)
Fresh Strawberry Margarita Give Me Some Oven
Creamsicle Margarita The Blond Cook