Yes I know I am woefully behind with this post about my epic Norwegian Epic cruise (see what I did there?). I got home and realized that I was not only out of sync but reality hit me like a brick in the forehead. Hopefully it is behind me at this point and I can get back to doing what I do. Our last day on the Norwegian Epic cruise ship was bittersweet.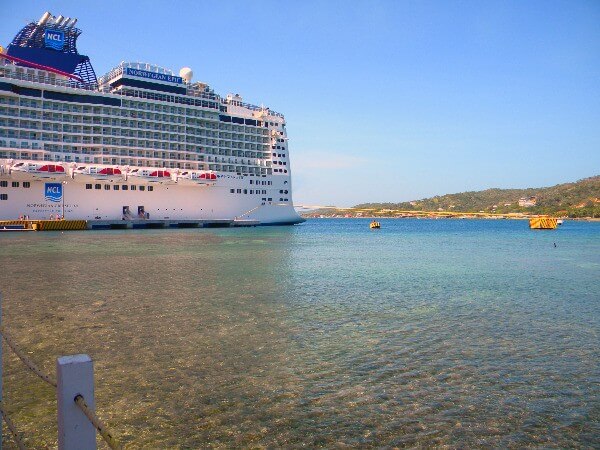 September 10, 2010
Last day on the Norwegian Cruise Lines Epic. We lounged for a good portion of the day… me conflicted between being glad to go home to the kids and realizing that my week of being pampered was, in some ways over. In some ways it will never be over because I have realized that Marc is a pamperer, one of those unique men that seems to know how to nurture other people instinctively.
I watched the ocean and soon noticed tiny fish skimming along the top of the water. Yep, I saw my first flying fish!
We ate at Moderno which is a specialty restaurant aboard the ship. It specializes in Brazilian meats and there is no menu per se. They bring skewer after skewer of grilled meat to the table and carve it right there. A vegetarian's nightmare, a carnivore's heaven.
It was delicious. I especially liked the stuffed grape leaves from the salad bar, which had just the right amount of mint to give it a fresh taste. I finished off the meal with a coconut flan that was excellent.
My Final Review of the Norwegian Epic
If you take the Epic cruise here is my list of where we ate, from favorite to least favorite:
Cagney's Steakhouse – meat was perfect, crème brulèe was wonderful…side dishes were insipid.
Moderno – The salad bar is amazing. There is a nice selection of cheeses, including fresh mozzarella. The meat was overwhelming as I actually used to be vegetarian and I really don't eat a large variety of meat. Dessert was perfect.
Le Bistro – Dishes were well done and well thought out, sauces were excellent. Plating was lovely and creative. This would probably have been #1 or #2 but they seated us badly in a corner by a busy swinging door… what can I say.
Cirque de Soliel – Dinner theater, the food was good, the show was good. Eh. I wouldn't do this one again but it should be done at least once. Frozen salad shrimp in the salad. I am a spoiled Texas girl…fresh gulf shrimp or don't bother.
Cucina – Not only were we seated next to two couples with very tired, very cranky, very loud toddlers (we were there first…I have kids and I realize that this is inevitable at times.. but the kids were beyond uncontrollable…they should have offered to change our seating or changed the seating of the families.) but the food was just o.k. The pasta had been held for too long and was dried out…the panna cotta was tasteless and had too much gelatin. It was like thick pudding skin. While to osso bucco was good, it wasn't worth the cover charge. I wouldn't eat here again.
Taste and The Manhattan Room – both of these are the normal (no cover charge) onboard dining. The casino is just outside the Manhattan Room and you have to walk through smoke to get there. This meant that I was not hungry when I was seated. Taste was more to my liking, with stained glass windows and no smoke. The menus are primarily the same, and mostly good. Stay away from the pasta! I never found it to work on the ship.
Rose Garden Café – This is the 24/7 place to go for food. If you want it, they probably have it…everything from pizza to French toast depending on the meal. The first day it was awful but after that it seemed to improve a lot.
Also, don't be afraid to mix sides and main course. I ordered a chicken breast that came with mashed potatoes but I had seen another entrée with sweet potato and vanilla mash. I saw yet another that had artichokes. So… I requested the sweet potato mash and the artichokes with my chicken…no problem!
Remember that everything but coffee, tea, iced tea, and water costs extra and in a big way. Keep your bill down by ordering water but order an extra glass of just ice with it. Trust me. You get very little ice unless you do.
The croissants that we got with room service breakfasts were tiny and you will want at least two. Do not visualize the ones from your local bakery but diminutive rolls about 2 ½ inches long.
As I write this now it is September 11 and I am in a plane, in first class seating looking out at the clouds and enjoying the view. I love to fly…I have always loved to travel whether by plane, train, or car…and now I can add ship to the list!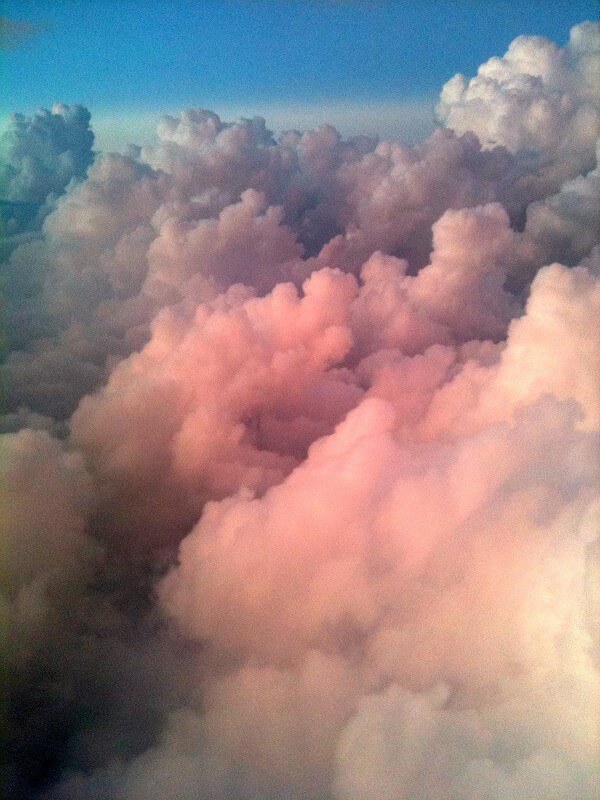 Contemplating the cruise on the Norwegian Epic will take some time. I have been asked if I thought it was worth doing  and my answer is absolutely! Everyone who has the opportunity to do this should do it at least once. It is not an active vacation, nor is it one where you will see a lot of history or culture. My cruise was perfect for this time of my life – a time of healing, growth and contemplation. Should you take a cruise? If you are burnt out, stressed, and in need of quiet contemplation where you are forced into relaxation the answer is irrevocably yes.
I would think that a cruise is to a vacation the way that lobster mac and cheese is to cuisine. A comforting experience that is just a little out of the box. The best thing is that you can make it uniquely yours — sleep and lounge 24/7, or dance, or participate in numerous activities.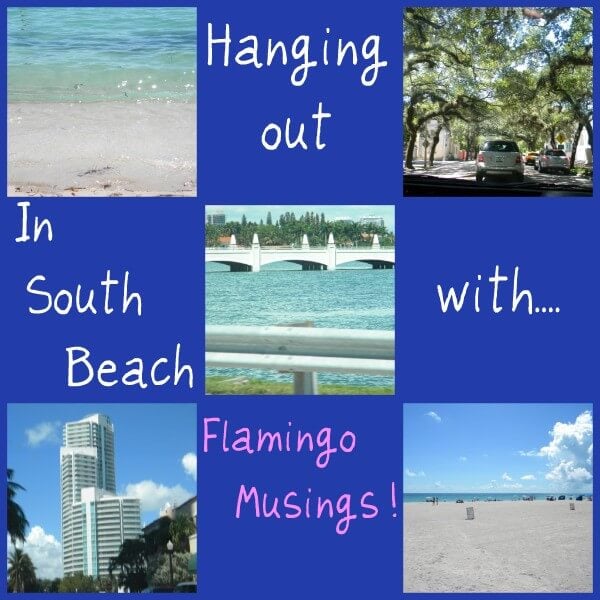 I can't comment on Norwegian Epic compared to other cruises since it is my first. I think that many of weaknesses of the food are due to a new ship (it launched the last week of June 2010 I think) and menu plans that are still perhaps in the tweaking process. Renee from Flamingo Musings picked us up at the dock and we spent the afternoon in Miami with her. She and I discussed my thoughts about the cruise and both of us came to the same conclusion… perhaps cruise lines should go back to one dining room with two seatings and concentrate on a few excellent items rather than specialty restaurants and menus. Sometimes more is less.
The service on the Norwegian Epic throughout the cruise was excellent. The stateroom was gorgeous, and the views spectacular. It is worth saving up for. Seriously.
Disclaimer:
While the PR department was notified that I would be on board and reviewing, Norwegian Cruise lines did not compensate me for any part of this cruise. I was given some free Internet time, values at about $55. and flowers, fruit basket, wine, and appetizers were sent to my room.
My opinions are, as always, mine.