Dragons Blood Cocktail is the perfect way to begin your next episode of Game of Thrones. While my potion may not give you eternal youth or magical powers it is as delicious as it is beautiful... and... drink enough of them and you may see a dragon or two.
Who knows?
For this recipe you'll need: red sugar crystals, green sugar crystals, cayenne pepper, vodka, coconut rum, Midori, lime juice, Fee's Aromatic Bitters, powdered sugar, ginger ale, grenadine, margarita or martini glass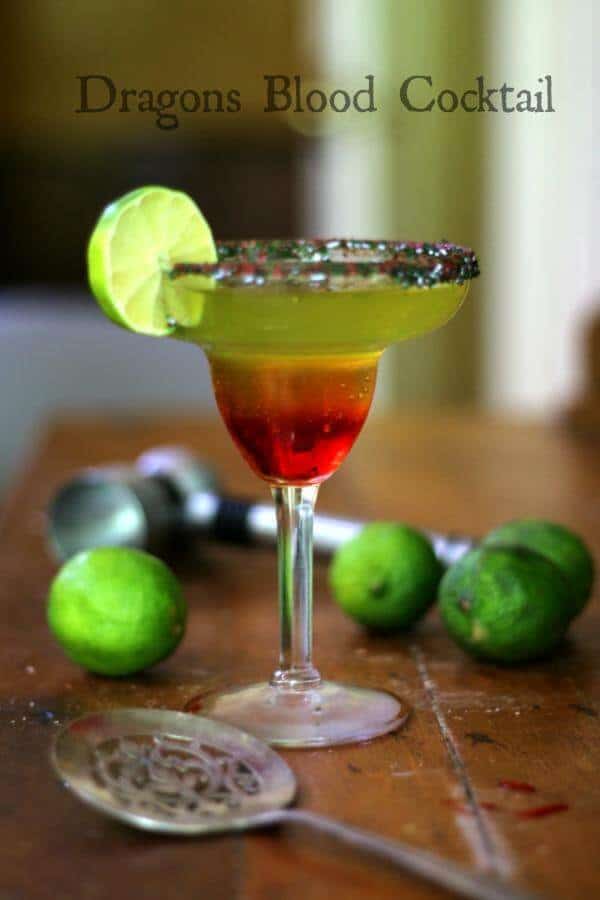 Several of my adult kids like Game of Thrones. I probably would like it, too, if I ever got a chance to really sit down and watch TV. Sadly, with my schedule I just stick to easy to process shows that I can keep up with while I am working. You know, like Sesame Street.
Anyway, I was working on a cocktail and My daughter and son-in-law were taste testing. They came up with the Game of Thrones tie in. Several people have told me that they imagine that I sit around all day sipping cocktails and eating yummy food. I hate to burst your bubble but when I photograph cocktails I don't tend to drink them and when I am in recipe development I tend to sip to taste but most of the cocktails get thrown down the sink. Seriously, if I drank everything I posted on Instagram I would NEVER get any work done. I'd be passed out on the floor. Hope that clears it up for anyone who was wondering.
Anyway.
This cocktail is so pretty! Crimson red and bright green layers do look kind of magical. The cayenne pepper in the sugared rim adds an unexpected tingle. It really is magic.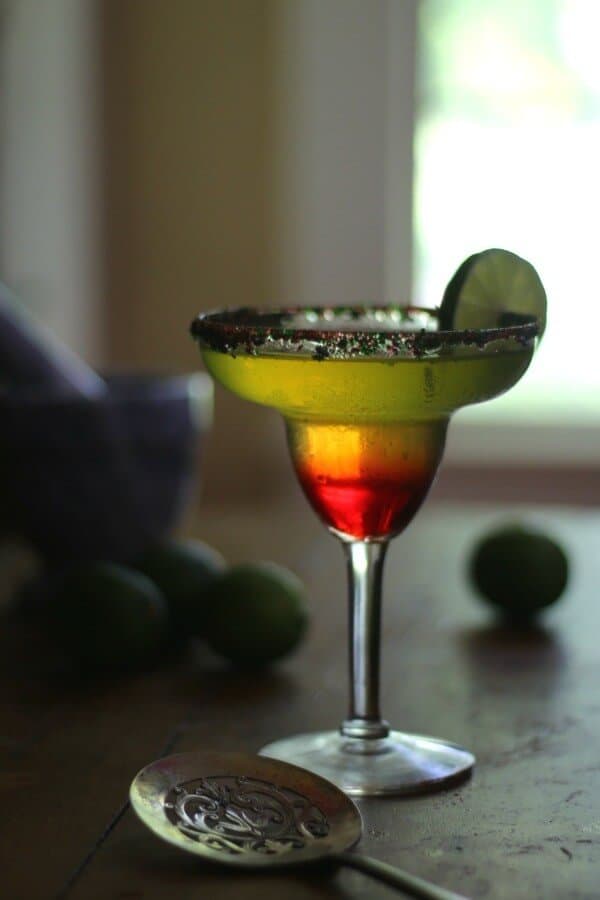 So, if you are a Game of Thrones fan definitely have this Dragons Blood Cocktail ready for the next show. If you're not a Game of Thrones fan you can drink it anytime you want. It's really good but be careful. It has an unexpected kick.
You May Need...
What's new? Check out my Restless Chipotle & Co. Store on Amazon where you'll find all kinds of nostalgic goodness! Thanks so much for being a part of Restless Chipotle!
In order for the layers to work properly you need a good grenadine. It will have a better flavor, too. Real grenadine has an amazing flavor - nothing like the cheap ones at the grocery store. I like this Jack Rudy Grenadine. Fee's Aromatic Bitters are essential. There is a spicy cinnamon-like flavor that adds a lot to the flavor despite the minimal amount used.
Dragon's Blood Cocktail Recipe

Here's that Dragons Blood Cocktail Recipe...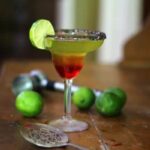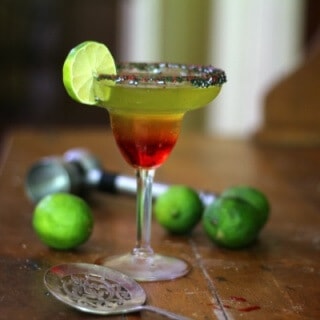 Dragon's Blood Cocktail
Print
Save
Go to Collections
Dragon's Blood Cocktail is an evil potion made with a combination of sweet and tangy, hot and cold. It's beautifully presented in layers that range from crimson red to chartreuse - exactly what you'd expect a dragon to bleed.
As an Amazon Associate I earn from qualifying purchases.
Ingredients
1

tablespoon

Red and Green sugar crystals

¼

teaspoon

Cayenne pepper

1 ½

ounces

vodka

1

ounce

coconut rum

½

ounce

Midori

¼

ounce

lime juice

2

dashes Fee's Aromatic Bitters

Pinch of powdered sugar if desired

2

ounces

of Ginger Ale

,

a strong one like Reed's

¼

ounce

grenadine
I earn a commission from Instacart from qualifying purchases.
Instructions
Chill a Margarita glass.

Mix the sugar crystals and cayenne pepper.

Wipe a line of egg white or syrup around the top of the glass.

Roll it in the sugar mixture.

Mix the vodka, rum, Midori, lime juice, bitters, and powdered sugar with 6 ice cubes in a shaker.

Strain the vodka mixture into the chilled glass.

Pour in the ginger ale

Slowly pour in the grenadine.

Serve garnished as desired.
Sign up for the emails and never miss another recipe!!
We'll never share your email or send you spam. Pinkie swear.
If you liked this Dragons Blood Cocktail you may also like...