Dense, tender bundt cake recipe is flavored with citrus and Maraschino cherries then soaked in a butter-bourbon syrup after it's baked.
For this Whiskey Sour Bundt Cake you'll need: butter, cream cheese, sugar, brown sugar, eggs, salt, flour, bourbon, orange juice, Meyer lemons, Maraschino cherries.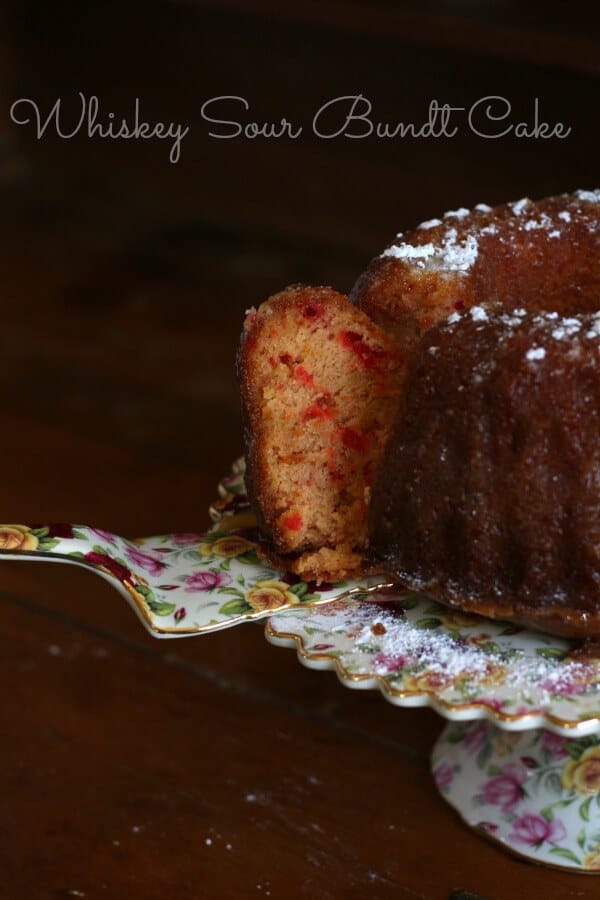 This bundt cake has all of the flavor of your favorite whiskey sour cocktail but without the telltale glass. You know what that means, right?
You can eat this for breakfast and no one will be the wiser!
I have to admit that I love a good whiskey sour. When I was little and my parents had cocktail parties (you see, I grew up during the Madmen years and yes, we had cocktail parties) I would steal the bourbon soaked Maraschino cherries out of the glasses when no one was looking. I seem to remember sleeping really, really well on those nights.
When I was 18 it was legal to drink. On Friday nights I'd get off work and head to the disco. I got to be really good at changing clothes and putting on makeup while driving down Northwest Highway in Dallas. I'd leave my retail job looking polished and professional and climb out of my car at the disco all glitter and glamor and ready to party. I fluctuated between two drinks depending on my mood -- the pina colada and the whiskey sour.
Back then, at the glorious age of 18, no one drank whiskey sours. They drank all kinds of drinks that were basically adult Koolade but Manhattans, martinis, and whiskey sours? Those were the drinks our parents drank. Not very cool at all.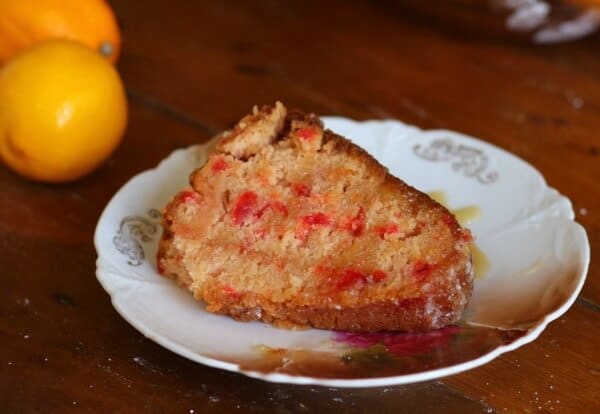 I've always been a rebel and the first time someone told me how weird I was for drinking whiskey sours I took it as a challenge and made that my drink of choice. I've never really been one of the cool kids and for a good portion of my life I haven't really cared. Now classic cocktails are back in style in a big way. They're being updated but underneath all of the blood orange, lavender syrup, and Meyer lemon those are still the drinks our parents and grandparents enjoyed in the Madmen days.
My whiskey sour bundt cake recipe is a tribute to that I guess. I first posted this recipe in 2009 about 10 days into my separation. It was the first bottle of bourbon (or any alcohol) I had bought in decades and I remember sort of sneaking into the liquor store. Looking back, I think that I instinctively grabbed for the cocktail that signified rebellion in my past and created something to push me into the future. Now days I am just as likely to have a vodka tonic as a whiskey sour - maybe I should make a vodka tonic bundt cake, too?
This cake is all kinds of dense yumminess. The cake seems like it bakes forever but the texture is just amazing. Once it's baked you'll soak it in your bourbon and butter syrup. It will absorb all of that flavor plus the syrup will keep it moist and tender. If you love a good whiskey sour you will absolutely love this whiskey sour bundt cake recipe... but you probably don't want to take it to the church potluck if you know what I mean.
The following are affiliate links. If you click through and buy I'll get a small commission which is used to keep the blog up and running. Thanks for being a part of Restless Chipotle!

A really pretty cake? You need a heavy, really pretty pan. Nordic Ware Fleur De Lis Bundt Pan
This Whiskey Sour bundt cake recipe is guaranteed to stand apart from anything anyone else makes. It's unbelievably good!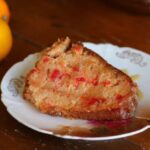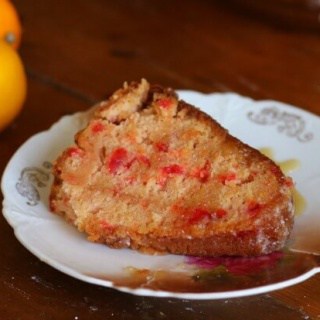 Whiskey Sour Bundt Cake.
Print
Save
Go to Collections
This moist, tender bundt cake is studded with maraschino cherries and soaked in bourbon and citrus for a unique, adult dessert.
As an Amazon Associate I earn from qualifying purchases.
Ingredients
3

cups

flour

Pinch of salt

1

cup

butter at room temperature

8

ounces

cream cheese at room temperature

2

cups

granulated sugar

1

cup

light brown sugar

4

eggs

,

room temperature

⅓

cup

bourbon

3

tablespoons

orange juice

2

Meyer lemons

,

zested and juiced

1

cup

coarsely chopped Maraschino cherries
Syrup
½

cup

butter

¾

cup

sugar

¼

cup

light brown sugar

⅓

cup

bourbon
I earn a commission from Instacart from qualifying purchases.
Instructions
Preheat oven to 350F and spray or butter a nonstick bundt pan.

Coat the inside of the bundt pan with a light coating of sugar.

Coarsely chop the Maraschino cherries - I usually just pulse them in a food processor.

Beat butter and cream cheese until light and fluffy.

Add sugars and blend well.

Add eggs one at a time, beating well after each.

Blend in the bourbon, orange juice, and 2 tablespoons juice from the lemons.

Sift dry ingredients into a bowl.

Add flour mixture and blend well being careful not to over beat the batter.

Add zest and cherries -- fold in.

Spoon into a bundt pan and bake for 1 hour and 50 minutes or until done.
Syrup
When the cake is almost done melt the ½ cup of butter in a saucepan.

Stir in the sugars and the bourbon.

Simmer, stirring, until the sugar crystals dissolve.

Let simmer about 2 more minutes - mixture will be a thin syrup.
Assembly
As soon as the cake comes out of the oven poke holes in it.

Carefully spoon ⅔ of the syrup over the cake allowing it to soak in.

Let cool for 30 minutes.

Carefully turn the cake out on a cake dish and brush the top and sides with the remaining syrup.

Dust with confectioners sugar.
Sign up for the emails and never miss another recipe!!
We'll never share your email or send you spam. Pinkie swear.
If you liked this Whiskey Sour Bundt Cake recipe you might also like....
White Russian Cupcakes Eva Bakes
Chocolate Mudslide Poke Cake Brown Eyed Baker