This eggplant tart recipe is so easy and it is delicious for lunch or a light supper. Tomatoes, Kalamata olives, Parmesan, and a generous amount of herbs gives this dish its amazing flavor.
For this recipe you will need: eggplant, olive oil, stewed tomatoes, Parmesan, eggs, heavy cream, Kalamata olives, fresh basil, dried oregano, herbes de Provence, Italian style breadcrumbs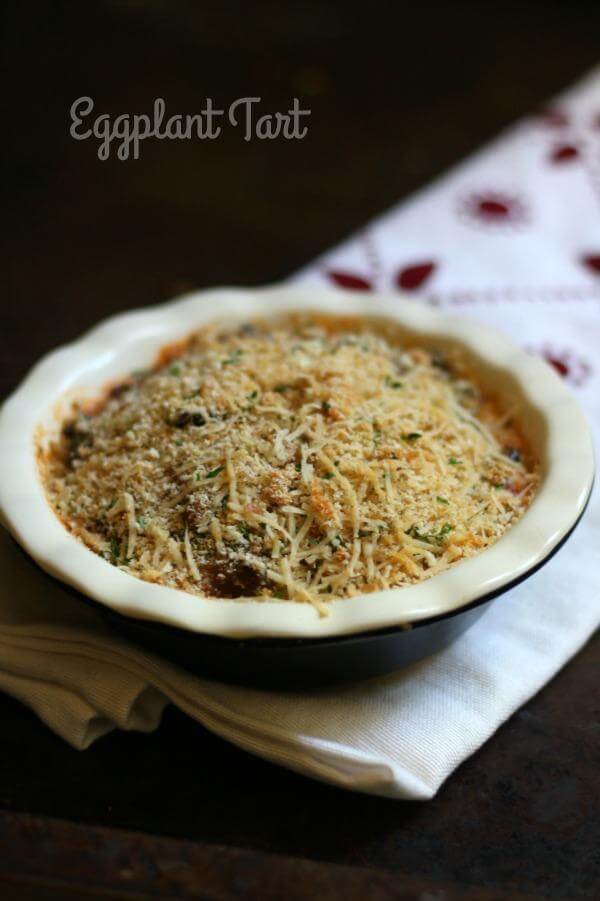 My husband worked it out so that we got to Paris a full day ahead of the rest of the tour group which essentially gave us two full days of sightseeing on our own. We got to the airport at 9:30 am after an overnight flight and a car took us to the hotel. I was super surprised that I didn't have jet lag but I had slept on the plane and was feeling really good so we walked to the subway and headed to Champs-Élysées. Walking definitely became a fact of life -- we did a lot of it. I have a recipe I am sharing later on from day one so we're just going to skip on over to day two. I am not sure how much these posts are going to follow our trip chronologically but I'll try.
On day two we had a leisurely breakfast at the hotel which was kind of a buffet -- not unlike the breakfasts you get at many hotels in the US. A selection of breads, meats, cheeses, cereal, yogurt, and fruit plus juice and coffee. Scrambled eggs and bacon, too. I had given myself permission to eat as much as I wanted of whatever I wanted so no low-carbing. I generally chose a croissant or pain de chocolat, orange juice, and cheese. The butter and dairy products are so unbelievably good there!
After breakfast we walked to the subway again and went to the Louvre. Talk about marking things off of your bucket list! The Louvre was so much bigger than I had imagined! There was no way to see all of it so we focused on the things I wanted to see the most. The Renaissance artists, Mona Lisa, and a few other things. I couldn't get over the colors in the paintings -- they were so vivid. My husband had been to Paris before but this was my first time so he made sure I got to see as much as possible. He is awesome like that.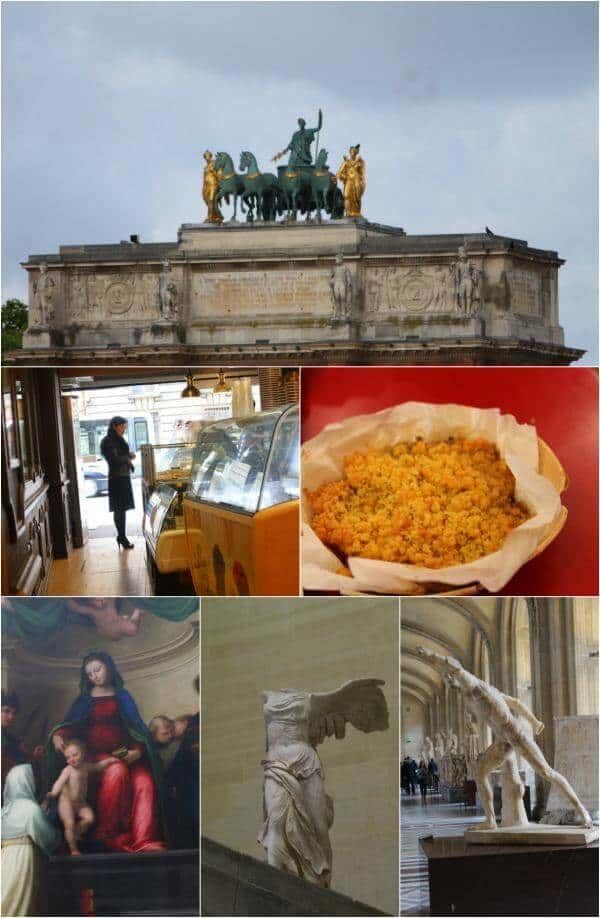 We left after a few hours and walked along the Seine. The sky was a grayish blue and fluffy clouds scudded across it looking for all the world like sheep running for their grain. A chilly wind blew and every once in awhile a few raindrops would have us looking at the sky in case we needed to run for cover. Luckily the main deluge happened while we were inside. I was glad for my trench coat and rain hat, though. Amidst a kaleidoscope of umbrellas we ducked into a tiny shop with a variety of tarts and sandwiches in a glass case. When I say tiny I mean it. It might have seated ten people but they would have been packed tightly together.
When I saw the small tarte aux aubergine I knew what I was having for lunch! A breadcrumb and Parmesan mixture covered a savory, crustless tart and when it was heated up the breadcrumb mixture parted here and there to let the filling peek through. The aroma was heavenly - piquant cheese mixed with earthy eggplant, tangy tomato, and the scent of warm herbs and spices. If I could get candles that smelled like that I'd light them all over the house!
I pushed a spoon through the topping and pulled up a spoonful of the filling. It was creamy and baked to perfection. Once I took my first bite I knew I was going to share the eggplant tart recipe with y'all if I could figure it out. My mouth is watering just thinking about it now!
Of course I had wine with my meal. My wine was less expensive than my husband's Coke Zeros and I told him I was happy to save money. 🙂 I did not have one glass of wine that I didn't like the entire trip. We finished the meal by splitting a tarte au chocolat - deep, dark, chocolate, creamy perfection.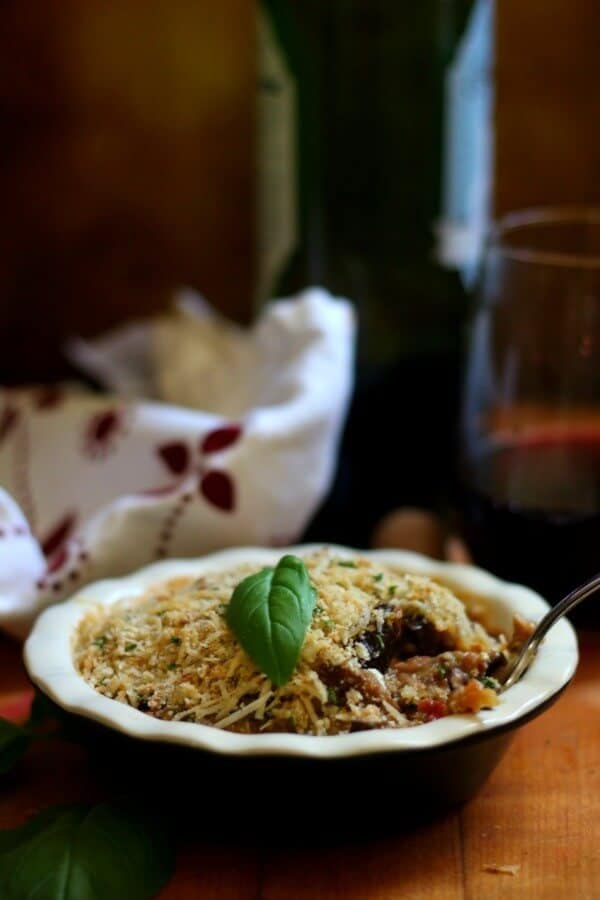 I have to tell you that as wonderful as this tart is it is not an exact copy of eggplant tart recipe I had in Paris. I had no way of getting that particular recipe and when I searched for it online (in French, mind you, to be authentic) I couldn't find one with the exact same flavors. My version is a yummy variation.
These tart pans are perfect for the aubergine tart! You don't want one with a removable bottom because the juices will leak during baking. Herbes de Provence is a mixture that can be very different from company to company. I like this one by Spice Hunter.
Menu Suggestions
Here are some dishes that will go really well with this eggplant tart recipe and round out your dinner:
A green salad
Wine: Merlot
📖 Recipe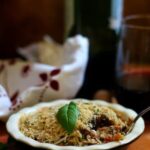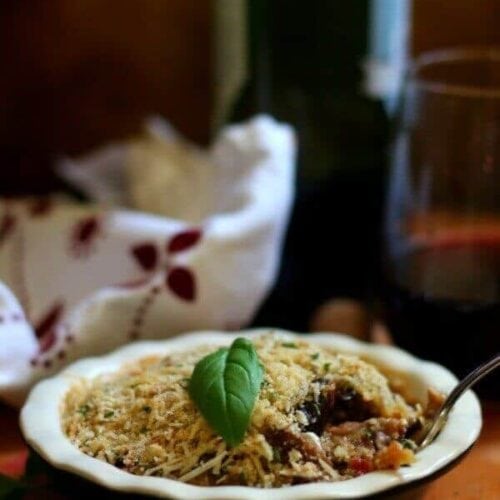 Eggplant Tart Recipe
Print
Save
Saved!
Eggplant is roasted until it has a custardy texture and then mixed with tomatoes, Parmesan, and other ingredients to create this mouthwatering tart. Perfect for lunch or a light dinner.
As an Amazon Associate I earn from qualifying purchases.
Ingredients
2

large eggplants

,

about 3 pounds

2 15-

ounce

cans stewed tomatoes

1

cup

shredded parmesan

2

eggs

,

beaten

¼

cup

heavy cream

2

tablespoons

chopped Kalamata olives

1

tablespoon

fresh basil

1 ½

teaspoons

dried oregano

1

teaspoon

Herbes de Provence

½

cup

Italian style breadcrumbs

¼

cup

shredded fresh parmesan
I earn a commission from Instacart from qualifying purchases.
Instructions
Preheat the oven to 350F.

Cube the eggplant and toss in olive oil to coat lightly.

Place on a baking sheet and bake for 30 to 40 minutes, or until it is very soft and creamy on the inside.

Remove from oven and cool slightly.

Gently mix the eggplant, stewed tomatoes 1 cup of the Parmesan, eggs, cream, olives, basil, oregano, and Herbes de Provence.

Spray the tart pans or pie pan with nonstick cooking spray.

Spoon the eggplant mixture into the tart pans.

Mix the ¼ cup Parmesan with the breadcrumbs and sprinkle on top of the tarts.

Bake tarts for about 20 minutes, pie for about 40 minutes, or until set.

Remove from oven and let stand 5 minutes before serving.
You'll find more helpful tips and variations in the body of the post.
Nutrition information is estimated as a courtesy. If using for medical purposes, please verify information using your own nutritional calculator. Percent Daily Values are based on a 2000 calorie diet.
Sign up for the emails and never miss another recipe!!
We'll never share your email or send you spam. Pinkie swear.