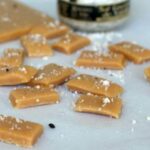 Print
Add to Collection
Go to Collections
Quick and Easy Salted Caramels in a Microwave
Quick and easy, these buttery rich caramels are sprinkled with just a touch of vanilla sea salt. They make great gifts!
Spray an 8x8 inch pan with cooking spray or butter it generously.

In a glass or other microwave safe bow mix all of the ingredients

Microwave on high for 6 minutes, stirring every 90 seconds or so and watching carefully.

Pour into the prepared pan.

Let cool until set, about 5 minutes.

Sprinkle the vanilla salt crystals over the top. Don't use too much

Press in gently.

Let cool completely.

Cut into small squares.

Wrap in waxed paper or parchment to keep fresh.