I'll admit that X was tough when it came to finding a bread but I have more or less circumvented the problem, at least the best I could. Pain auX NoiX is basically a French peasant style bread made from whole grains with coarsely chopped walnuts kneaded in. I started this with a sourdough starter because I wanted that crispy crust and great texture that sourdough gives. The loaf is not too sweet but is hearty and satisfying. It makes a great ham sandwich, too.
The walnuts' flavor is enhanced by the whole wheat and high heat baking temperature. You could substitute other nuts but I don't think they would stand up very well to the flavor of this loaf.
You'll basically need a day to make the Pain aux Noix. I made a slurry with the sourdough starter, yeast, water, and flour then left it to rise and ferment for about four hours. The second rise (after kneading) takes about an hour and a half. The third rise (after shaping) takes about 45 minutes and then baking takes about 20 minutes. All together you are looking at a little over six hours.
…But it is so worth it. SO…SO…worth it. This Pain aux Noix recipe makes two loaves but you can double it and freeze the extra. You'll be glad you did. Seriously, try slices of this with a good Brie, some pears, and maybe a pinot noir — it makes a perfect light lunch or romantic snack.
I have never been one of those people that liked commercial white bread. My mom didn't make bread — it was the 1960s and everyone bought Wonder Bread. At least everyone I knew did. I was deeply impacted by the Little House books as a kid. I think I read them ten times before I was ten. One of the biggest things I got out of the books was the idea that you could make bread at home!
I tried to get Mom to make it but she just looked at me like I was crazy and went on with her gardening. I finally got my chance when I was about 14 and Seventeen Magazine printed a tutorial on making your own bread. I waited until everyone was gone (I wasn't allowed to cook because I was messy) and I successfully made my first loaf of homemade bread.
I might have gotten in trouble if my dad had not had an addiction to homemade bread and told me I could make it weekly before my mom could ground me. Bread-making was a regular thing for me from that point on. This summer I will have been making bread for 40 years. It was kind of funny — my oldest son thought that true zen only happened when you ate Wonderbread. Since we only had homemade bread when he was growing up he harassed me about buying bread as much as I had harassed my mom about making it! He kept telling me, when I grow up I am only eating bought bread.
This particular son is 29 and has been in the Air Force for … well for what seems like forever. Maybe ten years? He is serving with the Thunderbirds. Anyway, when he was overseas the big question was, Hey mom, do you think a loaf of your bread would make it here without molding?
Yeah. He loves homemade bread. LOL!
I am kind of embarrassed to say that I hurried the cutting of this loaf and it was too warm to be cut nicely. The texture is much nicer than this looks.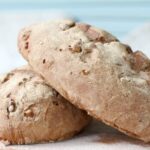 X is for Pain aux Noix
Print
Add to Collection
Go to Collections
A hearty, whole grain loaf with the flavor of walnuts is the perfect accompaniment to soft cheeses like Brie, soups, or salads. It makes wonderful toast and sandwiches, too. It does take a long time to make but you don't have to supervise it… and the flavor is out of this world.
Prep Time
6
hours
15
minutes
Total Time
6
hours
40
minutes
Servings
2
loaves/24 servings
As an Amazon Associate I earn from qualifying purchases.
Ingredients
Slurry
1 1/4

cup

live sourdough starter

2

teaspoons

active dry yeast

1 1/2

cups

whole wheat flour

1

cup

water
Dough
1

tablespoon

brown sugar

2

cups

bread flour

2

to 3 cups whole wheat flour

2

teaspoons

of salt

1 1/2

cups

coarsely chopped walnuts

1/2

cup

melted unsalted butter

,

, cooled
Instructions
Slurry
Mix the slurry ingredients in a large bowl.

Cover with cheesecloth or a towel and let stand at room temperature for about 4 hours.
Dough
Combine the whole wheat and bread flours and set aside.

Mix the brown sugar and salt into the slurry.

Mix in the butter.

With the dough hook begin blending in the flour, a little at a time, until it pulls together.

Add the walnuts.

Continue adding the flour mixture until the dough is elastic and only slightly tacky.

Make sure it is kneaded enough or it will be heavy and crumbly.

Knead for 5 minutes.

Place in a greased bowl and grease the top.

Cover with a towel.

Let rise for about an hour and a half or until double.

Punch down and knead briefly.

Form into two ovals.

Rub the tops with flour and then slash the tops with a sharp razor or knife.

Let rise 45 minutes.

Preheat the oven to 450F.

Bake the bread for 25 minutes or until the bottom sounds hollow when tapped.

Let cool.
Tried this recipe?
Tag me!! @Marye_RestlessChipotle
If you liked Pain Aux Noix (Walnut Bread) you may also like –
Whole Grain Honey Bread in a Slow Cooker Pantry Eats
Ezekial Bread Cuddle Up Cottage
Black Olive Bread Restless Chipotle
Jewish Rye Restless Chipotle