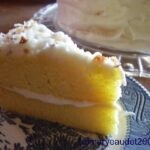 Print
Add to Collection
Go to Collections
Orange Gold Cake
A tender, rich cake with a velvety crumb and a delicate citrus flavor. It's a great way to use up egg yolks after making an angel food cake!
Preheat the oven to 350.

Grease and flour two (9 inch) layer cake pans.

Sift the flour with the salt and baking soda and set aside.

Beat the egg yolks for five minutes, or until thick and lemon colored and a ribbon forms when the beaters are lifted.

In another bowl beat the butter until creamy.

Add 1/4 c of sugar and flavorings, and beat well.

Continue to add the rest of the sugar slowly, beating well and scraping bowl often.

There should be no graininess to the butter when all of the sugar is incorporated.

Add 4 of the yolks and beat well.

Continue adding yolks, 3 or 4 at a time, beating well after each addition.

Add flour mixture alternately with the buttermilk, beginning and ending with the flour.

Mix just until blended.

Divide batter evenly between the pans and bake for 30 minutes.

Check cakes. When done they will be golden, and a toothpick inserted in center will come out clean.

Cool in the pans for 10 minutes, and then turn out to cool completely before frosting.

Use any frosting you like.