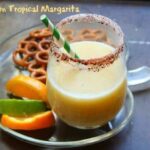 Print
Add to Collection
Go to Collections
Frozen Tropical Margarita with Sweet Chile Rim
A sweet, tropical drink that has tons of banana flavor. The rim of the glass is coated with a spicy sweet mixture so if you drink from the glass (rather than a straw) you'll get that icy-hot combination in every sip.
Mix the chipotle powder and sugar together in a saucer.

Wet the rim of your glass with a little water or egg white.

Dip the glass into the chipotle mixture and twirl it to coat the rim.

Set aside to dry.

Peel and cut the banana in chunks.

Add to the blender.

Add the tequila, banana liqueur, Triple Sec, lemon juice, lime juice, orange juice, simple syrup, and ice.

Blend until smooth and slushy.

Pour carefully into prepared glass and garnish with citrus as desired.