You read that right. I have been trying to come up with a white french silk recipe that I was happy with for a very long time. VERY long time.
Why?
Well, personally I find that french silk is one of those things that is a baking staple. It makes a great pie, granted, but it also makes a fantastic cake or torte filling, tart filling, rolled sponge cake filling or cookie filling. With a few changes you can create a number of flavors..but white silk eluded me. It was always too sweet, too bland..too buttery...or it didn't set up right.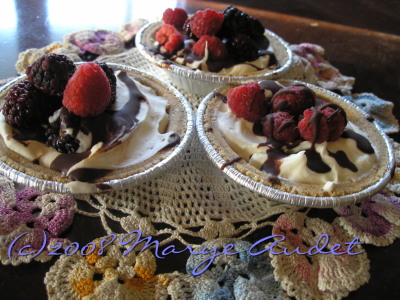 Until now.
French Silk Nirvana. French Silk Xanadu. The zen of French Silk. Rich, melt in your mouth, creamy. The mouth feel is silky and smooth...the taste is not too sweet but lingering.
It was durn GOOD, Bubba.
I made a chocolate dribble out of bittersweet chocolate...just for a little extra WOWZA!
White Silk Tarts
16 tart shells of choice (pastry, graham, puff pastry etc.)
1 c unsalted butter
¾ c sugar
6 ozs good quality white chocolate melted in ⅓ c heavy cream and cooled to room temperature
1 tsp vanilla flavor
½ tsp almond flavor
2 TBS sour cream
2 eggs
½ pt blackberries, raspberries or both
Bittersweet chocolate for drizzle
Beat butter and sugar until no longer grainy. This can take several minutes.
Add melted chocolate and beat in.
Continue beating while adding flavorings and sour cream.
Add eggs, one at a time. Beat for several minutes after each addition.
Spoon into tart shells.
Top with whole berries, drizzle with melted chocolate. Chill for three hours.
Allow to stand for 10-15 minutes at room temperature before serving.
Makes 16 tarts.
Images: Marye Audet