These ultimate chocolate chip cookies are thick and chewy, soft in the middle, crisp on the edges and filled with a combination of bittersweet, milk chocolate, white chocolate, and butterscotch chips. If that wasn't decadent enough I've added a generous amount of toasted pecans.
For this recipe you'll need: butter, sugar, brown sugar, eggs, vanilla, flour, baking soda, hot coffee, salt, bittersweet chocolate chips, milk chocolate chips, white chocolate chips, butterscotch chips, and pecans
If you are in a hurry click here to go straight to the recipe.
If you go through the over 700 recipes here on Restless Chipotle you'll come to a few conclusions one of which is that I have an inordinate number of chocolate chip cookie recipes. It might be because we really, really, REALLY like America's favorite cookie around here.
Really.
To me the perfect chocolate chip cookie is chewy with a distinct buttery flavor and enough salt to balance the sweetness of the cookie. The edges are brown and crispy but the middles are thick and chewy and each bite is an explosion of gooey chocolate and crunchy pecans. So, I after I created the perfect chocolate chip cookie I was ready to move on to the ultimate chocolate chip cookie. I actually created this for my Everything Cookies and Brownies cookbook that was published by Adams Media in 2009. I really thought that I had posted this ultimate chocolate chip cookies recipe already. Better late than never, right?
Oh y'all… I am adding this note to tell you that I am going off on a rabbit trail so you can just skip on down if you want… I mean, you did come here to get the chewy chocolate chip cookies recipe…
2009 was an insane year in so many ways. I had just been blogging for 3 years and, after 29 years of being a stay at home, homeschooling mom I was juggling stay at home, homeschooling, working mom. My marriage was gasping its last breaths despite two separate bouts of intense counseling and I got a book deal – something I had dreamed of for years. In the words of Charles Dickens, It was the worst of times; it was the best of times…
In fact that entire passage could be used to describe that period of time –
It was the best of times, it was the worst of times, it was the age of wisdom, it was the age of foolishness, it was the epoch of belief, it was the epoch of incredulity, it was the season of Light, it was the season of Darkness, it was the spring of hope, it was the winter of despair…
Ultimately it was the best thing that had happened to me other than when I became a christian in 1993 but it would be a couple of years before I could really accept that. I don't believe in divorce, I don't believe that it's God's plan, I believe in commitment. However, I know that life is strange sometimes and it can change in the blink of an eye. In a three hour period my entire life, everything I trusted and believed in, everything I planned was swept away. At the time I saw it as failure on my part but as time passed I realized it was providence throwing open the door that led to a life so blessed that I never could have imagined it would be mine.
OK, I 've warned you about the whole ADD thing in the past. I guess, here while we're talking about homemade chocolate chip cookies I want to encourage you, if you need it, that the hard things pass away in time and maybe, like me, you'll realize that rather than a horrible experience it was something that led to the most wonderful part of your life.
So, back to the cookies.
One thing I like to do is to form the cookie dough and freeze it on cookie sheets. Then I take the frozen dough and put it in a freezer container. Anytime I want warm cookies I pop a few in the oven and, BOOM! Cookies. Or, you can just cook them all, eat three dozen, and tell the family the recipe only made a dozen.
I've done it. They don't believe it but they can't prove it either if you brush your teeth really well before they get home. Ultimate chocolate chip cookies are kinda worth a little sidestepping, if you know what I mean.
The following are affiliate links. If you click through and buy something I will get a small commission used for keeping the blog up and running smoothly. Thank you for being a part of Restless Chipotle!
Silicon baking mats are perfect for making golden cookies that don't stick. I use them for candy, cookies, and breads and I've been using mine since 2010 and they are still going strong – plus you know I give them a lot of use! Cookie scoops help keep the cookies uniform in size so that they are all baked to the same doneness at the same time. This set has three different sizes for all kinds of cookies. A heavy cookie sheet is imperative. It helps keep the bottoms of the cookies from burning and bakes them evenly. I like these Calphalon cookie sheets because they are heavy and well made. Finally, if you are all interested in a cookbook of over 300 cookie recipes then Everything Cookies and Brownies might be something you're interested in.
Here's the ultimate chocolate chip cookies recipe! Give them a try and see if they're not your new favorite cookies!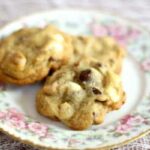 Ultimate Chocolate Chip Cookies
Print
Add to Collection
Go to Collections
Chewy, buttery cookies with four kinds of chips and toasted pecans are just right for lunch boxes and afterschool snacks! They're soft in the center and crispy around the edges. Be sure not to overcook them and let them cook for 5 minutes before removing from the pan or they'll break.
As an Amazon Associate I earn from qualifying purchases.
Ingredients
1

cup

butter

,

if you like a salty-sweet combo use salted butter, softened

1

cup

white sugar

1

cup

packed brown sugar

2

eggs

2

teaspoons

vanilla extract

1

teaspoon

baking soda

1/2

teaspoon

salt

2

teaspoons

strong

,

hot coffee

3

cups

all-purpose flour

1/2

cup

bittersweet chocolate chips

1/2

cup

milk chocolate chips

1/2

cup

butterscotch chips

1/2

cup

white chocolate chips

1/2

cup

chopped

,

toasted pecans
Instructions
Preheat oven to 350F.

Cream together the butter and both sugars until smooth.

Beat in the eggs, one at a time incorporating them well after each addition.

Add the vanilla extract.

Dissolve baking soda and salt in hot coffee.

Add the baking soda mixture to the batter.

Stir in flour by hand.

Fold in the chocolate chips, butterscotch chips, white chocolate chips, and nuts.

Drop by teaspoonfuls onto silpat covered cookie sheets.

Bake for 8 to 10 minutes or until edges are golden but the center is still slightly underdone.

Allow to cool for at least 10 minutes for the centers to set before removing from the pan.
Sign up for the emails and never miss another recipe!!
We'll never share your email or send you spam. Pinkie swear.
Restless Chipotle Reader Favorites
If you liked these ultimate chocolate chip cookies cookies you may also like…
Chocolate Chocolate Chip & Cranberry Cookies
Giant Chewy Chocolate Chip Cookies
Thin and Crispy Chocolate Chip Cookies Handle the Heat
Mint Chocolate Chip Cookies The Food Charlatan